If you are the proud owner of an electronic cutting machine such as a Cricut or Silhouette you may be familiar with SVG files. These cut files will work with your machines and your cutting software to create awesome craft and paper projects. Learn what they are, how to download them where to use them!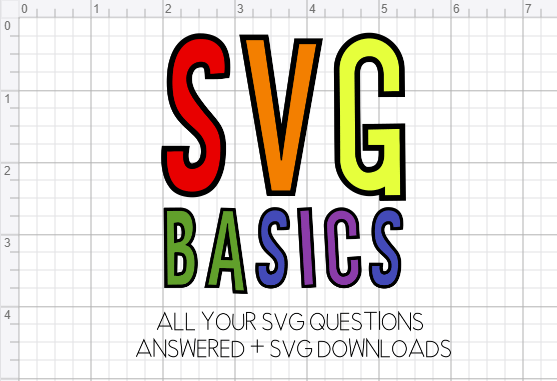 This post may contain Amazon Associate and other affiliate links.
As an Amazon affiliate, I earn a small commission from these links at no additional cost to you.
SVG Basics
What is an SVG Cut File?
SVG stands for Scalable Vector Graphic. It is a two-dimensional XML-based vector image format.
In plain English: It's a vector file that will tell your cutting machine where to cut lines and you can scale it (make it larger or smaller) without ruining its structure!
What Programs Can Open an SVG File?
If you happen to download an SVG file and then go to open it again to look at it, chances are you can't if you don't have a program that reads vector files.
I am focusing on SVG files for use with your electronic cutting machines so I am going to focus on Cricut and Silhouette.
Silhouette uses Silhouette Studio and Cricut uses Design Space to edit and design vector images for their respective cutting machines. Both of these have free versions however only Cricut (free version) can open SVG files. You need the paid version of Silhouette Software to upload SVG Files. (read more about that here)
Other programs include:
Where to find SVGs? (Free & Purchased)
You can find SVG files in many places. Some are offered free, like my whole collection of FREE SVG FILES (as well as our monthly #totallyfreesvg blog hop).
You can also find SVG files for sale. It's really important to understand that people spend time designing, converting and testing the SVG files and the small purchase fee is for their time and knowledge! Please support them and don't just copy an image off Google. Be nice. Good Karma, right?
Here are my favorite places to find SVG files to use!
How to Download an SVG File onto a computer?
I like to create a folder on my computer that I store images of the SVG files together in.  You can organize the best way for you!
SVG Files usually come in .zip files.  This is a "zipped" folder that contains several files inside.  Normally your SVG file along with a few more formats such as .png, .jpeg/jpg, and .dxf are the most common.  Sometimes you will get a .ai or .eps file (for Illustrator) or a .studio file (for Silhouette) as well.  There most likely will be a Terms of Service .txt file or .pdf.
When you open a .zip file, the SVG images may display as your browser logo (chrome, firefox, safari, internet explorer). Be sure to look at the file extension. If it has SVGnamehere. SVG then that is your file. It sometimes can be mascarade as an HTML file.
When you download the .zip file it will normally go to your "downloads folder" From there you will unzip the file.
You can unzip it in several ways:
Select Folder, right-click, select "unzip"
Select Folder, in the top toolbar select "share", select unzip
From here you can move the entire folder to your "SVG Files" folder or you can move the .svg file only. Whatever you want. I like to move the whole folder in case I need any of the other files later!
How to Upload SVG Files into Cricut or Silhouette:
Since we have all of our saved SVGs in one folder it makes it easy to find our files when we want to upload them to our design software to cut on our cutting machines!
Find more Cricut and Silhouette tutorials and posts here.
Sign up to be notified of all my new freebies!
You will also receive a password to enter my Freebie Library!  Tons of awesome printables and more! I also offer Flash Freebies (SVG files) that are only Free for 1 week and then move to my shop! You don't want to miss these and my email list is always in the know!
Don't Miss Out!
Get quick crafts, easy recipes and free printables & cut files straight to your inbox!
My Awesome SVG Files
[ess_grid alias="svg-files"][/ess_grid]