FRIENDS is my all-time favorite tv show and coffee is a necessity so put them together and you have some fun free FRIENDS SVG files for coffee mugs, totes, hats, shirts, and more! Phoebe and Mike's new married names make the perfect couple's mug set!
I have attended (and won) several FRIENDS trivia nights and can point out all the bloopers and fun facts. I am a treat to watch the show with, lol! Like did you know the dots between the letters do not go in order? They start red, blue, yellow but then switch to red, yellow, blue!
You can use vinyl or sublimation to make mugs or you can use iron-on with a tote (see below!). These free FRIENDS SVG files are multi functional and would also look so great on a beer mug and wine glass!


FRIENDS SVG SUPPLIES:
IF USING VINYL:
IF USING IRON-ON: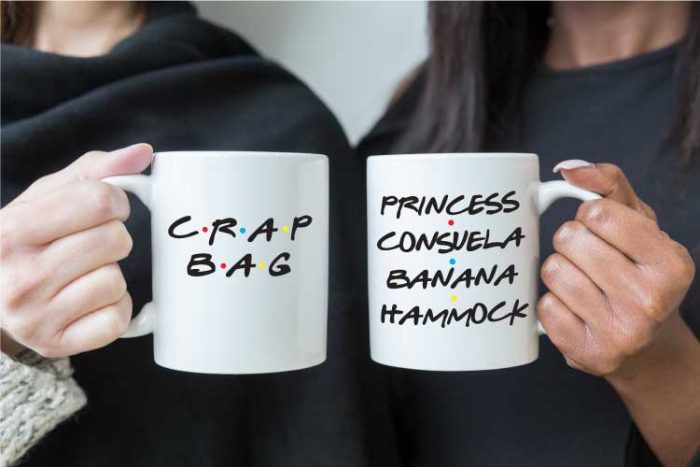 Helpful Tutorials for Your Project:
VINYL TUTORIALS:
Find more tutorials and Vinyl Projects on my Vinyl Page
You can also find my favorite Vinyl Supplies on my Amazon Storefront! Take advantage of that 2-day shipping!

IRON-ON TUTORIALS:
Find more tutorials and Iron-on Projects on my Iron-on Page
You could also easily do this tote bag (shirt too!) with sublimation or Infusible Ink sheets! Always remember to put a piece of butcher paper inside the tote bag so the ink doesn't transfer to the back of the bag!
You can find information about Infusible Ink Sheets (cutting and applying them) here.

Download FRIENDS SVG Here
Getting the freebie is easy! First, enter your name and email below and join my email list community (AND gain access to my freebie library)!! After that, click the download button and the freebie will begin automatically.
I use box.com to safely deliver my freebies! There is no need to sign up for a box.com account!
Please see this FAQ post + Video on how to download my freebies.
Crap Bag SVG
This download is for personal use only!
Princess Consuela Banana Hammock SVG
This download is for personal use only!