I absolutely adore my Cricut Explore Air and my Cricut Maker! I love creating with them, especially t-shirts and wine glass decals!
If you are a Cricut Lover as well I am sharing current deals here on this page. I will update it frequently so feel free to bookmark it and check back often!
These links are affiliate links. Using these links, I earn a small commission at no additional cost to you. This helps me bring more fun Cricut projects your way!
***MAKER BUNDLE DEAL ALERT***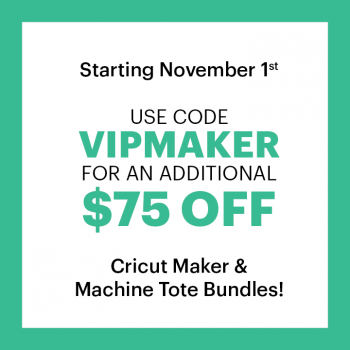 Use code VIPMAKER on this page here and get an additional $75 off a Cricut Maker + Tote Bundle! Offer good while supplies last so HURRY!
Cricut Deals through 11/19/19
You aren't an access member? NO problem, you can sign up here!
Cricut on Amazon
My favorite Cricut finds on Amazon here
My favorite blank items to personalize on Amazon here.
Deals on Materials
Deals on online crafty learning
Bluprint
Favorite SVG Sites & Current Deals:
CRAFT BUNDLES:
Favorite Font Sites:
Coupons from JOANN
CHECK OUT THE CURRENT COUPONS HERE
Cricut Academy
Cricut Academy will make you feel confident with your machine and create like a pro!

Kid Deals:
As always you can find out all about Cricut and check out my how-to tutorials here.
CRICUT PROJECTS