It is so easy to DIY tassel earrings! They are fun, trendy, and can be customized to any colors you want! Keep reading to get a supply list and my step-by-step directions on how to make tassel earrings below! What colors will you make?
I love tassel earrings because they are great lightweight earrings that area also fun pops of color and interest! I mean who doesn't love a tassel?
You only need a few supplies to get started!
This post may contain affiliate links. As an Amazon affiliate, I earn a small commission from these links at no additional cost to you.
DIY Tassel Earring Supplies
Don't Miss Out!
Get quick crafts, easy recipes and free printables & cut files straight to your inbox!
How to Make Tassel Earrings
Prepare the Embroidery Floss

Measure out 25 strands of embroidery floss and cut into 6-inch lengths.

Separate into 2

Cut the embroidery thread bundle in half to make 2 bundles, one for each earring.

Add Jump Ring

Slide a jump ring onto the center of each bundle of embroidery thread.

Create the Tassel

Cut a 9-inch length of embroidery floss per earring. Fold-down the sides of the embroidery thread bundles and wrap the 9-inch strand, towards the jump ring, and tie into a knot.

Wrap the Earring

Continue to wrap the tails of that thread around several more times and tie off in a double knot and trim any excess tails. Note to tie the knot in the "back" of the earring.

Repeat

Repeat steps 4-5 for the second earring.

Trim the threads on the earrings

Use the pointy end of the thread ripper to comb out the embroidery floss into single threads. Trim the bottom edge of any longer threads.

Attach earring hooks

Using the jewelry pliers, attach the earring hooks to the jump rings!

Wear!

Enjoy your adorable DIY tassel earrings!
If you want to keep the jewelry making going you might like these football earrings, DIY Leather earrings with Cricut Explore, Hot Glue Spiderweb earrings <–yep, I said hot glue! or these classic split circle earrings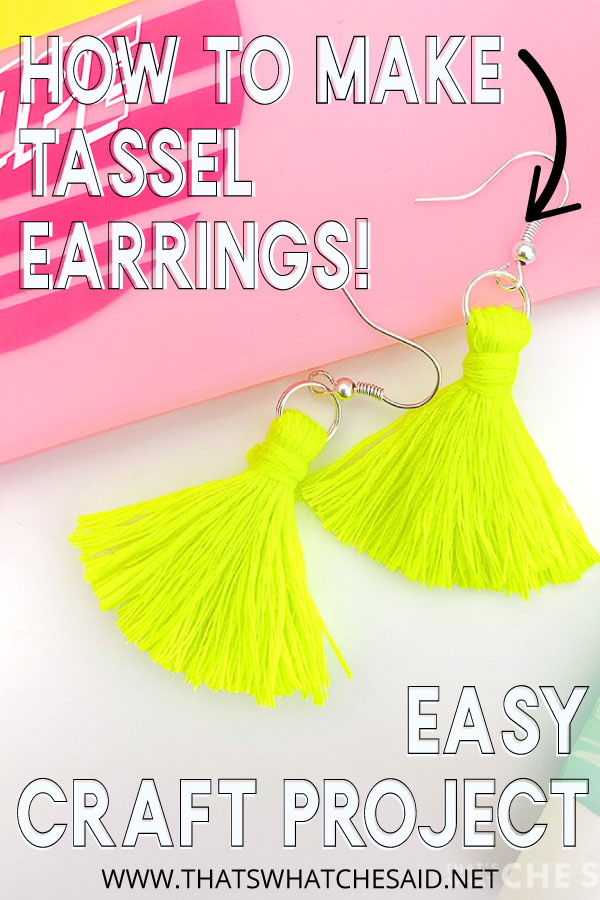 Other Fun uses for Tassels:
. You can use this DIY Tassel technique to make keychains or add a tassel onto a cute make-up pouch zipper or they are super fun for back pack zipper pulls! I also love to add them to garlands (use yarn!) and on throw pillows or tea towels! What would you add tassels to?