Create awesome earrings and a faux bangled football bracelet with some faux football leatherette and your cutting machine! Great for game days and to support your favorite team!
20

minutes
If you are a football fan, you need this DIY Football Jewelry in your life! Super cute, lightweight football patterned leatherette that can be cut by hand or with an electronic cutting machine such as a Cricut or Silhouette. Iron-on laces complete the look! Grab the files below!
We are Minnesota Vikings Fans here and I am also a big fan of the leather earrings that are so stinking lightweight that I forget I am wearing them!
Combine those two loves and you have this fun DIY leather Football Jewelry! I also feel that my arm gets left out of the fun so a faux bangled cuff was on the project board as well!
DIY Football Jewelry Supplies
Earring and Bracelet Cut Files (found below)
My bracelet is 9 inches in length and that fits great around my wrist. If you want to measure you can just wrap a piece of string or ribbon around your wrist mark it and lay flat on a ruler. Be sure to add about an in for overlap for the snaps!
I also like different shapes of earrings for different face shapes and quite frankly for my different moods :) so I also included several different versions of the earrings. Feel free to use any that you like!
Tips for DIY Football Jewelry
The EasyPress Mini works great for this project. A note: Move the mini around as to not get crease marks in your leatherette from the plate edges!
You can also use a larger EasyPress and press all the earrings and bracelet at the same time!
You can cut this on an Explore Series, a Maker or a Cameo. No special blades needed either, my standard fine point blade worked perfectly!
I prefer to use a standard or light grip mat for this, both work great so use what you have on hand.
Place the leatherette good side DOWN on your mat. I know this sounds crazy but you will get the best cuts this way!
You could use adhesive vinyl in place of the iron-on but I don't think it will last as long because the leatherette is textured.
Notes about Football Earrings and Cuff
The football-shaped earrings have straight laces so they can be worn on either ear!
The teardrop and reverse teardrop both have slightly curved laces so they are meant to be worn with the laces curving towards your face!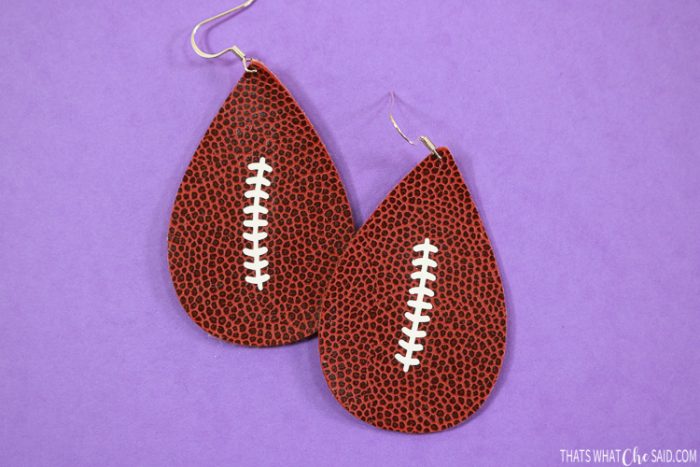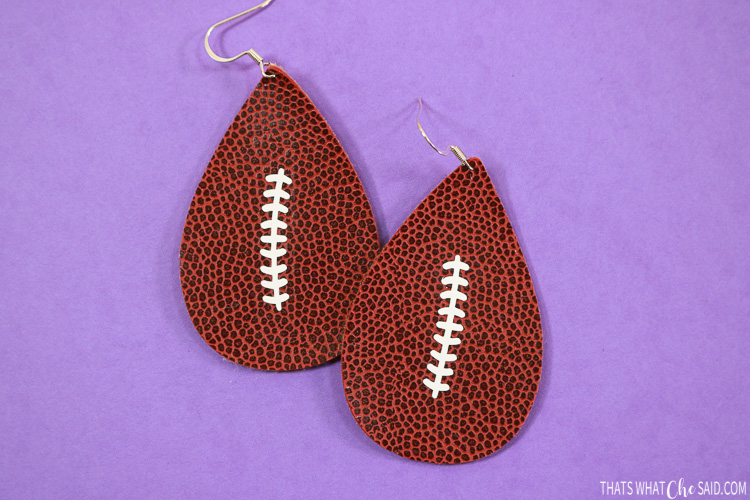 I am particularly loving the reverse teardrop shape right now! What is your favorite?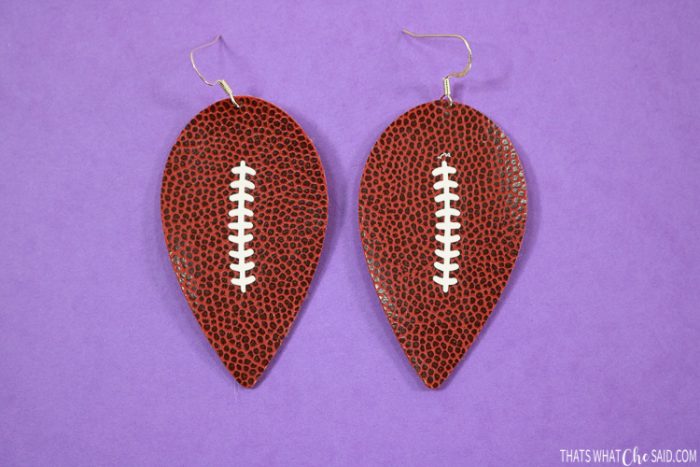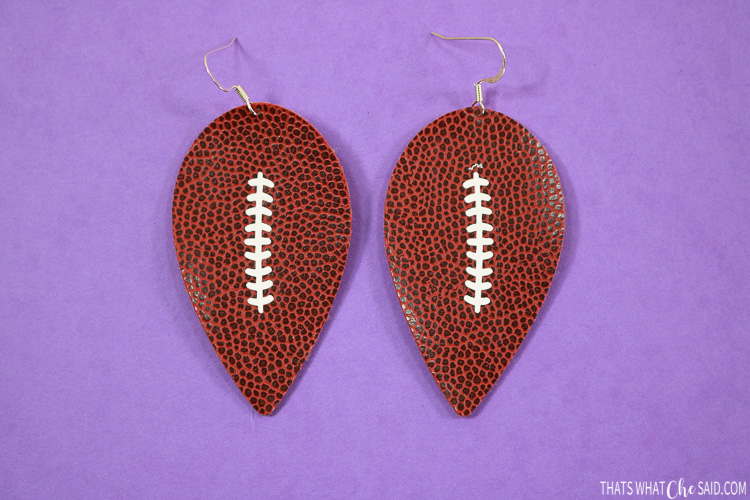 The wrap bracelet is made to look like it's several bracelets stacked on top of one another when in actuality it is one single wrap with a convenient snap closure!
DIY Football Jewelry
Create awesome earrings and a faux bangled football bracelet with some faux football leatherette and your cutting machine! Great for game days and to support your favorite team!
Instructions
Adjust the size if needed. Delete any unwanted earring shapes. Click Make It in the upper right corner. On the next screen (Mat Screen) make sure to MIRROR the white mat with the laces.

Click "Continue" and follow the prompts to cut the leatherette and iron on. NOTE: I like to cut my leatherette with the GOOD side DOWN!

Remove the material from the mats and weed excess iron-on from the laces design.

Using your EasyPress and consulting the Heat Guide, press the iron-on onto the leatherette.

Using Pliers, add jump ring (if desired) and earring finding. I added the finding directly to the leatherette. The jump ring allows the earring to be more dangly and move more freely! Whatever you want!
Notes
ALTERNATE IDEA: Resize the football leatherette smaller and cut the actual size in your favorite team's colors and layer them for a more personalized look! 
© 2019 That's What Che Said®
I have all boys (if you are new around here) but I am thinking I need to make some adorable football hair bows with this leatherette! What do you say?
DOWNLOAD FOOTBALL JEWELRY TEMPLATES HERE
The duration of this FLASH FREEBIE is over and it is no longer available as a free file.
You may now find it in my shop as an instant download!
Flash Freebies are available for a limited time.
Be sure to sign up for my emails so you never miss another Flash Freebie!
Don't Miss Out!
Get quick crafts, easy recipes and free printables & cut files straight to your inbox!
MORE FOOTBALL FUN:
[ess_grid alias="football"][/ess_grid]
PIN Football Jewelry