If you have a sports lover in your family or a sports-themed room you need to make some of these incredibly inexpensive and fun Sports Magnet Boards! Start with Dollar Store pizza pans and in a few simple steps you have some awesome dollar store sports magnet boards!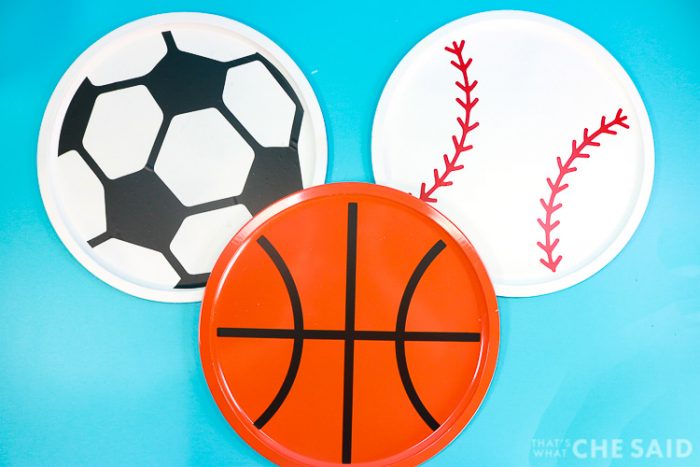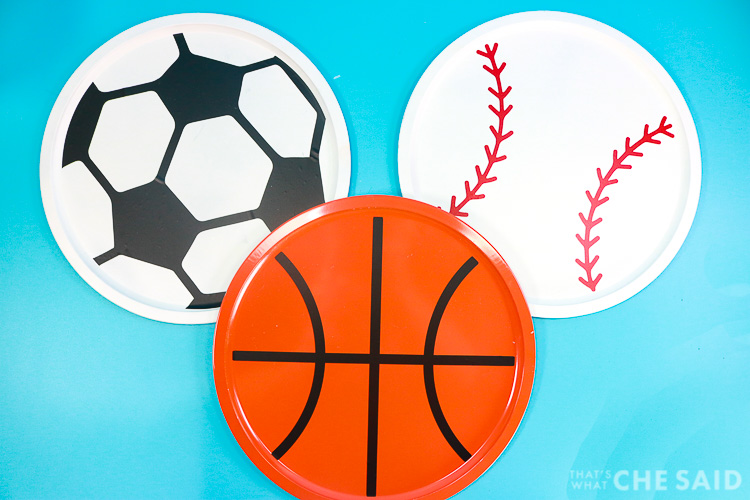 I wanted to add a way for my two youngest boys to add some school art work and drawings to their walls without damaging them of course. They share a room and a love for sports so these DIY magnet boards were perfect.
This post may contain Amazon Associate and other affiliate links.
As an Amazon affiliate, I earn a small commission from these links at no additional cost to you.
DIY Sports Magnet Boards
Click the button above to save to your board for later!
Magnet Board Supplies: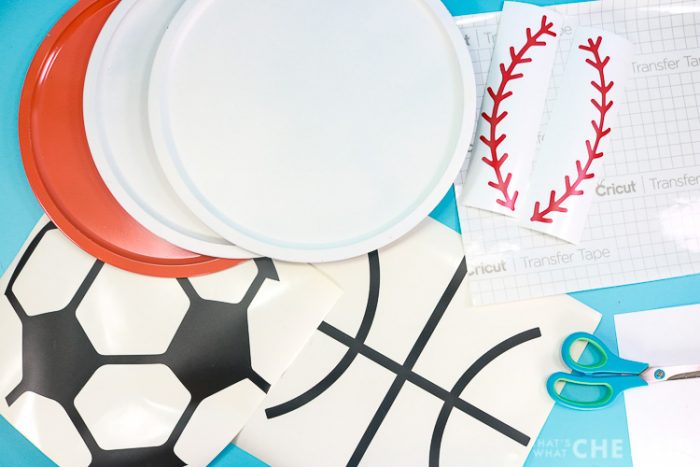 Don't Miss Out!
Get new Cricut Tutorials, Product Announcements, Project Ideas, SVG Files and more straight to your inbox!
Different Types of Sports Magnet Boards:
I chose baseball, basketball and soccer but here are more ideas.
Soccer (as pictured) white board, black vinyl design
Baseball (as pictured white board, red vinyl design
Softball – Neon yellow board, red vinyl design
Volleyball – White board, black vinyl design
Basketball – Orange board, black vinyl design
Hockey Puck – Black board, vinyl design of favorite team in center
Football – Brown board, white vinyl design
HELPFUL TUTORIALS:
Details on how to make these magnet boards are below! If you are new to adhesive vinyl, transfer tape, or even your Cricut, these in-depth detailed tutorials may be of help!
How to Make Pizza Pan Magnet Boards
Time needed: 30 minutes
Transform dollar store pizza pans into sports ball magnet boards perfect for a sports lover's room or a game room!
Spray Paint Pizza Pans

Using Spray Paint, give pizza pans about 2 good coats of spray paint in your choice of ball colors. Let dry.

Open Cut Files in Design Space

You may use the files that I created for the baseball, soccer ball and basketball here: https://design.cricut.com/landing/project-detail/5eb01f6a5c394312843bda31

You will want to size them for your pizza pan. Mine are sized to fit the inner section of a 13-inch pizza pan.

Click Make It

Click the MAKE IT button in the upper right of Design Space and continue on through the mat screen. Connect your machine and select your material.

Cut Adhesive Vinyl

Load your mat using the flashing arrow button and then click the flashing C button to begin cutting your adhesive vinyl. Remove from machine when finished.

Weed Vinyl

Using a weeding hook, remove the excess vinyl leaving only your designs on the carrier sheet.

Transfer Design

Apply transfer tape to your adhesive vinyl and smooth with a scraper tool. I recommend cutting away a small corner of the carrier sheet so you can line the design up easier on the pizza pan. Then slowly remove the rest of the carrier sheet while smoothing the vinyl to the pan.

Apply

Continue removing the carrier sheet and smooth the adhesive vinyl onto the pizza pan until complete. Remove the transfer tape and use the scraper tool to remove any air bubbles in the vinyl. Repeat for any other sports ball magnet boards you would like to make!
Next, u used some command strips to adhere them to the wall! Add some fun magnets and you are now set with a fun sports-themed message and art station!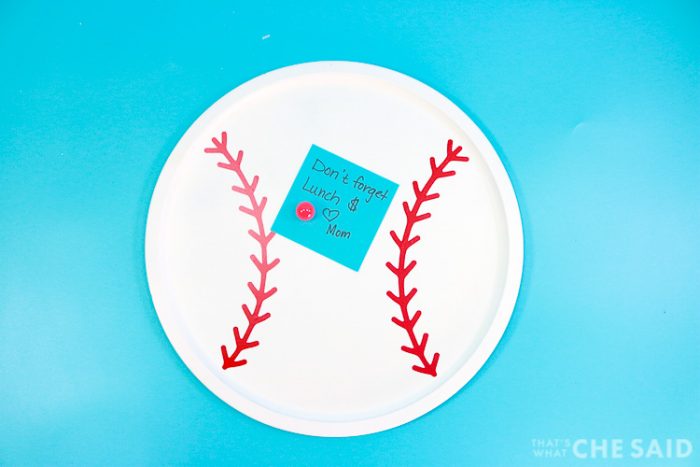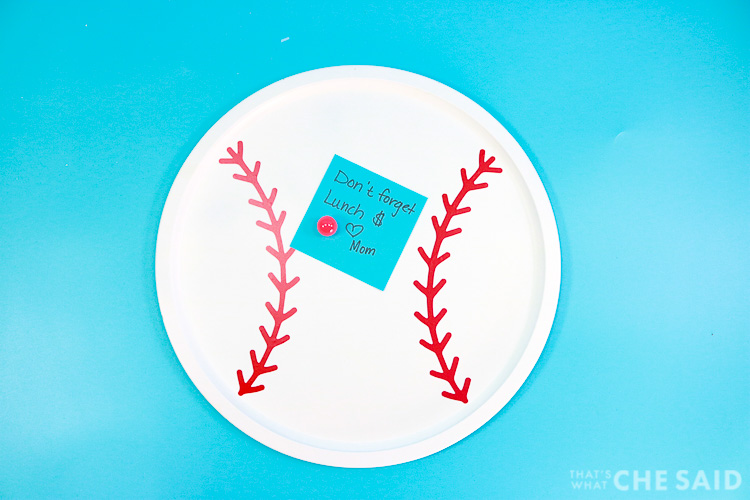 These fun Pizza Pan Magnet boards don't have to be sports-related either! I made this Magnetic Advent Calendar from one and you could spray the colors of your room and add any vinyl embellishments you'd like! Or a name or a MONOGRAM!
More Sports Projects:
PIN THIS PROJECT FOR LATER