Well, where do we start? I am an off duty Chemical Engineer who turned Creative Lifestyle blogger by day and SuperMom by night. I currently live in St. Louis, Missouri, where I was born and lived through high school, but also have called Decatur, Illinois, Apple Valley, MN and Joplin, MO my home. (Yes I was in Joplin when the tornado happened!) I went to a predominantly male University, worked in a predominantly male profession, married a male, have a male dog and now have three male mouths to feed! My house is very loud!
Look how small they used to be! WAHHHH!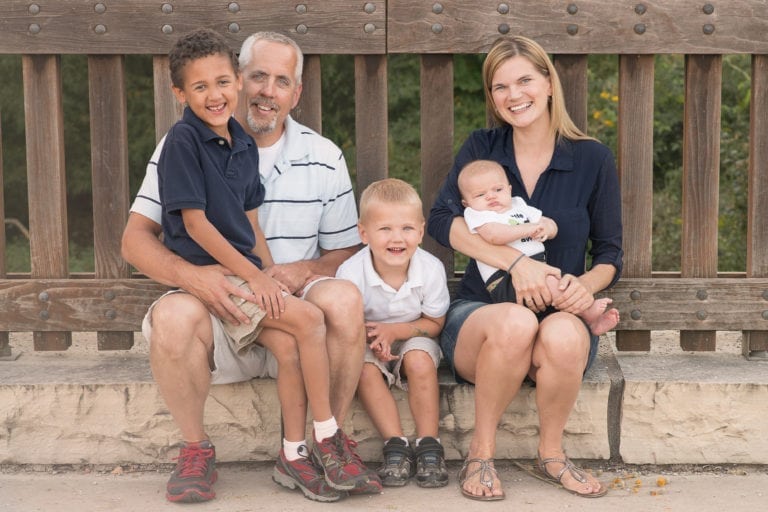 GET TO THE FACTS…
I have been married to my husband, Freddy, for 11 years and we have three sons together, yes THREE, Michael (16), Ryan (12) and DJ (8). I shared my pregnancy with DJ with you all and he is commonly known as Spangenbaby around this blog! Along with my furry mutt, Murphy, these boys are pretty much the apples of my eye! I totally swoon over them, even when they drive me mad daily.
The show "Modern Family" was based on my life. Okay not really, but should have been! I would be closest to Gloria, minus the flowing hair, sexy accent and huge boobs! My husband is 18 years older than me and has 2 daughters who are pretty close to my age! I'll let you wrap your head around that for a bit….
I have tons of quirks, here are a few of them:
I love the TV show FRIENDS, I would stalk Jeffrey Donovan from Burn Notice IRL if I lived closer to Miami. I danced all my childhood and quit in college. Wish I never stopped.
I have to have a cup of coffee in the morning. I repeat I have to have a cup of coffee in the morning. 2 Splenda's and a splash of skim, if you ever want to deliver! :)
I could also eat Jimmy John's everyday…I wish I were lying, but I am most certainly not. #5 Vito- no onions-extra cherry peppers if you were curious. Luckily JJ's delivers so you don't have to…but where are we on the coffee delivery??
I love color and fun and love being around happy, supportive people! I have a sometimes snarky sense of humor but totally mean everything I snark about…in humor!
My closet is color-coordinated and in ROY-G-BIV order. So it should be no surprise the rainbow motif I have going on over here on my blog!
I adore pedicures and snow cones. I can't get enough of either!
I truly appreciate you being here. If you weren't here reading my blog, I would just be talking to myself. Let's be honest, that's pretty much what happens daily at my house so I appreciate you on the other end! I hope you stick around and check out some of my projects!
If you need to reach me, you can contact me here.
You can also find me at any of the social media outlets below
About the Blog…
When I left my job as an engineer to take on the job of "keeping 2 kids alive everyday" I realized I wanted an outlet for my creativity, DIY projects, photographs and just to rant! I had spent so long using the analytical side of my brain that I now wanted to let the creative side have her time in the sun! So why hold her back and commit to just ONE niche of blogging?
My poor brain had to do calculus and figure out pressure drops and had to waste an entire year on mass transfer…why limit my creative side of my brain who was kept in the dark for so long???
I am not a professional chef or baker but you will find recipes and fab desserts here. I am not a seamstress…but you will see me attempt to sew things here. I am not a professional photographer, but you will certainly find photos here. I am not an artist or even an interior designer but you will find home decor, crafts and fun here! This blog pretty much represents my life. I do many things pretty well but wouldn't say I am a professional at any of them!
I want to offer projects, recipes and ideas that anyone can do. Posts that help people out. Printables or tips and tricks that solve a problem for you or give you a quick and easy to achieve solution! That's what this space is all about.
I love to do activities with my kids also so you will see a bunch of those and you will also see a bunch of little heads, hands, and feet in my photos…they are my best assistants and the cutest co-workers I have ever had! :)
I can't stress enough though that my first and most important job is being a mom and *hopefully* raising 3 respectable members of society. I have no schedule or rhyme or reason to my posts. I post them as they happen in my life. Sometimes 5 days a week…sometimes only once! I try to go with the flow that is life!
A few Blog warnings:
1. I make up words…often. I also overuse the exclamation point! Everything is exciting to me apparently. <–I had to go back and change that ! to a . at the end of that sentence
2. I might make references to Vodka and Wine quite often. I am not an alcoholic. I am Catholic, German and Irish…it's just in my genes! (see exclamation point again)
3. My name is really Cheryl. My husband's name is not Freddy, nor are Michael, Ryan or DJ my sons' names. Murphy is my dog's real names as he looking to find some lady friends and preferred I use his actual name. I do this because this blog is my choice and I want to respect their privacy as much as I can (for future googling purposes) while also sharing them with you because that is what this blog is about. Getting through life. They are my life.
4. I do not go by "Che". I will answer to it because as a mom of three I pretty much answer to anything these days, lol! I simply used it as a fun spin on the word She because my name is Cheryl.
5. I am an engineer. I am not an English major. I do know the difference between "your" and "you're" as well as "its" and "it's", but I use prepositions at the end of sentences and begin ones with them also! You will just have to get used to that! ;-)