Did you know you can make your own custom earrings using your electronic cutting machine? You can! And you can do it easily with these 12 free earring SVG files!! I am sharing a free Earring SVG of a Split Circle. Customize the colors and add some interest to a boring circle!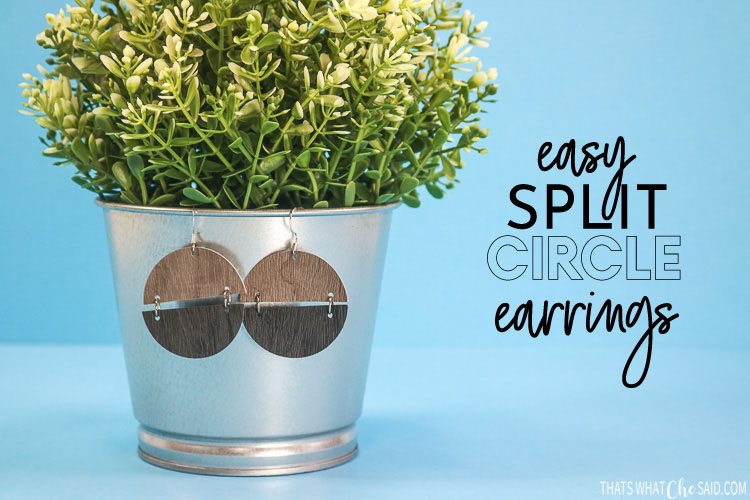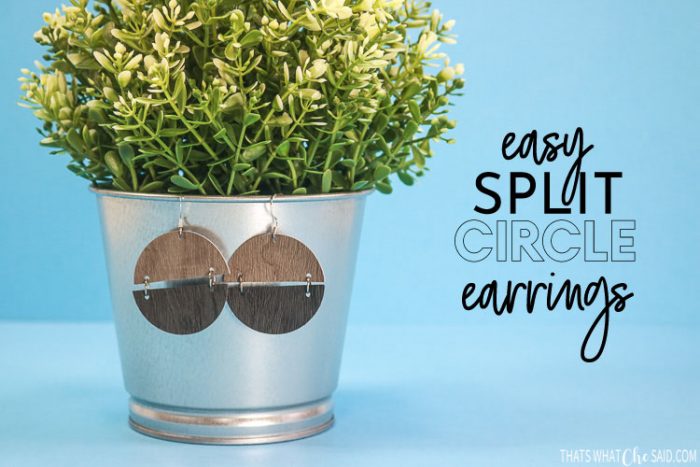 I made these today with my Cricut Maker but you can check out how I made snowflake teardrop earrings with genuine leather and my Cricut Explore Air 2. So many awesome
If you happen to have old earrings that you don't wear anymore you can recycle the earring hooks from those!
Split Circle Earrings
Click the button above to save to your board for later!
DIY Faux Leather Earring Supplies
Notes on Split Circle Earrings
It is best to use oval jump rings vs. circle jump rings. The ovals have the slits on the sides and with the oval shape, the slits stay on the side. Circular ones tend to end up with the slits at the top and the connection is then weakened and your earring has a good chance of coming disconnected/unattached.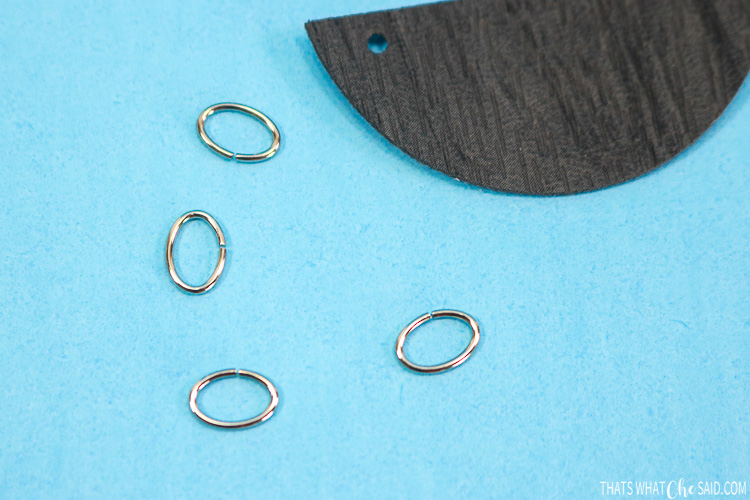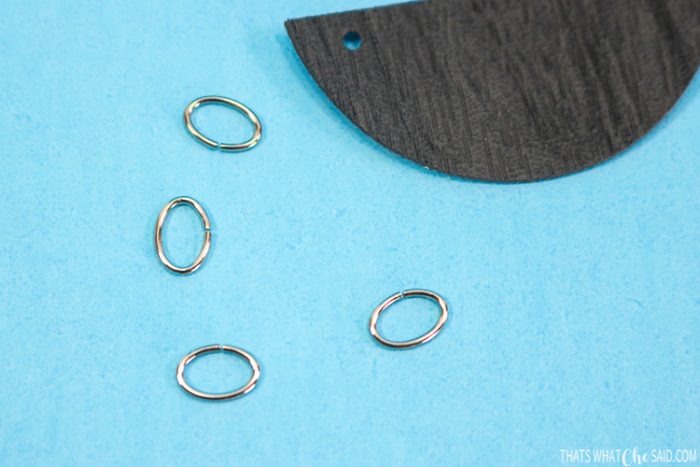 You will need 2 pairs of pliers to easily open the jump rings. I use jewelry specific ones (small, rounded plier ends, comfort grips) but you can also use SMALL ones in your toolbox!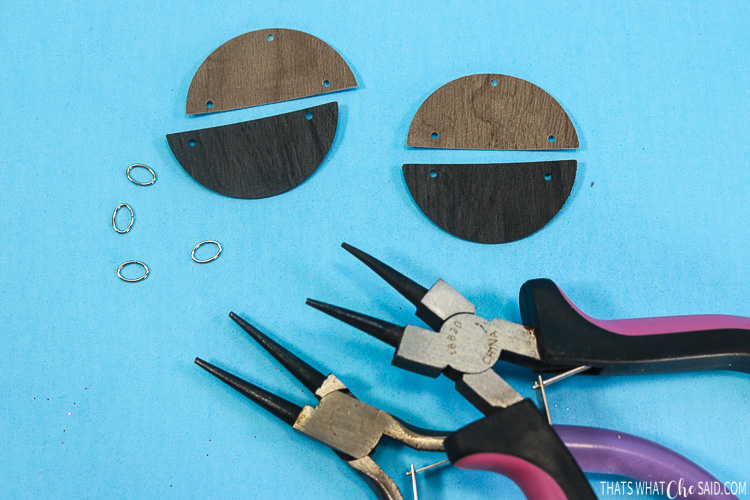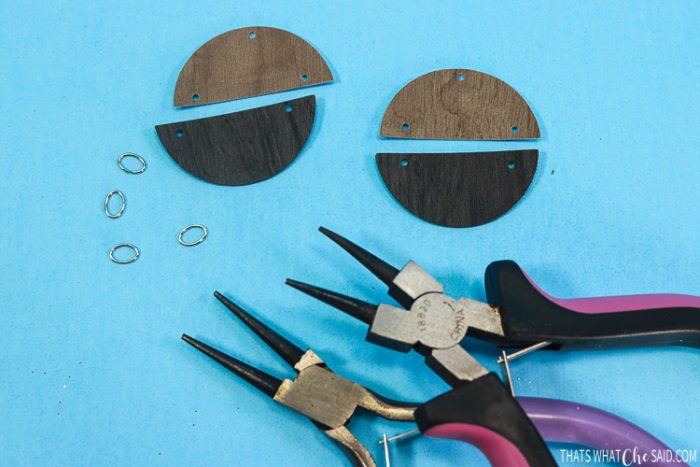 How to Make Split Circle Earrings
Time needed: 15 minutes.
Upload the SVG

After downloading the SVG to your computer you will need to upload it to your respective design software.
– How to Upload SVG into Cricut Design Space
– How to Upload SVG into Silhouette Studio
Resize the earrings if desired!

Set Up Design Space.

Click "Make It" in the upper right-hand corner of the screen. Click "Continue" on the Mat Screen. Connect your machine and select your material.

Prepare and Load Mat

Using a Standard Grip Mat (green) place your faux leather GOOD SIDE DOWN for best results. When the arrow button flashes, press it and load your mat into your machine.

Cut the Earrings

When the button with the Cricut C begins to flash, press it to begin cutting your earrings. When finished press the flashing arrows to unload the mat.

Remove material from Mat

Carefully remove the mat from the material. You will see here I cut several earring styles. We will be using the semi-circles today

Prepare Earrings

If the tiny holes did not cut with your machine, use a 1/16″ punch or a safety pin to finish punchin the holes

Open Jump Rings

Using Oval jump rings and 2 pairs of pliers, open the jump rings. It is important to open the jump rings on the same plane versus opening them to make them form the letter C. See the picture below

Connect Earring Halves

Slide the earrings onto the jump ring and then close the rings in the same fashion you did to open them.

Add Earring Hooks

Using Pilers, open the small circle at the bottom of the earring hook. Slice on the earring and then close the small circle.
Now you have a super cute pair of split circle earrings made from faux woodgrain leather. You can make these custom with different colors of faux leather, perfect for sporting events, team colors and holidays!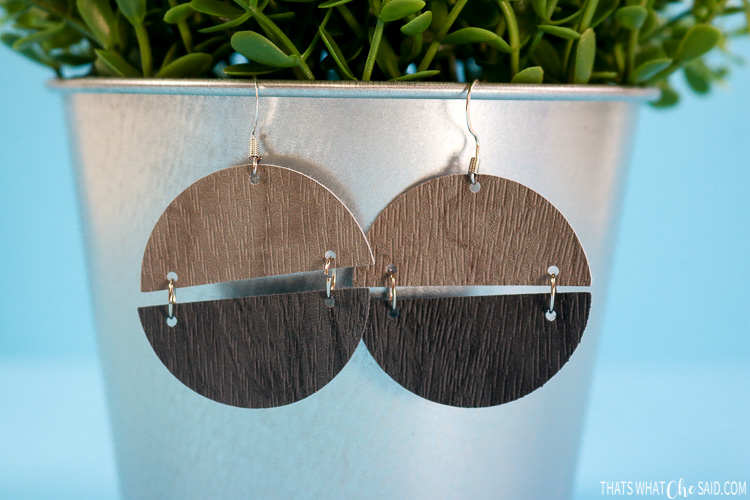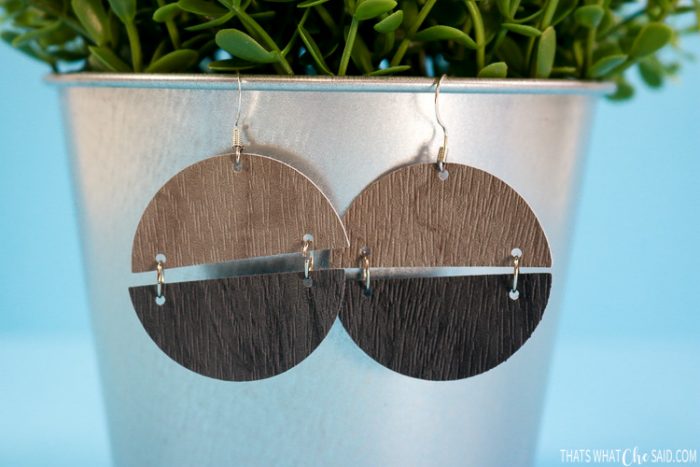 NOTE: I am getting a site redesign today and things will be glitchy for a bit. Here is the direct link to the download and the hop list will be available below shortly.
More Jewelry Ideas You May Like
Download Earring SVG – Split Circles Here
Downloading is easy!
Click the "Download Here" button below and enter your first name and email address! I will then send you an email when I share new posts and when new flash freebies are available. Once confirmed, new members will be sent a password to access my entire freebie library!
I share my files through box.com and you can sign up for a completely FREE account here in order to easily access and save these free files!
This download is for personal use only!
Check out the 11 additional files that my friends designed and are sharing. Click the links below the collage image to be taken to each file!