Delicious Melted Snowman cookies made with Oreos and Oreo truffles! Two treats in one! These are perfect for winter months!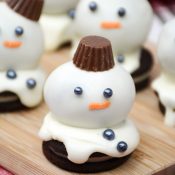 This is a fun play on the common Melted Snowman Cookies you see using marshmallows! This version is all cookie though with an Oreo truffle top and an Oreo base! It's like getting two desserts in one and I am not sure what is better than that!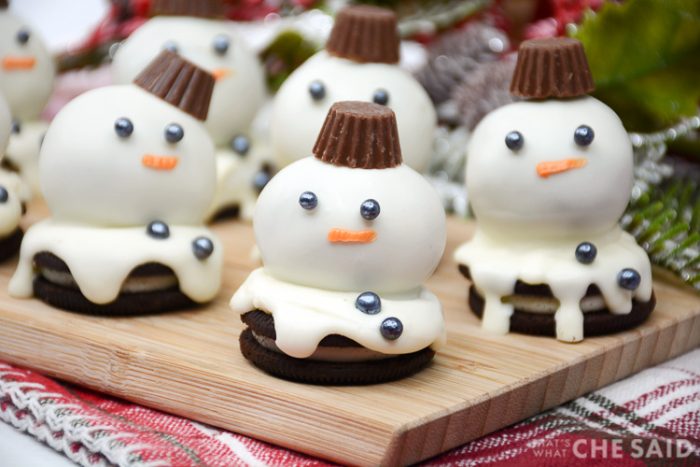 These no-bake melted snowman cookies are both delicious and adorable. In the past, you may have seen the cute sugar cookie with the marshmallow on top and the icing pooled to resemble a snowman melting. Those are adorable and delicious as well, I have made them!
Here we have another take on the melted snowman cookie and with this one, an Oreo Truffle (YUM!) sits on top of another oreo cookie with the pooled white chocolate in place of icing to resemble melted snow. So delicious with all the chocolate!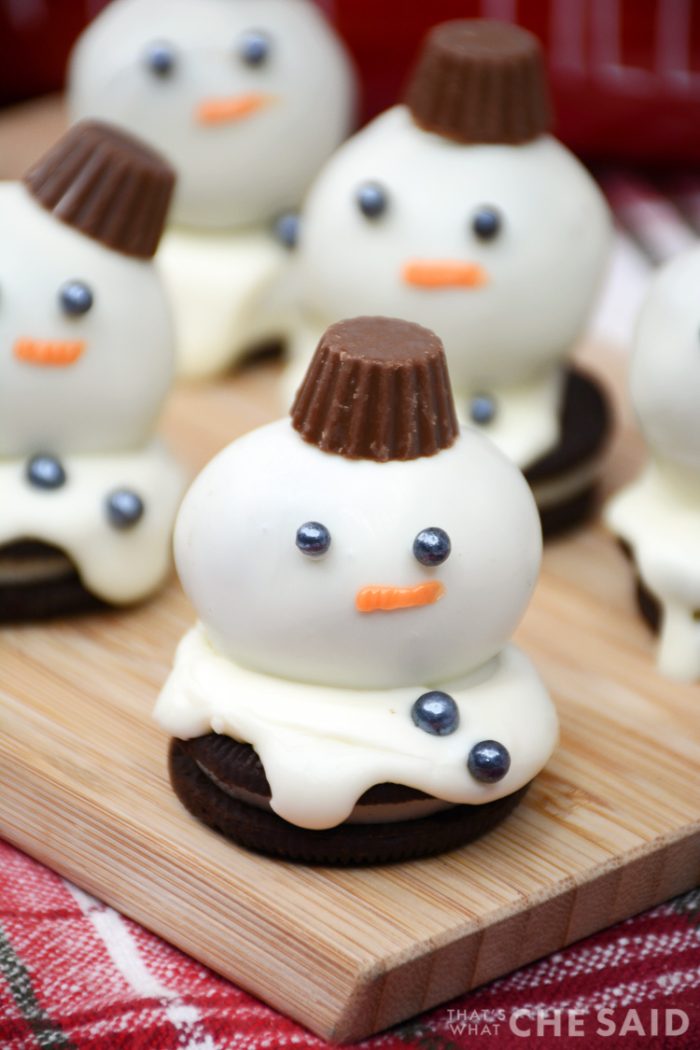 Melted Snowman Cookies for
Click the button above to save to your board for later!
You might remember this Valentine Oreo Truffle I shared in the past and the truffle for this cookie is made the same way! It helps to stick a toothpick into the truffle to help dip it into the melted chocolate.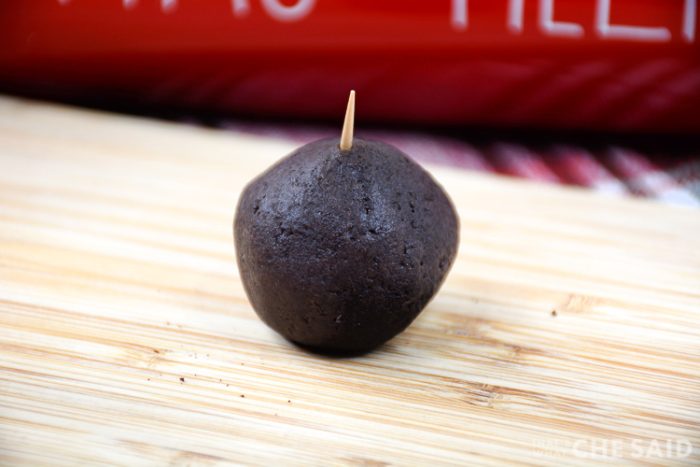 To add the melted snow, simply place an Oreo on a cookie sheet and either pipe or spoon some melted white chocolate to create a drip effect.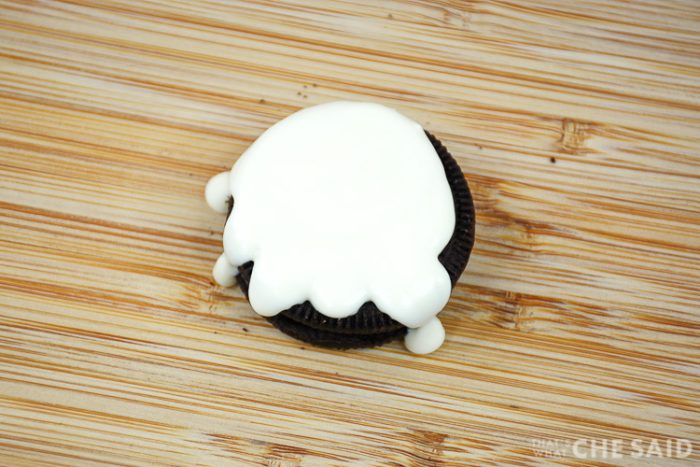 Add the coated truffle on top of the cookie bottom and then add the mini peanut butter cup for a cute hat!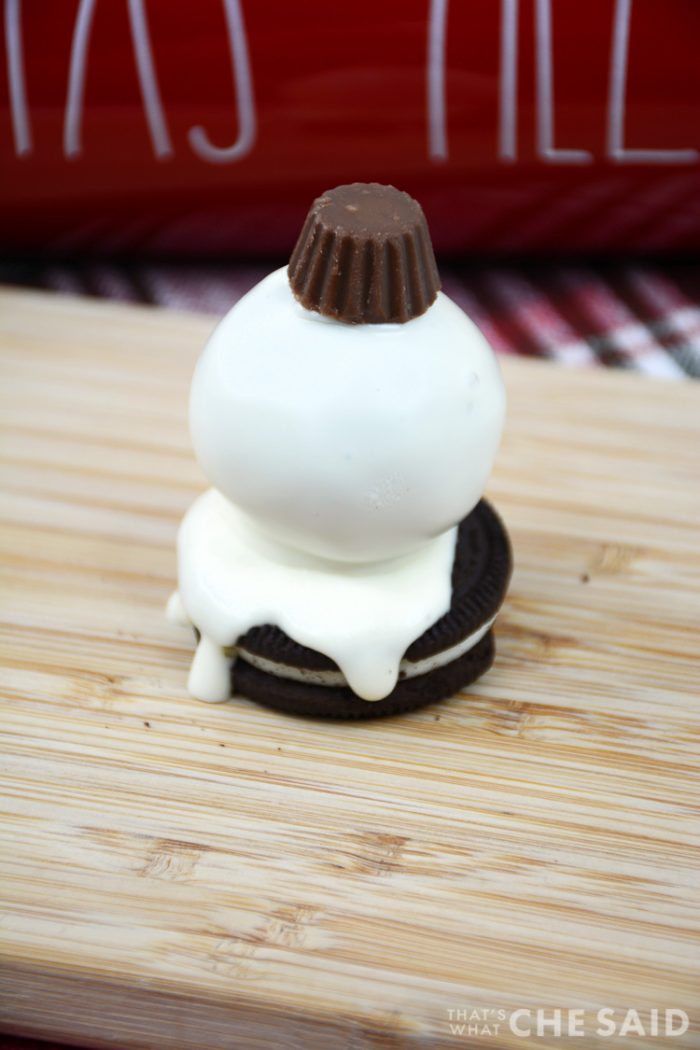 Eyes and buttons for the melted snowman cookies are made of black round pearl sprinkles and a carrot nose made from some melted orange chocolate melts. Pipe this one using a piping bag for ease!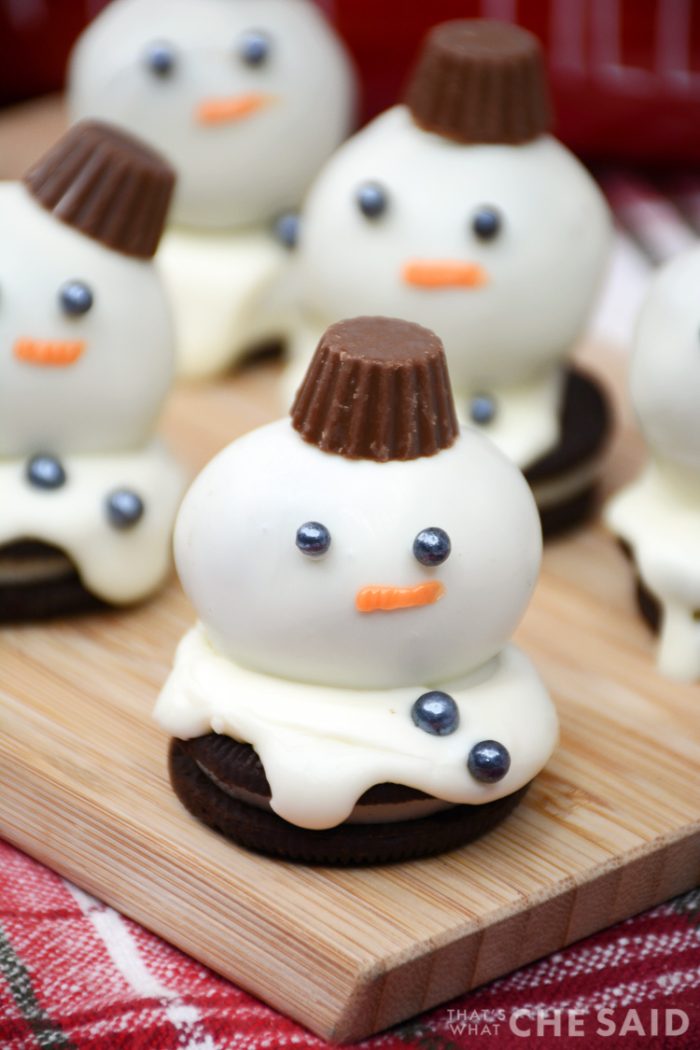 Don't Miss Out!
Get all my delicious email recipes straight to your inbox!
Since these melted snowman cookies stand up straight they fit nicely on a plate or platter and make a great centerpiece for a get-together!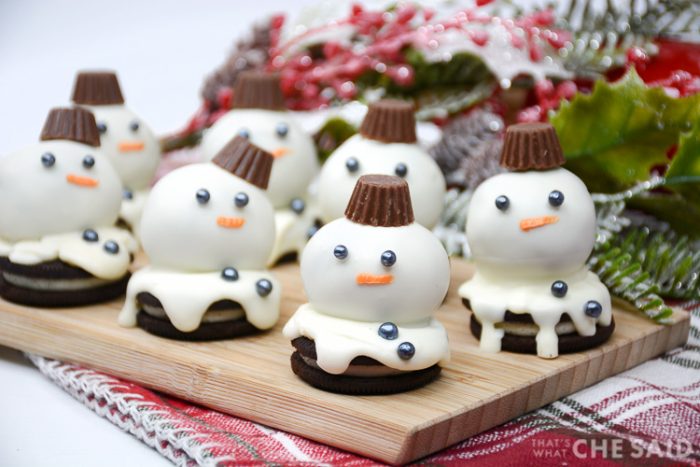 This post may contain Amazon Associate and other affiliate links.
As an Amazon affiliate, I earn a small commission from these links at no additional cost to you.
Melted Snowman Cookie Ingredients
Since we are not actually baking cookies the ingredient list is quite small. There is no need for sugar cookie mix, all-purpose flour, sugar, egg, almond extract, salt, vanilla extract, or baking powder. We only need a few ingredients:
*Don't be confused with Miniature Peanut Butter Cups, those are the small individually wrapped cups that are larger than a Hershey Kiss. These are the MINI peanut butter cups and are in a ziptop bag and are not wrapped. I linked them above so you can see what I am talking about!
You can make melted snowman cookies recipe gluten-free by using the Gluten-Free Oreos!! GF Oreos come in regular and gluten-free double stuffed!
Kitchen Gadgets Needed for Snowman Cookies:
Same with the ingredients, since we are not baking these cookies we don't need a mixer, bowl or cooling racks or
Food Processor or Blender.
Baking Sheet
Parchment Paper
Cookie Scoop (helpful, not needed)
Piping bags or plastic baggies work well also.
Bowl
Spoon
Tips for Cookies:
Since we are using melted chocolate vs frosting these melted snowman cookies can sit at room temperature.
If you don't have a food processor, a Blender such as a blendtec will also work great. You can also use an electric mixer it will just take a bit longer and you may have to break up some cookie chunks by hand.
You can add more or less decorations.
These are very forgiving cookies so perfect for kids to help.
Use Candy Melts or icing for the nose. Colored Gel doesn't stick well to the chocolate and will run down your cookie.
If you would like to flavor these, you may add 1/2 to 1 teaspoon of peppermint extract to the white chocolate or to the truffle cookie dough.
If there are any left, these can be stored in an airtight container in the refrigerator for up to 1 week.
MORE COOKIES YOU MAY LOVE:
How to Make Melted Snowman Cookies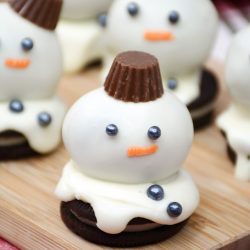 Melted Snowman Cookies
Delicious Melted Snowman cookies made with Oreos and Oreo truffles! Two treats in one! These are perfect for winter months!
Print Recipe
Pin Recipe
Ingredients
1

double stuffed oreos

,

family package

18

regular Oreos

4

oz

cream cheese,

softened

4

oz

black sprinkles

,

Wilton, round

1 – 4

oz

Orange Wilton Candy Melts

24

oz

White Chocolate melting wafers

,

separated

Mini reese peanut butter cups
Instructions
Instructions for Oreo Truffles
Line a cookie sheet with parchment paper

Place the regular Oreo cookies in the bowl of a food processor and pulse until finely ground.

Add the cream cheese and pulse until the mixture is well combined and smooth.

Using a small cookie scoop, scoop some dough into your hands and roll into a ball, place onto cookie sheet. Repeat until all the dough is used, which is roughly 24 balls

Place the cookie balls in the freezer until well chilled, at least 1 hour.
Instructions to Build Melted Snowman Cookie
In a microwave safe bowl, melt the white chocolate wafers. Heat in increments of 45 seconds being sure to stir well between increments. Heat until the chocolate is smooth and creamy.

Spoon about 1 ½ cups of melted white chocolate into 1 of the piping bags

Place 24 Oreo cookies onto a baking sheet covered with parchment paper.

Cut the tip off the disposable piping bag and pipe a melted snow pile onto the top of the cookie **If you don't have a piping bag, simply use a spoon and a small amount of white chocolate.

Remove the oreo truffles from refrigerator

Place the toothpick into the middle of the oreo truffle so that it's easy to dip the truffle into the white chocolate and dip the oreo truffle into the remaining melted chocolate in the bowl.

Place the truffle onto the top of the Oreo

Carefully push a mini Reese's Peanut Butter Cup onto the top of the oreo truffle

Place two of the black sprinkles for the eyes.

Place two more black sprinkles on the side

Melt the orange candy melts and scoop into the last piping bag

Cut the tip off and pipe a small cone for the nose

Allow to dry completely before enjoying it!
Nutrition Estimate
Serving:
1
cookie
Calories:
123
kcal
Carbohydrates:
15
g
Protein:
1
g
Fat:
7
g
Saturated Fat:
5
g
Polyunsaturated Fat:
1
g
Monounsaturated Fat:
1
g
Trans Fat:
1
g
Cholesterol:
5
mg
Sodium:
72
mg
Potassium:
27
mg
Fiber:
1
g
Sugar:
12
g
Vitamin A:
64
IU
Calcium:
7
mg
Iron:
1
mg
MORE SNOWMAN PROJECTS: