Snowman Bark is a fun way to beat the winter blues! This tasty treat is not only delicious but adorable! Get the kids involved making silly snowman faces!
Snowman Bark is  delicious way to make the best of the long winter months!  These sweet treats look like cute little snowmen!   I've teamed up with Demarle to share these treats and share my love for the Flexipan®!  If you are a baker, you will not want to miss this!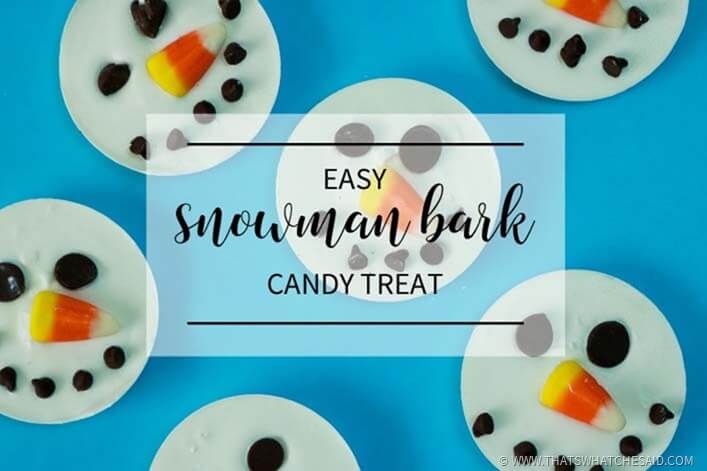 In the winter we tend to get a bit stir crazy!  In St. Louis there isn't snow winter long to play in, the temperatures are either super freezing (miserable) or cold but *just* warm enough that we get lots and lots of rain.  This combination normally forces us inside for a good few months!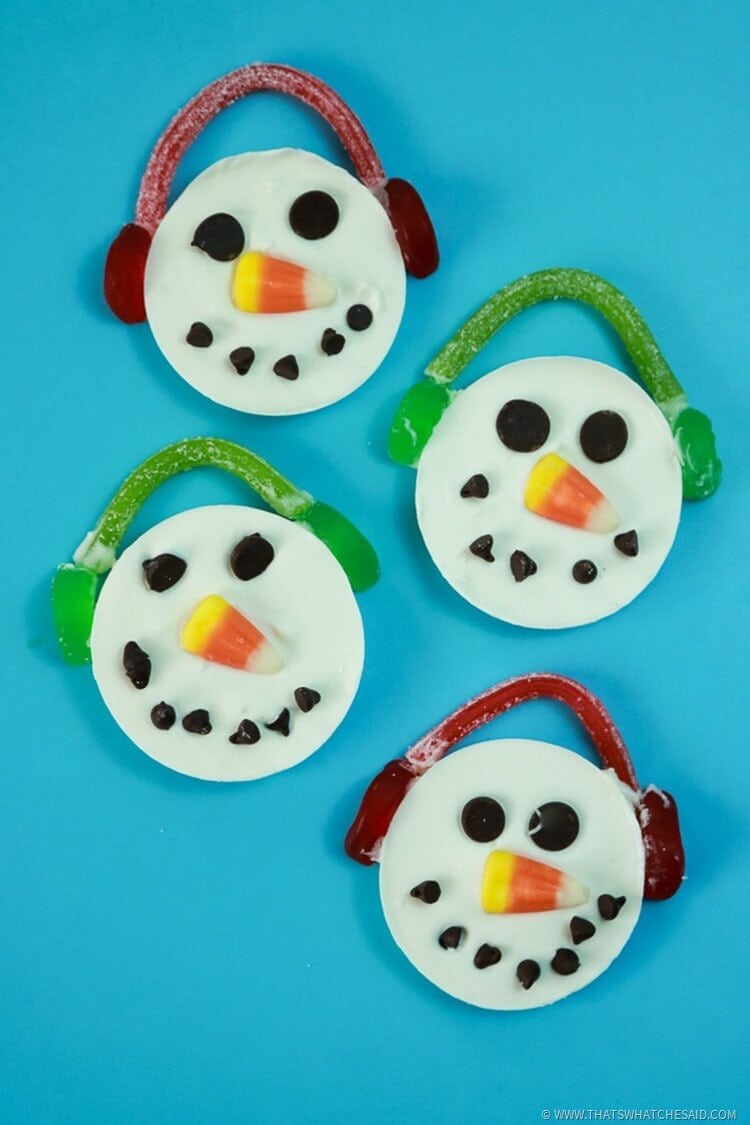 To break the monotony I like to make little treats that the kids (and my husband) can look forward to!  These adorable Snowman Bark Treats are just that and are solely made possible by the Flexipan®!  There is not a way for me to have made these this easily any other way!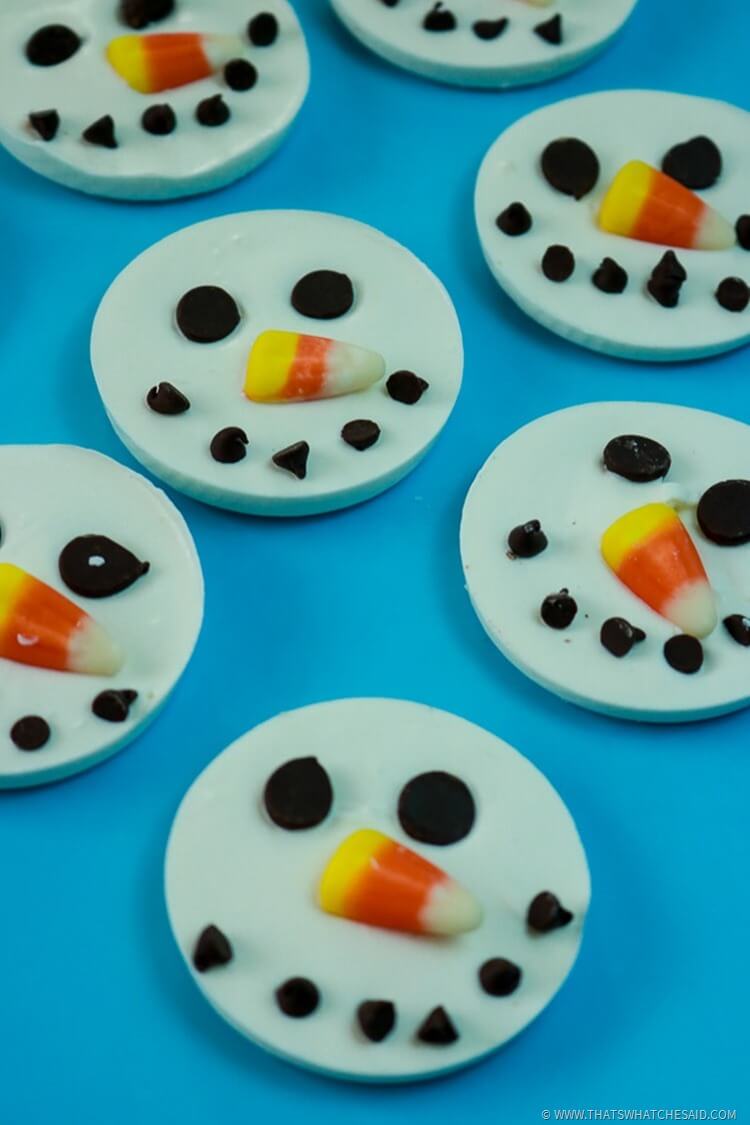 Supplies for Snowman Bark Treats:
Regular Sized Chocolate Chips
Mini Chocolate Chips
Candy Corn
Essential oils or extract (optional)
To start out I added my white candy melts in a microwave safe dish.
I microwaved in bursts as per the package until it was melted, smooth and creamy.   If you want to add any essential oils (peppermint, orange or grapefruit are my favorites!) or any extract do it here!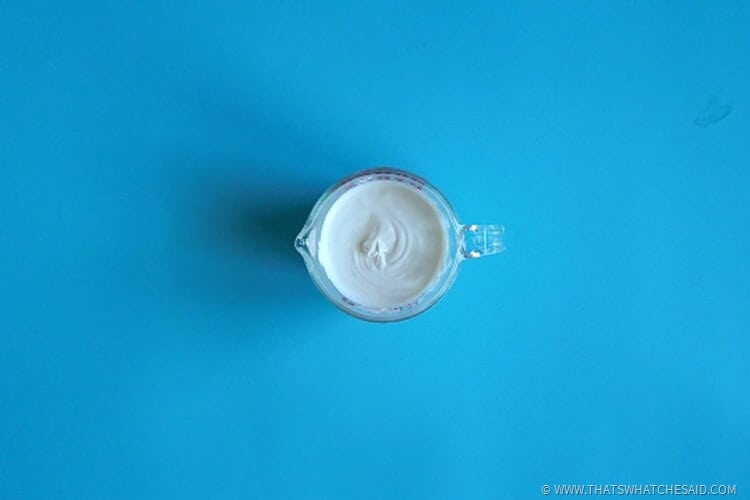 Then I placed my Flexipan® Muffin Tray on the Perforated Baking Sheet (for support) and added the white melted candy melts to each of the compartments.  I just kept it about a quarter inch –ish full.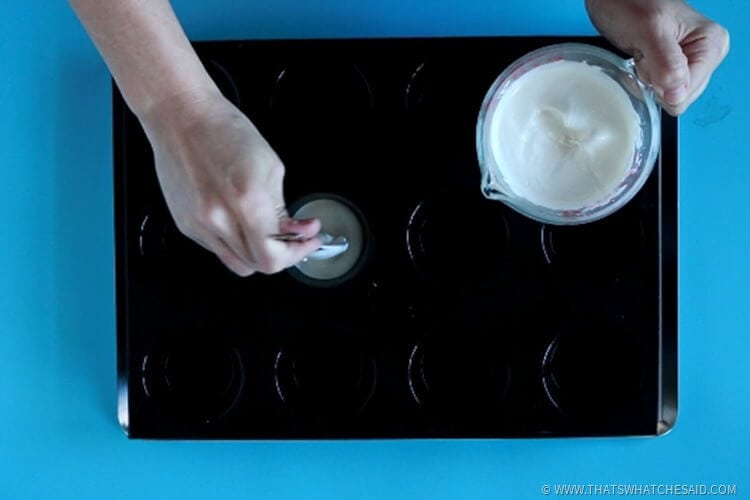 Next I gently shook the tray to level the melted candy.  Next I added regular chocolate chips as eyes.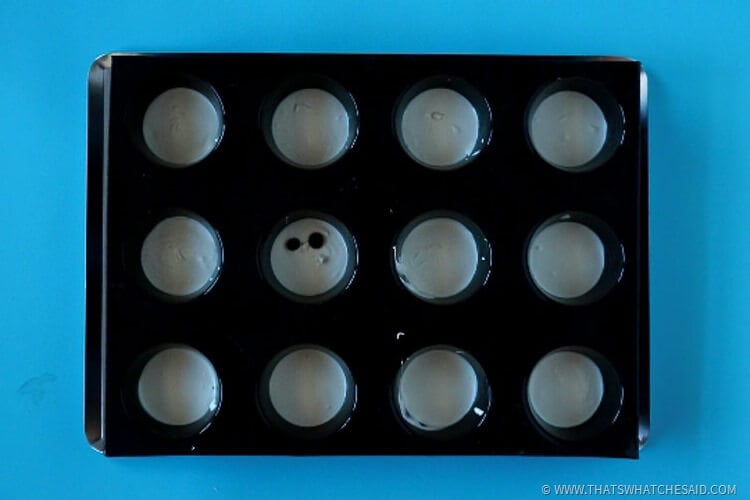 Then I added a candy corn nose.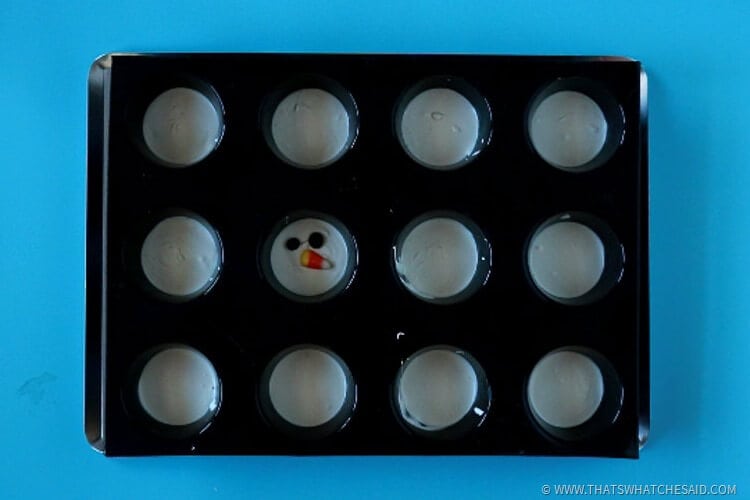 Then a mouth with mini chocolate chips!  This is a great time to let the kids come in and create any faces they like!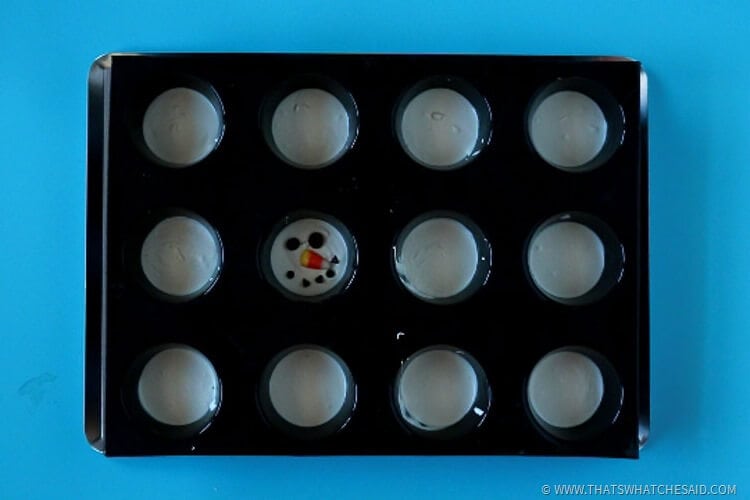 Repeat for all the compartments!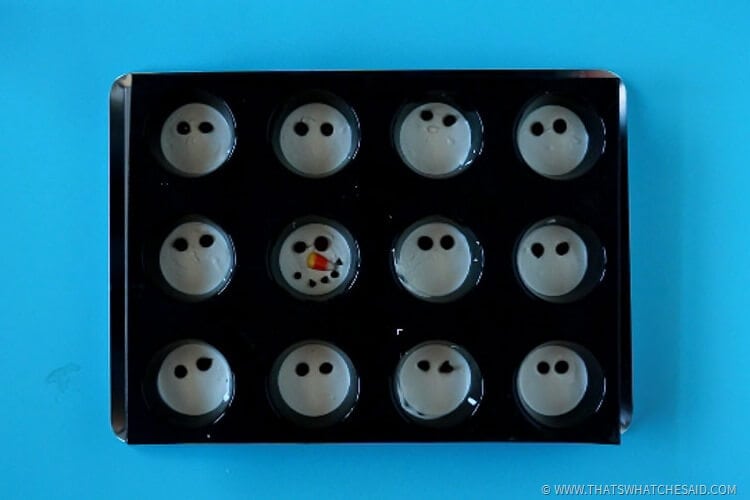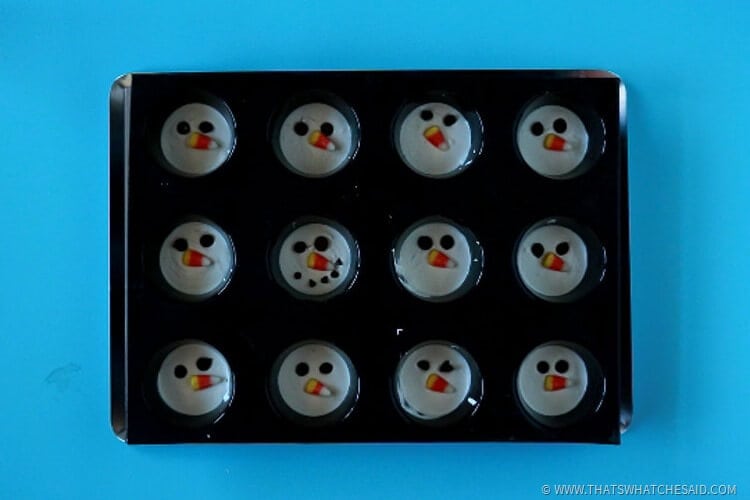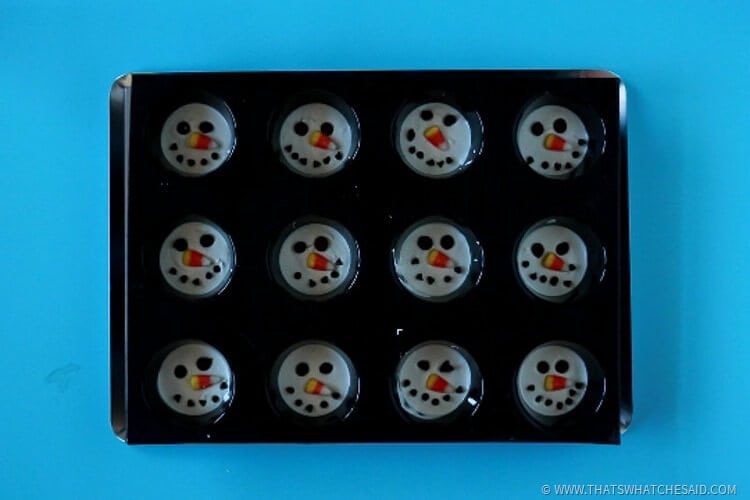 Place in refrigerator or freezer to set.  (Or if you are not impatient like me, you can just leave out on your counter to harden!) Candy melts will harden without being chilled!
Here is where the magic of the Flexipan® comes into play.  If using a metal tin, you would have quite the time trying to get these guys out.  Even those thick silicone molds are really tough to get them out without breaking them (believe me I have tried this once before!) but the Flexipan® is the perfect thickness making it a breeze to get these guys out!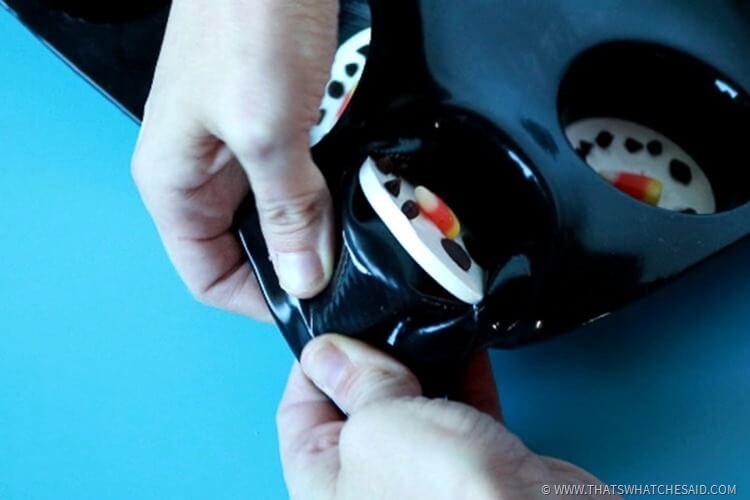 They pop right out and are perfect!
Check out my video below to see how I add earmuffs to them to make them even more adorable!   (and to witness the awesomeness of the Muffin Tray!)
I shared this fun video over on my Facebook page. Do you hang out over there? It's a fun place!
MORE SNOWMAN PROJECTS:
[cgview id=21,374 name=crafts, recipes, tags=snowman size=200×200 num=9 lightbox=0]
Snowman Bark
Snowman Bark is a fun way to beat the winter blues! This tasty treat is not only delicious but adorable! Get the kids involved making silly snowman faces!
Print Recipe
Pin Recipe
Ingredients
1

bag

Wilton Candy Melts

,

White

1

tbsp

chocolate chips

2

tbsps

Mini Chocolate Chips

12

pieces

Candy Corn
Instructions
Melt the candy melts according to package directions.

Spread the melted mixture out between the 12 muffin compartments in your FlexiPan Muffin Tray. Shake to level the melted candy.

Add 2 regular sized chocolate chips as the snowman eyes

Add 1 Candy Corn as the carrot nose.

Add mini chocolate chips as the mouth

Let set either in fridge, freezer or on your counter

When set, pop out of the Flexipan muffin tray and Enjoy!
I use this muffin tray at least once a week!  It is the easiest to clean and my muffins and egg muffins and mini-meat loafs come out easily and perfect every time!  They also have this great  Healthy Cooking Kit  that has some of everything!  No more cooking sprays filled with chemicals going into your foods…they all work perfectly as is!

This post was sponsored by Demarle at Home.  All opinions and ideas are 100% my own!
IF YOU LIKE THIS, DON'T FORGET TO PIN IT!