This is a fun winter craft project to get the kids involved with! Make snowman candy bars and then drop them off on porches for a fun RAOK idea or enjoy yourself! This quick and easy project is not only tasty but a great way to beat the winter blues.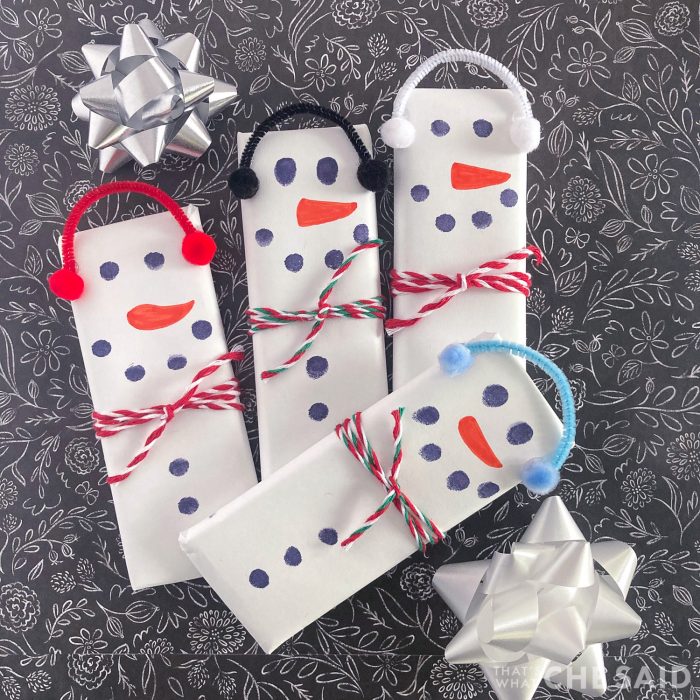 This project is simple and easy and requires a few basic craft supplies. You can make substitutes using what you have on hand. It's also a great craft for the kids to get involved with! It will keep them busy when it starts to get chilly or when the hustle and bustle of the holidays are over.
Don't Miss Out!
Get quick crafts, easy recipes and free printables & cut files straight to your inbox! You won't want to miss a thing! Join now!
This post may contain Amazon Associate and other affiliate links.
As an Amazon affiliate, I earn a small commission from these links at no additional cost to you.
Snowman Candy Bar Supplies: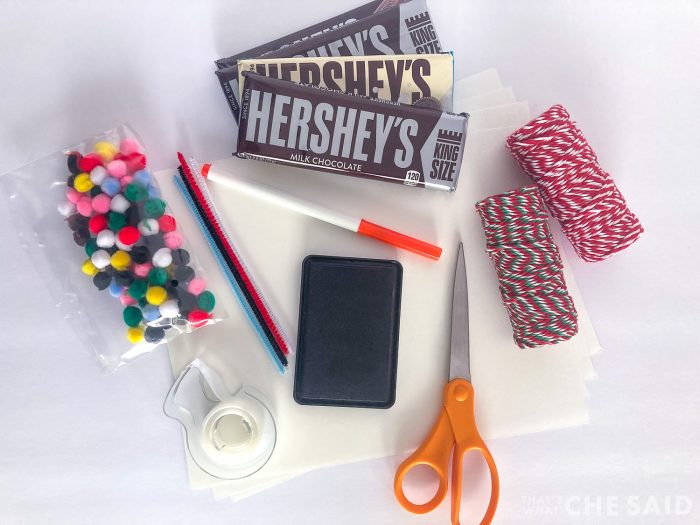 These are wrapped like a gift but you can totally just cut some paper to size and make wrappers vs completely wrapping them like gifts!
How to Make Snowman Candy Bars
Time needed: 10 minutes
With a few basic craft supplies, you can create simple and fun Snowman Candy Bars! These are perfect to gift or to enjoy yourself and an easy craft to get the kids involved with!
Tape Down the Flaps

Using some tape, secure any flaps on the candy bar. It's easiest to wrap if it's rectangle

Wrap the Candy Bar

Like you are wrapping a gift, wrap the candy bar in white copy paper.

Add Eyes

Using your finger and a stamp pad add two eyes!

Draw on a carrot nose

Using an orange marker, draw on a rectangle carrot nose.

Add coal mouth

Same as the eyes, use a black stamp pad and your finger to create a mouth

Add Scarf

Using ribbon or twine, tie on a scarf under the face. If using twine you will want to wrap the bar a few times before tying off and trimming ends.

Add buttons

Same as steps 3 and 5, add buttons.

Hot Glue Pom Poms

Start making the ear muffs by gluing on 2 matching pom poms to the side of the candy bar where ears would be.

Cut Pipe Cleaner and Attach

Cut a pipe cleaner to about 3 inches and bend in an arch. Hot glue that to the pom poms to create the connector piece of ear muffs.

Enjoy a fun Snowman Candy Bar!
More Snowman Projects:
[ess_grid alias="snowman"][/ess_grid]