Have I told you that I am the Creative Activities Coordinator for my MOPS group (Mothers of Preschoolers)?  Well I am.  We had our craft time at our December meeting and I wanted to do something seasonal but not holiday.  I wanted something everyone could keep out for more than 2 weeks but tied in with it being winter.  I decided on a super cute Clay Pot Snowman Candy Dish!   It resembles the bubble gum machines you see all over Pinterest but in our case, it is decked out as a snowman and perfect for the winter months!  (If I still lived in MN then I could leave it up through JUNE because winter is so. darn. long. up there!)  Anyway…I thought you would all like to make one also!
I had planned this post go up a bit sooner and then the dreaded flu found its way into my soul and sucked every bit of life out of me for a week and counting so I am now trying to catch up!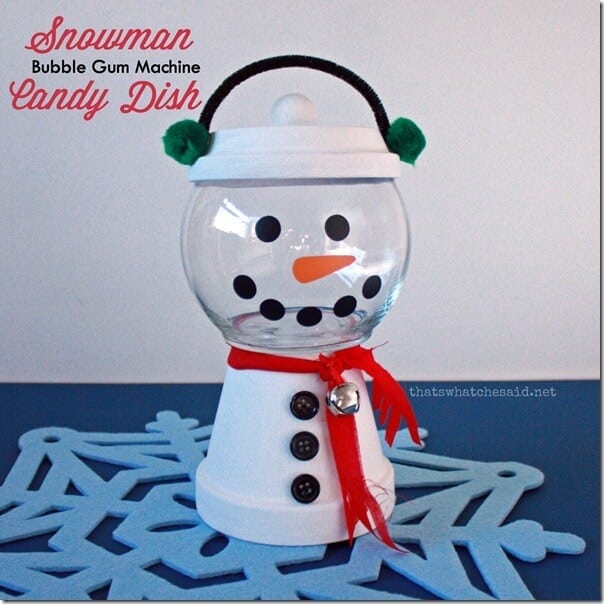 Supplies Needed:
4 inch tall terra cotta pot

4.5 inch diameter terra cotta drip plate

Wooden ball (get the ones with the flat side, it's easier to stick on the top)

Glass globe candle holder (Dollar Tree)

White Acrylic paint (or spray paint)

colored pom poms

black pipe cleaners

3 black buttons (or black vinyl)

orange clay

fabric scraps

jingle bell (optional)

E6000 or other strong glue

hot glue/glue gun
Start off by painting your pot, drip plate and wooden ball white.  We used white acrylic paint however you could also spray paint this as well.  I didn't even bother removing the barcode tags because they will be covered.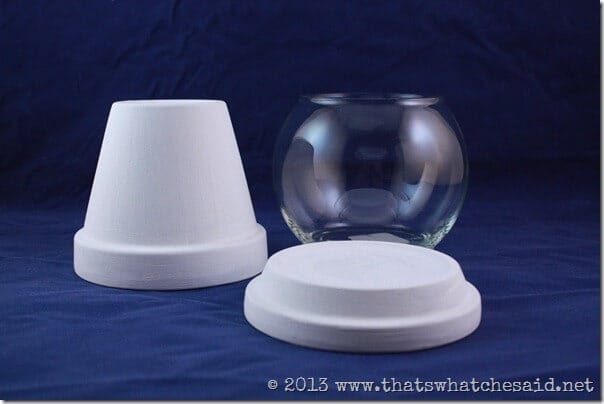 Once your pots are dry, you will glue the glass globe onto the bottom of the terra cotta pot.  So turn the pot upside down on your work surface and then glue the glass globe right side up, onto it!.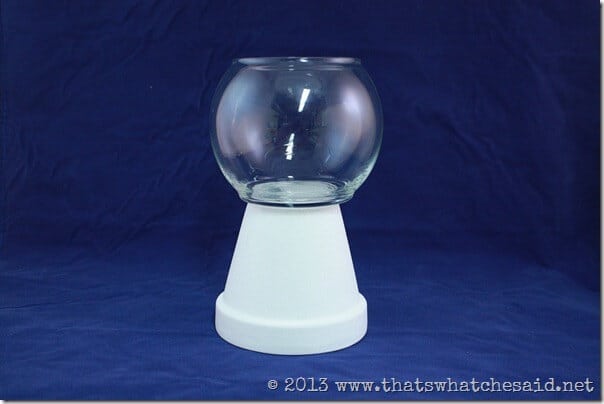 Next, turn your drip plate upside down on your work surface and glue the flat side of the wooden ball to the plate. 
Now the hard part is done!  Just like a real snowman.  Rolling the snowballs and stacking into a body is the most work!  Now comes the fun part…dressing him up!
I used three buttons for the body and then used some fabric scraps for a scarf.  I tied a small jingle bell on to the scarf…well…just because!  I glued two pom poms on the lid with a pipe cleaner to look like ear muffs!  I used some black and orange vinyl for the eyes/mouth and carrot nose!  You can really decorate him however you'd like!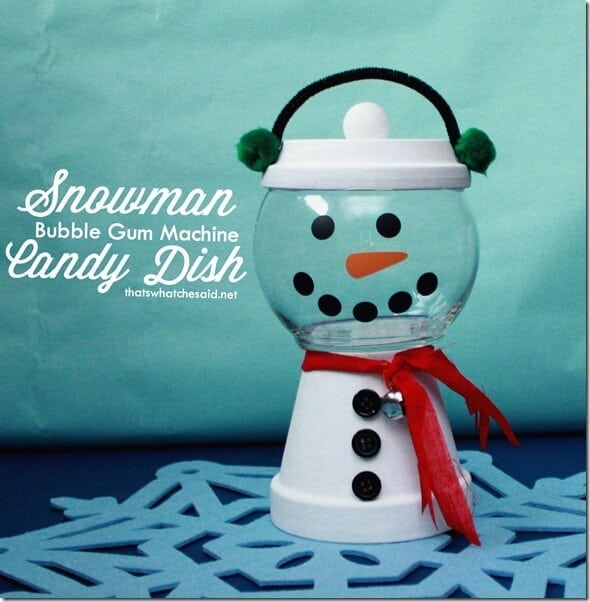 (Here you can see the lid a bit better against the blue background.)  Fill him with some candy and you are set to go!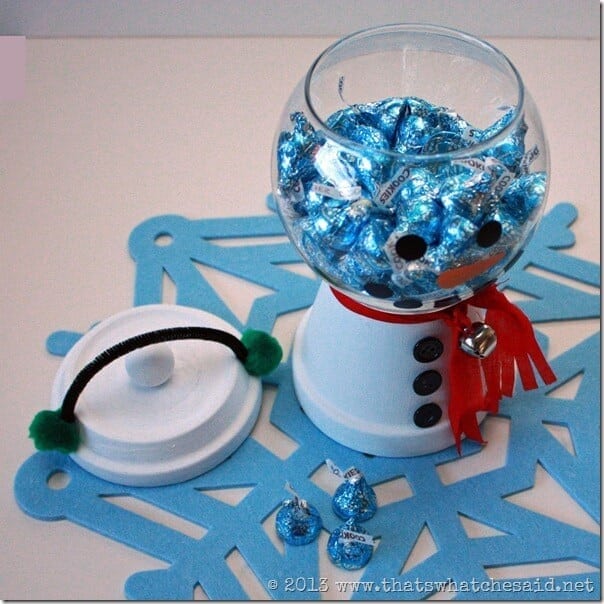 *this post may contain affilate links.  You can find my full disclosure here.