Christmas and hot chocolate go hand in hand and this dollar store hot chocolate ornament will look amazing on your tree and also SO CUTE as a gift topper! Better yet, most of these supplies can be found at the dollar store!
Hot chocolate is such a holiday staple at our house. I mean I have a recipe or two you may like:
Don't Miss Out!
Get quick crafts, easy recipes and free printables & cut files straight to your inbox! You won't want to miss a thing! Join now!
I also love this Christmas Blend Hot Cocoa free SVG file that looks so great on a serving tray, sign, or apron!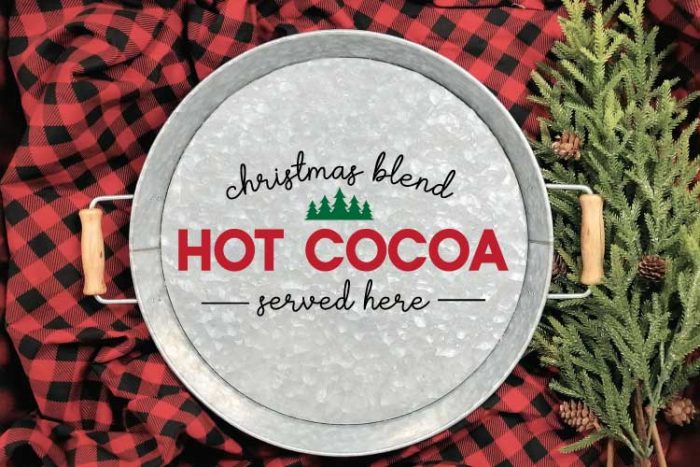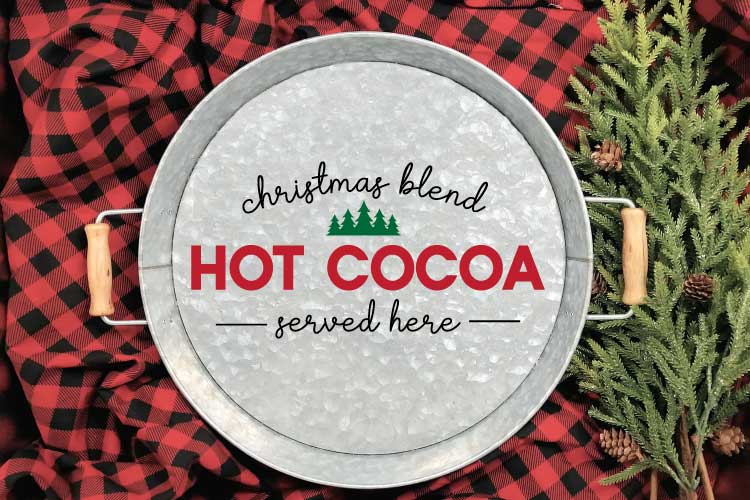 This post may contain Amazon Associate and other affiliate links.
As an Amazon affiliate, I earn a small commission from these links at no additional cost to you.
Hot Chocolate Ornament Supplies:
*Dollar Tree has the mini dessert mugs (called Espresso mugs I believe) but I cannot find them online to link so I linked Amazon ones! A few other supplies they have instore but I couldn't find them on the website to link so I linked from another store!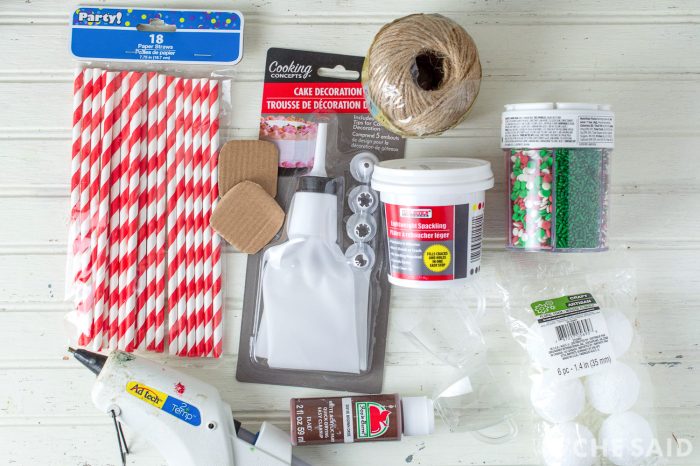 MORE ORNAMENTS:
[ess_grid alias="ornaments"][/ess_grid]
How to Make a Hot Chocolate Ornament
Time needed: 6 hours
Turn dollar store supplies into adorable hot chocolate ornaments for a tree or a gift topper!
Paint the Inside of the Mini-Mug

Using brown acrylic paint and a paintbrush, paint the inside of the mini-mug. Leave about 1/4-1/2 inch clear at the rim of the mug. You may need 2 coats.

Insert Craft Ball

Using a dab of hot glue, insert the foam craft ball into the mini-mug.

Prepare Cardboard Insert

Turn your mini-cup over on some cardboard and trace. Cut along the INSIDE of the traced line. You want it to fit just inside the mug.

Glue on the Cardboard Insert

Glue the piece of cardboard on top of the foam ball. Seal the edges with hot glue.

Add Texture

Add a bit of swirls using hot glue on top of the cardboard piece for your hot chocolate surface.

Trim Straw

While the hot glue texture dries, cut a paper straw down to size, about 2 inches in length.

Paint the Top

Paint the texture brown and let it dry.

Prepare Spackle

Scoop out the spackle from the tub and fill the pastry bag. Do this using a craft stick or a plastic spoon so it's easily disposable. You will want the star tip.

Add "Whipped Topping"

When the brown surface paint is dry, use the spackle filled piping bag to create whip cream swirls! You may need to stack in order to create the height.

Insert the Straw

Insert the straw into the spackle at a slight angle.

Add Sprinkles

Add sprinkles if desired. Carefully pour them on. You might need to lightly press them into the spackle. *see notes below

Add Twine Hanger

Cut a loop of twine and tie around the handle of the mini mug.

Hang!

When the spackle is completely dry (6-12 hours) You can hang on your tree or add as a gift topper!
Notes on Dollar Tree Ornament:
This ornament can be made using any type of small clear plastic cup. Just adjust the size of the cardboard to fit, as well as the size of the foam ball.
If your small plastic cup does not have a handle like this one, simply hot glue the twine hanger on the back of the ornament!
Once you use this dollar store pastry bag, it will be for crafting only! Do not reuse for food. I think of these as single-use for this project.
Lightweight spackle is needed. Regular spackle is heavier and will "sink" and collapse.
If your sprinkles do not stick to the spackle and you have patience, lol. you can apply them with a dot of super glue and craft tweezers after the spackle is dry!
You can also completely omit the sprinkles or just add them to the hot chocolate part (while the brown surface paint is wet) and I think they are just as darling!