I am just loving on this cute Puzzle Piece Snowflake Ornament!  A few days back I shared my Rudolph Reindeer Ornament and towards the beginning of the series I shared my Snowman Ornament too!  I love ornaments…can you tell?!?  I also love all the fun things you can make using up-cycled puzzle pieces!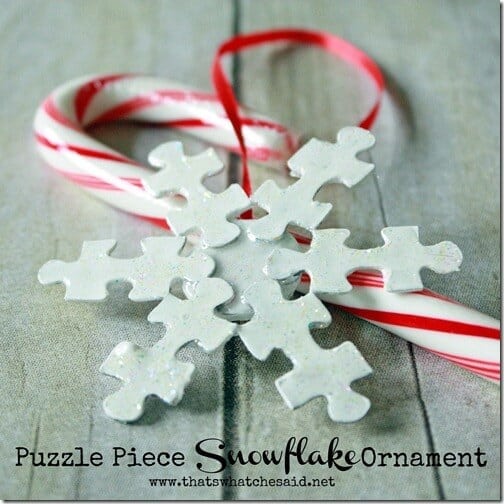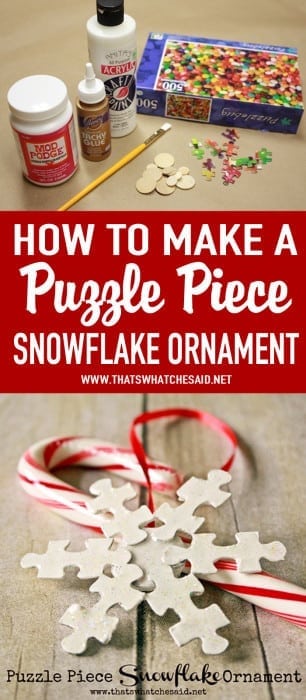 Supplies Needed: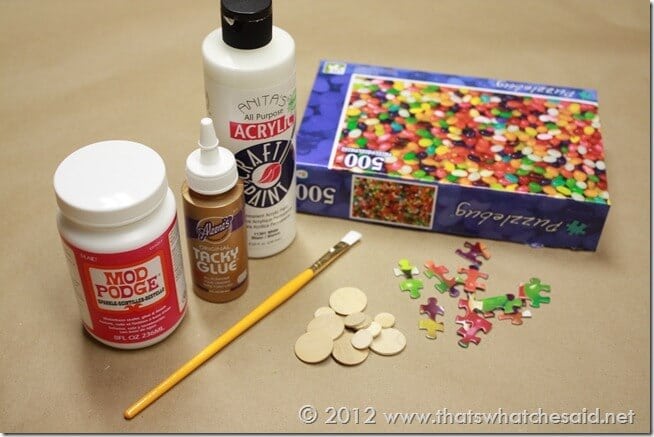 I started out by finding the puzzle pieces that were long and skinny.  Not ones that have a straight edge or a corer piece!  I used tacky glue and I glued them onto the circle disc in a star pattern to create the snowflake shape.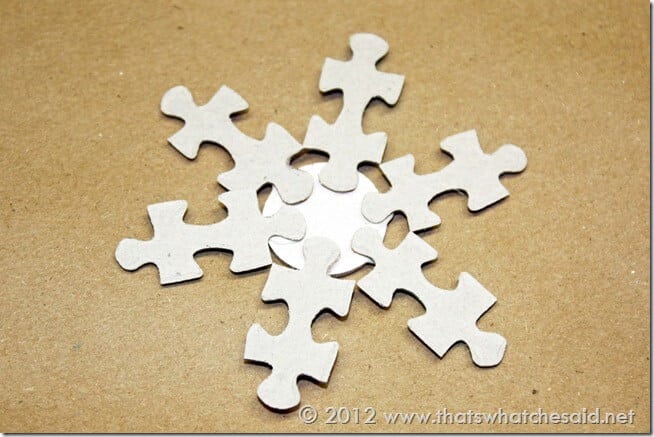 Next I painted the whole thing white. Front and back about 2-3 coats each side and edges.
When the paint dried, I applied two coats of sparkle mod podge.  I am LOVING the sparkle Mod Podge!  I used it for my Tiered Platter and I have since been eyeing up everything in sight that I can cover with the stuff!  The perfect amount of sparkle without the mess everywhere = LOVE in my mind!
Then I set my snowflake on a flat surface and covered the top with dimensional magic and let dry for 3 hours.  I love the way it turned out.  The dimensional magic gave it a hard plastic sheen and they are just little puzzle pieces under there!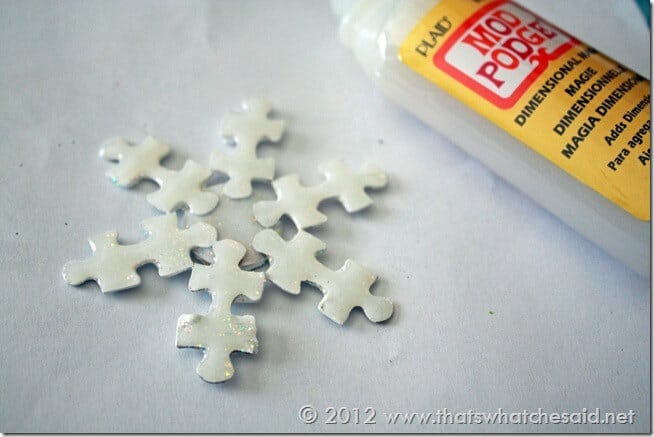 Glue a ribbon on the back to hang with and you are done!  This is a great activity to do with the kids and these can be added to your gift wrapping as cute embellishments!   Michael made about 20, he loved them so much!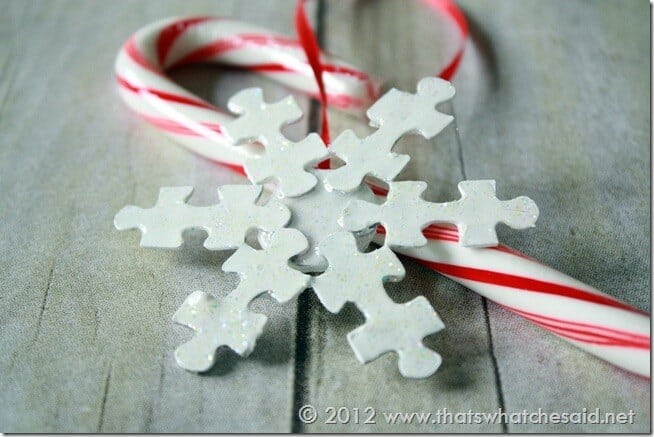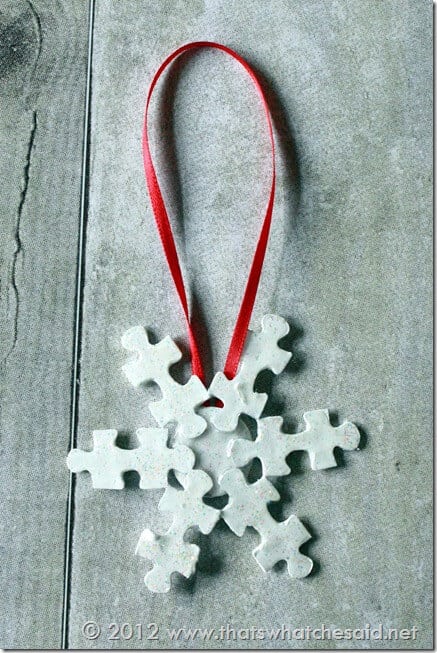 You can find all the posts for this series by clicking the button below! Also feel free to sign up for email notifications of my posts! You can also find me on Facebook and Twitter!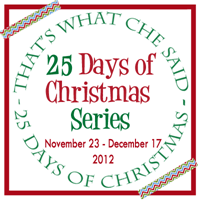 You might also like this Candy Cane Puzzle Piece Ornament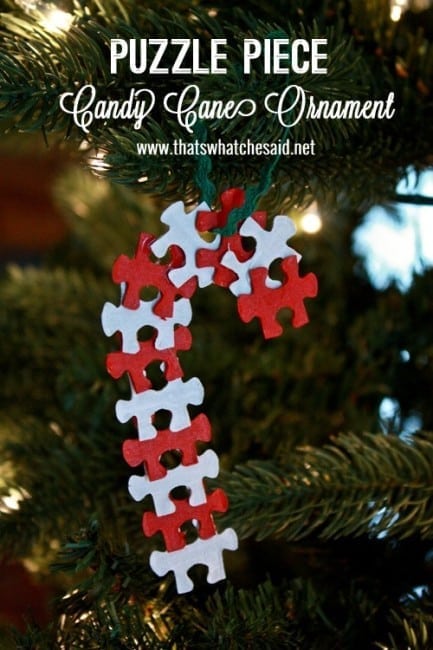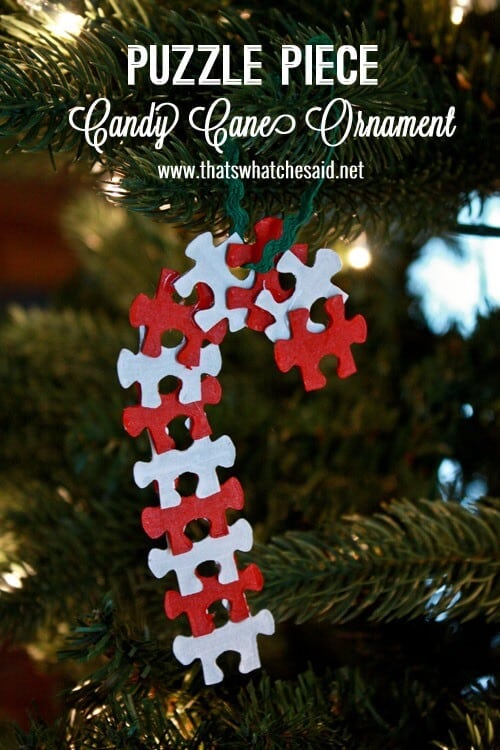 Or this fun Puzzle Piece Wreath Ornament!  Be sure to check out the tabs in my 25 Days of Christmas Series to see all the fun holiday projects!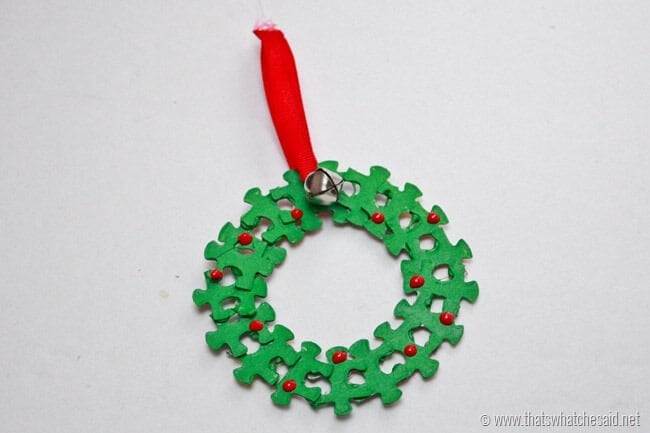 *This post may contain affiliate links.  You may read my full disclosure here.  Affiliate links help keep the content on That's What Che Said FREE!  Thanks for supporting me and companies and products that I think rock!