You know we just lived in Minnesota for 3.5 years and anyone from Minnesota knows things are ALWAYS better on a stick!  These super easy, fun treats are not only delicious but they are such a good treat to share with neighbors, friends or to bring to holiday festivities!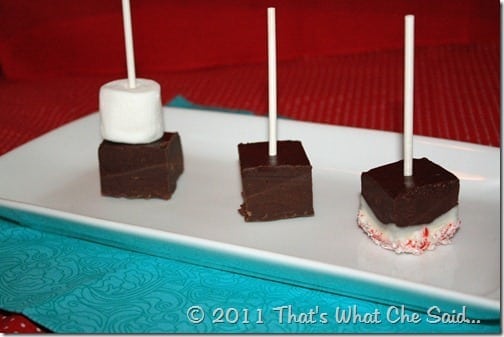 I made 3 different versions:  (left to right) Regular Hot Chocolate, Vanilla Hot Chocolate & Peppermint Hot Chocolate.  I am going to share how to make the Regular Hot Chocolate here and you can click the link below and print out the other two variations as well as a cute Printable for giving these to others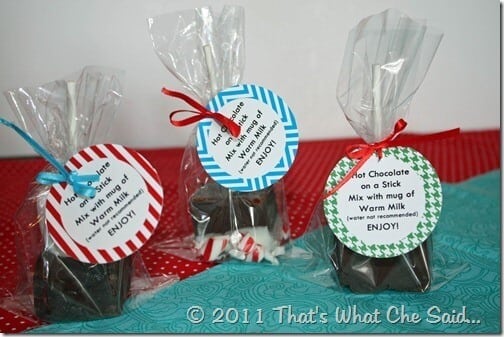 Ingredients/Items Needed for Regular Hot Chocolate:
1 cup milk chocolate, shaved or in chips
2 cups semi-sweet chocolate, shaved or in chips
3/4 cup (4 oz. bar) of unsweetened chocolate, shaved
1 can of sweetened condensed milk
1/2 cup heavy cream
25 lollipop sticks
aluminum foil
cooking spray
Large Marshmallows
1.  Start off by lining a 8 x 8 pan with aluminum foil and then also spray the foil with cooking spray.
2.  Place all chocolate in a large heat-safe bowl.
3.  Combine the sweetened condensed milk and the cream in a small saucepan and simmer over medium-low heat, stirring constantly until it reaches a simmer.  (It will scorch very easily so make sure to keep stirring!)
4.  Once it simmers, pour on the chocolate and let sit for a minute to soften the chocolate.  Stir until smooth and creamy.
5.  Pour into your pan and let set overnight or about 4 hours in the refrigerator.
6.  Once set, slice in 25 pieces.  Cutting Tip:  Heat a knife in warm water and then dry.  Cut a slice, wipe knife clean and repeat the heating.  This will give you clean cuts on your chocolate cubes.
Insert a lollipop stick into a large marshmallow and then into your chocolate cube!

                  

To Make Your Hot Chocolate:
1.  I warmed about a cup and a half of skim milk in a saucepan until simmering.  Be sure to stir constantly.  (Water is not recommended for this recipe!  Milk is SO. MUCH. BETTER!)
2.  Pour milk in mug and place a Hot Chocolate Stick in the mug.  Let it set for a minute or two to soften then stir until dissolved!
3.  Add tiny marshmallows or whipped cream and ENJOY!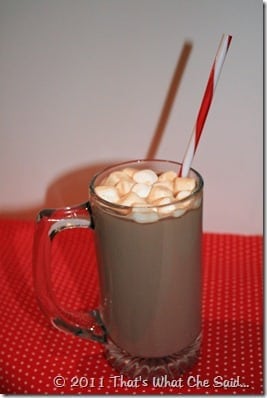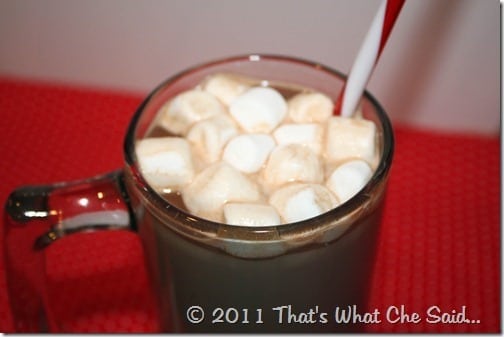 You can package each stick in a clear candy bag tied with cute ribbon and attach the directions!  Here is a free printable for you!  Use a 2" circle punch to cut them out!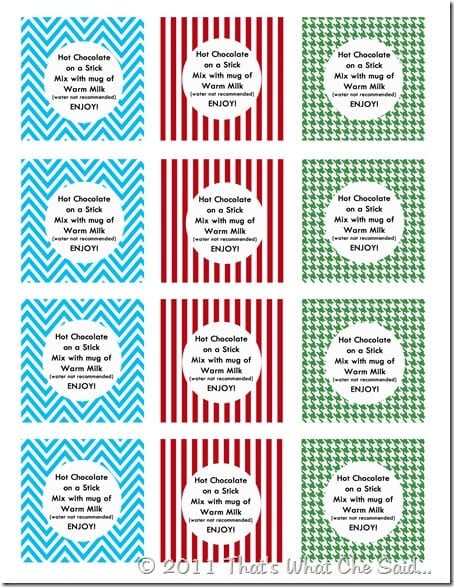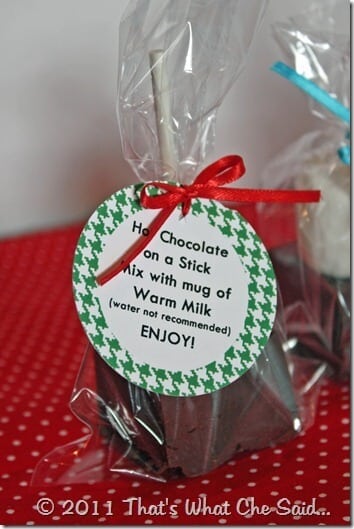 You can view all three full recipes below as well as the Tag Printable (without watermark).




 Be sure to enter you email below to get my posts delivered straight to your inbox for FREE!