A delightful blend of white and dark chocolate make this tuxedo hot chocolate smooth and delicious. The instant pot helps whip this together in minutes.
Combining both milk and white chocolate together in your pressure cooker makes this Instant Pot Tuxedo Hot Chocolate Recipe your new way to enjoy hot chocolate! The layered flavors and the ease of the pressure cooker will save you time and make your hot chocolate a fan favorite!
Hot chocolate is a serious matter around here. We enjoy Hot Chocolate on a Stick (also great gift idea or stocking stuffer!), Maple Bourbon Hot Chocolate (YUM!) and I also make The Best Stovetop Hot Chocolate.
When you have friends or family over and you'd rather be visiting than watching over a pot of simmering milk the Instant Pot hot chocolate recipe comes in perfectly handy! This tuxedo hot chocolate recipe layers flavors and is amazing!
Don't Miss Out!
Get easy weeknight meals that can be made right in your instant pot directly to your email! Deals, desserts, and new tricks!
What is Tuxedo Hot Chocolate?
Tuxedo hot chocolate gets it's name because it combines both brown and white chocolates together, throwing nod to tuxedo colors!
Originally the recipe was coined by Starbucks who uses dark and white chocolate sauces to make their signature tuxedo hot chocolate but since has been adapted to using chocolate chips at home!
White chocolate is actually not chocolate since it contains no chocolate solids but we all can get past that technicality, right?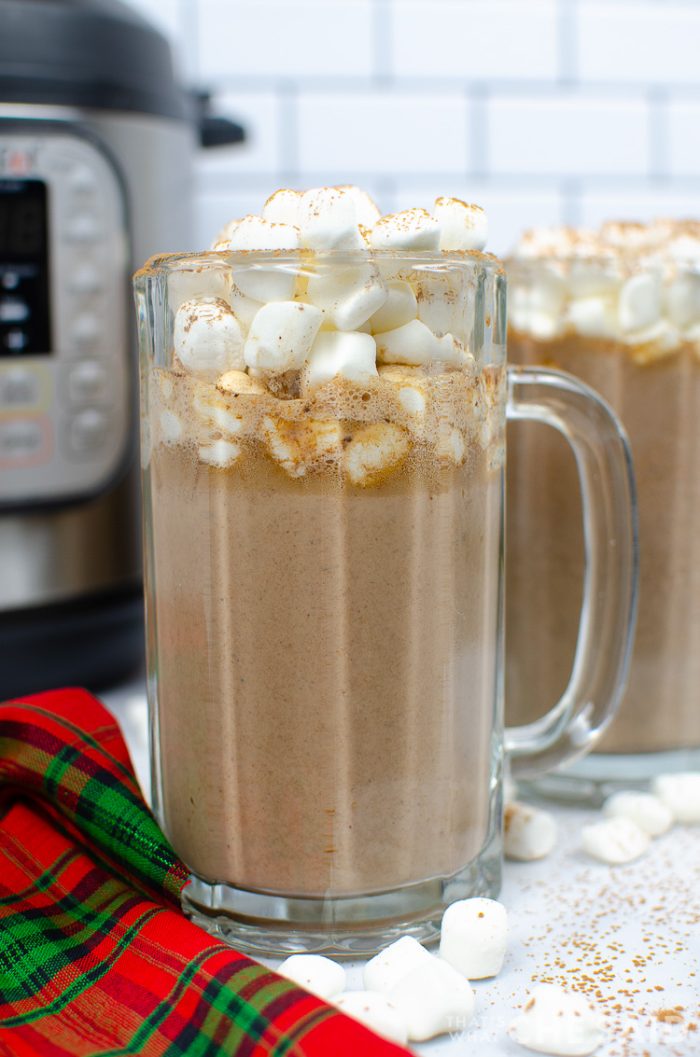 Why Use the Instant Pot for Hot Chocolate?
If you are new to the Instant Pot you can read my Instant Pot Tips for Beginners post. The Instant Pot is a closed pressurized system which means you can set it and forget it.
Stove top version of hot chocolate and even microwave ones, you need to be attentive to make sure the milk does not scorch or bubble over. With the closed system you can easily walk away and enjoy your friends and family time.
Ingredients for Tuxedo Hot Chocolate Recipe:
Whole milk – you can use less fat milk however it won't be as creamy!
Half and half
Milk chocolate chips – get good quality. (you can see the top 10 milk chocolates here)
White chocolate (chips or shaved)
Granulated sugar
Cocoa powder – again, select a quality cocoa powder. Find the best ones here.
Vanilla Extract – I am sounding like a broken record, but use quality!
How to Make Instant Pot Tuxedo Hot Chocolate
This process could not be easier friends! Simply combine all the ingredients into the inner pot of your Instant Pot.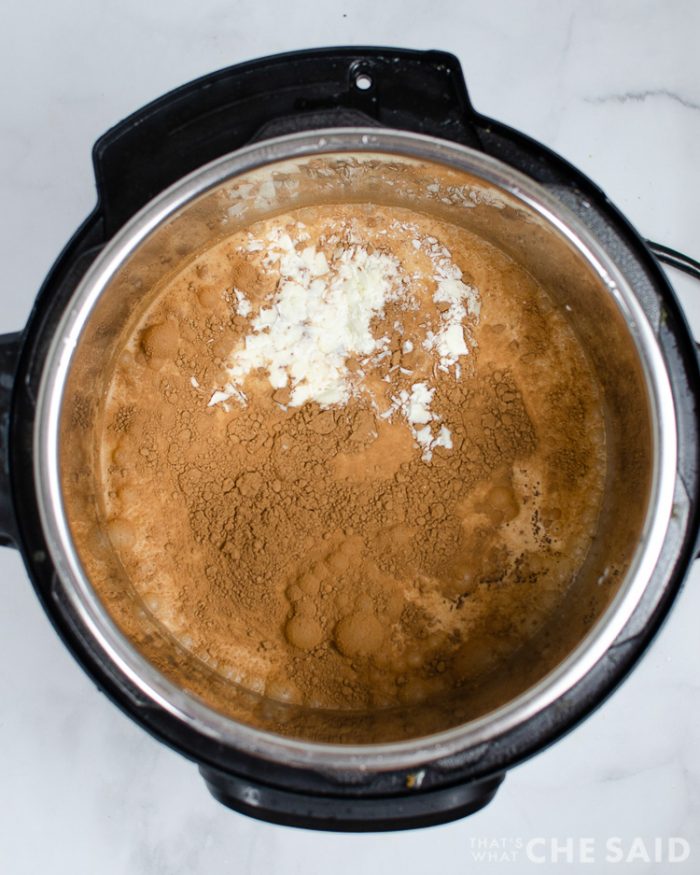 Give it a good stir, the cocoa powder may have some clumps and that's ok it will all work out when cooked!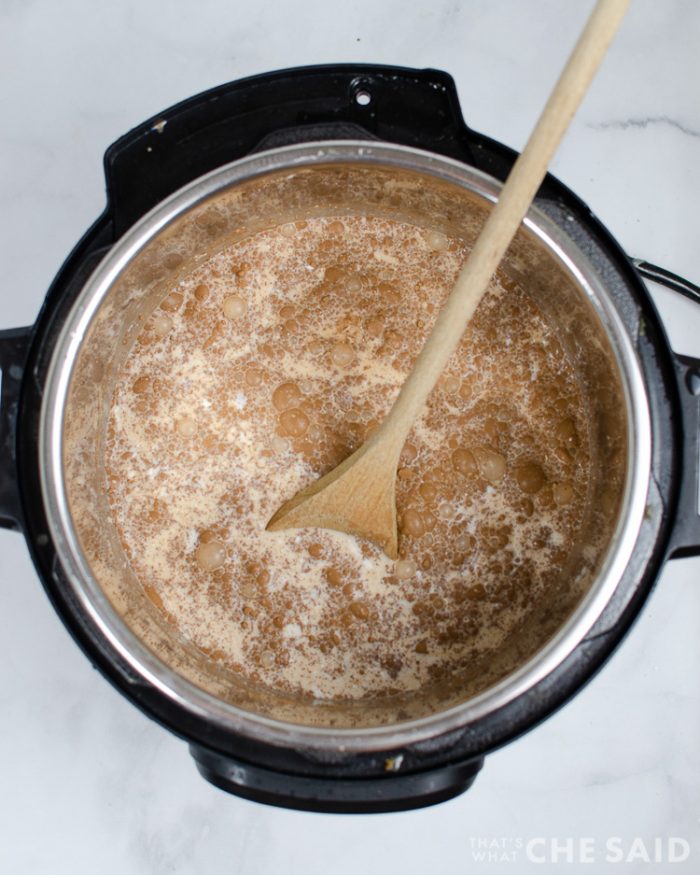 Place the lid on your instant pot and turn to secure. Mine beeps to let me know it is on correctly. Be sure that your valve is set to "sealing" and then adjust the manual settings to high pressure and 5 minutes.
The Instant Pot will take some time to come to pressure and then it will cook for 5 minutes. The pot will beep when finished and then you will allow it to sit, untouched, for 15 minutes. This is called Natural Pressure Release (NPR)

Once 15 minutes are up, use a handle of the wooden spoon to turn the valve from sealing to venting and allow any pressure to release if it has any. Take off the lid, stir again.
You now are ready to serve! I love the traditional marshmallows but you can add any of your favorite hot chocolate toppings!
This post may contain Amazon Associate and other affiliate links.
As an Amazon affiliate, I earn a small commission from these links at no additional cost to you.
Instant Pot Tuxedo Hot Chocolate Recipe
Instant Pot Tuxedo Hot Chcolate
A delightful blend of white and dark chocolate make this tuxedo hot chocolate smooth and delicious. The instant pot helps whip this together in minutes.
Print Recipe
Pin Recipe
Instructions
Add all of the ingredients to the instant pot.

Mix well and then add the lid and secure tightly.

Set your instant pot on high pressure for 5 minutes.

Once your instant pot has finished cooking, allow the pot to naturally release for 15 minutes.

Once the time is up, manually release by using a spoon handle, and pulling the valve toward you to release pressure. open your lid by twisting off.

Give it another good mix and serve up in your favorite mug! Top with whip cream, marshmallows, chocolate syrup, crushed up peppermint candies, or cocoa powder! Enjoy!
Nutrition Estimate
Serving:
1
serving
Calories:
401
kcal
Carbohydrates:
38
g
Protein:
9
g
Fat:
24
g
Saturated Fat:
15
g
Cholesterol:
52
mg
Sodium:
128
mg
Potassium:
424
mg
Fiber:
1
g
Sugar:
34
g
Vitamin A:
550
IU
Vitamin C:
1
mg
Calcium:
325
mg
Iron:
1
mg