Colcannon is an Irish staple and is the perfect St. Patrick's Day side dish. Creamy, buttery mashed potatoes plus leeks, garlic, and cabbage -- you can't go wrong with this savory Irish Dish.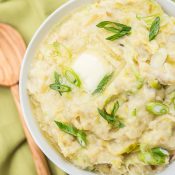 Colcannon is an Irish staple and is the perfect side dish for St. Patrick's Day! Creamy, buttery, mashed potatoes with leeks, garlic, and cabbage — you can't go wrong with this savory Irish Dish! Whipping it up in the Instant pot is even more convenient!
With St. Patrick's Day right around the corner, I thought I'd try and make one of my favorite Irish dishes in my Instant Pot!
Instant Pot Colcannon
Pin It Here
Click the button above to save to your board for later!
What Is Colcannon?
Colcannon is a traditional Irish dish—historically made to fill the bellies of the working class without costing an arm and a leg. Colcannon is buttery mashed potatoes with some sort of leafy green. I used napa cabbage, but you could use green or savoy cabbage, or even spinach or kale. It's great alongside a roast, corned beef or paired with pork chops.
How to Make Irish Colcannon Potatoes
The Instant Pot is perfect for making colcannon. If you aren't familiar with it, be sure to check out my Instant Pot for beginners post.
First, you'll pressure cook the potatoes, then you'll sauté the greens and garlic in butter and mash it all together in the pot and top with green onion. I love that it doesn't use a bunch of dishes—we serve it right out of the Instant Pot itself as well!
This post may contain Amazon Associate and other affiliate links.
As an Amazon affiliate, I earn a small commission from these links at no additional cost to you.
DON'T WANT TO SHOP? ORDER GROCERIES TO YOUR DOOR!
Don't want to go out for groceries? Get all your ingredients delivered with one of these great services! I have used them all!!
Don't Miss Out!
Get easy weeknight meals that can be made right in your instant pot directly to your email! Deals, desserts, and new tricks!
Instant Pot vs Stovetop Methods
You can make Irish Colcannon with both an Instant Pot and on the Stovetop. The two major differences between the cook methods is the way you cook the potatoes and how you prepare them.
In the Instant Pot, you are pressure cooking them for a shorter amount of time, you get to lock the lid and walk away vs the stovetop where you boil water and will need to pay attention to it so it doesn't boil over.
The potatoes can be left whole in the instant pot or halved if leaving the skin on whereas on the stove you will need to cut the potatoes into large chunks.
The instant pot uses minimal water which gets absorbed into the potatoes whereas in the stovetop method you will need to drain the additional water from the pot.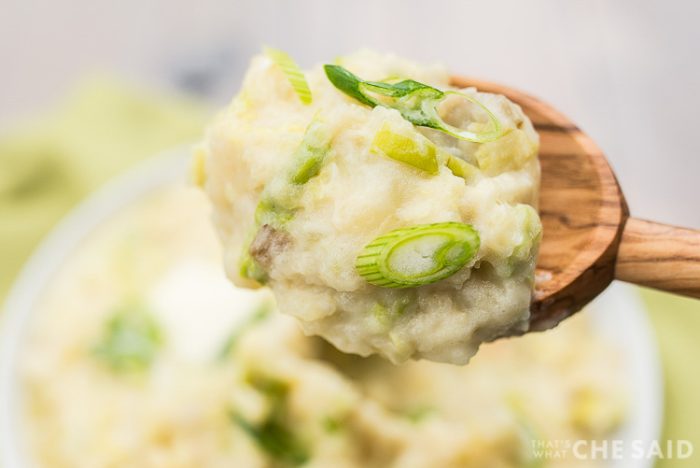 Colcannon Mashed Potatoes Ingredients
Potatoes: I used Youkon gold potatoes but you can use russet potatoes or even red potatoes for this recipe. There is no need to peel the red potatoes. You want to drain them well if using stovetop method and for the potatoes to be fork tender after cooking.
Leeks: Be sure to trim the ends and you can use both the green and white portion of the vegetable
Cabbage: I used about half of amediu sized head of green cabbage.
Green Onions: You can use both the white and greens from the scallions.
Heavy Cream and Milk: You can also use buttermilk in place of the heavy cream and milk.
Salt & Pepper: Potatoes are normally a bland vegetable so be sure to taste as you go and season as needed.
There are many different variations of colcannon recipes, some even include bacon. This is my favorite!
Irish Colcannon in an Instant Pot Recipe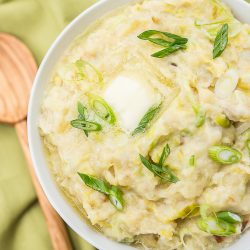 Instant Pot Irish Colcannon
Colcannon is an Irish staple and is the perfect St. Patrick's Day side dish. Creamy, buttery mashed potatoes plus leeks, garlic, and cabbage — you can't go wrong with this savory Irish Dish.
Print Recipe
Pin Recipe
Equipment
Vegetable Peeler

Potato Masher
Instructions
Place the trivet into the Instant Pot and add the water to the bottom of the pot.

Add the potatoes and season with salt.

6 Yukon Gold potatoes,

salt

Close the Instant Pot lid and make sure the valve is set to "sealing". Cook on MANUAL setting for 6 minutes.

When the time is up, CAREFULLY release the pressure in the pot by turning the valve from sealing to VENTING. **Use a long wooden spoon handle or be sure to wear an oven mitt. Remove the potatoes from teh pot and set aside.

Cancel the manual setting and select now select the SAUTE function. Melt 4 tablespoons of butter in the pot.

Add Leeks and cook, stirring frequently, until soft for about 6 minutes.

Next, add the garlic and stir frequently until garlic is fragrant and leeks are just beginning to brown along the edges. Roughly 3 minutes.

Then, add the cabbage and cook, stirring constantly until wilted.

Next, add milk and cream and bring to a simmer, stirring frequently as to not let the milk burn.

1 1/4 cups milk,

1/2 cup Heavy Cream

Add the potatoes back into the pot and mash with a potato masher. Season with salt and pepper.

salt,

Pepper,

6 Yukon Gold potatoes

Finally, top with remaining 2 tablespoons of butter and sprinkle with the green onion

6 tablespoons butter,

2 green onions
Notes
You don't have to peel the potatoes.  If you use the skins, however, cut the potatoes in half before placing them into the Instant Pot so they cook all the way through.  
Nutrition Estimate
Serving:
1
person
Calories:
365
kcal
Carbohydrates:
41
g
Protein:
7
g
Fat:
21
g
Saturated Fat:
13
g
Polyunsaturated Fat:
1
g
Monounsaturated Fat:
5
g
Trans Fat:
1
g
Cholesterol:
62
mg
Sodium:
153
mg
Potassium:
958
mg
Fiber:
5
g
Sugar:
6
g
Vitamin A:
1590
IU
Vitamin C:
47
mg
Calcium:
146
mg
Iron:
2
mg
MORE INSTANT POT RECIPES