Delicious fork tender pulled pork great for sandwiches, tacos and casseroles made right in your instant pot in under an hour!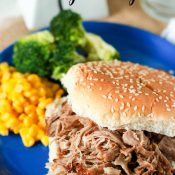 Pulled pork is an awesome entree idea for many occasions! It's great for dinner, it's great for crowds because it's fairly inexpensive and it's great for tailgates and parties too! What makes pulled pork even better? Instant Pot Pulled Pork! Cook a 3 lb pork shoulder to perfection in 50 minutes! No more waiting for hours on end to get that slow cooked tenderness! Your Instant Pot can do that for you!
Rather cook this recipe in your slow cooker? Grab my Rootbeer Pulled Pork Recipe for a Slow Cooker Here!
Jump to Recipe
Print Recipe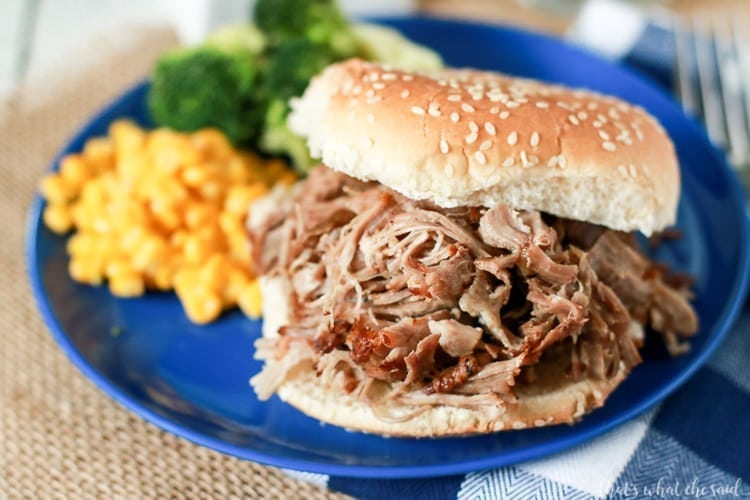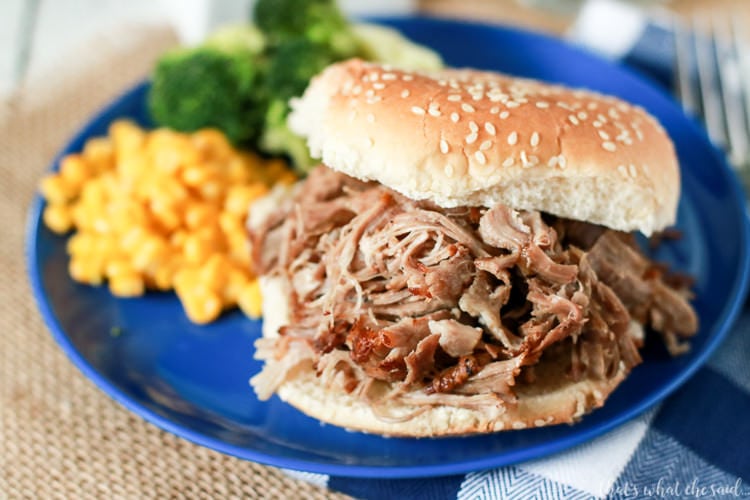 As I mentioned in my Instant Pot Basics Post, it's not about the quantity it's about the size when cooking with an Instant Pot.  I cut my 3 lb pork shoulder in thirds creating three 1 lb chunks and this is how we can cook it to perfection in 40 minutes!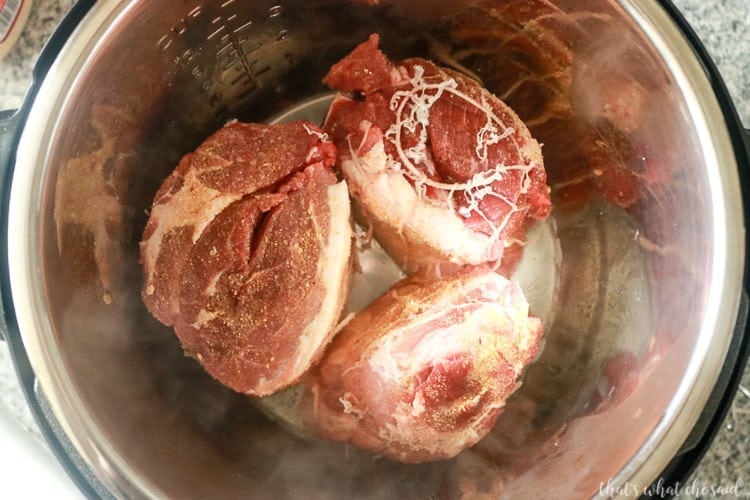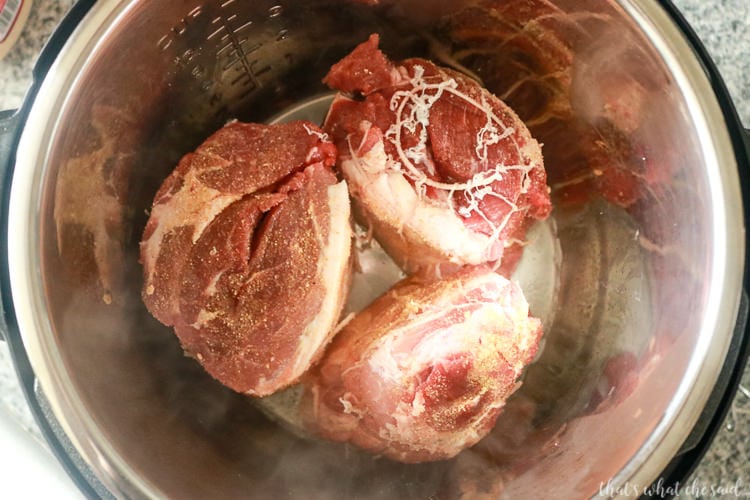 Tips for Instant Pot Pulled Pork:
I utilize the saute feature and I sear all the sides of the three chunks which not only locks in the juices into the meat but creates an added layer of flavor to your instant pot pulled pork.
After I sear all the sides of the pork, remove it to a plate and set aside. You will be left with this:

That above is deliciousness. That is amazing seared flavor right there and you want every bit of it! To get that awesomeness into your pork we are going to de-glaze the bottom of the Instant Pot. To do this, we will add 1/4 cup of water (or Root Beer as this recipe calls for) to the pot while it's still on the Saute feature and scrape the bottom of the pan with a flat wooden spoon. (found here)
The liquid I use for my instant pot pulled pork is root beer! It's delicious! DO NOT USE DIET! It's awful! I made that mistake once! Learn from me! So to answer your next question, YES you can use carbonated beverages in your Instant Pot!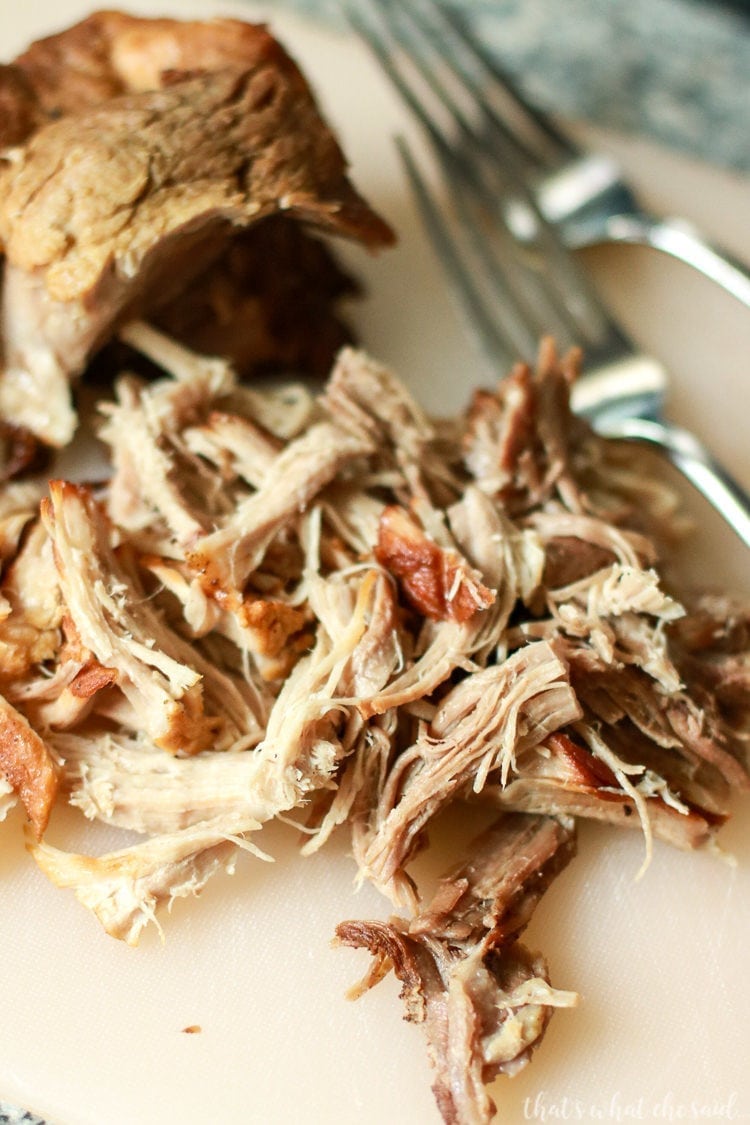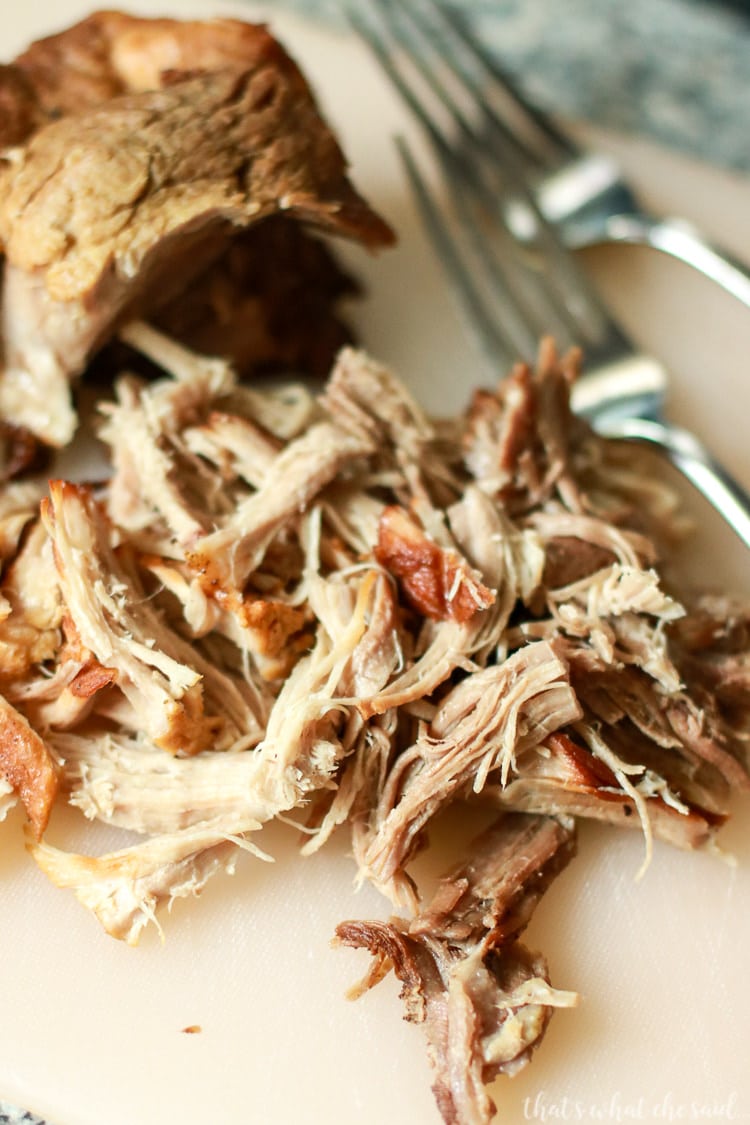 Should I use Quick Release or Natural Pressure Release?
It is also important NOT to quick release meat!  I did 10 minutes of Natural Pressure Release (NPR) with this recipe and it yielded juicy, fork-tender pork!
This root beer pulled pork recipe goes great with:
My friend Rebecca has this amazing Instant Pot Pot Roast Recipe too!  I think you will love it!

Instant Pot Pulled Pork Recipe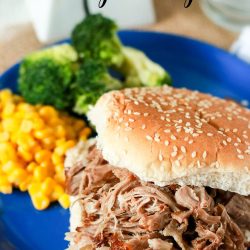 Instant Pot Pulled Pork Recipe
Delicious fork tender pulled pork great for sandwiches, tacos and casseroles made right in your instant pot in under an hour!
Print Recipe
Pin Recipe
Instructions
Chop your 3 lb pork shoulder into 3 equally sized pieces. You can leave the string casing on the pork. Pat dry with paper towel (this will get you a better sear)

Combine all seasonings and spices in a small bowl and rub all sides of pork with the mixture.

Turn on the Saute Function of your Instant Pot and once the LED reads "HOT" add 2 tablespoons of oil and sear all three pieces of pork on all sides until brown. Remove and set aside.

While Instant Pot is still on Saute function, add 1/4 cup water or 1/4 cup root beer to the pot and deglaze the pan by using a flat wooden spoon to scrape all the seared flavor bits from the bottom of the pot.

Place the steam rack (comes with IP) into the pot and return your pulled pork to the pot. Add in your root beer.

Secure the lid of the Instant Pot, set your vent to "sealing" and using Manual Function set timer to 40 minutes

After timer is complete, allow the pork to Natural Pressure Release for 10-15 minutes. After that, CAREFULLY turn the vent to "vent" to release any remaining pressure.

Remove pork at let sit 5 minutes before shredding with 2 forks. Enjoy on tacos, sandwiches or in casseroles or soups.
Notes
Do NOT use DIET Root Beer!
You can find all my delicious recipes by category here.
You can find the slow cooker version of this recipe here.
IF YOU LIKE THIS INSTANT POT PULLED PORK RECIPE, PIN IT!