Melt in your mouth, delicious, moist banana bread made in the Instant Pot. Your new favorite way to bake this bread.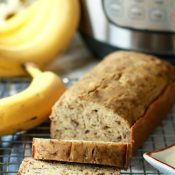 Wait?!  You can make desserts in the Instant Pot?!  You sure can! This Instant Pot Banana Bread will become your favorite new Instant Pot Dessert!  Perfect for camping trips, pot lucks or anywhere there is not an oven!
This post may contain affiliate links. I earn a small commission using these links, at no additional cost to you.
New to the Instant Pot?  Check out everything you need to know below as well as other recipes, must have accessories and tips and tricks!  Don't miss my Instant Pot Tips for Beginners!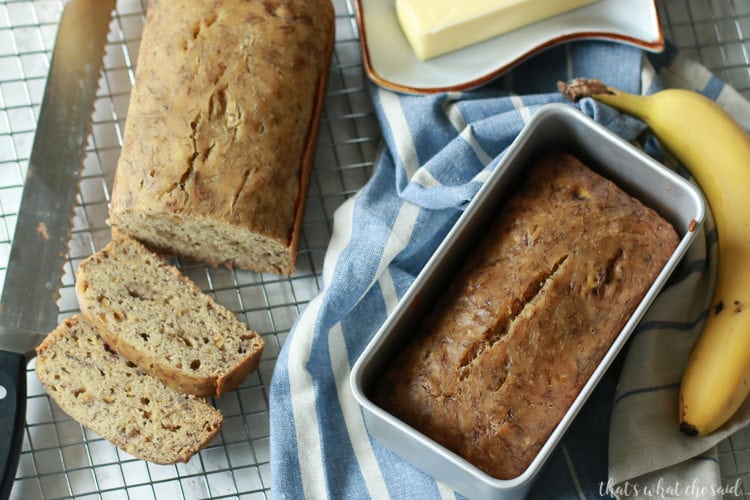 I am sure you are wondering why you would make bread in an Instant Pot versus the oven.  Here are a few scenarios or reasons that you might want to pin this recipe because it will come in handy!
When to Use an Instant Pot:
Camping Trips.  If you have electric but not an oven this bread is perfect for breakfast or dessert.
Church Events or Bake Sales.  The IP is portable so you can take it to group or church functions and all you need is a plug to make this delicious bread to share!
Don't heat up your house!  It's summer.  It's hot outside. You really don't want to heat up the whole oven for a loaf of bread that will, in turn, heat up your house.  This Instant Pot Banana Bread will save the day!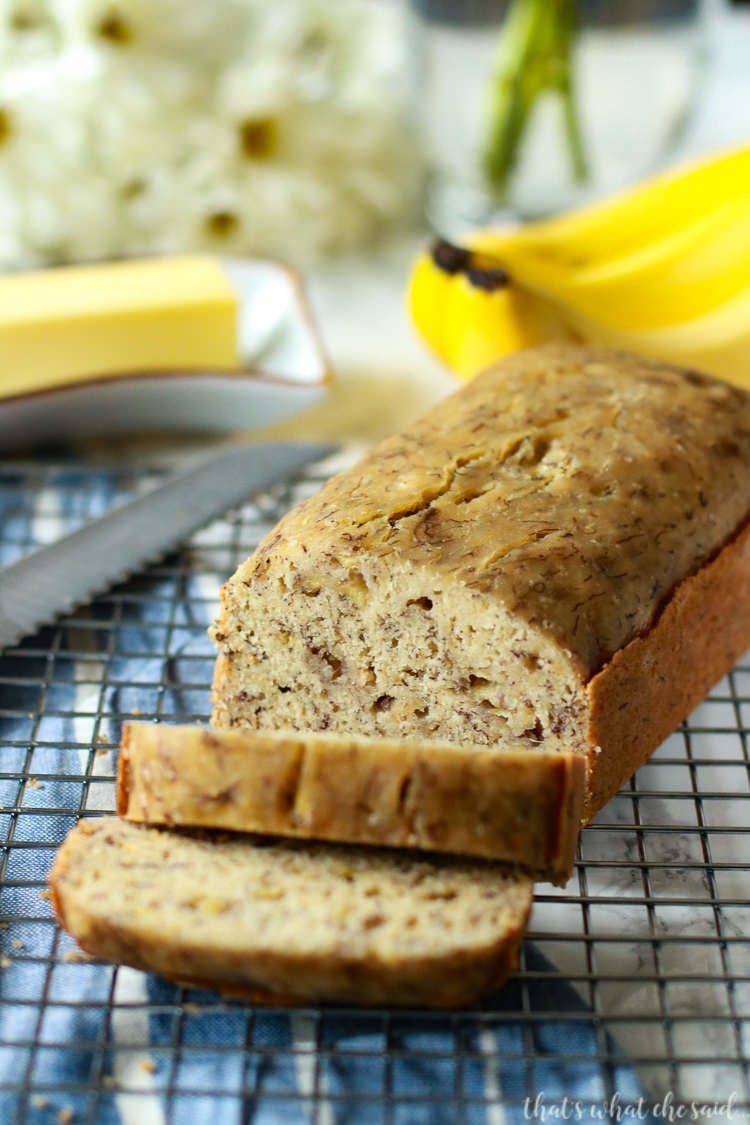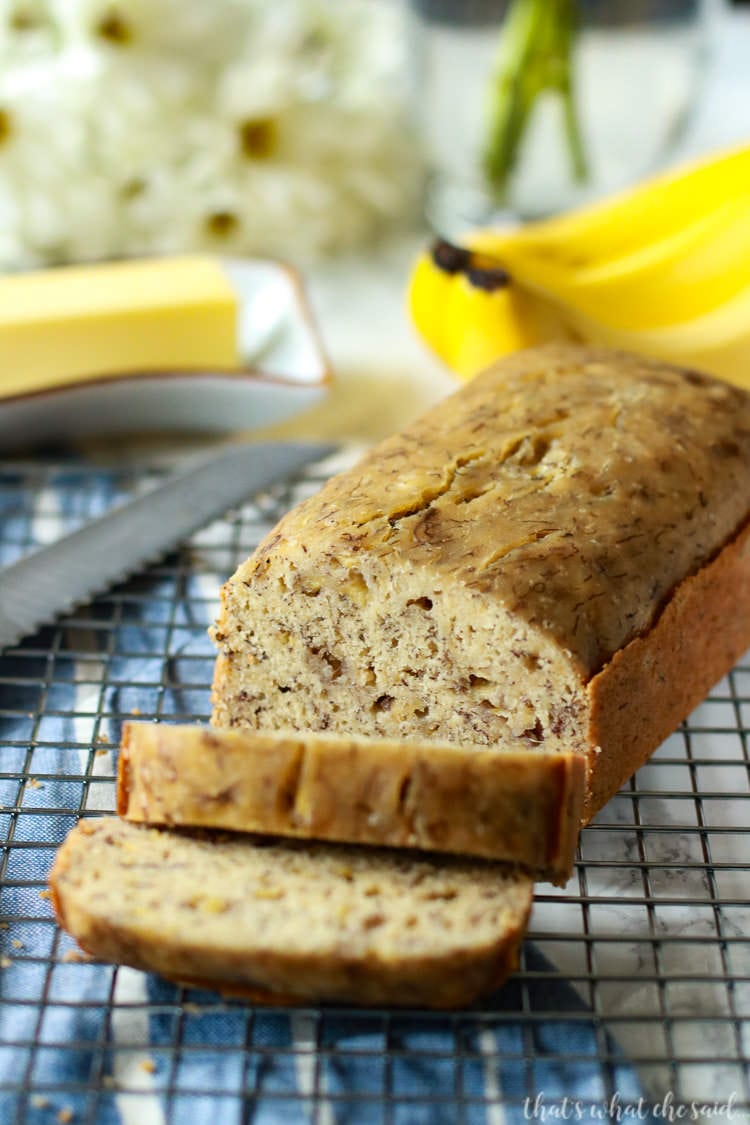 Any recipe that is a moist (gah, that word!) bread or cake works great in the Instant Pot because you are essentially baking it using steam.
This bread is soft and dense and we like it for breakfast and also it is sweet enough for dessert.  I have even made this with only 1/4 cup of sugar and it was awesome.  The sugar amount is dependent on how ripe and sweet your bananas are.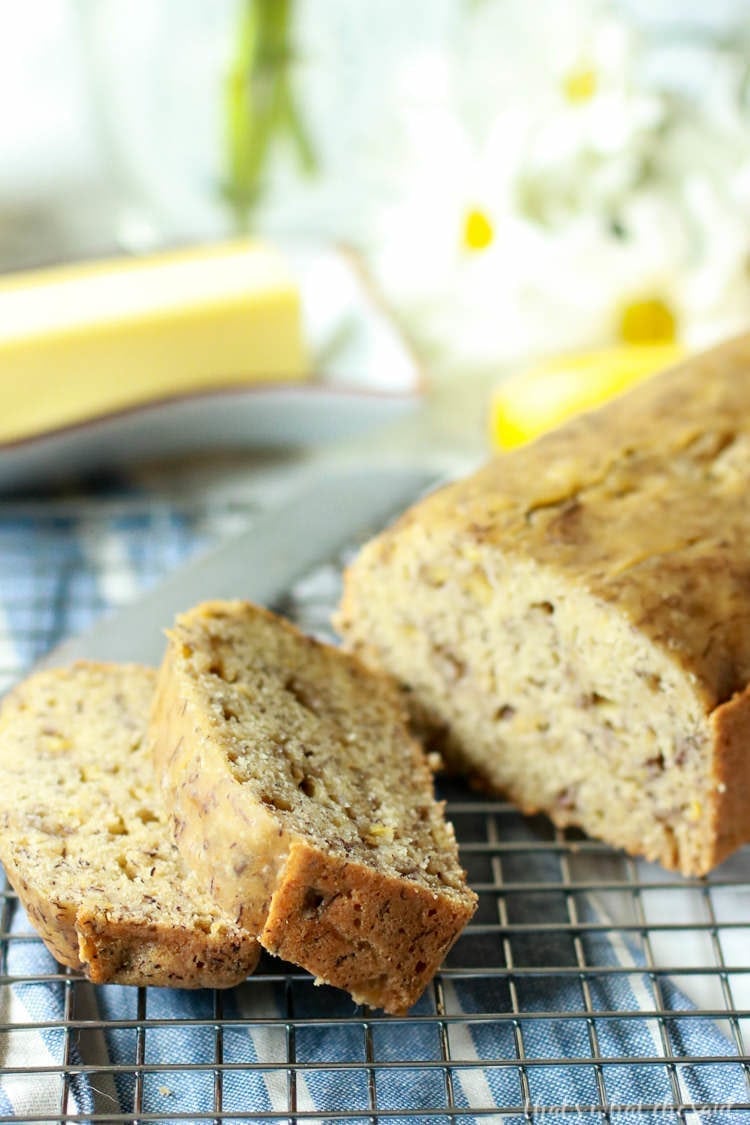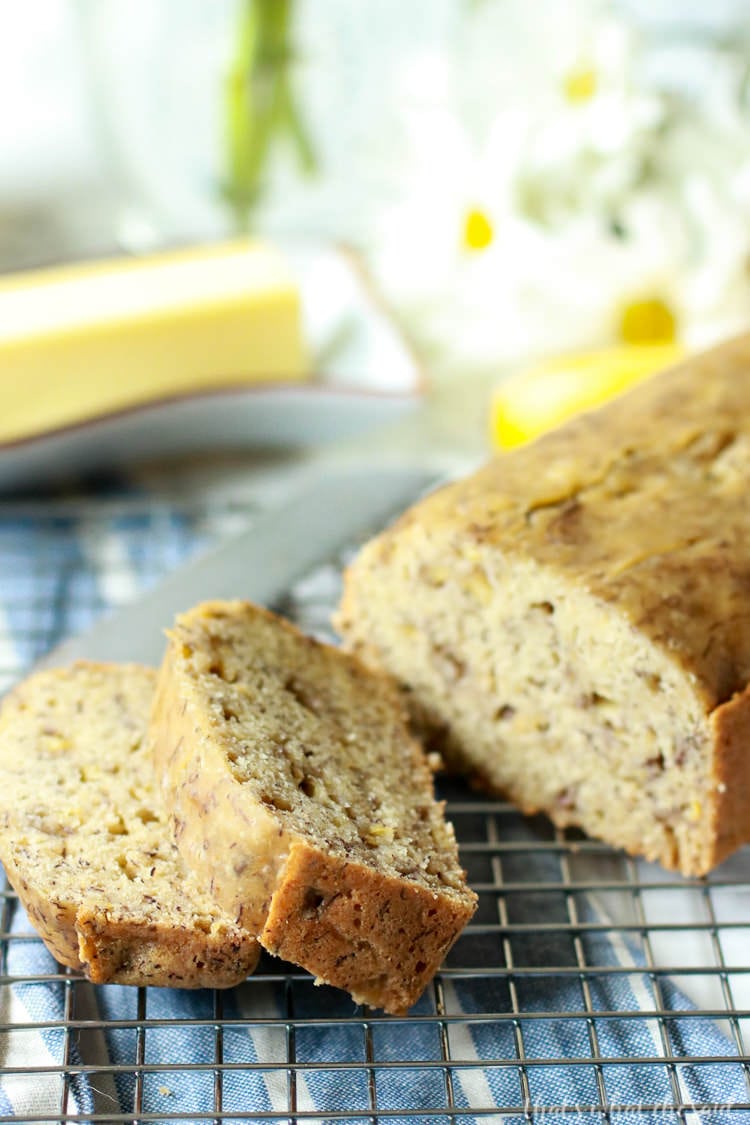 Important Tips for Instant Pot Banana Bread:
The paper towel and aluminum foils are necessary.  The foil keeps the steam from the IP from soaking your bread and the paper towel collects any steam released from the bread ingredients during cooking.
Not all loaf pans will fit inside the Instant Pot.  These Fat Daddio Pans fit perfectly!  All the Fat Daddio Pans on my must-have accessories post will work great!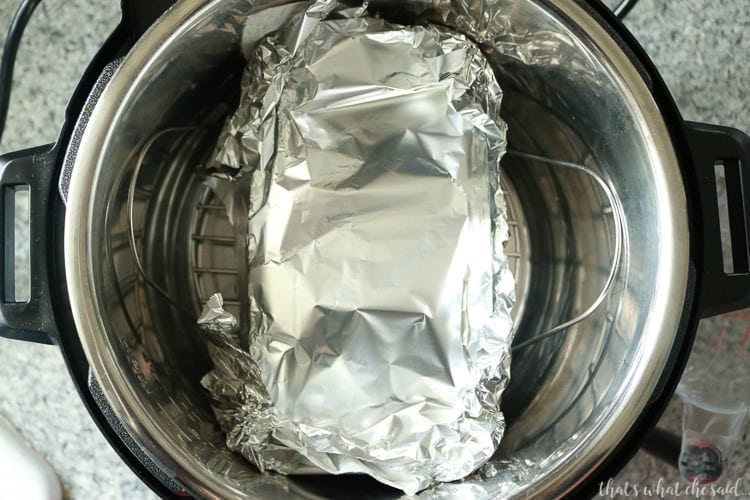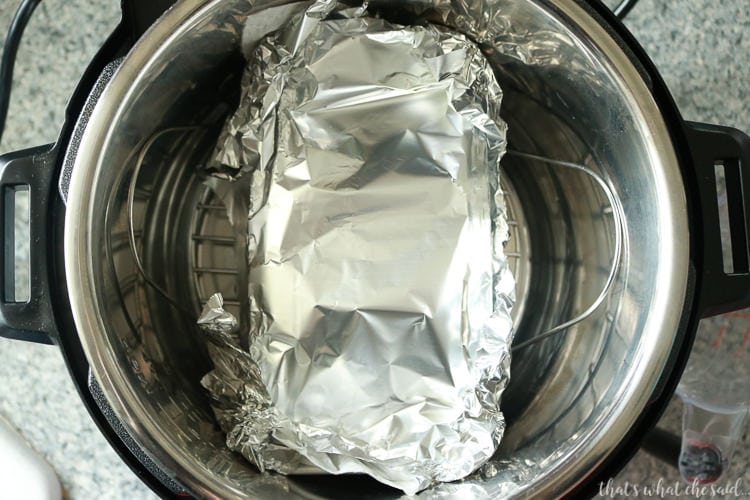 The Best Instant Pot Banana Bread Recipe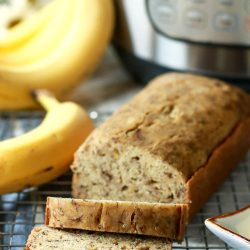 Instant Pot Banana Bread
Melt in your mouth, delicious, moist banana bread made in the Instant Pot. Your new favorite way to bake this bread.
Print Recipe
Pin Recipe
Instructions
Using butter or cooking spray, coat a 4 x 8 loaf pan.

In a medium bowl, mash bananas with a fork.

Add butter, egg and vanilla extract and mix.

Add salt, baking soda and sugar to banana mixture and mix well.

Mix in flour 1/2 cup at a time.

Pour the banana bread mixture into your prepared loaf pan. Use a spatula to level the batter out.

Cover loaf pan with a paper towel and then cover with aluminum foil.

Add 1 cup water to your Instant Pot. Insert the Trivet (provided with purchase of Instant Pot) and place your foil covered loaf pan inside the Instant Pot.

Place and secure lid and make sure vent is set to "sealing".

Turn Instant Pot to Manual and 50 minutes. When timer ends, carefully quick release the valve.

Carefully remove loaf pan from the Instant Pot and place on wire cooling rack for 5 minutes.

Rremove bread from loaf pan and continue to cool on wire rack.

Slice and enjoy!
Notes
Alternative Cooking Method:
If using oven, Preheat Oven to 350 degrees F.  Prepare pan and batter the same as above.
No need to cover the batter with paper towel or foil.
Bake for 55 minutes or until toothpick comes out clean
Let rest 5 minutes and then remove from pan and continue to cool.
Nutrition Estimate
Calories:
248
kcal
Carbohydrates:
41
g
Protein:
3
g
Fat:
8
g
Saturated Fat:
5
g
Polyunsaturated Fat:
0.4
g
Monounsaturated Fat:
2
g
Cholesterol:
43
mg
Sodium:
167
mg
Potassium:
145
mg
Fiber:
2
g
Sugar:
21
g
Vitamin A:
300
IU
Vitamin C:
5
mg
Calcium:
3
mg
Iron:
1.1
mg
Don't want to go to the grocery store? Use code CSPANGENBERG13D1DD at InstantCart and we both get $10 off our order! They deliver! Or use Walmart Online Grocery. They shop, you pick it up and get $10 off your order as well! New customers only!
More Instant Pot Recipes You May Like:
[button text="FIND MORE AMAZING RECIPES HERE" link="https://www.thatswhatchesaid.net/recipes" style="default" size="normal" target="_self" display="inline" class="" icon=""]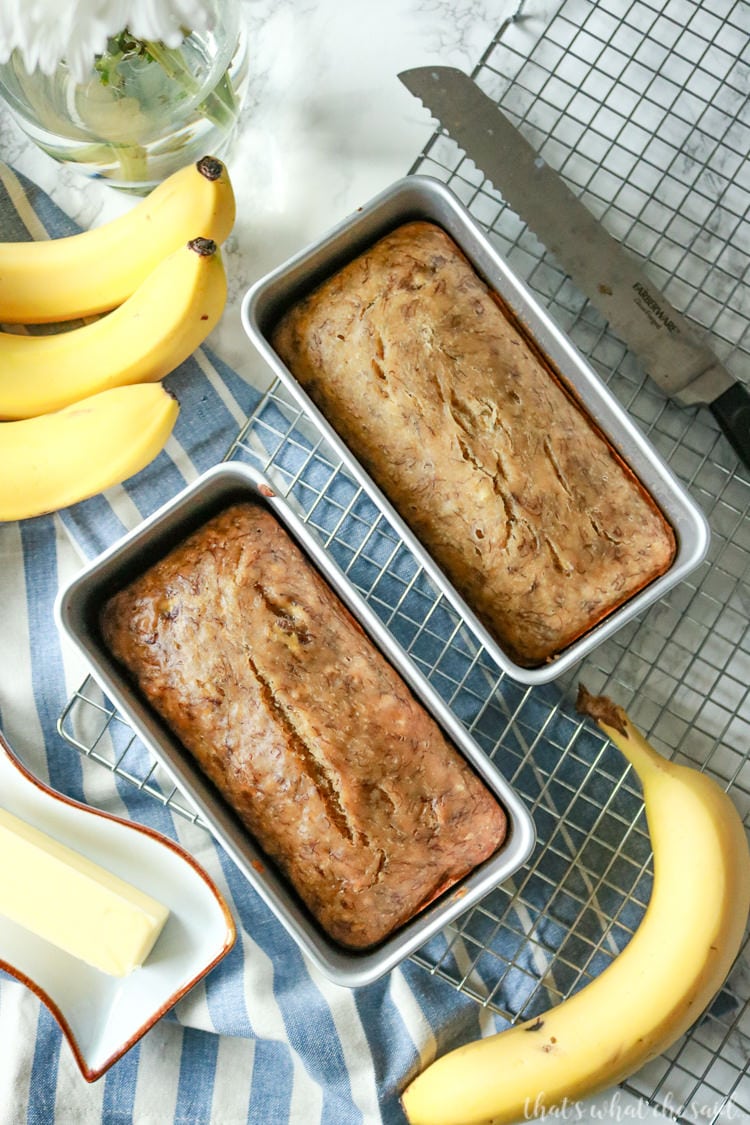 Don't Miss Another Instant Pot Recipe
 Pin The Best Instant Pot Banana Bread