I adore my slow cooker A magical small kitchen appliance that allows me to throw things in it, in any hap-hazard way I want, put a lid on it and walk away and will still produce a delicious dinner where I get lots of credit and mommy/wife points and I barely thought about it all day long. SIGN ME UP! I am sharing the best slow cooker chicken ever today. Seriously, ever!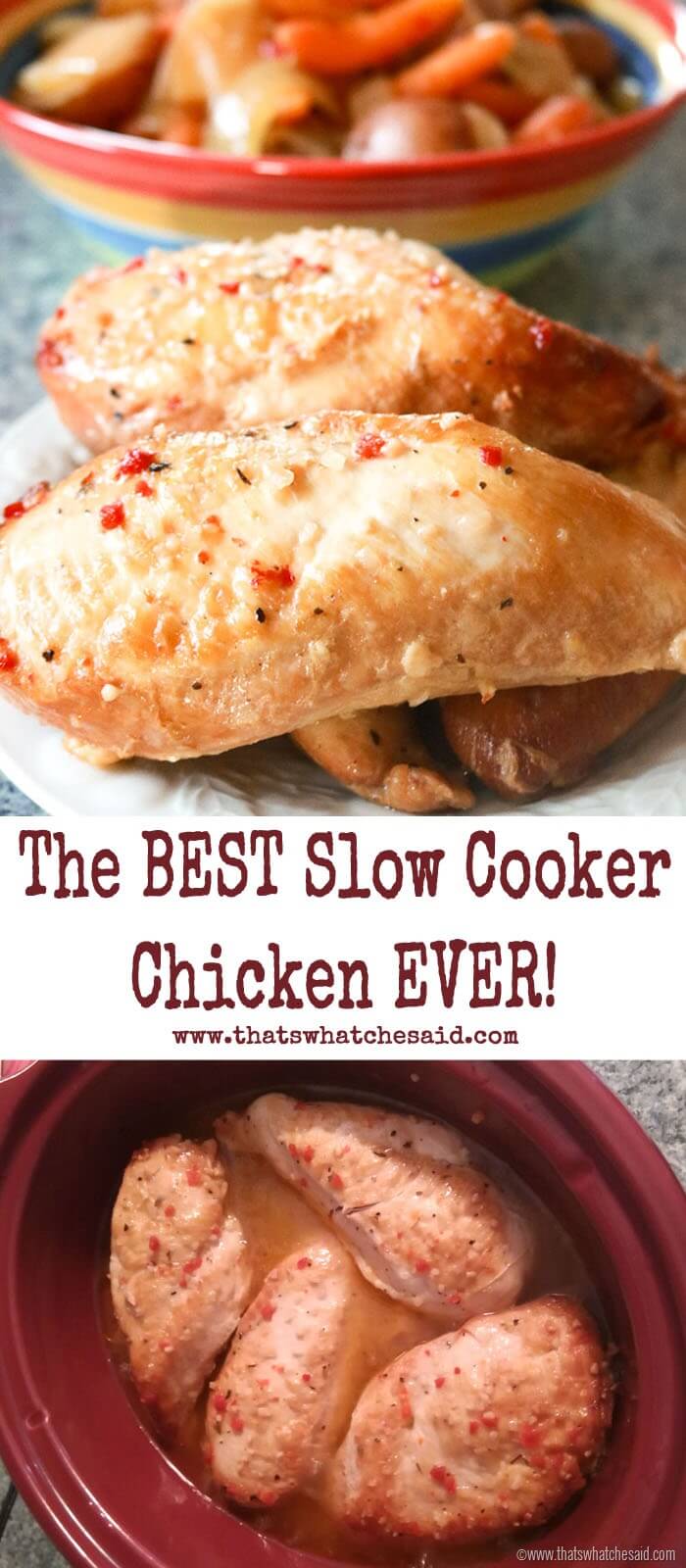 Chicken is a touchy subject in my family. Touchy in that I tend to make it quite often and my 9 year old is not the biggest fan. The 5 year old and the 1 year old have no problems with chicken. "Bring on all the chicken" in their little minds. I have to be somewhere in the middle. If cooked right, chicken can be amazing. If not prepared right..it can be dry and bland.
I have tried many slow cooker chicken recipes and sometimes the chicken still comes out tasting bland and dry. Not this time!
How to make the Best Slow Cooker Chicken Ever:
OK first in the pot. 1 medium onion sliced in about half inch slices. Line the bottom of the slow cooker pot with them.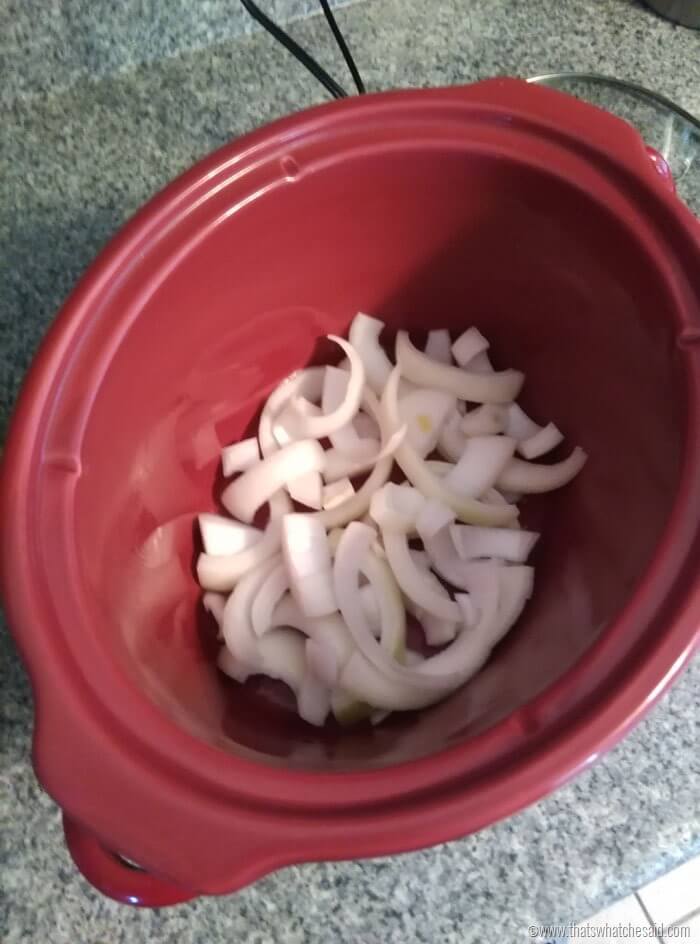 Next in add 1 bag of small carrots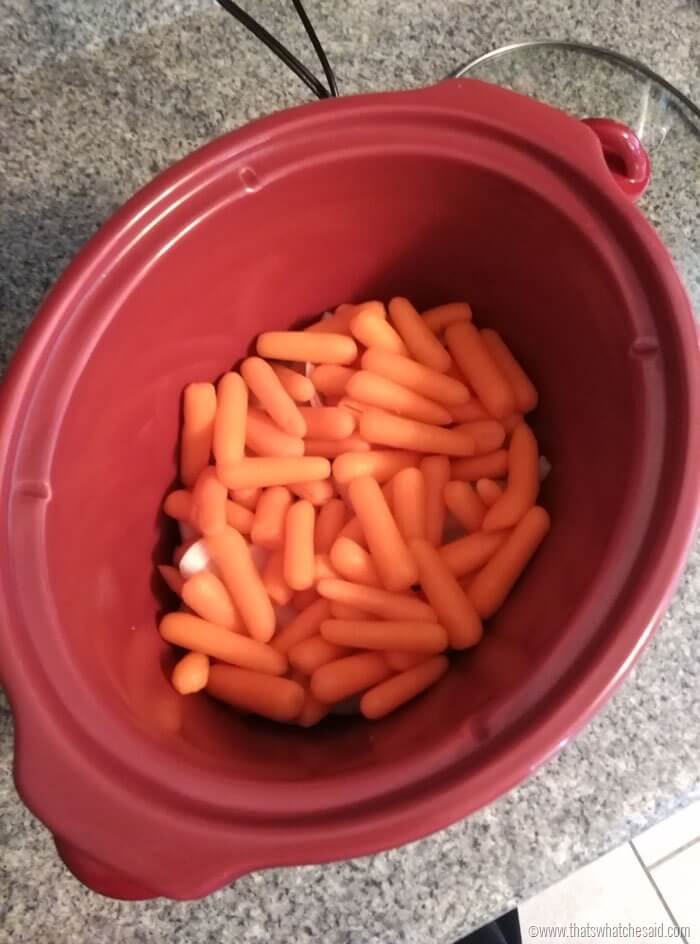 Up next is about 8 small red potatoes sliced in half, quartered if larger ones.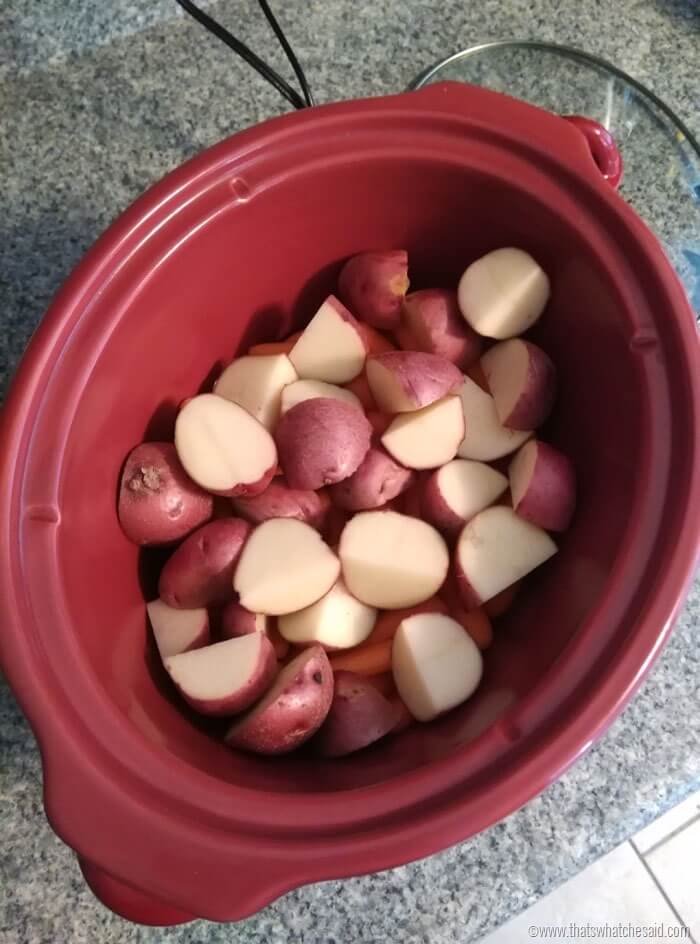 This next step is TOTALLY optional. I have made it both ways and I do this only to up the appeal factor for my 9 year old. Everyone knows "boiled" chicken does not look that great so I brown the chicken breasts in a skillet before I add them to the slow cooker. You do not need to do this. I just do a minute or two on each side just to brown.
Add the chicken to the very top of the pile.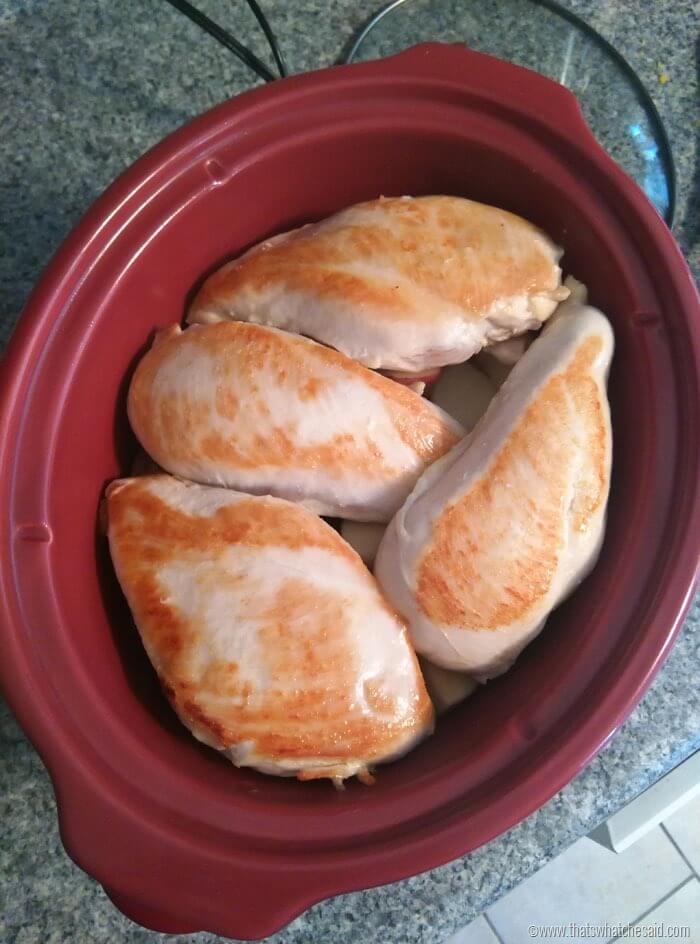 Pour in an entire bottle of Italian Salad Dressing over top the chicken breasts. That's right, the whole thing. All over the place. Every bit of it!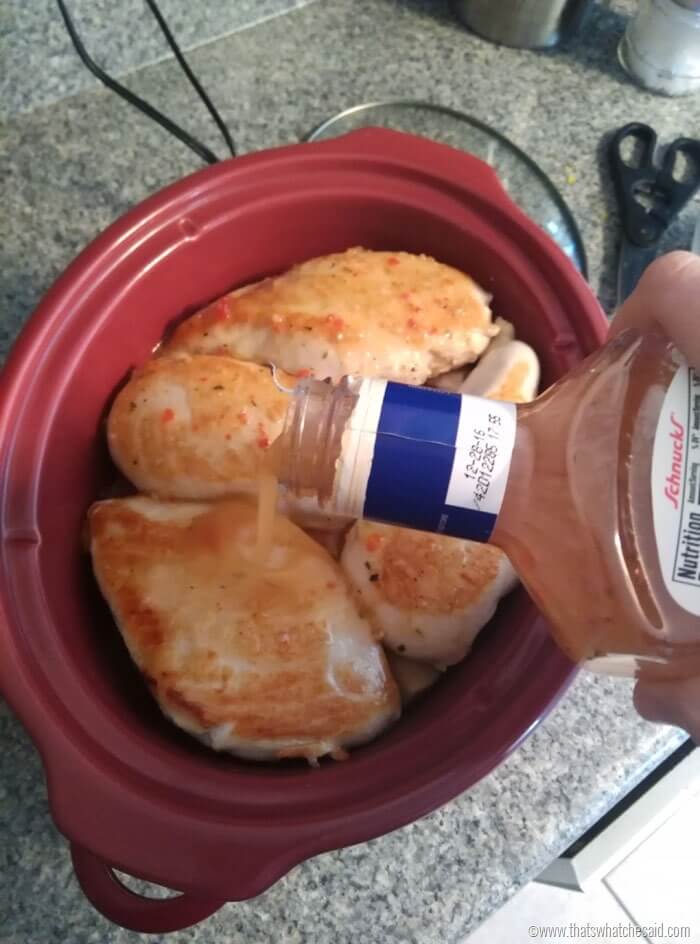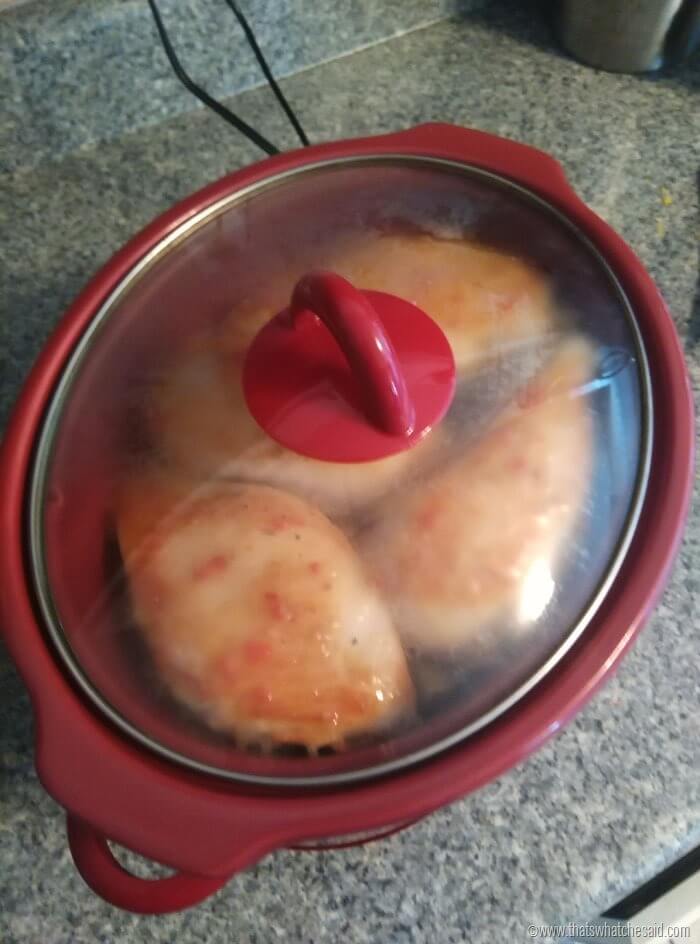 Pop on the lid, turn the slow cooker on and forget it!

Cook for 6-8 hours on low or about 4 hours on high. Always cook until the juices in the chicken run clear and the center is no longer pink.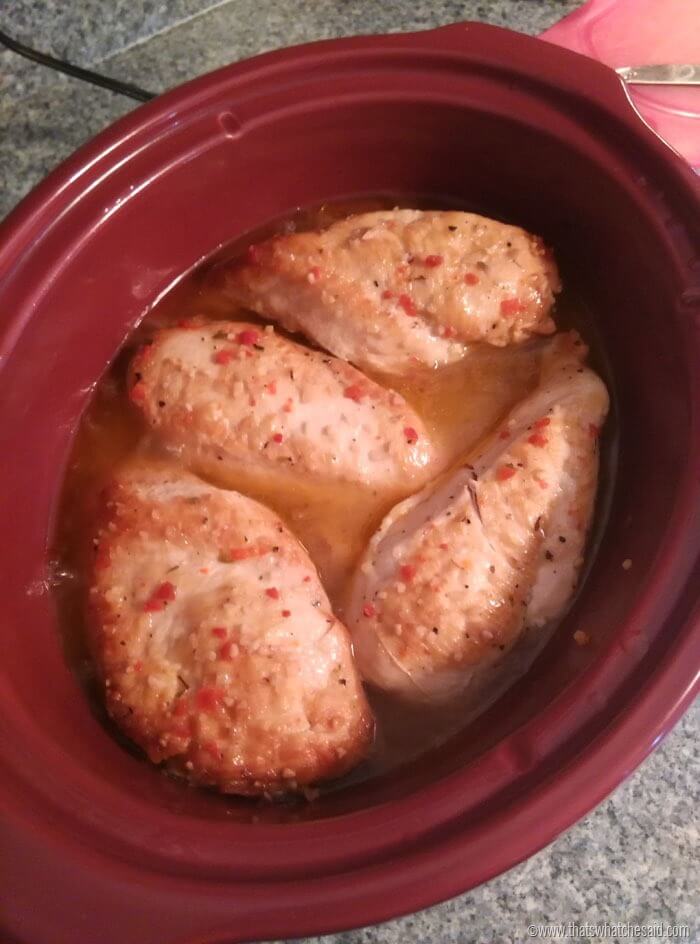 I call this the best slow cooker chicken ever however this is actually an entire meal! Pop out the chicken and you have amazing side dish of tender sweet vegetables!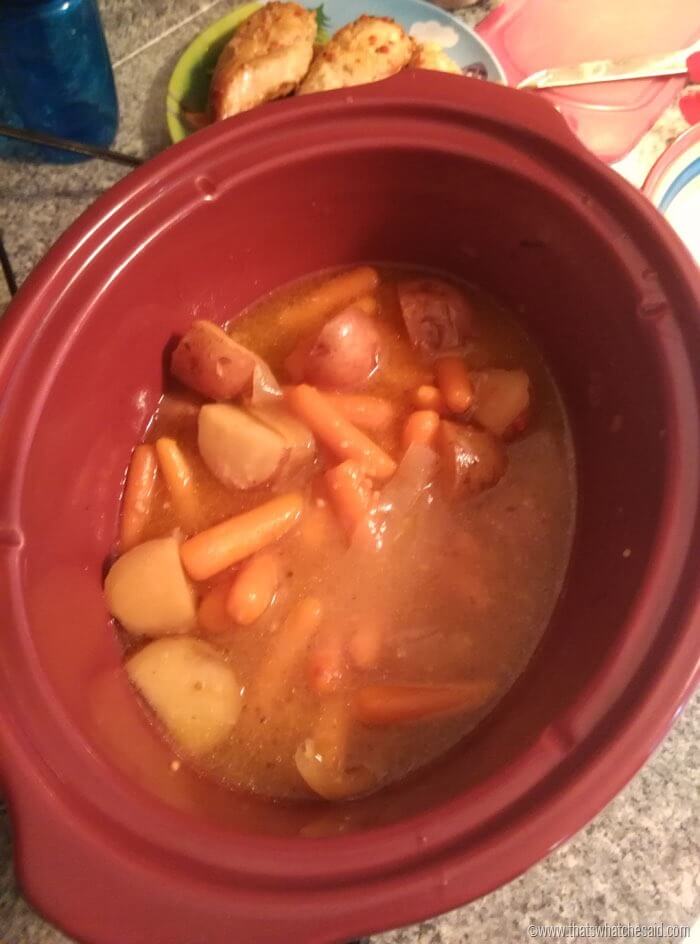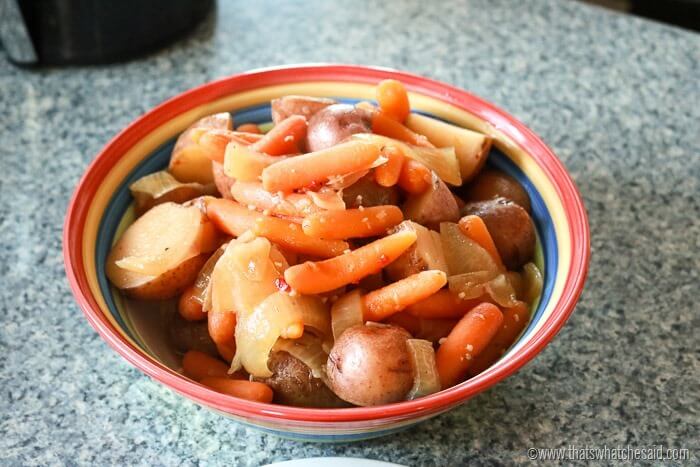 Now there are a few ways to serve this. Just as it is! Plate the chicken and add all your veggies to a bowl and serve!
Tip: Another way I love to serve this is to take the chicken and veggies out, leaving the dressing in the crock pot. I shred the chicken with two forks and put it back into that delicious sauce while I set the table or wait for the hubs to get home from work. Then I serve this shredded chicken over brown rice, egg noodles or quinoa and add a spoonful of the dressing as gravy..or "sauce" as my kids put it. Ah-mazing! Then the veggies just go on the side again or even overtop. No rules! Whatever you are feeling at the moment!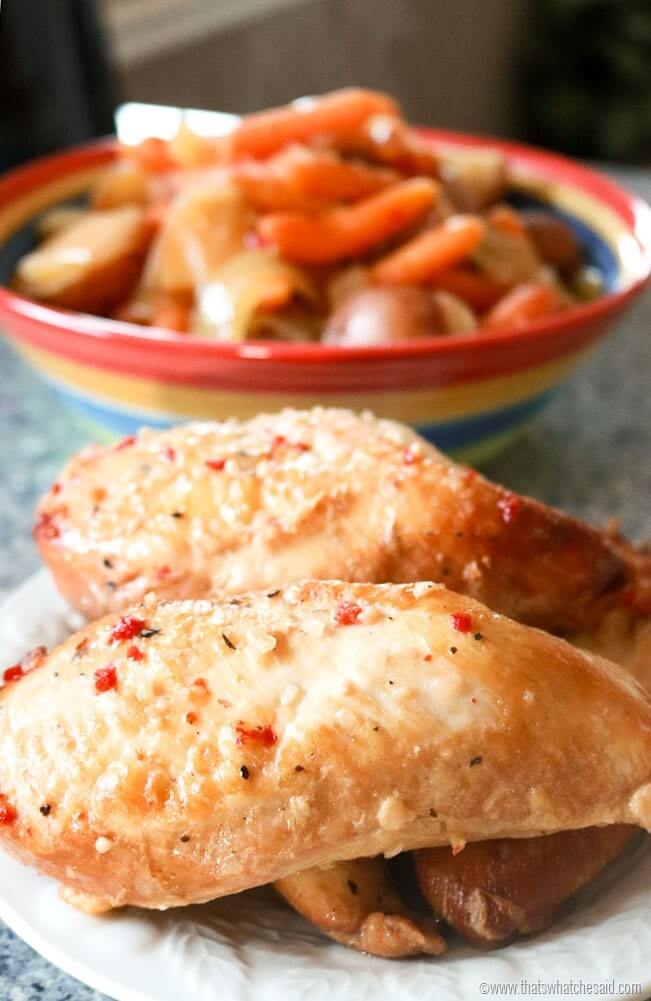 Don't want to go shopping? You can get a FREE 14 day trial of Instant Cart Express! That means no fees! Order from your favorite stores and have them delivered to your door! This is the ONLY way I stay sane over here!
The BEST Slow Cooker Chicken Recipe
The Best Slow Cooker Chicken Ever
TOTAL TIME
8
hours
10
minutes
Your family will rave about this dish, even your pickiest of eaters! (I have one of those!) Tender and flavorful chicken breasts, along with carrots and potatoes, seasoned with nothing more than an Italian dressing makes this meal a perfect weekday choice!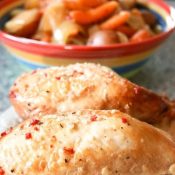 Print
Ingredients
2

lbs

chicken breasts

,

boneless, skinless

1

each

onion

,

medium, sliced

1

bag

small carrots

8-10

each

small red Potatoes

,

quartered

1

bottle

Italian Salad Dressing

,

16 ounces
Instructions
Line the bottom of your crock pot with the onion slices,

Next layer in the carrots

Then the potatoes


You may choose to brown your chicken in a skillet before adding to slow cooker however this is completely optional. Add chicken to the slow cooker on the top of the vegetables.


Pour entire bottle of salad dressing over the chicken and vegetable layers

Cook on low 6-8 hours or on high for 4 hours until the juices in the chicken run clear and the internal temperature is at least 165 F.


Remove Chicken and plate a chicken breast with carrots and potatoes as sides! You may read below for other ways to serve this amazing and easy chicken dish!
Notes
Serving Options: Serve chicken as is or over rice, egg noodles or cauliflower rice! Use dressing in the slow cooker to drizzle over top! Carrots, onions and potatoes are the perfect sides making this dish a wonderful one-pot weeknight dinner idea!
Nutrition
Calories:
395
kcal
|
Carbohydrates:
7
g
|
Protein:
48
g
|
Fat:
17
g
|
Saturated Fat:
2
g
|
Cholesterol:
145
mg
|
Sodium:
824
mg
|
Potassium:
895
mg
|
Sugar:
6
g
|
Vitamin A:
125
IU
|
Vitamin C:
3
mg
|
Calcium:
19
mg
|
Iron:
1
mg
How to Serve the BEST Slow Cooker Chicken Ever
Slice Chicken diagonally and serve over rice. Veggies on the side and the Italian Gravy over top of all.
Shred Chicken, dice veggies and combine with egg noodles for a more casserole type dish. Italian Gravy over top.
Serve as is! Full Breast, Veggies on the side, Gravy on top!
Slice leftover chicken and add to a tortilla with some romaine lettuce, roasted red peppers and red onions for a delicious Italian chicken wrap.
Store The Best Chicken Ever in an airtight container in the refrigerator.
PIN BEST CHICKEN EVER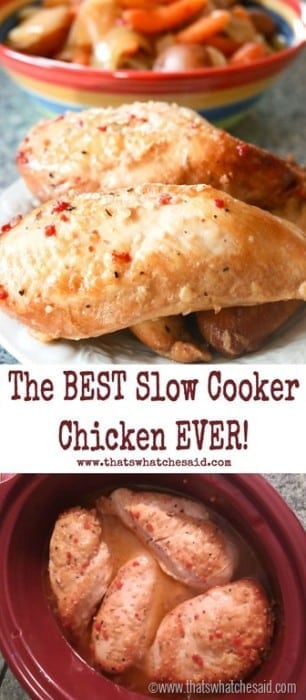 MORE EASY WEEKNIGHT MEALS: