If you love monograms you will love my collection of 30 of the best free monogram fonts! So many to choose from, a single letter with design monograms, interlocking monograms, block monograms, circle monograms, and more! All free!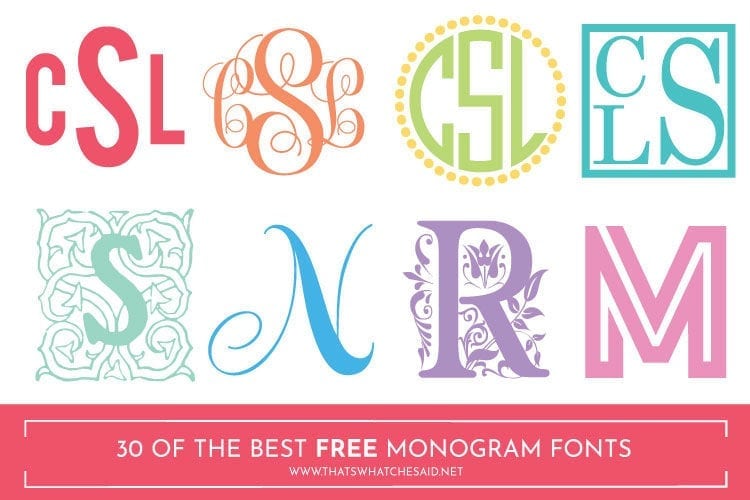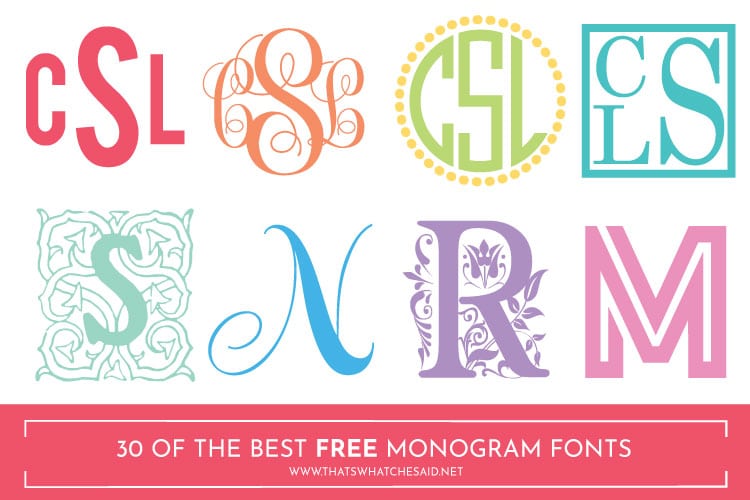 Monograms are all the rage these days! There are rules to monograms about how they should look for children versus adults and married versus unmarried people but currently most just use the monograms to personalize their belongings!
Whether that be a monogrammed wine glass or monogrammed yeti cup to monogrammed apparel or monogrammed hats these free monogram fonts are for you!
What is a monogram?
A monogram is normally 2 or more letters that typically represent a person's initials. You can see single-letter monograms, representing a family name. For weddings, you will notice couples using the first initials of both of their names along with the new surname initial. This idea combines the two sets of initials to create a new one (like marriage!)
What is the difference between Initials and a Monogram?
A monogram is differentiated from initials by the order the letters appear.
Initials are the first letters of one's name in the order the name is read. First name, middle name, last name. For instance, my initials are CLS. Cheryl L. Spangenberg. Initials are normally written in the same size, using the same font weight for all three letters.
Monograms appear in the order of First Name Letter, Last Name Letter, and Middle Letter. So my monogram would be CSL. Monograms are normally written with the last name initial larger than the first and middle initials.
Married women who changed their last name can use their maiden name or married name. Monograms are commonly made with uppercase letters however some prefer lowercase letters.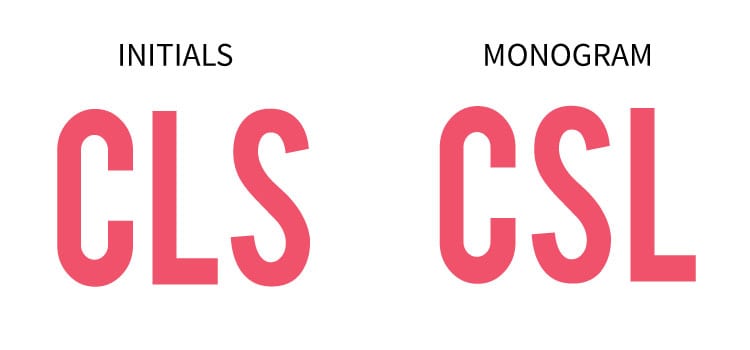 How to Make a Monogram
There are online monogram makers or free monogram generator apps and programs but it is really easy to make your own monograms yourself! Cricut Design Space, Silhouette Studio, Embroidery Software, Word Document, Adobe Illustrator, and almost any program you can add and manipulate text will allow monogram creation!
Check out my post on How to Create a Monogram in Design Space here. You can carry this method over to almost all design programs! In addition, this post is detailed and includes a video if that is helpful for you!
If you make the file in Adobe Illustrator you can save it as an SVG and use these posts to get your cut file into your cutting machine program.
Follow me on YouTube for more Cricut & Craft videos!
What are the different types of Monograms?
Scripty and Interlocking Monograms
These are normally with detailed script fonts.
Interlocking Monograms are where the swooshes of the letters interlock with each other.
Also, they can "kiss" where they touch but don't fully interlock.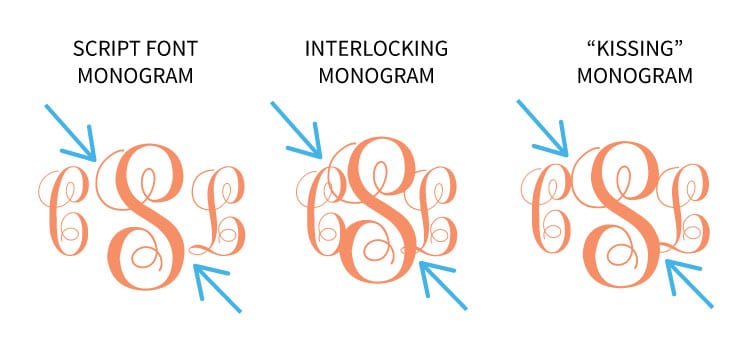 Circle Monograms
This type has letters that resemble the shape of a circle. They may or may not have an actual circle border or background. You can find my free circle monogram frames here.
Sometimes the border can be decorated with arrows, vines, flowers, etc.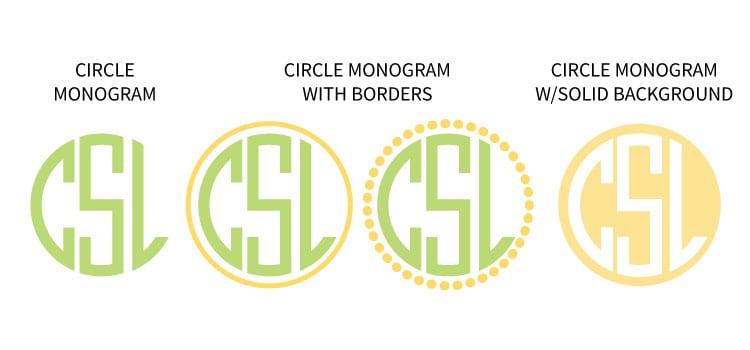 I used the circle Monogram for my Monogrammed Hat, Scarf and Mittens
Block Monograms
These monograms are made with a traditional monogram font either using block-style fonts or stacking to make the shape of a block.  They may or may not have a square monogram border. Both serif fonts and sans-serif fonts work for this style of monogram
You can easily manipulate the number of initials in your monogram with this style.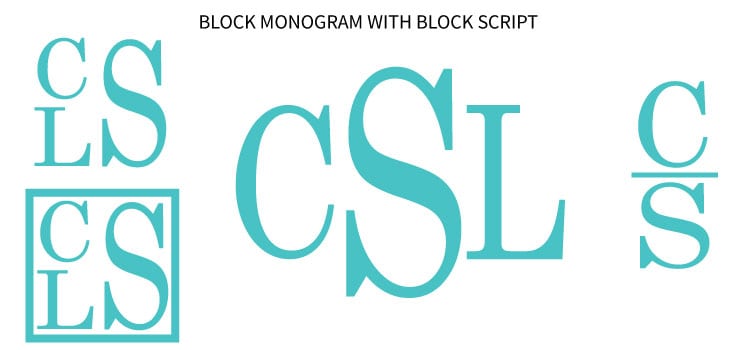 Single Letter Monograms
These can be blocked font or script font, with or without decorations.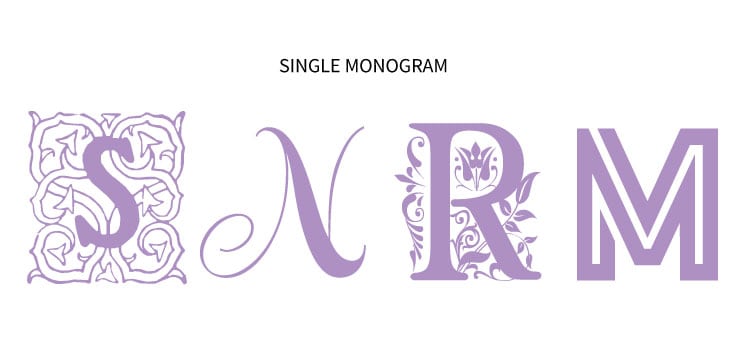 This post may contain Amazon Associate and other affiliate links.
As an Amazon affiliate, I earn a small commission from these links at no additional cost to you.
Ideas to Monogram:
Really it would be faster if I listed items you couldn't monogram! Here are a few of my favorites! You can use your Silhouette or cricut machine to cut the monogram to apply in iron-on or adhesive vinyl. You can also laser engrave many of these items with an xTool laser.
Mugs
Tumblers
Tote bags
Hats
Phone Cases
Car Decals
Wine Glasses
Pillows
Linens
Ornaments
Blankets
Shirts
Shorts
Sweatpants
Swimsuits
Beach Towels
Binders
Wallets
Stationary
Backpacks
Robes
Logos
You can find lots of items to personalized here in my Amazon Shop!
Besides cutting the monogram borders with your Cricut or Silhouette machine from craft vinyl or iron-on you can also use the .png file to create cards, stationery or wedding invites.


Monogrammed items make great gifts! Think about them for wedding gifts, birthday gifts with a monogram or the person's initials, and graduation gifts.
The Best Monogram Fonts
I am thrilled to add these monogram fonts to my complete collection of free fonts!
Click on the name of the font and you will be able to download it.

These fonts are free for personal use only, if you require a commercial license to sell you will need to contact the individual designer to get permission for commercial use or purchase a commercial license.
Furthermore, you can refer to this post here on how to download monogram fonts to your computer for use with Cricut, Silhouette, and Word programs.
Free Circle Monogram Fonts
Free Script Monogram Fonts
Free Shaped Monogram Fonts
Free Decorative Monogram Fonts
These are great for Single Monograms!
Paid Monogram Favorite Fonts
As long as we are talking fonts, I would like to also share with you some paid fonts that I think you will enjoy for your monogram projects!
Cheryl's Favorite Circle Monogram Fonts
Cheryl's Favorite Scripty Monogram Fonts
Cheryl's Favorite Decorative Monogram Fonts
Cheryl's Favorite Block Style Monogram Fonts
More on:
Be sure to check out these other awesome font collections and directions on how to download fonts.
PIN 30 FREE MONOGRAM FONTS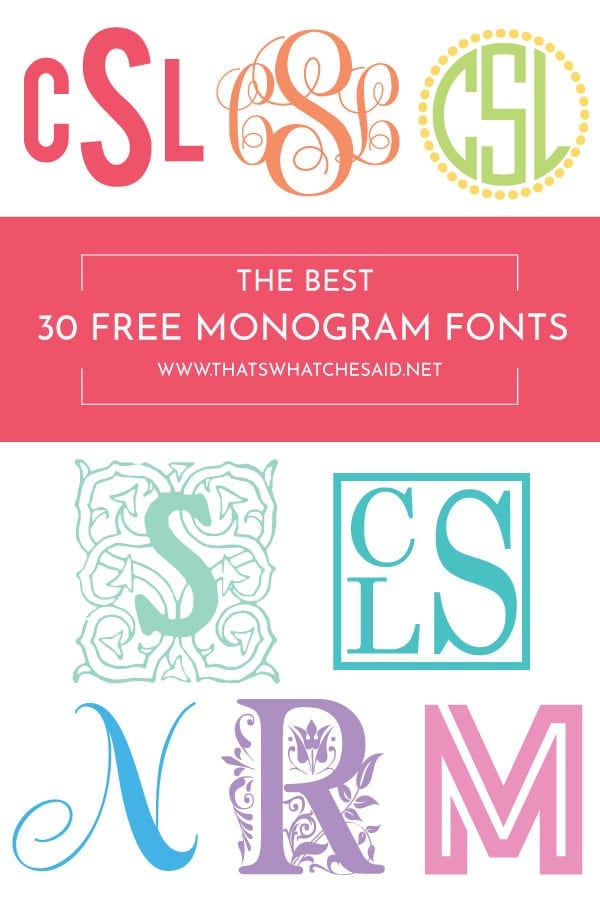 You may also like these free Monogram SVG files.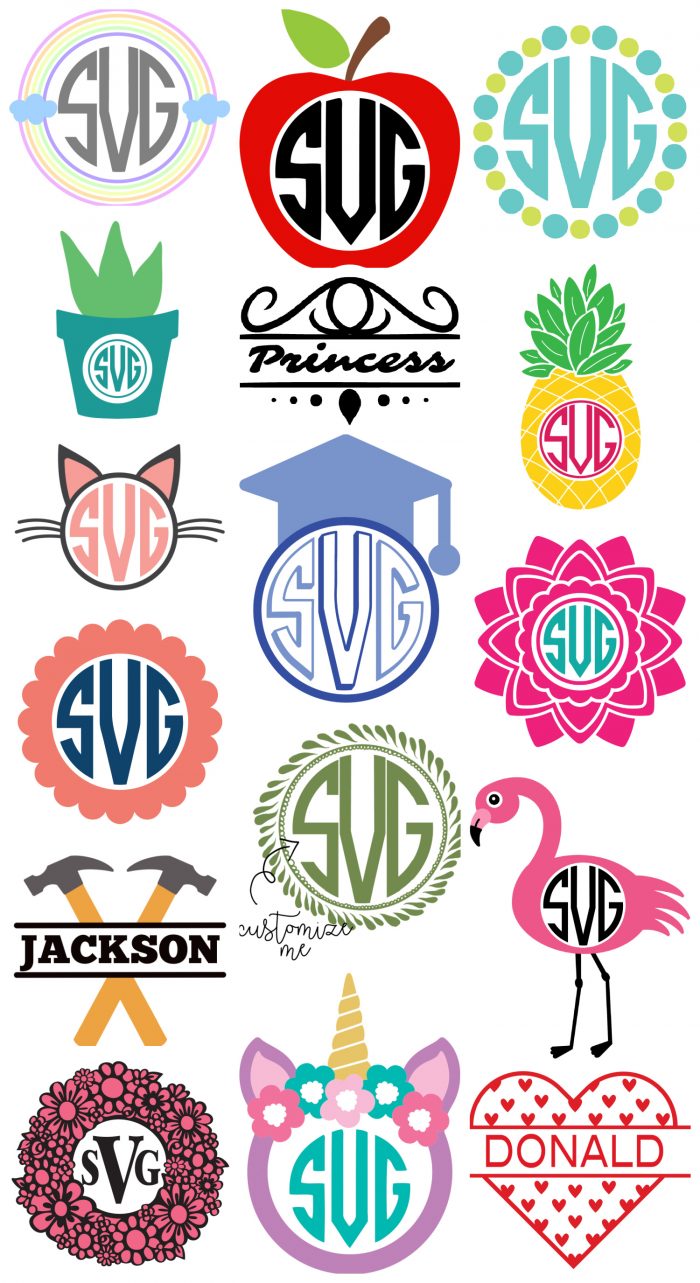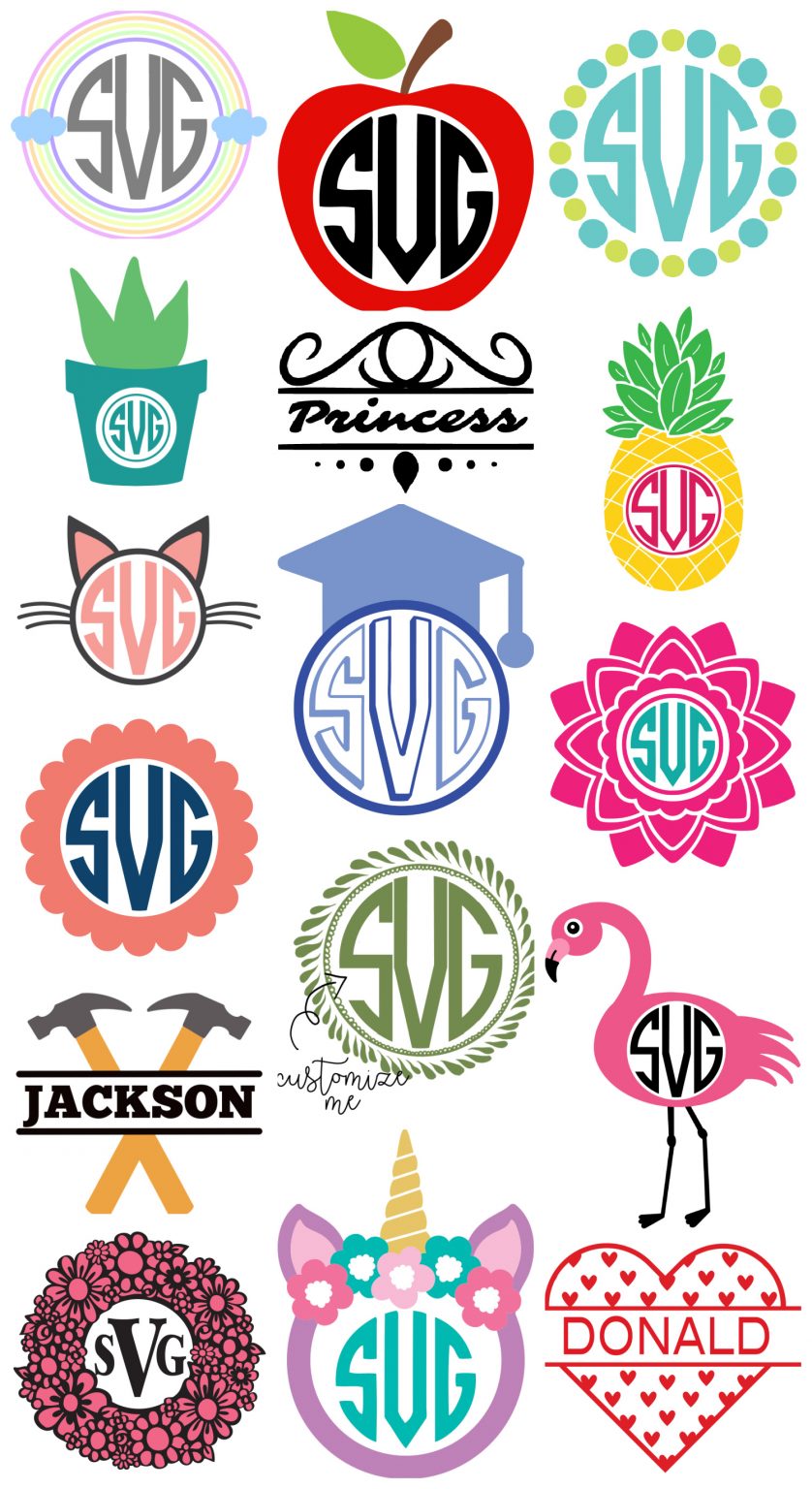 As well as these personalized Cricut projects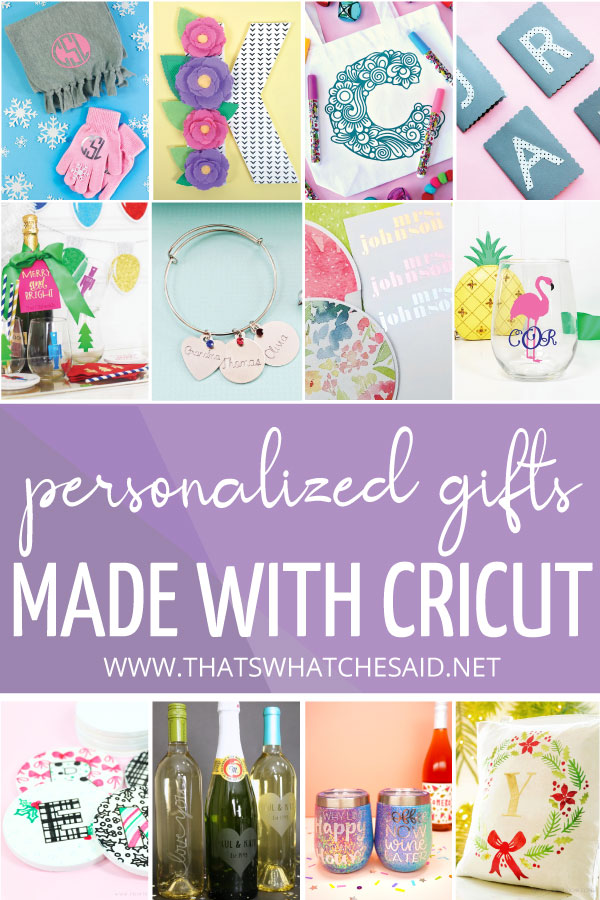 MORE MONOGRAMMED PROJECTS