This Split Letter Monogram Plaque is a fun craft to make with your Silhouette or Cricut cutting machine!    At first this project looks really intimidating but I am here today to show you that it is actually a pretty quick and easy craft project that is to have for wedding showers, housewarming parties or holiday gifts!
You can apply this concept to more than just plaques.  How about on vases or inside a picture frame or straight on your front door or mailbox!?  Options are endless and once you see how easy it is to actually  make the split monogram, you will be set to craft!
Below I made a video tutorial on how I made the split letter.
Video Tutorial on how to make a split letter monogram on Silhouette Software from thatswhatchesaid.net
Supplies for Split Letter Monogram Plaque:
1.  I picked up my wooden plaque at Michael's Craft Stores.  I gave it a coat of Stain using a foam brush and wiping the excess off with my rag..  You could also paint it if you'd like.
2.  While that dried, I cut my vinyl on my Cameo and weeded the excess vinyl away, leaving only my design behind.
3.  Using transfer paper I picked up the vinyl from the backing and centered it on the plaque and applied the vinyl.  I made sure all tlhe little flourishes and tips of vinyl were firmly pressed down.
4.  I then covered the vinyl and plaque with 2 coats of Mod Podge letting each coat dry in between.
Once it was dry I could either hang on the wall or place on a small plate easel.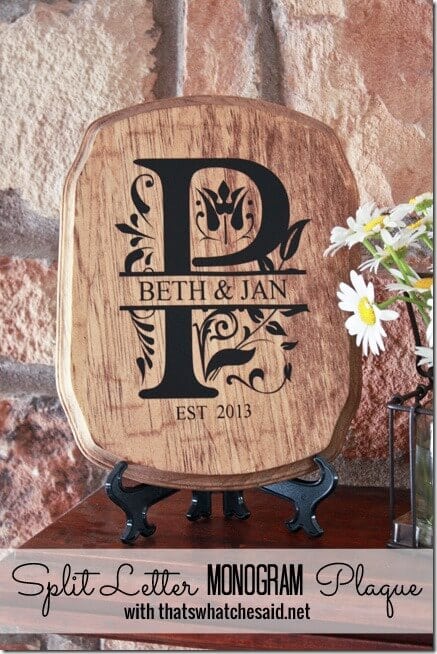 You can personalize this how every you like.  Above I put their first names in the split of the letter but in my video I just put my last name.
Need more inspiration with what you can do with all that Vinyl and a Silhouette Cutting Machine???
Then head over to my Silhouette Project Gallery and take a peek!  It's sure to get your creativity flowing!