With a new holiday comes new free fonts my fabulous friends! 19 Free Valentine's Day Fonts and Designs! I hope you love them! I am sort of font addicted! I just love the different typographies! I think in the world of blogging and internet, the fonts you use can help portray the tone of your post! Since you can't always hear my actual voice and have to decipher my tone through my writing, I sometimes rely on the fonts I choose to help "say" what I am thinking!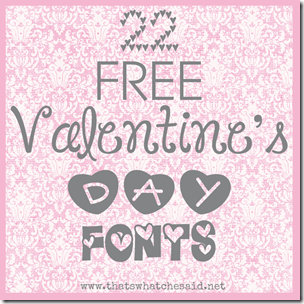 What can you use these fonts for you ask? Well you can make printables, invitations, DIY Valentine's day cards, add some valentine love to your favorite family photos, create some cute cupcake toppers or just write sweet love notes!!
1. Heartland | 2. Heart Heaven | 3. MTF Heart Doodle | 4. Get the Message | 5. Words of Love
6.KR Cuori Divertenti 7 | 7. Hearts for 3D FX | 8. Love Letters | 9. KG Heart Doodles
10.I love What You Do | 11. Chocolate Box Decorative | 12. Vanessa | 13. Little Bliss
14. KR Heartalicious | 15. Janda Happy Day | 16. Cool Dots | 17. CK Cursive | 18. Beatnik SF
19.Honey Script
If you are unsure how to download them you can refer to my post on how to download fonts to your computer.
You might also want to check out:
My favorite Mickey Mouse Fonts
My Free collection of Halloween Fonts
22 Holiday Fonts to celebrate Christmas and New Year's!
Happy downloading! I'd love to see what fun things you create with these super sweet fonts! You can leave me a link in the comments or on my Facebook page!