I am super excited to kick off some great Halloween Fun with you all by sharing these 20 Free Halloween Fonts with you! Did you know that you can download these and they will work right in a Microsoft Word document?!? You don't need to have Photoshop or any other fancy digital design software to use these fun fonts!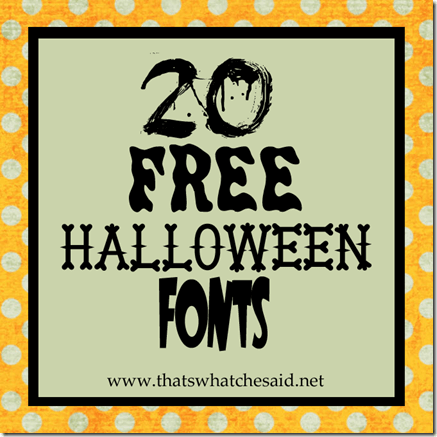 What can you use these fonts for you ask? Well you can use them on Halloween Party Invitations. Or use any of them for name tags for your child's class at their Halloween Party. You can print on envelopes in the fun fonts if you send Halloween cards or care packages to loved ones. You could jazz up your email signature with these! Create some seasonal return address labels using your favorite Halloween Font! You can also create fun printables with them as well! (psssst….stay tuned because I will be posting a new one very soon!)
All of the fonts listed above can be downloaded for FREE! We all love FREE right?!? Click on each name below and you will be taken to the site to download.
Biker Bones | Ghoulish | Casper | Along Came A Spider | Poultrygeist
Ghoulish Fright | Pumpkin Face | Serpants | Ghoul | Spinstee
Night Bird | Startling Font | Cast Iron | Bosshole | Midnight | Face Your Fears
Nightmare | Earthshaker | Halloween Spider | For the One Hundredth Time
Need to know how to download a font?!? Let me help!
I'd love for you to sign up below for my email updates or follow me on Facebook! You won't want to miss the fun FREE Halloween Printable I have coming up! Happy Downloading Friends!