Are you ready to have your socks rocked off? I am not even kidding. I have the magic ingredients on How to Easily Remove Labels from jars and plastic containers without leaving that annoying adhesive residue behind or without ruining the plastic!! Hands down this is the best way to remove labels and I have tried them all!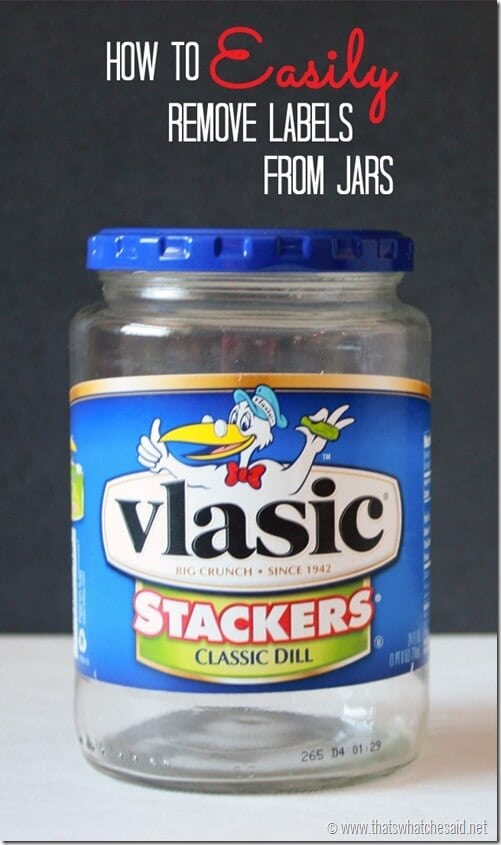 There are many different reasons to want to remove labels from jars or containers. It simply may be an adhesive label or price tag that was placed in an inconvenient spot!
You may want to reuse food jars or plastic containers. Spraypaint the lid and you now have a budget-friendly container for your craft room, kitchen, or bath.
Many times the paper part of a label will remove but the adhesives used on the label will remain on the jar.
Well, not any more my friends!!
Different Methods to Remove Labels
There are many different methods to remove labels from food storage jars and containers. Here are ones I have tried with limited success or just not quite as good as my all-time favorite method!
Many of these methods will only work for glass jars, not plastic as the solvents or scraping will ruin the plastic.
Soak the jars in hot water with dish soap in the sink and then scrub the labels with a rag or sponge.
Use a solvent to dissolve the glue such as rubbing alcohol, acetone, white vinegar, vodka, wd-40, goo gone, or nail polish remover.
Use essential oils such as lemon or orange to remove the glue residue. This will only work on glass and essential oils are on the expensive side for this type of use.
Use a knife, flat blade, or razor blade for scraping the sticky residue off.
Some have good luck using a hair dryer to heat up the glue and remove the sticker but I find if it is a paper label then you still have to remove sticker residue.
Some labels can be removed in the dishwasher but be sure to clean out the trap afterwards so you don't clog the drain in your dishwasher.
Supplies for the Best Way to Remove Labels
That's it!!  Mix equal parts of each ingredient to form a runny paste. I started with a tablespoon of each because it spreads nicely.
Once I remove the paper part of the label, I mixed up my magic paste. I apply a thick layer of it to the jar and smear it all over the gluey sticky part.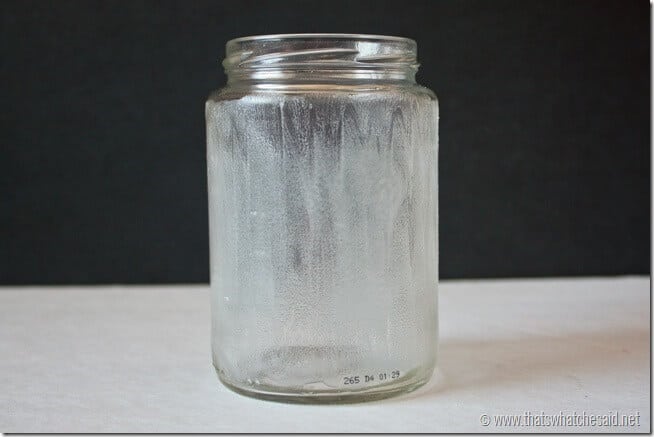 I let it sit on there about 10 minutes or so.  That number is not exact.  I slapped it on the jar and then got distracted a few times with the kids and remembered to come back to it as I passed by. 
I took a paper towel and then wiped away the paste from the jar.  All the adhesive that was left on the jar was now wiping away with my paste mixture! 
Don't Miss Out!
Get quick crafts, easy recipes and free printables & cut files straight to your inbox!
I gave the jar a good wash with hot soapy water to get rid of the vegetable oil and I was left with this crystal clear jar that are perfect storage containers in my craft room!  
Hands down this is the best way to remove labels that I have found using no harmful chemicals.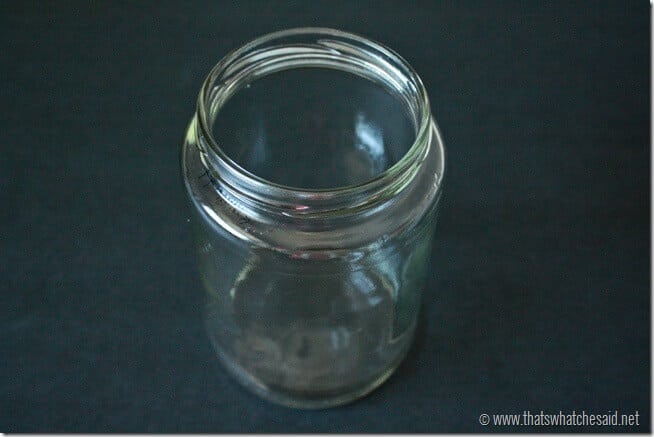 You can also use other oil-based agents that are chemical-free, environmentally friendly, and probably already in your pantry.
These alternatives are peanut butter, canola oil, coconut oil, and even mayonnaise.
Projects to Use Upcycled Jars & Containers
I am going to start using this method to easily remove labels every time I need to remove labels for my Decorated Soap Dispensers and if I ever need to make a chalkbaord labeled bottle or any more of my wine bottle luminaries I will remove labels with ease!  I wish I had this back when I was still using vinegar to get the gunk off!  This method doesn't make my house smell like we are dying Easter Eggs :)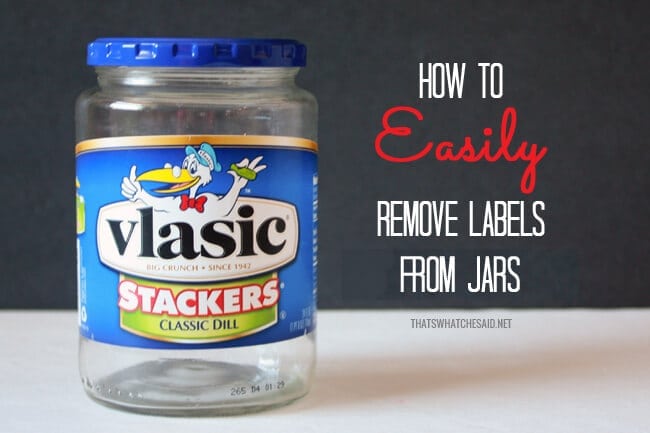 You can also use this method to remove labels from mason jars and make a set of my DIY Mason Jar Straw Lids or if you needed the Jars to upcycle into fun Manicure in a Jar Gift or Pedicure in a Jar Gift ideas!

I have many other fantastic tips and tricks that will make your life easier! Sign up for my FREE emails below to get new tips and tricks delivered to your inbox for free! Don't worry I never share your information because I am greedy and I want you all to myself, lol! :)
[ess_grid alias="tips_tricks"]