Step by step on how to download files from my website, www.thatswhatchesaid.net, to your home computer in order to utilize these files with your Silhouette or Cricut cutting machine, your sublimation printer, or your laser cutter!
This process is the same for all my freebie files including SVG cute files, .pdf or jpeg printables or .png sublimation files.
You do NOT need a paid subscription in order to download!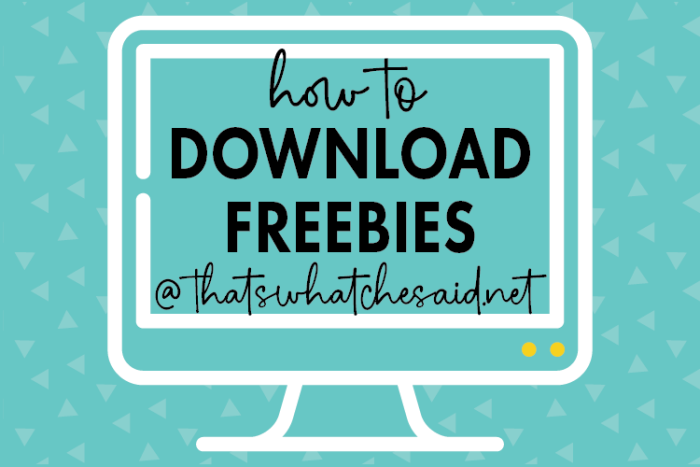 Before I get into the step-by-step, I want to say you do NOT need a paid subscription to box.com to download my files!
WHERE TO FIND MY FREEBIES:
You can find my free files in one of two places! You can find them in individual freebie posts or you can join my email community and receive the password for my Freebie Library where you can download all my freebies, in one place until your heart is content! I offer free SVG files, free printables, and free sublimation files.
Not sure what an SVG file is? Start here to learn all about SVG files and how they are used!
WHY DO YOU USE BOX.COM TO DELIVER YOUR FREEBIES?
Box.com is a secure, FREE, and easy way to sort, store, and manage digital files. It allows me to keep all my freebies organized and in one place and it frees up space on my website in order to keep my site running and loading quickly for you. I have been using box.com for close to 13 years with no issues.
Box.com also allows me to upload each file individually or to upload a zip file. Many readers encounter issues when trying to unzip a zip file so being able to add the files individually allows me to offer those individuals the files without the headache they were encountering previously with zip folders!
Check out the "how to unzip a zip file" instructions here.
DO I NEED A BOX.COM ACCOUNT TO DOWNLOAD YOUR FREEBIES?
NO! A box.com account is NOT needed! I get so many comments stating this but it is not the case and you do not need to have an account.
You may choose to open a FREE ACCOUNT in order to keep the files on the cloud vs your hard drive and you can create a FREE PERSONAL account here. A paid subscription is not needed in order to access my free files.
Video on how to download free files from my site
HOW TO DOWNLOAD SVG FILES
Time needed: 2 minutes
Step by Step Tutorial on how to download free files on my website, www.thatswhatchesaid.net
NAVIGATE TO THE FREEBIE AREA

Within the freebie post, navigate to the download area. There will be a headline most commonly with the verbiage "Get the Freebie/SVG/Printable Here". I am using this free crafty SVG as an example.


CLICK THE DOWNLOAD BUTTON

Click the download button.


ENTER YOUR NAME AND EMAIL INTO THE FORM

Once you click the download button on the step above a pop-up will open. Enter your name and best email address. **if you do not get a pop-up that means you have a pop-up blocker enabled. You will need to navigate to the ride side of your URL bar and allow pop-ups for my site. (see step 8 below)


CLICK DOWNLOAD

After your email has been submitted a DOWNLOAD button will appear. Click it to access the files in box.com


DOWNLOAD FROM BOX

Box.com will open and you can click the three dots next to the files you wish to download. Click, and select download.


DISREGARD THE SUBSCRIPTION POP UP

A window offering you a box subscription will pop up but this is independent of the download. Simply close out and your downloads will continue to download to your computer. On my computer, the downloads appear in my download bar which you can see in the lower-left corner of this screenshot. You can close out that pop up and still get the download.


(OPTIONAL) SAVE TO BOX.COM VS. YOUR COMPUTER

If you would prefer to save these free files to a FREE BOX.COM account versus saving them directly to your computer you may do so and you may sign up for a FREE BOX ACCOUNT using this link here. This is 100% completely optional for those who prefer to keep things on the cloud vs their hard drives.

**HOW TO DISABLE POP-UP BLOCKER.

If you do not get a window to enter your name and email in step 3, it is most likely due to a pop-up blocker you have installed in your browser. If you navigate to your URL bar on the right side, click the pop-up blocker icon and allow for my website.

NEXT STEPS AFTER DOWNLOADING
Once you have the files downloaded to your computer you may want to check out how to upload these files to Cricut Design Space and how to upload to Silhouette Studio to use with your cutting machines.
You can also find information on how to download, install and upload fonts here.
Here is a helpful tutorial on how to convert my free designs into greeting cards!