Make use of that random extra half of a shirt box with this easy trick on how to upcycle a box half into a smaller box. It happens every time you go to wrap something! (if you are me!) You can only find ONE side of a gift box! Gah! This easy trick will show you how to use those random leftovers you have and also create smaller boxes for smaller gifts!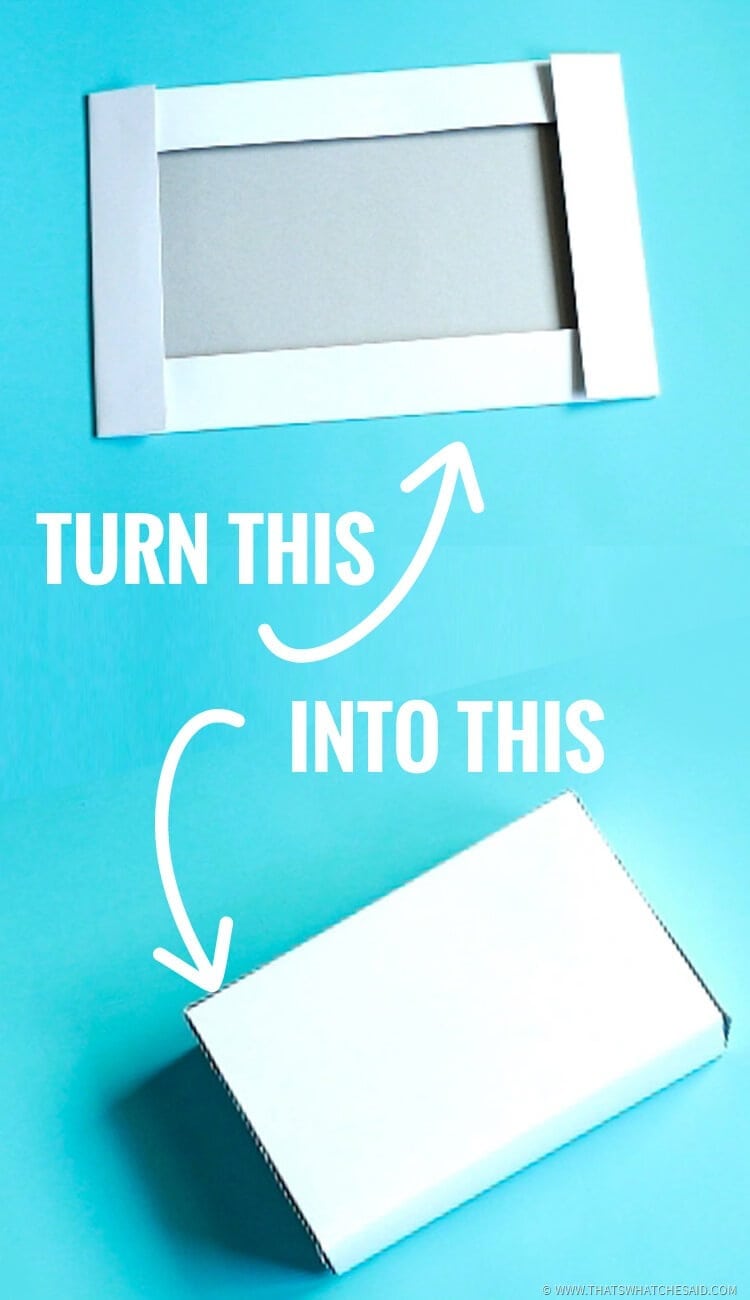 How to Upcycle a Box into a Smaller Box
Pin It Here
Click the button above to save to your board for later!
This fun little Tuesday Tip & Trick will solve two problems for you. 1. It will make use of those annoying boxes that have no top to them and 2. It allows you to make some of your own smaller boxes for smaller gifts! It never fails you need to wrap something and run into either of these two dilemmas! Well at least for me it does because I am just that lucky!
Video on How to Turn a Larger Box into a Smaller Box
Follow me on YouTube for more Cricut & Craft videos!
Don't Miss Out!
Get quick crafts, easy recipes and free printables & cut files straight to your inbox!
How to Upcycle a Box Half into a Smaller Box:
Time needed: 2 minutes
Turn one half of a shirt box into a smaller complete box with a few folds and cuts! Great for gift wrapping gift cards, small items, or when you need a box to mail!
Set up your Box Half

To start off take your lonesome box half and turn it so the side flaps are facing you.


Fold one side of the box.

Fold one side of the box over and up to the lip of the opposite side's flap.


Repeat for the opposite side of the box

Open up the fold you just made in step 2 and rotate the box 180 and repeat with the other side.  You have now formed your new side of your box!


Open the fold in step 3 and using a pair of scissors, cut along the fold lines, just for the lip of the box on both sides.

Fold the Cut Flaps inwards

Fold the two flaps you just cut in step 4 toward the inside of the box


Create a new smaller box from the larger box half.

Fold one half of the box over the other to create a smaller box.


Use your Smaller Box!

You now have a smaller box with both bottom and top made from one half a shirt box!

More Tips & Tricks
Some other popular tips and tricks are How to Easily Remove Labels from jars and my Easy Way to Store Cutting Boards.
You can check out all my other tips and tricks on my Tuesday Tips and Tricks Series! If you like this be sure to share with your friends (buttons below!) and sign up for my email community so you never miss another fun trick!