What makes Puppy Chow even better?  Holiday Puppy Chow Mix!  What makes it Holiday?  Well M&M's of course!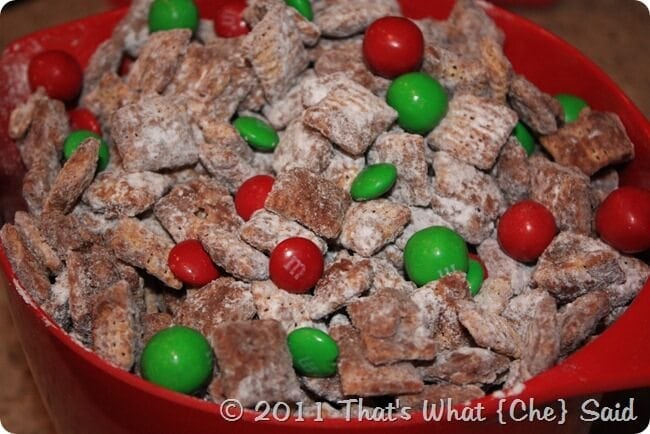 Ingredients Needed:
9 cups of Chex (any kind)
1 bag of chocolate chips (11.5 oz.)
1 stick of butter (1/2 cup)
1/2 cup of peanut butter
1 tsp. vanilla extract
1 1/2 cups powdered sugar
Large Paper bag
M&M's (any variety)
Start by measuring out the cereal and place it in a large brown paper bag (grocery store bag).  In a medium, microwave safe bowl, add chocolate chips, peanut butter, butter and vanilla extract.  Begin by heating on high for 1 minute.  Take out and stir.  Repeat in 30 second increments until the mixture is melted and smooth.
This is the fun part.  Dump in the brown paper bag that contains the cereal.  Go ahead, I promise, it will be OK! 
  We made it this way in Girl Scouts and I will never make it another way.  Super easy clean up!  Dump in the chocolate mixture and shake it!  Shake, shake, shake!
Next open the bag and add the powdered sugar.  Shake it again.  My boys LOVED shaking it!
Next lay out on a sheet pan to cool.  Toss the paper bag!  Told you easy clean up!
Once cool, add the M&M's.  I chose regular plain M&M's and also the PRETZEL kind!  YUM!  Only add these after the mixture is cool because otherwise the candy shells bleed all over the warm powdered sugar.  I like it to look pretty.  When I add it to my serving bowl, I gently mix in the M&M's by hand.
Enjoy!
Oh and please do not send me hate mail if you happen to eat half the mixture as it cools and then the other half after the M&M's are added resulting in needing to make another batch and/or completely trashing your diet!  That is my official disclosure on this recipe!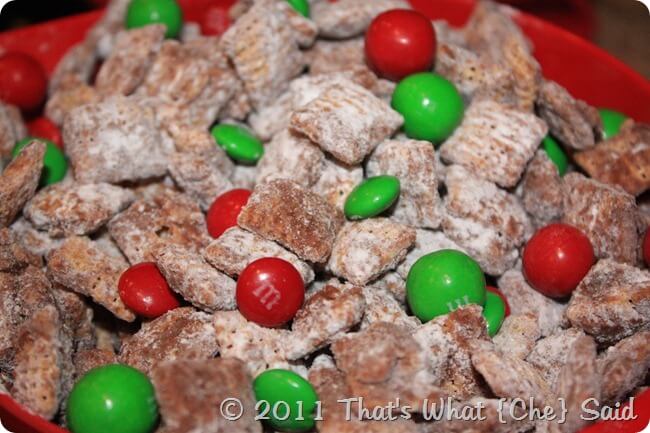 You can find all the posts for this series by clicking the button below! Also feel free to sign up for
email
notifications of my posts! You can also find me on
Facebook
and
Twitter
!