If you love gingerbread cookies you will be a big fan of this 5 Minute Gingerbread Fudge.  Easy Christmas fudge recipe adapted to taste just like a gingerbread cookie!  This quick fudge makes the perfect neighbor gifts!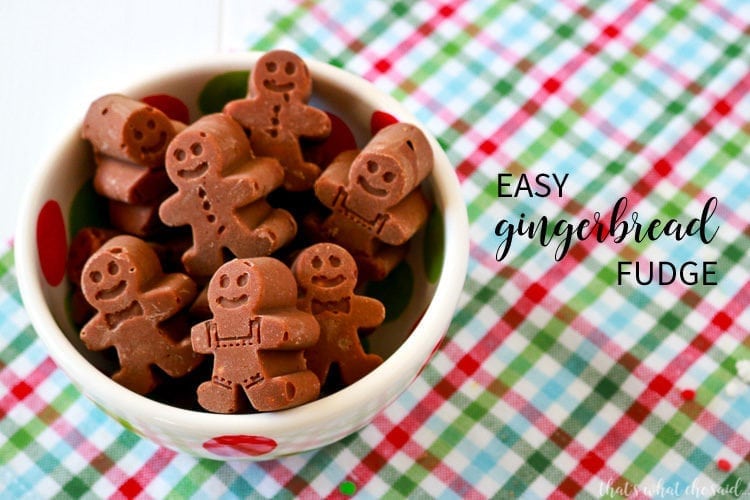 Guys I am a total sucker for those silicone molds of different shapes.  I mean how cute are they and everything is better when it's in a cute little shape right?  Even if you don't have the cute gingerbread silicone mold this easy 5 minute gingerbread fudge will become a holiday favorite.
I like to keep things pretty simple so I basically adapted my 3 Ingredient Fudge Recipe and made some minor tweaks to make it gingerbready.
First tweak was the chips:  I really liked the dark color for the fudge so I added in 1 of the 3 cups of chocolate chips as chocolate ones instead of all white chocolate.  This let me skip using molasses.  I try to keep my recipes to things people may already have in their pantry and I never have molasses so I just assume no one else does too!
Second tweak: I added in all the gingerbread spices and some vanilla extract!  That's it!  That's all the tweaks!  I told you this was easy.
Dump in a bowl, melt, mix, pour and chill.  Seriously those are the directions.  I do not lie when I say EASY!  5 minutes to make and a few hours to chill!
Supplies for 5 Minute Gingerbread Fudge:

Want More Quick & Easy Recipes?
Easy Gingerbread Fudge Recipe
Gingerbread 5 Minute Fudge
TOTAL TIME
2
hours
7
minutes
A delicious 5 minute Gingerbread Fudge that will remind you of the cookie man himself in a smooth, creamy, fudgey bite! Molded as gingerbread shapes or cut as squares they are equally as delicious!
Print
Ingredients
2

cups

white chocolate chip morsels

1

cup

chocolate chips

14

ounces

Sweetened condensed ml

1/4

cup

butter

1

tsp

Vanilla Extract

3

tsps

ground ginger

1

tsp

ground cinnamon

1/2

tsp

ground nutmeg

1/2

tsp

ground clove
Instructions
In a microwave safe bowl, combine white and chocolate chip morsels, sweetened condensed milk and butter.

Microwave for 2-3 minute increments and stir until mixture is smooth and creamy. Repeat as many times needed. For repeat trips to the microwave, heat in 1 minute increments as to not scorch the chocolate

Once fully melted and smooth, add vanilla and all spices and mix thoroughly.

Fill Gingerbread silicone mat or a foil lined, 9x9 pan. If using 9x9 sheet, now is the time to add any colored sprinkles or snowflakes if you wish. Refrigerate 2 hours or until set.

Carefully remove fudge from silicone mold or slice fudge into bite size pieces.
Notes
Setting time may vary.  This will start to set quickly as it cools.  It can also set at room temperature but will take longer than if refrigerated.
Store in an airtight container up to two weeks.
Here are some other sweet treats you may like:
IF YOU LIKE THIS CHRISTMAS FUDGE PIN IT!