Buttery delicious crescent crust topped with salty prosciutto, gruyere cheese and fresh roasted asparagus make this Prosciutto Asparagus Tart the perfect appetizer for any get together. So easy but so elegant!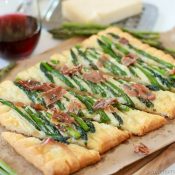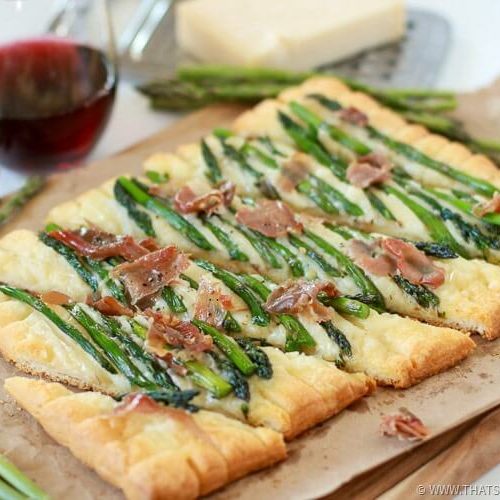 Buttery delicious crust topped with salty prosciutto, gruyere cheese, and fresh roasted asparagus make this Prosciutto Asparagus Tart the perfect appetizer for any holiday get-together.  Simple, elegant, tasty and with the help from ALDI, this easy appetizer recipe will soon become your go to party starter.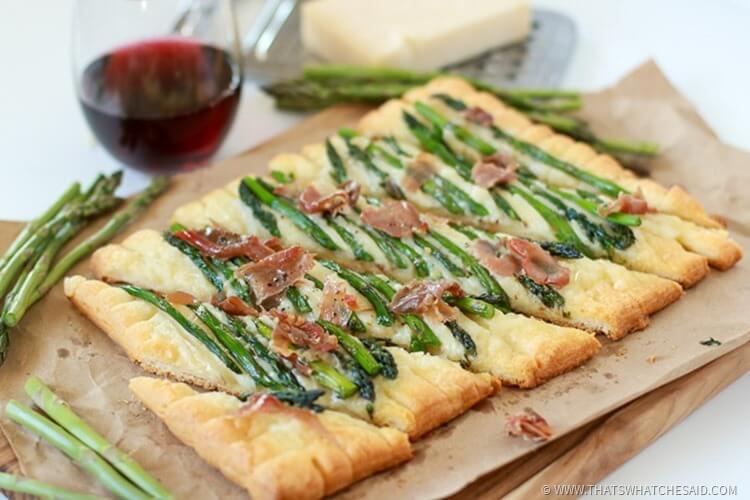 You all know I love making foods that are flavorful and that also look elegant but are budget friendly. I have teamed up with ALDI to share my recipe for my Prosciutto Asparagus Tart with you all and share a bit about why I love this store, their products and the way I feel about providing my family and friends quality dishes that allow us to get together over and over and over again.
I have been shopping at ALDI since I was in college. I won't really go into *exactly* how long ago that was, but it was a long time ago! I am still shopping at ALDI. The store, prices and products have kept me coming back from my college days through my "I got my first real job" days and has continued on now and provides for my entire family of hungry boys. Whether a family dinner or a night with the girls, I know I can get everything I need at ALDI and that I am going to get amazing quality products!
They do everything in their power to keep prices the absolute lowest and give us the absolute best products! From streamlined aisles and shelves to self-bagging and cart return.
All of this is worth it to me to keep my grocery budget down and the meals I make my family look extraordinary!
They carry organic products, gluten free, fit and active, fresh fruits and my favorite fresh meats!
Psst…ALDI is my FAVORITE place to get wine and beer and ALL. THE. CHEESES. and olives and meats for the most perfect antipasto platter! I wow my guests every time I come to a party!
It's true we eat with our eyes, right? That's why this appetizer is the perfect way to start off your holiday feast, dinner party or even your favorite game day festivities. Packed with flavor and of course, a beautiful sight for your hungry eyes!
Ingredients for Prosciutto Asparagus Tart Appetizer:
Bake House Big & Buttery Crescent Rolls
Carlini Olive Oil Spray
Carlini Olive Oil
Fresh Asparagus Spears
Appleton Farms Prosciutto
Specially Select Gruyere Cheese
Stonemill Salt & Pepper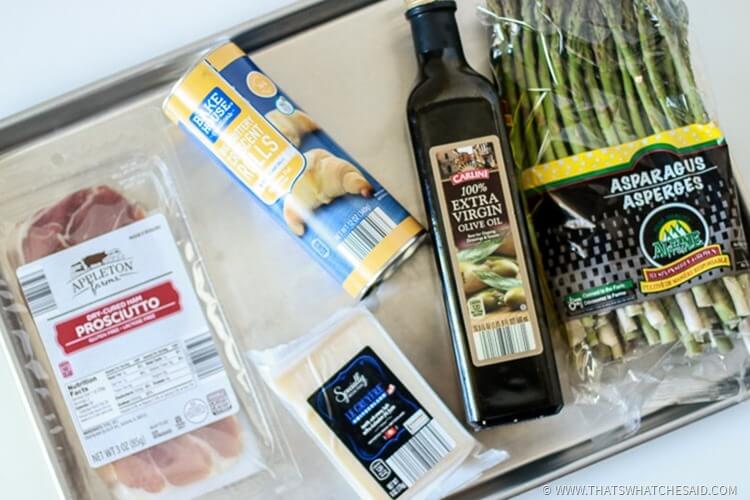 I started off with my favorite thing ever. Crescent Rolls! I used the Buttery Grand ones. Pop that roll and take out your dough. I used Olive Oil Spray to spray my baking sheet.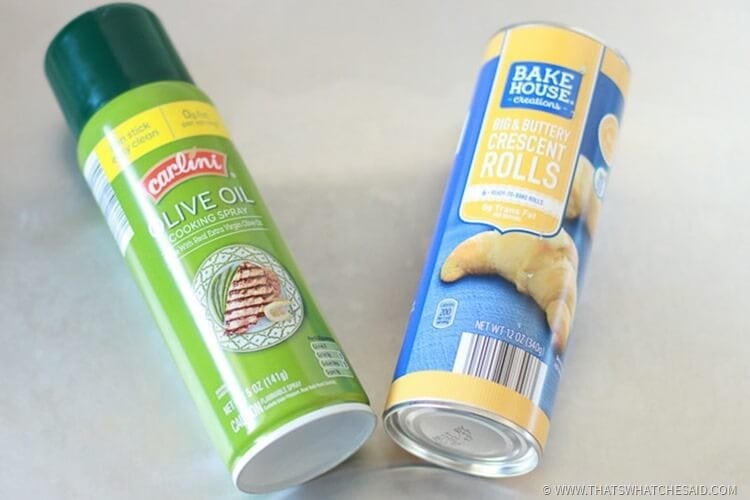 Unroll the dough and using my fingers I pinched together all the seams where it's meant to be separated for rolls. Using a sharp knife, I made slices in the dough about 1 inch all the way around the rectangle and pierce the center with a fork so it doesn't puff up in to a giant balloon!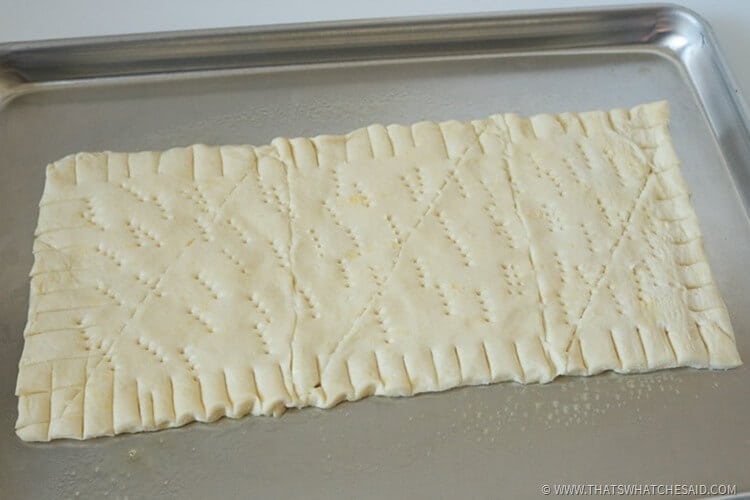 I popped that into a 350 degree F oven for 10 minutes and while that was baking, I prepped my asparagus and cheese. Do you know the tip for how much stem to cut off an asparagus? It's simple.
Pick up an asparagus spear and place each end between your fingers. Bring those ends together and where it snaps is where you should trim to!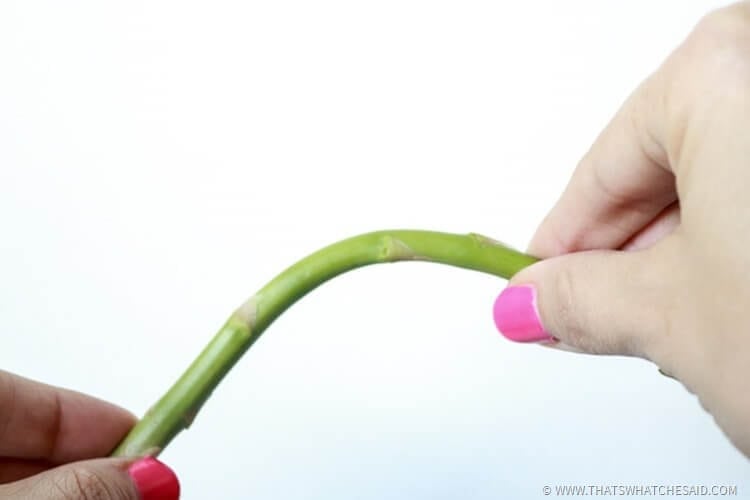 I placed my snapped spear next to the pile and then cut them all at once.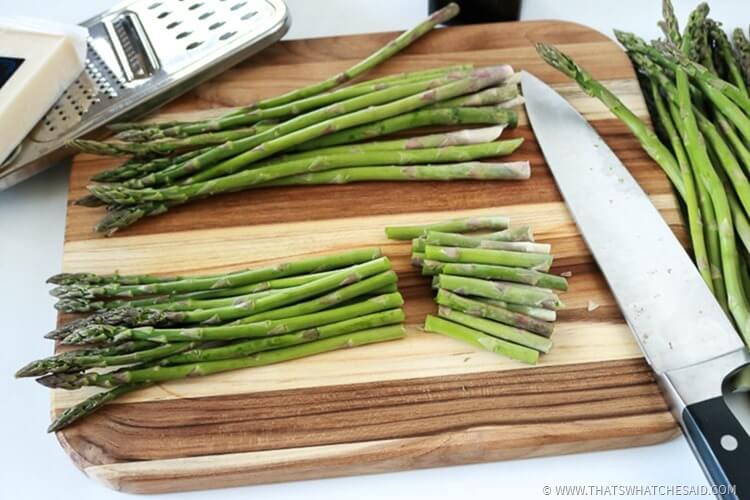 Next I grated up 6 ounces of gruyere cheese. You need to cut both ends off of the cheese and then the center is creamy and easy to grate.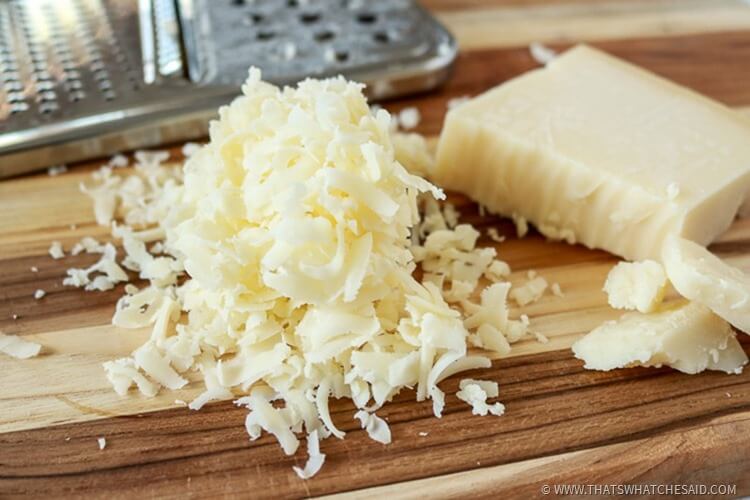 When your base is done baking for the 10 minutes remove from oven and cover the tart with your shredded cheese and then add a layer of asparagus. I like to rotate the stems back and forth so that they fit nicely and of course, look pretty!
Next I took 3 slices of my prosciutto and I just tore it in pieces and layered it on top of the asparagus. You can also dice this with a knife, but I just love the way it looks torn. More rustic I guess. Drizzle the entire tart with some olive oil and add a bit of salt and pepper.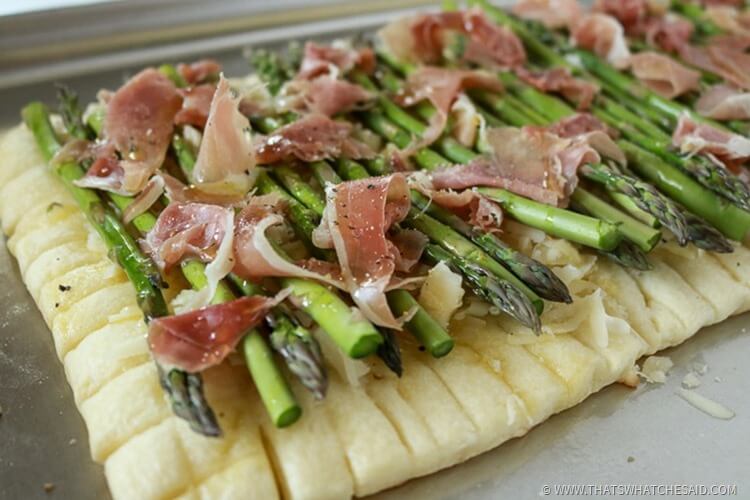 Bake for an additional 20-25 minutes. This time depends on the size of your asparagus. If your stalks are thicker you will need the 25 minutes. Mine were perfect at 20 minutes since they were younger asparagus.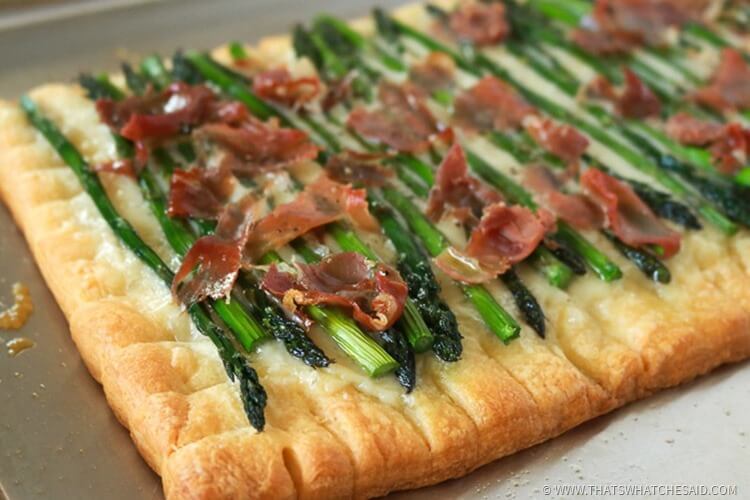 The asparagus soften and get delicious, the prosciutto gets crisp and wonderful and the gruyere just melts to perfection and of course the crescent base just gets brown and perfect!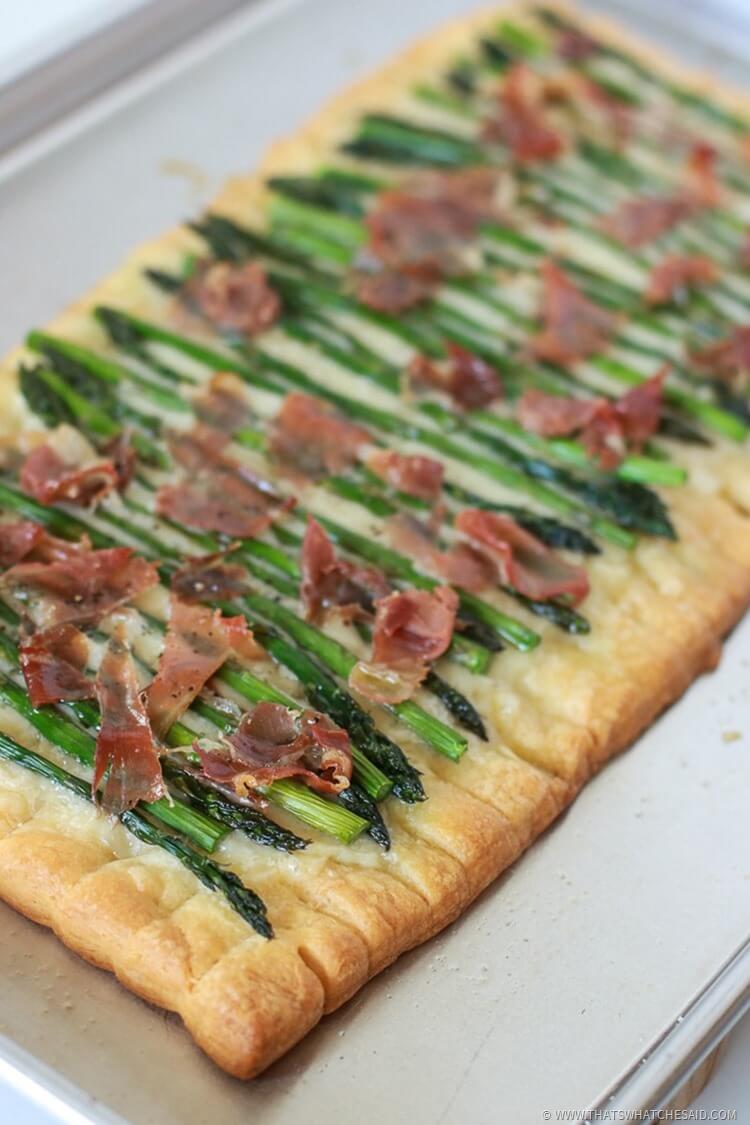 Let set for about 5 minutes and then you can cut into slices. I like to cut into diagonals (and also half way down the center to make smaller pieces for larger crowds).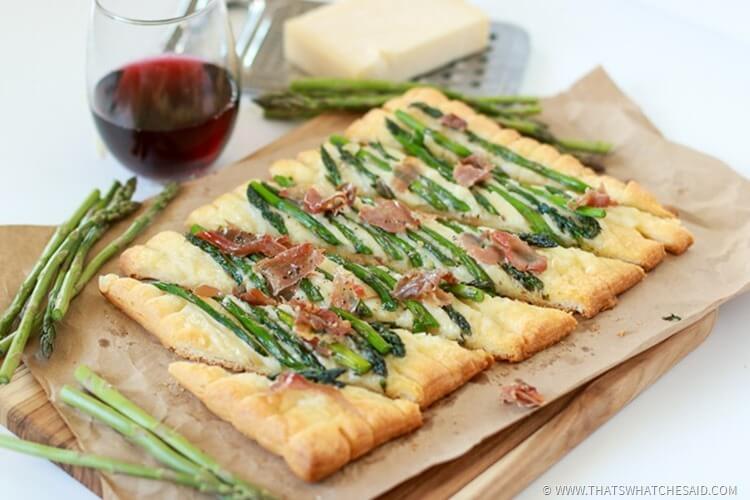 You can also slice in triangles!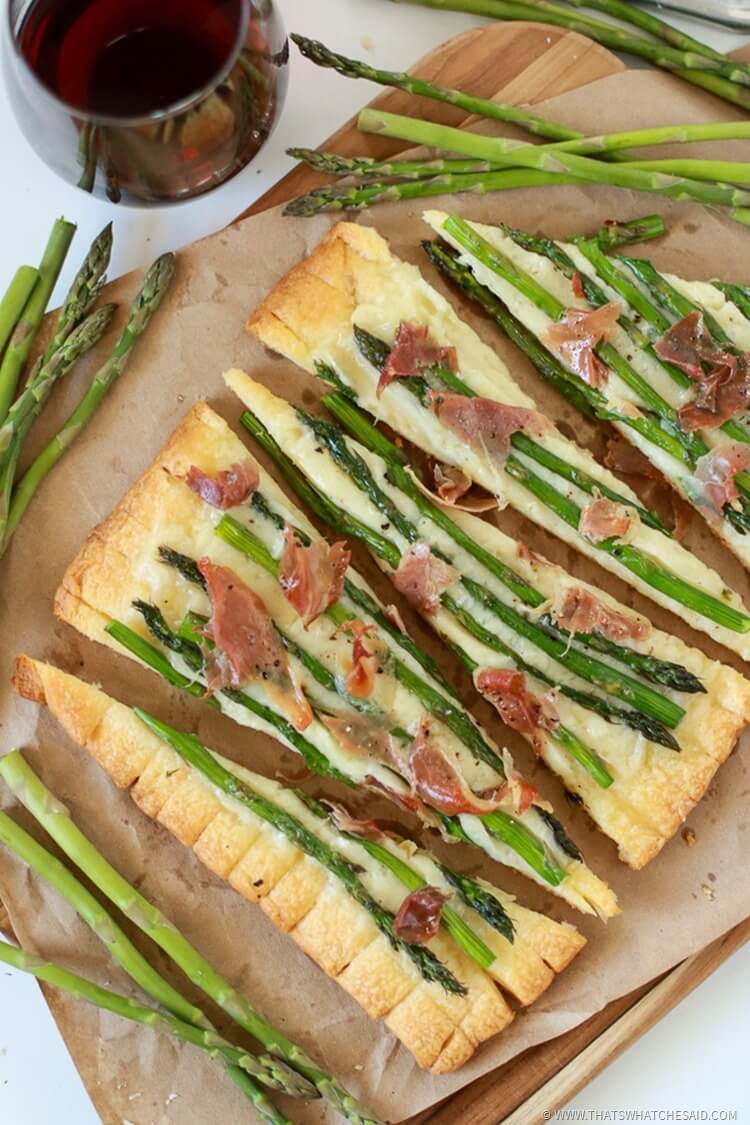 For those of you who have never been to ALDI before, would you ever guess that this was not a dish prepared from a gourmet food store? I made two, one with ALDI products, a second with national brands and had some girlfriends over for wine and girl time and not one friend knew I had used separate brands! Total win and I can also attest that it did not cost me gourmet food store prices either, which means we can have a lot more girls nights! Yay!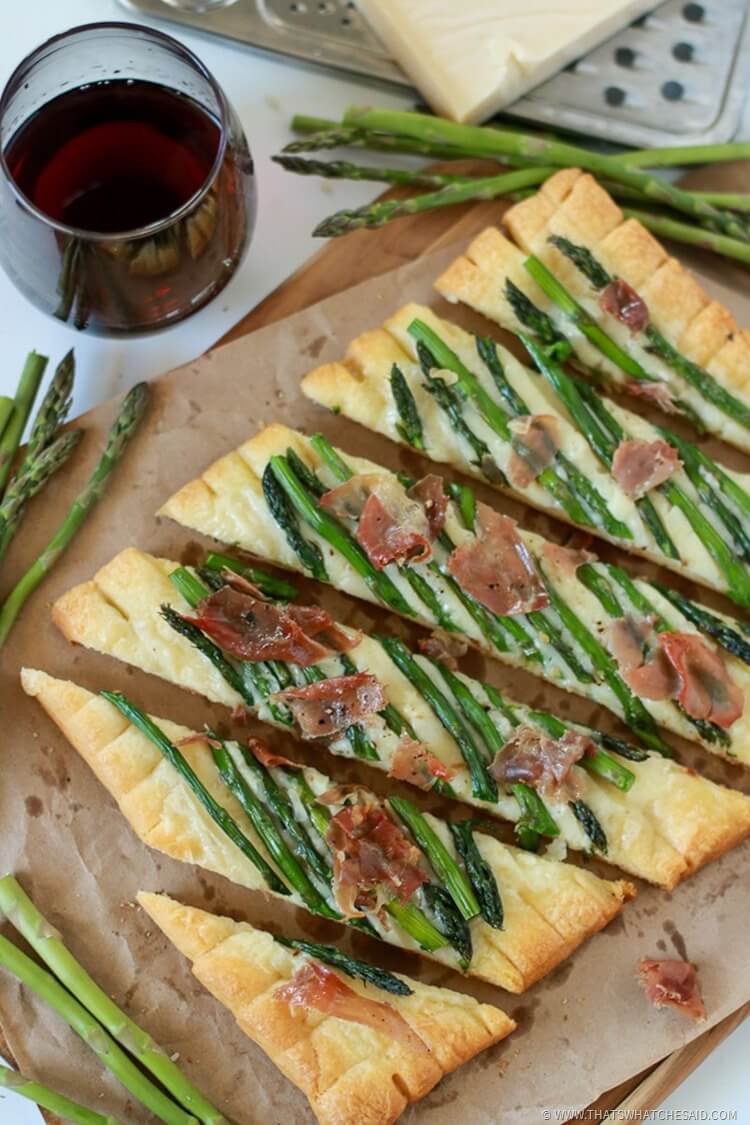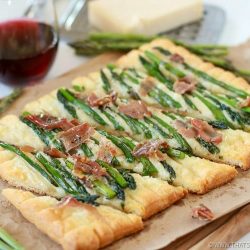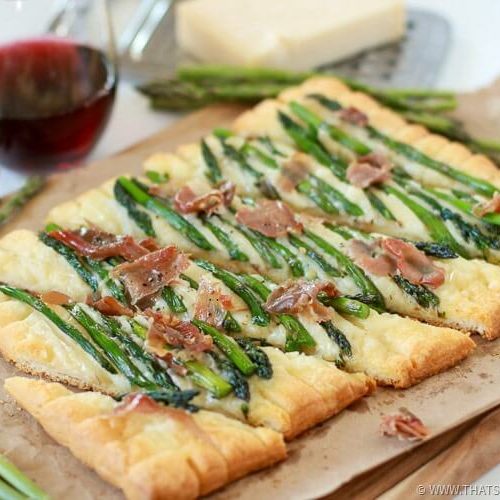 Prosciutto & Asparagus Tart | Easy Appetizer
Buttery delicious crescent crust topped with salty prosciutto, gruyere cheese and fresh roasted asparagus make this Prosciutto Asparagus Tart the perfect appetizer for any get together. So easy but so elegant!
Print Recipe
Pin Recipe
Ingredients
1

tube

Crescent Rolls

,

Big & Buttery

1/2

lb

fresh asparagus spears

,

trimmed

3

slices

prosciutto

6

ounces

Gruyere Cheese

,

shredded

2

teaspoons

olive oil

Olive Oil Cooking Spray

salt & pepper to taste
Instructions
Preheat the oven to 350 degress F

Spray a baking sheet with Olive Oil spray

Open tube of crescent rolls and unroll onto baking sheet. Pinch seams together to create one continuous sheet of dough.

Using a sharp knife, cut slices into edges of dough about 1 inch into the center, all the way around. Pierce center of dough with a fork.

Bake at 350 for 10 minutes, until slightly baked (but not all the way)

While crust is baking, prepare your asparagus. trim edges of washed asparagus.

Grate cheese.

Remove Crescent base from oven and top with shredded cheese, asparagus spears (alternating direct of sprears) and top with 3 slices of prosciutto torn into smaller pieces.

Drizzle top of tart with olive oil and salt and pepper.

Bake for 20-25 minutes until asparagus are tender and crescent roll dough is browned on edges.
Notes
© That's What Che Said, LLC. All images & content are copyright protected. Please do not use my images without prior permission. If you want to republish this recipe, please re-write the recipe in your own words, or link back to this post for the recipe.
I challenge you to gather your favorite recipe, head to ALDI and take the Try and Tell Challenge. Make it with ALDI products and wait to be blown away!
More great appetizers to try!
[ess_grid alias="game_day_appetizers"][/ess_grid]