A delicious and easy make-ahead breakfast casserole combining two breakfast classics, cinnamon rolls, and french toast! Breakfast will never be the same!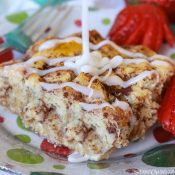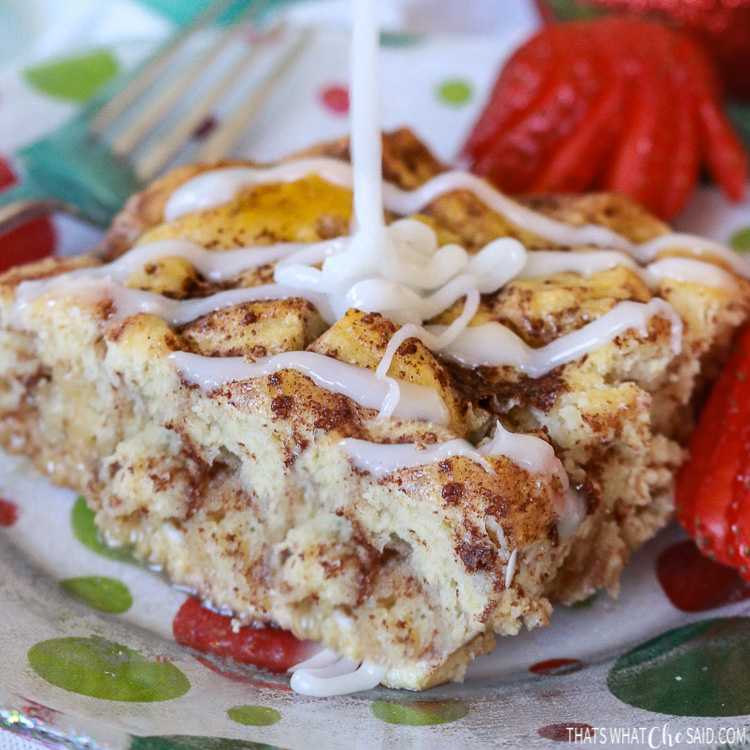 This awesome and easy make-ahead cinnamon roll french toast breakfast casserole combines two breakfast favorites, cinnamon rolls, and french toast! Preparing this dish ahead of time makes it a favorite for holiday breakfasts or busy weeks!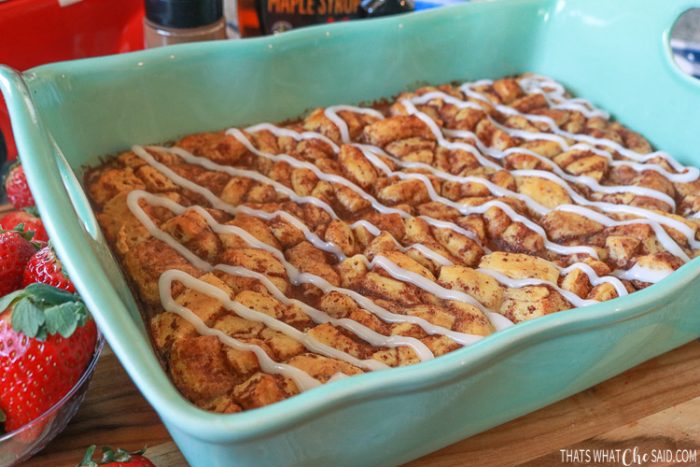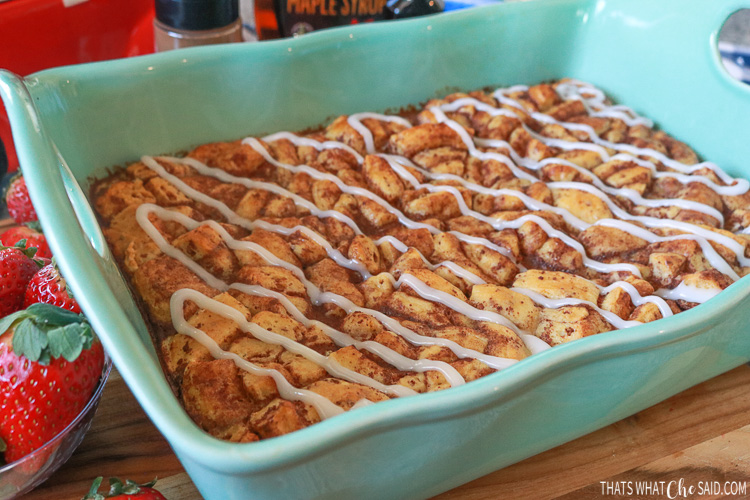 This post is sponsored by Save A Lot. All opinions are my own.
Whether you are hosting a holiday breakfast or brunch or you just have so many things going on this week mornings will be hectic, this cinnamon roll breakfast bake will save the day.
Combining refrigerated cinnamon rolls from Save A Lot with the main mixture for french toast delivers an easy and flavorful breakfast dish that is sure to be a family favorite!
Tips for making Cinnamon Roll French Toast Bake
Get the kids involved! My kids can easily cut the cinnamon roll dough, whisk the eggs and measure the milk and spices!
Use the defrost feature on your microwave to melt the butter perfectly.
Quality ingredients are key to the best flavor, especially using real maple syrup takes this dish from good to great!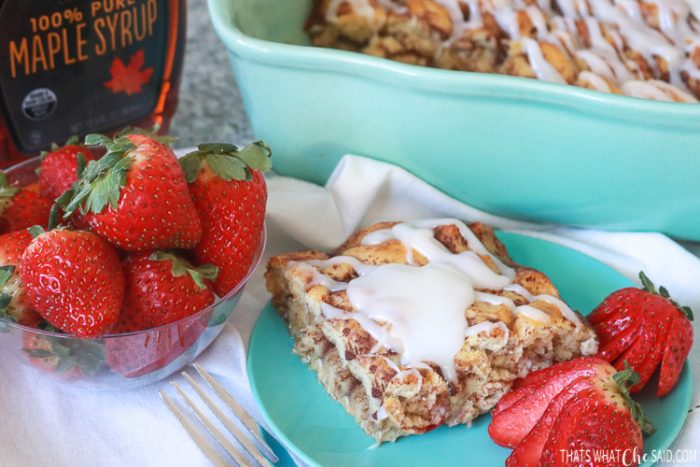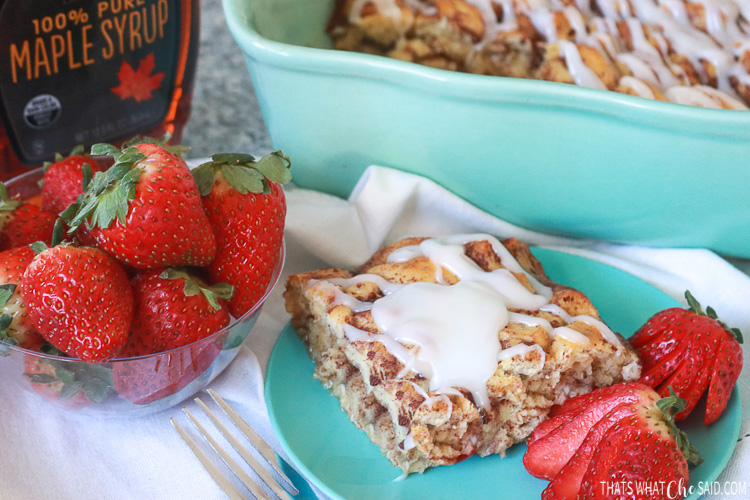 Kitchen Tools Needed for Cinnamon Roll Breakfast Bake
This post may contain Amazon Associate and other affiliate links.
As an Amazon affiliate, I earn a small commission from these links at no additional cost to you.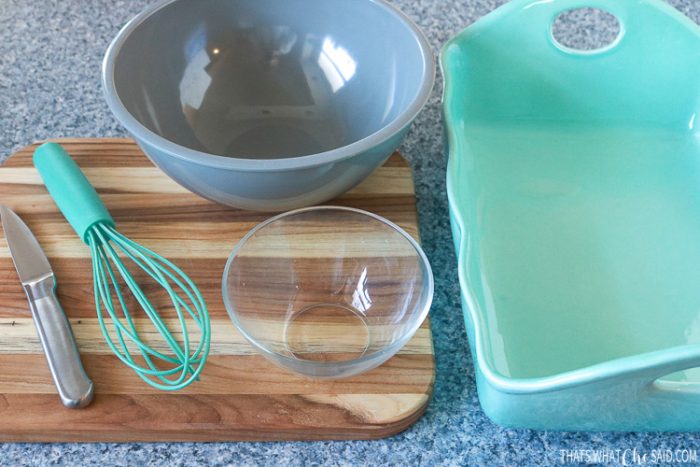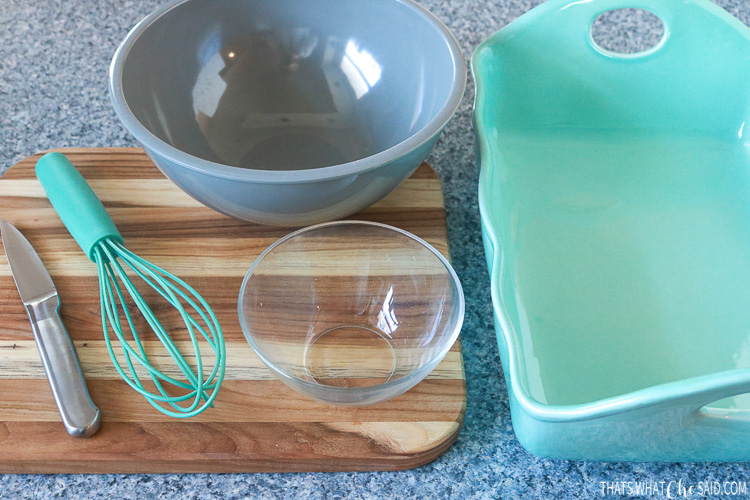 Ingredients for Cinnamon French Toast Breakfast Bake
I was able to pop into my neighborhood Save A Lot and grab everything I needed for this breakfast bake. Their quality ingredients are backed by a 30-day money-back guarantee and for me, it's so convenient to get in and out with everything I need quickly and friendly to my budget!
Grissom's Refrigerated Cinnamon Rolls
Good NatureLarge Eggs
Coburn Farms 1% Milk
Marcum Ground Cinnamon
Marcum Vanilla Extract
Coburn Farms Butter
Bramley's Maple Syrup
Strawberries or other seasonal berries for garnish (optional)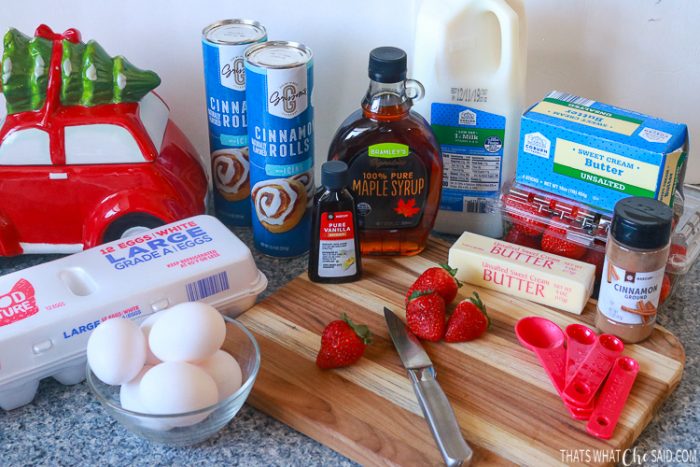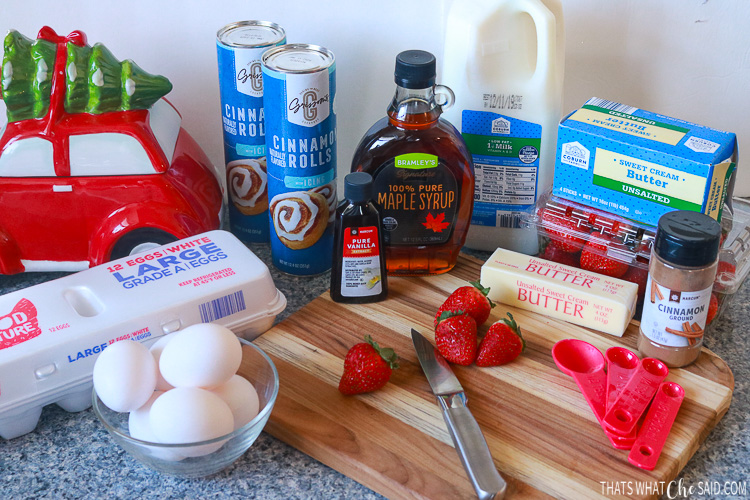 Can I make this Cinnamon Roll French Toast Casserole ahead of time?
Yes! It is one of the reasons I make this so often! Follow all recipe directions up to the baking. Instead, cover your casserole dish with plastic wrap and refrigerate up to 24 hours. Remove from the refrigerator half an hour before you plan to bake and then follow recipe baking instructions.
This breakfast casserole is great to make on holiday mornings like Christmas and Easter when you want to be with your family versus in the kitchen making breakfast!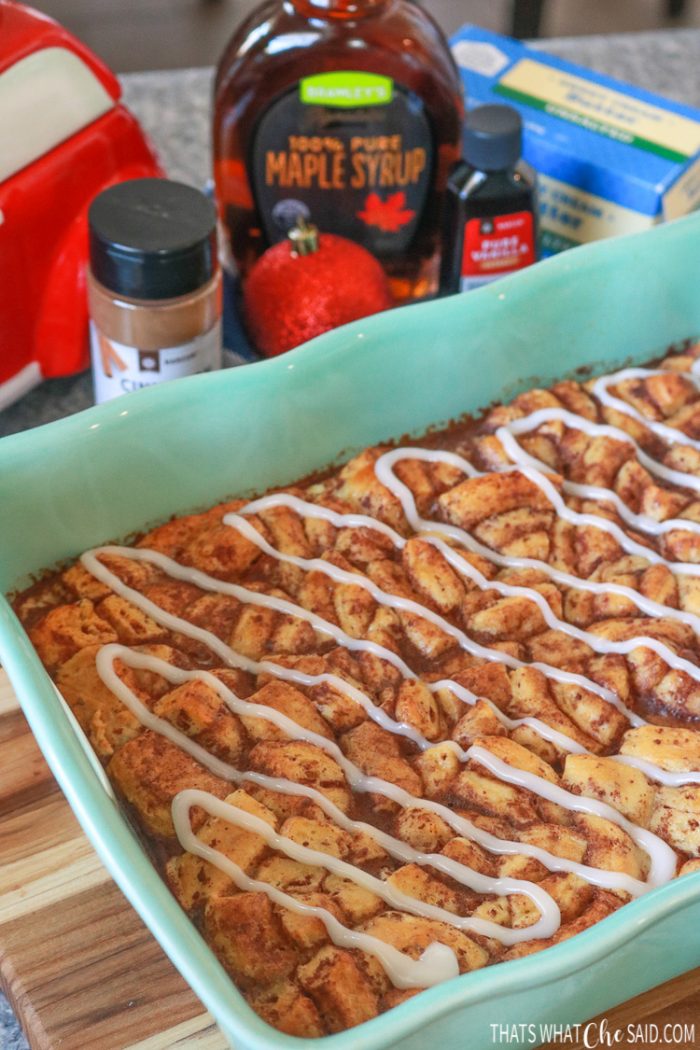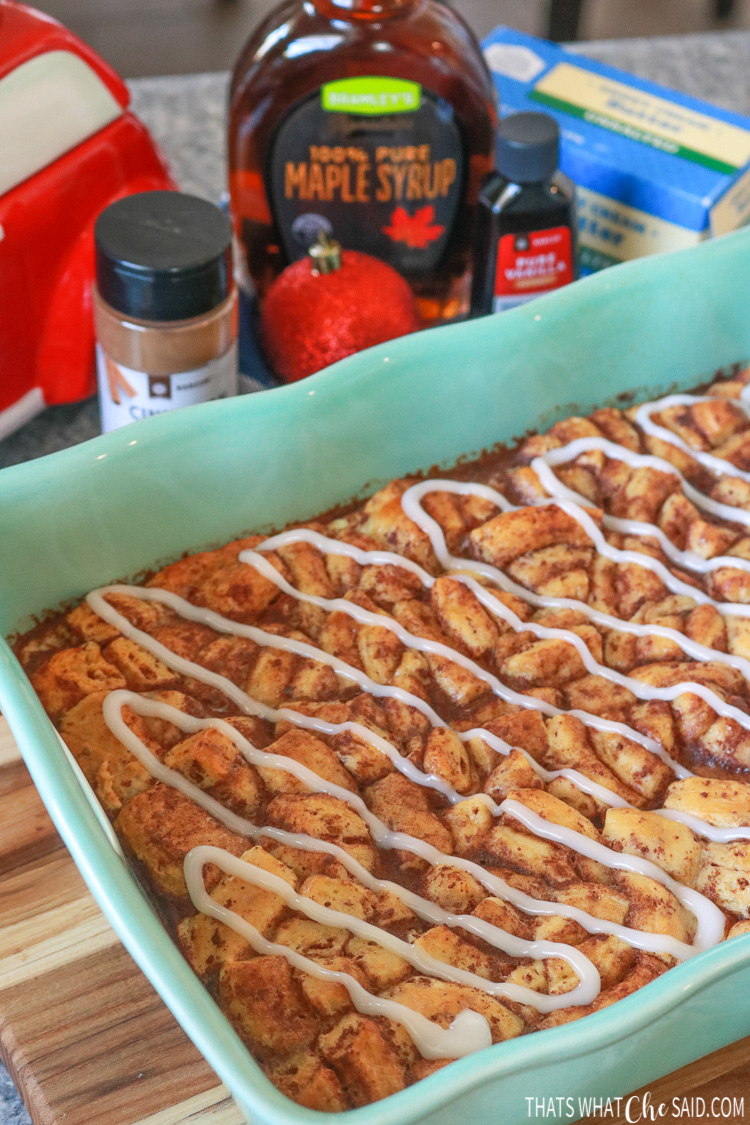 With as quickly as you grabbed the ingredients from Save A Lot, you can have this breakfast dish on your table while you make memories with your family!
I also love to make this dish on Sunday and then bake Monday morning and we can enjoy all week long. It has also been a hit at pot lucks and brunch get-togethers! Save A Lot's great prices means that we can enjoy delicious meals without going over our grocery budget for the week!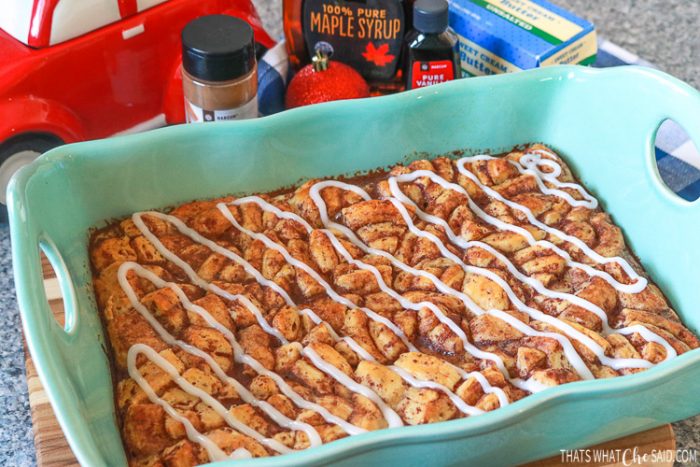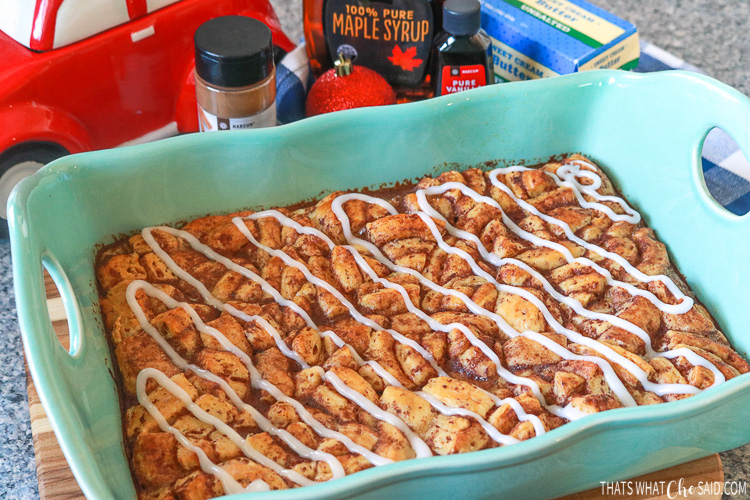 How to Store & Reheat Cinnamon Roll French Toast Bake
Store any leftovers in an airtight container in the refrigerator for up to a week.
To reheat the entire casserole dish, I recommend 20-30 minutes in a 350-degree oven.
To reheat single pieces, I do this easily in the microwave in 30-second increments. Be careful, it goes from cool to very hot quickly!
How to Make this Easy Breakfast Bake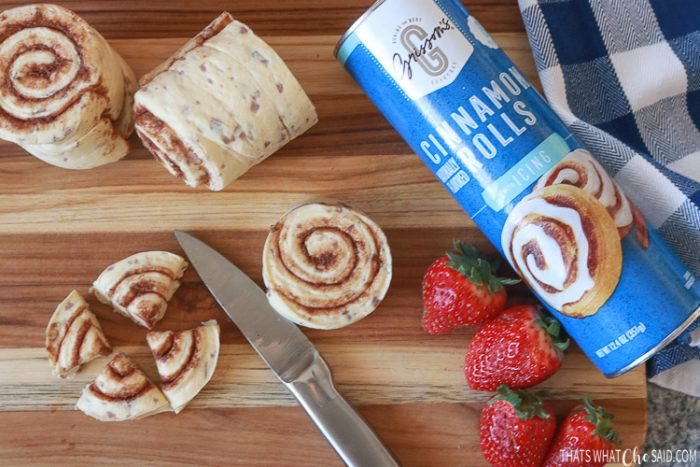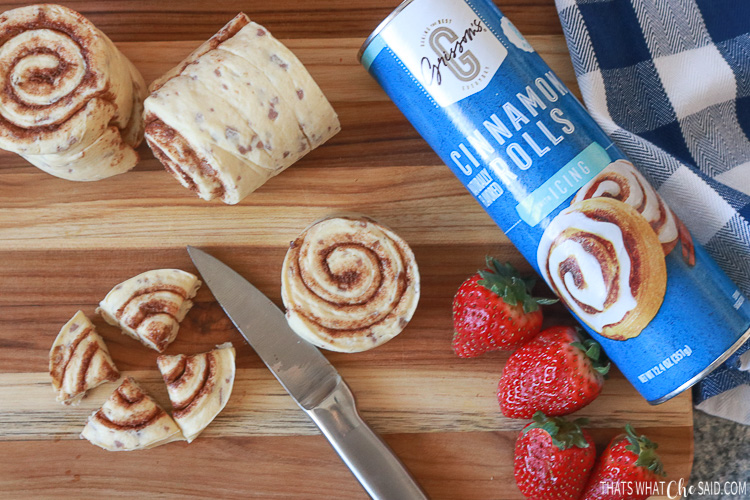 Preheat oven. Melt butter in the microwave and spread evenly over the bottom of your casserole dish.
Quarter the cinnamon rolls with a small knife and place into a baking dish
In a medium mixing bowl, add eggs, milk, vanilla extract, and cinnamon and whisk until completely mixed. Add to top of cinnamon roll dough.
Pour maple syrup over the mixture and bake for 35-40 minutes at 350 degrees.
Drizzle the icing that came with the cinnamon rolls over the top of the warm casserole, slice and enjoy!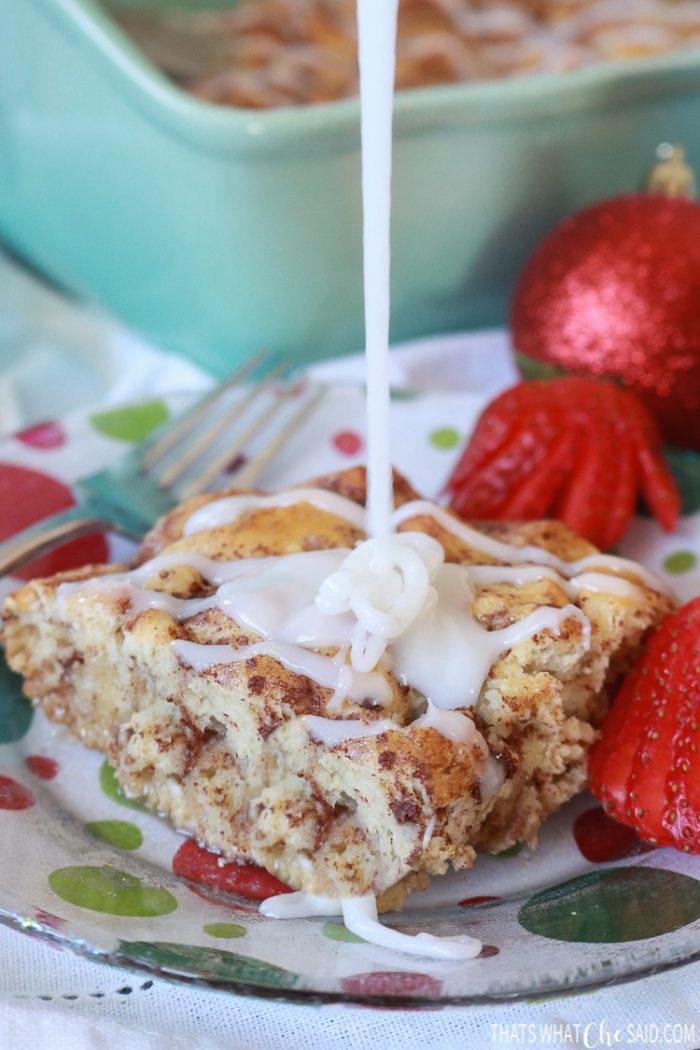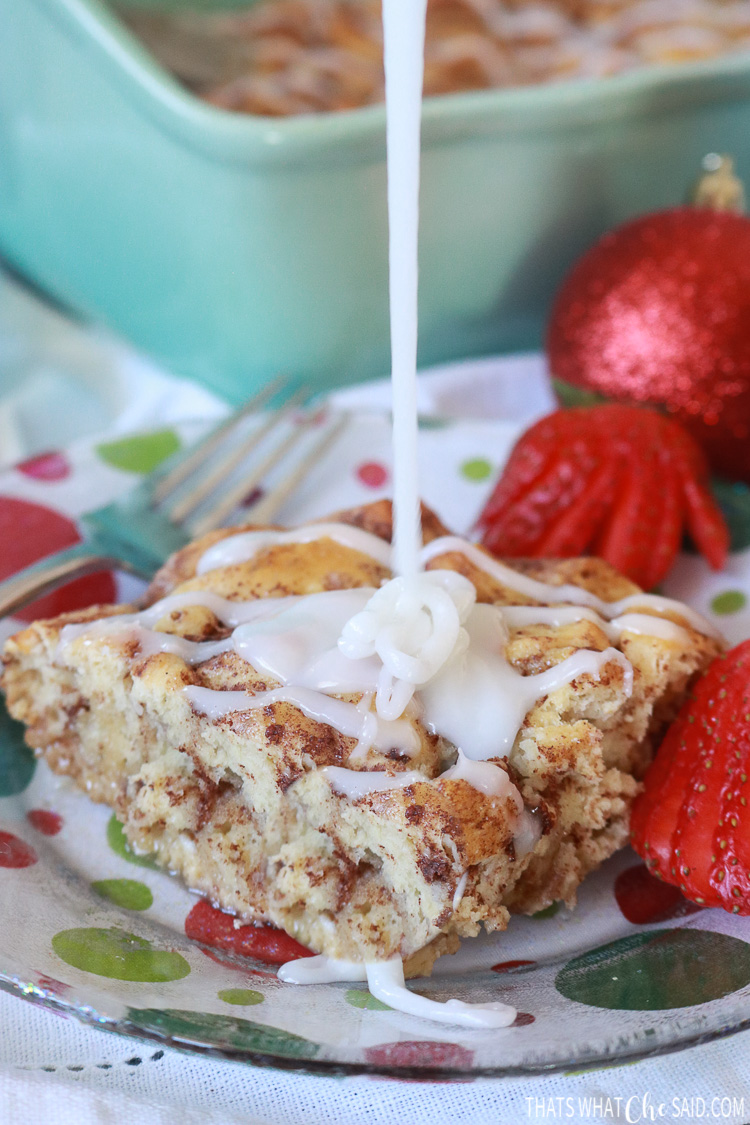 Sign up for my recipe emails and they will be sent straight to your inbox for free…that's how I roll!
Don't Miss Out!
Get all my delicious email recipes straight to your inbox!
Cinnamon Roll French Toast Bake Recipe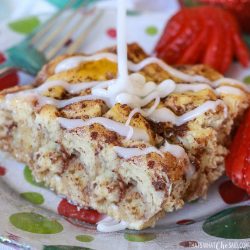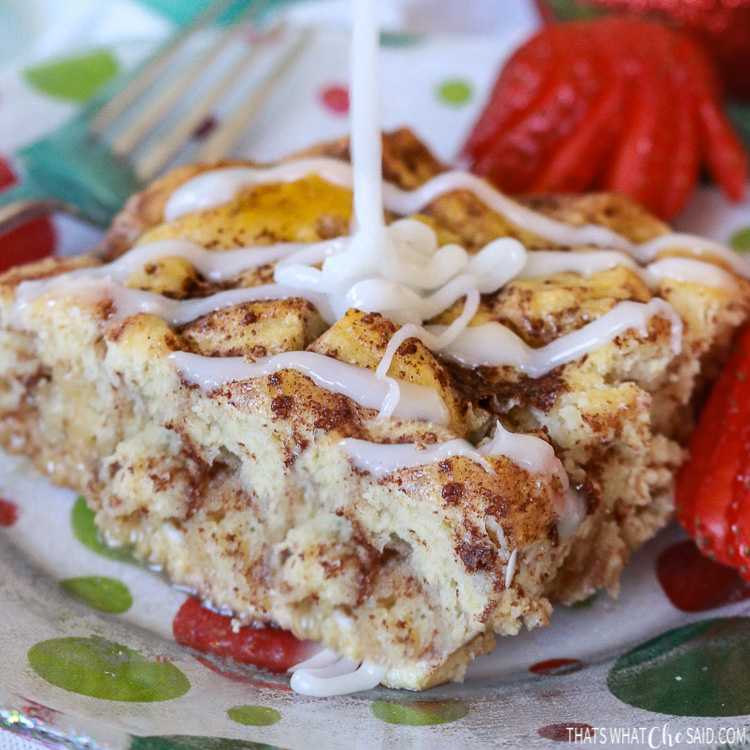 Cinnamon Roll French Toast Bake
A delicious and easy make-ahead breakfast casserole combining two breakfast classics, cinnamon rolls, and french toast! Breakfast will never be the same!
Print Recipe
Pin Recipe
Instructions
Preheat oven to 350 degrees F

Melt butter in microwave-safe dish and then spread into baking dish.

Pop the cinnamon roll packaging tubes and remove cinnamon rolls and icing. Set icing aside.

Cut cinnamon rolls into quarters using a small knife and cutting board. Add cut cinnamon rolls to the baking dish in an even layer.

In a medium mixing bowl, combine eggs, milk, vanilla and cinnamon and beat until well combined.

Pour egg mixture over the cinnamon roll layer in the baking dish

Add maple syrup over the top of the egg/cinnamon roll mixture.

Bake for 35-40 minutes or until the center is set.

Drizzle the cinnamon roll icing over the top of the cooked breakfast casserole. Slice cinnamon french toast breakfast bake and serve warm.
Notes
You can easily make this ahead of time.  Follow steps and when it gets to the baking step, simply cover the casserole and store in the refrigerator up to 1 day.  Remove from refrigerator and bake as normal.  
Nutrition Estimate
Serving:
1
piece
Calories:
281
kcal
Carbohydrates:
41
g
Protein:
3
g
Fat:
12
g
Saturated Fat:
6
g
Cholesterol:
8
mg
Sodium:
467
mg
Potassium:
57
mg
Fiber:
1
g
Sugar:
22
g
Vitamin A:
91
IU
Calcium:
39
mg
Iron:
1
mg
MORE BREAKFAST DISHES YOU MAY LIKE:
PIN CINNAMON ROLL FRENCH TOAST BREAKFAST BAKE