Ryan's 2nd Birthday Party theme is Mickey Mouse!  One of his favorite characters!  I made these simple Mickey Mouse Birthday Invitations in Photoshop Elements 9.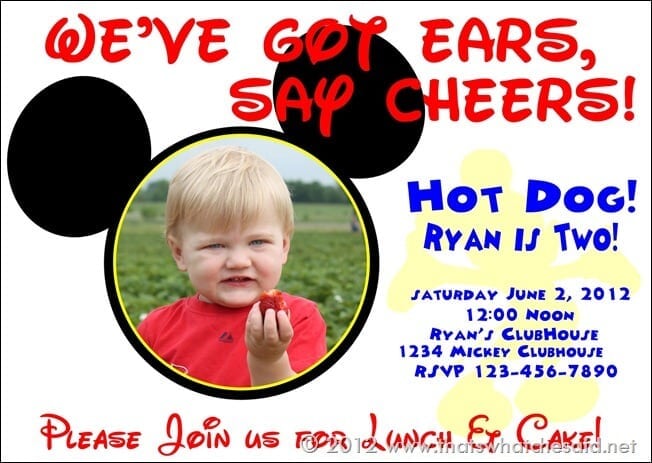 I printed them at Walgreens!  Super cute, super fast and super simple!
Did you know there where Disney/Mickey Mouse fonts?  I found mine free!  If you want to download them, here are the ones I found!  (to get the faint Mickey Silhouette behind the party details, I used the last font)
(Cartoon Silhouettes is that last font!)
Do you want some of your own?  Invites that is?  Stay tuned!  I have exciting news coming soon on where you can purchase some of the things I am making on the blog!  I can hardly control my excitement!
UPDATE!  Looking for these Mickey Mouse Birthday Invites personalized to YOUR little one's information and photo???  Check them out in my SHOP!  You give me your details and I will send you a digital file for you to print off yourself!  As many copies as you need for one low price!
Enter your email address below and get my posts delivered right to your inbox! It's Free!! Then you will be the first to know when my exciting news is posted! :)
Delivered by FeedBurner