A perfect sweet treat for any basketball game or March Madness party!
If you love basketball then odds are you love March Madness!  These Basketball Treats are the perfect March Madness treat for game watching and bracket making!  Basketball Pretzel Bites are so easy and even more delicious!
Freddy is a huge basketball fan.  He loves college and NBA. I am often subjected to watching game after game and that has in turn pretty much forced me to love basketball as well.  It could be worse though, I guess so I roll with it!
If you have a basketball lover in your house you will want to pin this fun basketball treat!  This is not only great for March Madness get togethers but also if your kid's play basketball!  These fun treats are the perfect addition to any after game treat or end of the season basketball party
I have included some links to ingredients for your convenience.
Ingredients needed for Pretzel Basketball Treats:
Bite Size Pretzels (I prefer the square ones)
Black FINE Food Writer Marker  – Get the set if you are sports fan! I have more fun sports pretzel bites up my sleeve


These basketball pretzel bites start out like most all my other pretzel bites do.  Preheat your oven to 275 degrees F.   Line a baking sheet with your pretzels.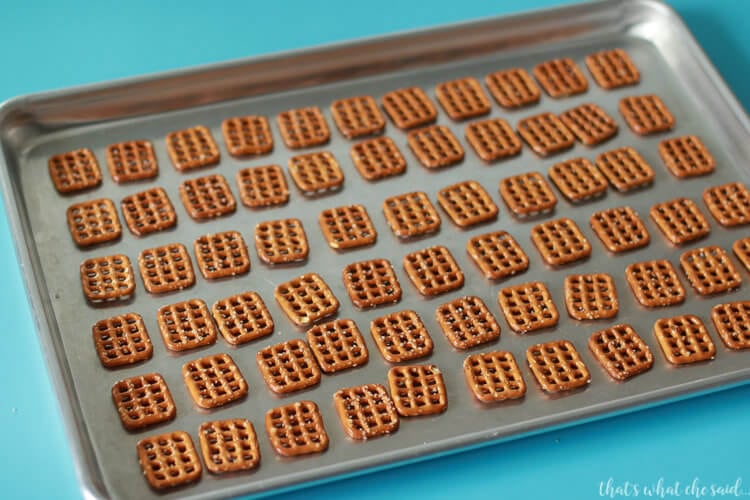 Next you will top each pretzel with an orange candy melt.
Bake for 10-12 minutes.  Watch them closely.  You want the candy melt melted onto the pretzel but not gooey and flowing all over the place.  You want them to retain their circular shape.
Next you will want to let them cool completely.  I recommend also popping them in the freezer for 20-30 minutes in order to get them set back up.  This will make the next step much easier!
Using your food safe writer (FINE) draw on the basketball lines.  If your marker is not drawing and is just scraping the candy melt away that means your melt is not hard enough.  Pop back in the freezer for more time, then try again.  It writes on them great when they are really solid.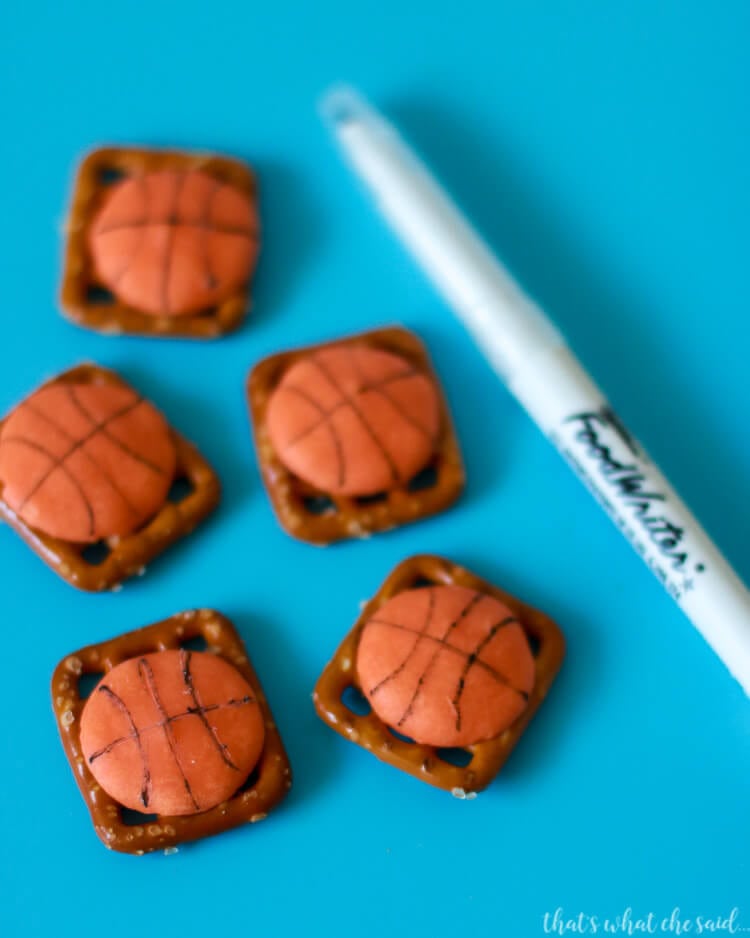 March Madness Basketball Treats

A perfect sweet treat for any basketball game or March Madness party!

Print Recipe Pin Recipe

Ingredients

24

each

Square Bite Size Pretzels

24

each

Orange Wilton Candy Melts

1

each

Black Wilton Food Writer

,

Fine Tip

Instructions

Preheat oven to 275 degrees F. Line baking sheet with pretzels in a single layer.

Top each pretzel with an orange candy melt.

Bake for 10-12 minutes or until the candy melts have "adhered" melted enough to the pretzel, but are still in their circle shape.

Let cool completely. Pop in Freezer for 20 minutes to chill completely before using the fine tip, food safe black marker to draw the basketball lines.

Enjoy!
Here are some more pretzel bites that are a hit!
[cgview id=374,22 name=recipes,desserts tags=pretzel-bites size=175×175  num=8 lightbox=0]

IF YOU LIKE THIS PROJECT, DON'T FORGET TO PIN IT!