Need to create a meaningful project that is perfect for holidays, celebrations, centerpieces, and more? These Picture Frame Luminaries are your answer! A wonderful handmade gift, keepsake, or decorations for receptions or showers! Highly personal and highly customizable! With the majority of supplies from the dollar store, they are inexpensive as well!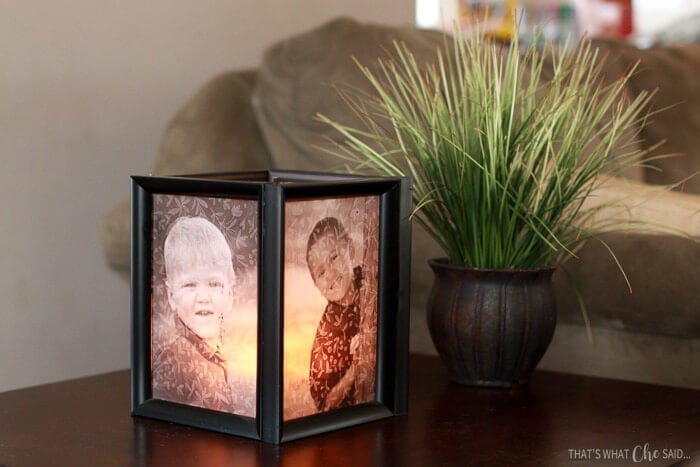 I am REALLY, REALLY excited to share these picture frame luminaries with you today. They are perfect for your dining table or mantel.
They work wonderfully for events like wedding or baby showers, receptions, and graduations! Really…any time of the year! I am pretty sure I will find a place for this year-round! :) Last year I shared my wine bottle luminaries…I tend to like things that light up during the holidays!!!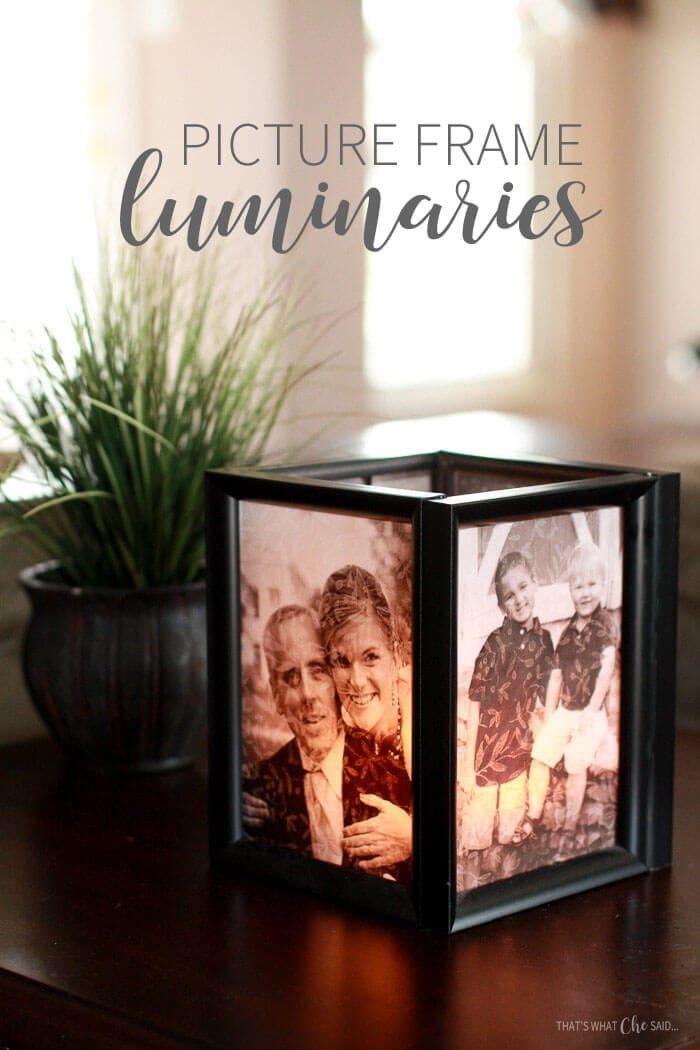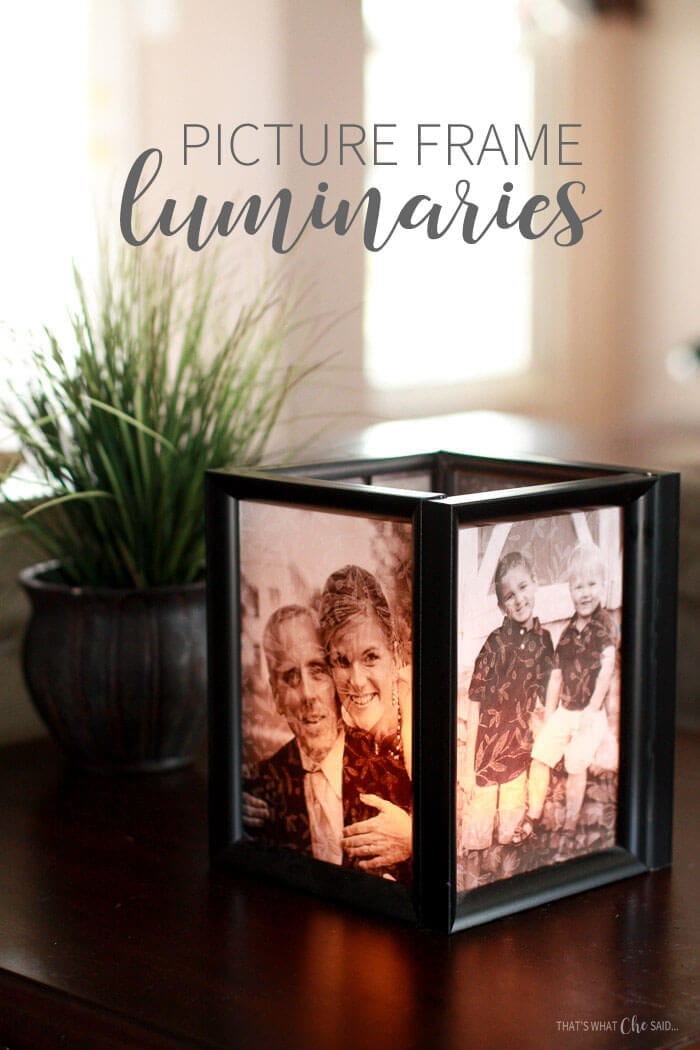 This post may contain Amazon Associate and other affiliate links.
As an Amazon affiliate, I earn a small commission from these links at no additional cost to you.
Supplies for Picture Frame Luminaries: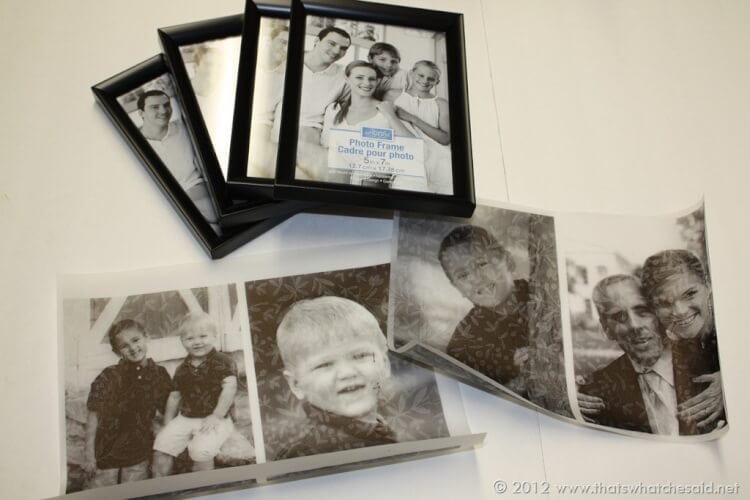 *It's important when choosing frames that you choose ones with square flat edges and frames where the little pegs are on the FRAME not part of the cardboard backing since we are not using the backings.
Don't Miss Out!
Get quick crafts, easy recipes and free printables & cut files straight to your inbox! You won't want to miss a thing! Join now!
HOW TO MAKE PHOTO LUMINARIES:
I started off by finding four photos that I wanted to feature on my centerpiece. I took some photos of my boys in August and so I used one of Michael, one of Ryan, one of both of the boys and then I had to dig back to the really, really archives and dig out a photo of Fred and I …FROM OUR WEDDING…(in 2008) because apparently, that is the LAST time we took a decent photo together (read: that is the last time I was not BEHIND The camera taking the pictures!).
I bought two pieces of vellum at Michael's. You can find it in the open scrapbooking paper section or I linked to packages of it above. (In case you don't want to leave the house or have multiple to make!)
It looks like wax paper (opaqueness) but not waxy! It's awesome. The only vellum I could find had a print through it. I thought "Hey what will this faint vine print do to my photos…probably nothing"…WRONG! It shows through! (as you can see the vine pattern in the photo above) So I linked to both solid and patterned vellums above. Your choice. I was happy with the surprise after I made it!
I printed my photos on my home printer directly onto my vellum…and then I trimmed them down to size.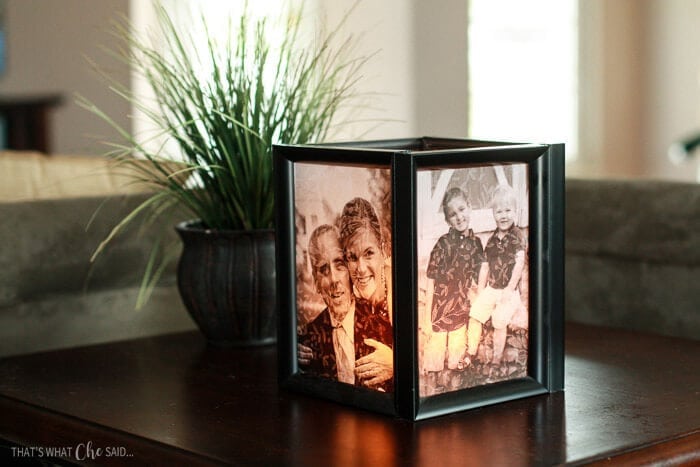 I took out the happy family that was in the dollar store frames and I replaced it with our family photo printed on vellum…ON TOP of the GLASS! So it goes frame face down, vellum photo face down and then glass on last. You don't not use the frame backing at all. I did this so that when you place the candles inside…you don't risk lighting your house on fire! Just sayin…kind of important!
Once in your frames, glue them together into a cube. NOTE: Gorilla glue (which is what I used) expands when it dries…so be sure to apply a thin line and towards the inner side of the joint.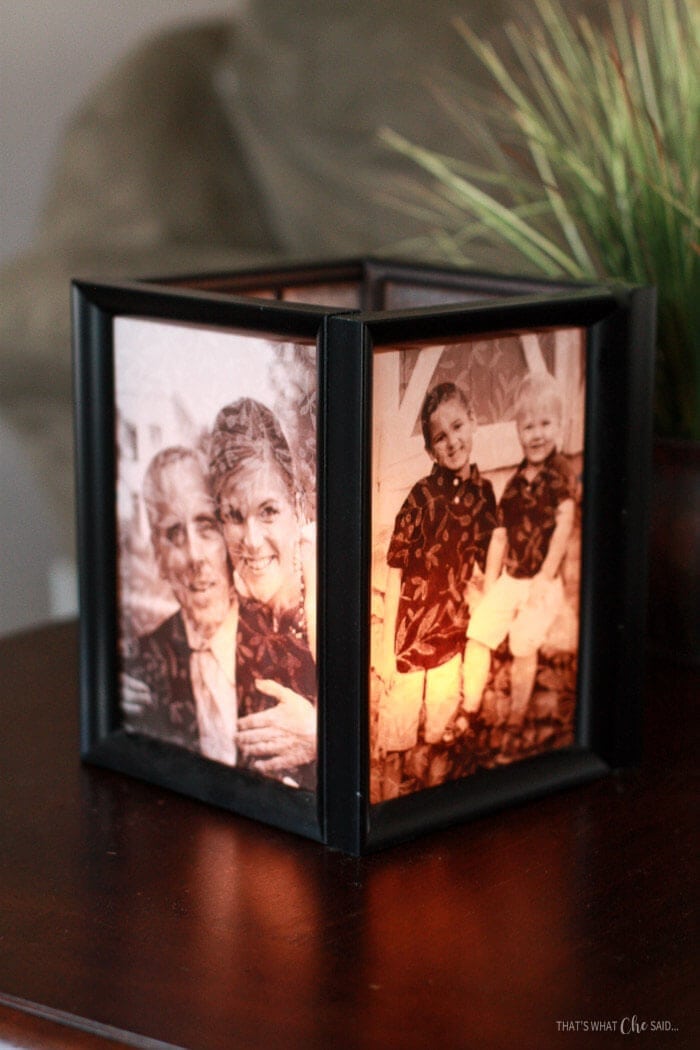 Then you are ready to assemble your centerpiece. Simply put the cube frame over the square mirror. This will help reflect the light from your votive making the photos clearer and more prominent. Then place the votive inside and light!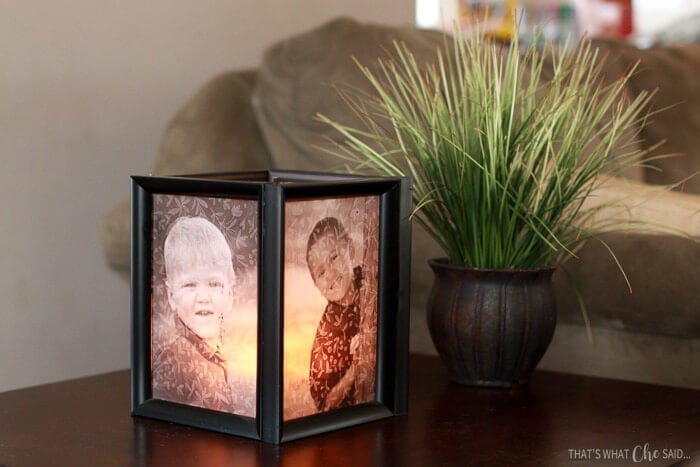 Even when not lit, it's still a focal piece and something everyone comments on when they come over!
Update: You may also love this Seasonal Luminary that celebrates the seasons! Highly customizable and you can just rotate for the new easy! Multi-tasking home decor!
Uses for picture frame luminaries:
Handmade gift idea – Father's Day, Mother's Day, Christmas
Centerpieces for Weddings, bridal showers, baby showers, birthday parties
Home decor – mantel, side tables, shelves
Party Decor – Graduations, Birthday parties, retirement celebrations.
And here it is lit at night! How cool?!?!? What a great centerpiece this will be on your holiday table or mantel!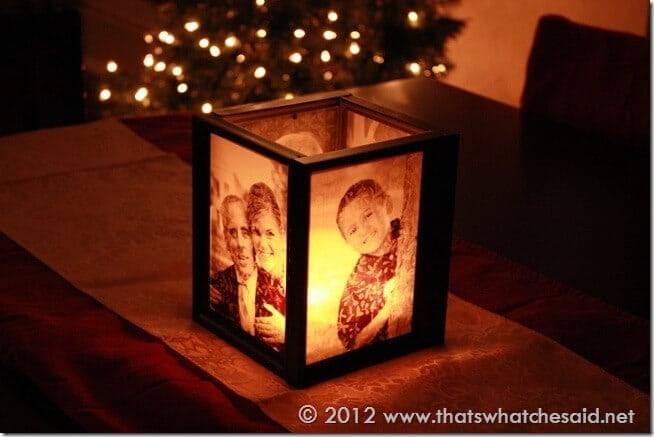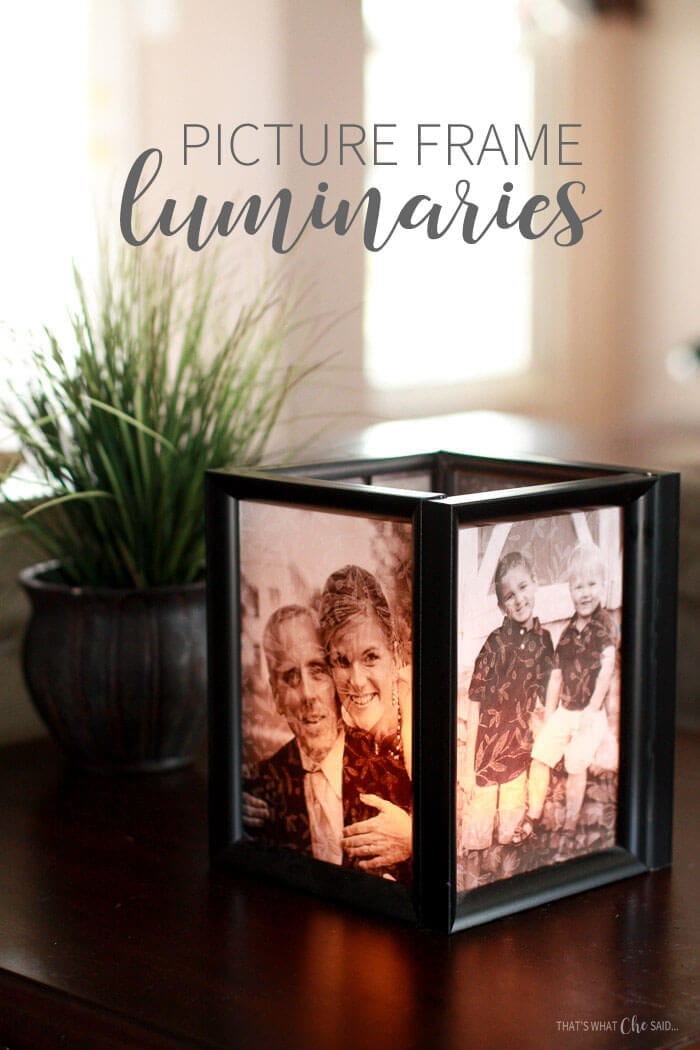 This post was originally part of my yearly 25 days of Christmas Series! Be sure to sign up for my emails so you get all the current year's posts for free, to your inbox!
You might also like this Thumbprint Christmas Light Frame
PIN THESE PICTURE FRAME LUMINARIES: