This gratitude journal is a slight spin on the ordinary.  The focus is on someone you love!  This is a perfect handmade gift idea for a person dear to you.  Write down all the ways you are grateful for them in your life and then give it to them as the perfect heartfelt gift!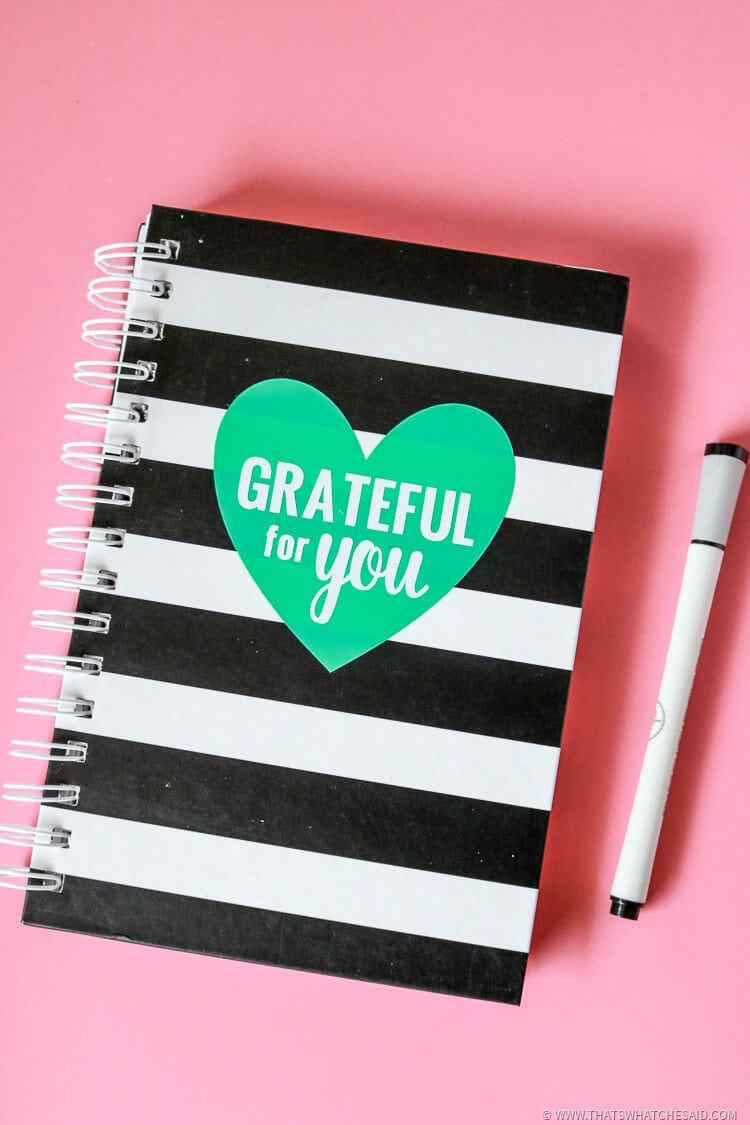 This post is sponsored by Cricut.  My husband is a man of little wants.   He's not into expensive electronics, gaming or anything for that matter.  He buys what he needs when he needs it and that in itself is pretty rare.  I decided to make him a gratitude journal to give to him as a gift.
I take a few minutes from my day and I write him an entry in the journal telling him why I am grateful for him, remembering little moments we shared and how I feel when I see him with our children.
I'm going to show you how I used my Cricut Explore to make this amazing keepsake!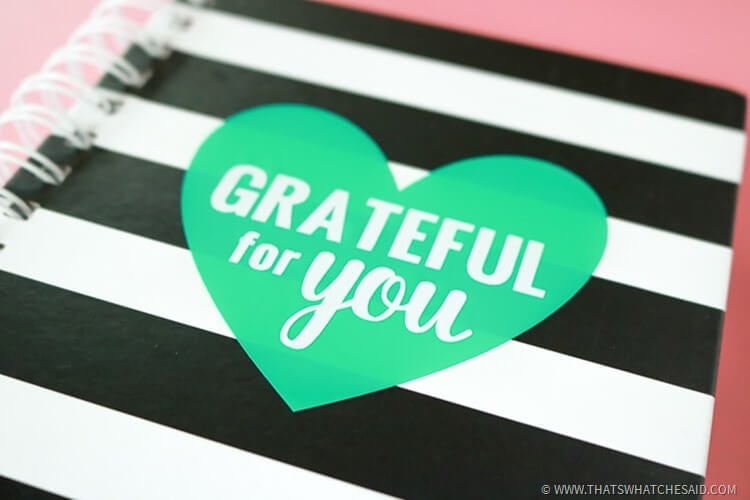 If you are new to the electronic cutting world you might want to check out my first post on what I love about the Cricut to get a little more familiar with it and what it can do.
Some other of my favorite keepsake gift ideas are these Photo Luminaries, Thumbprint Heart Pendants and Footprint Butterfly Placemats
[cgview id=21 name=crafts tags=keepsake size=200×200 num=8 lightbox=0]
Supplies for Gratitude Journal: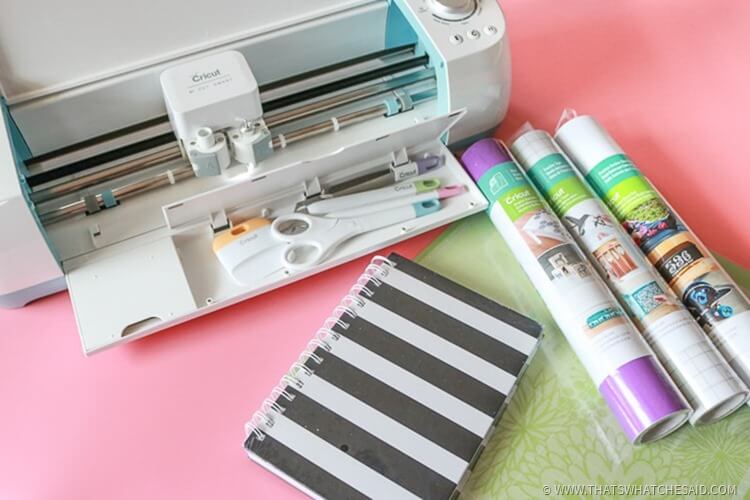 To start out I made this heart and wording in Cricut Design Space.  You can use my design here, or you can create your own!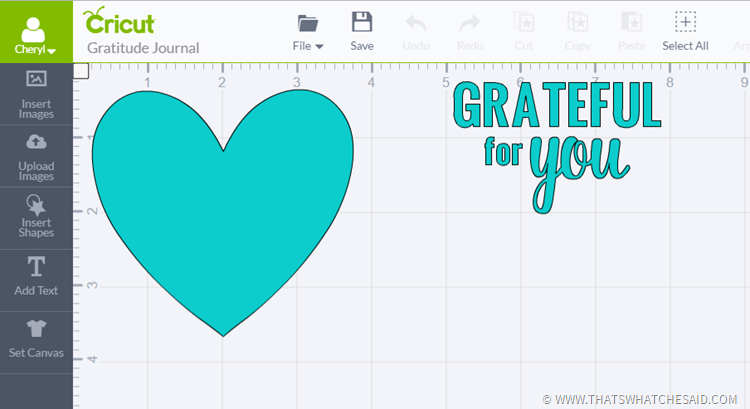 So now I need some vinyl to use and I just love these combo packs that have all these colors in one package!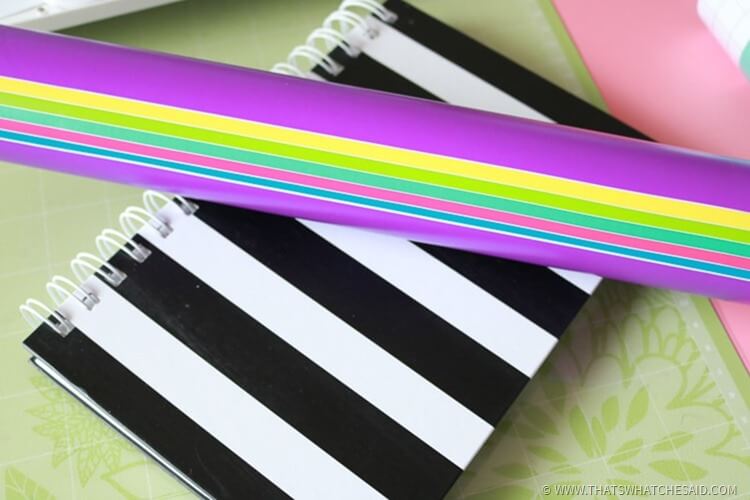 I went with the center aqua color for my heart and then white for my writing!  I set up my mat with small pieces of cut vinyl that were large enough for my design and positioned on the mat at the same ruler marks as my objects in the design space image above.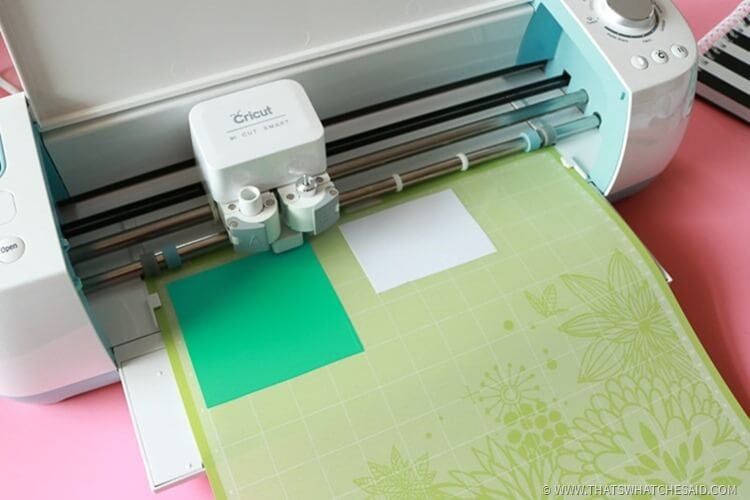 Next I adjusted the knob on my Cricut to "vinyl" clicked "go" on the design space and then the button the machine and it did all the work for me.  I weeded the excess vinyl from my designs, using the hook tool to get all the pieces out of the centers of letters like A and Y.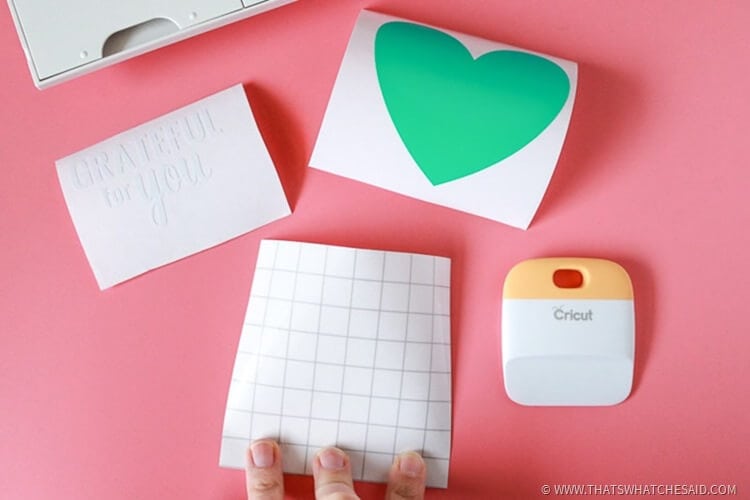 So you can see I also cut a piece of transfer paper (the grid paper) below the same size as my heart piece.  I am going to layer the vinyl by transferring the white letters to my transfer paper, then placing those on top of my heart and then transferring both the letters and heart onto my journal!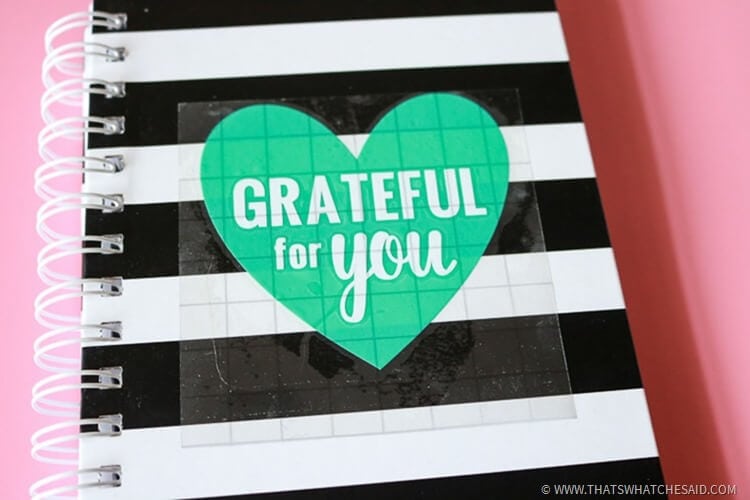 Peel back the grid transfer paper and you are left with an awesome gratitude journal to get started writing in!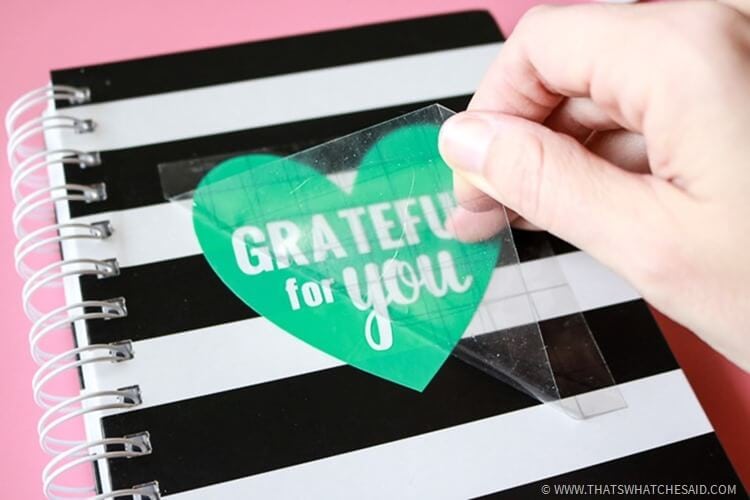 The Cricut Explore seriously made this a 10 minute project for me!  And if you don't want to use my design, no problem!  The Design Store has thousands of awesome designs, ready to go for you with the click of a button!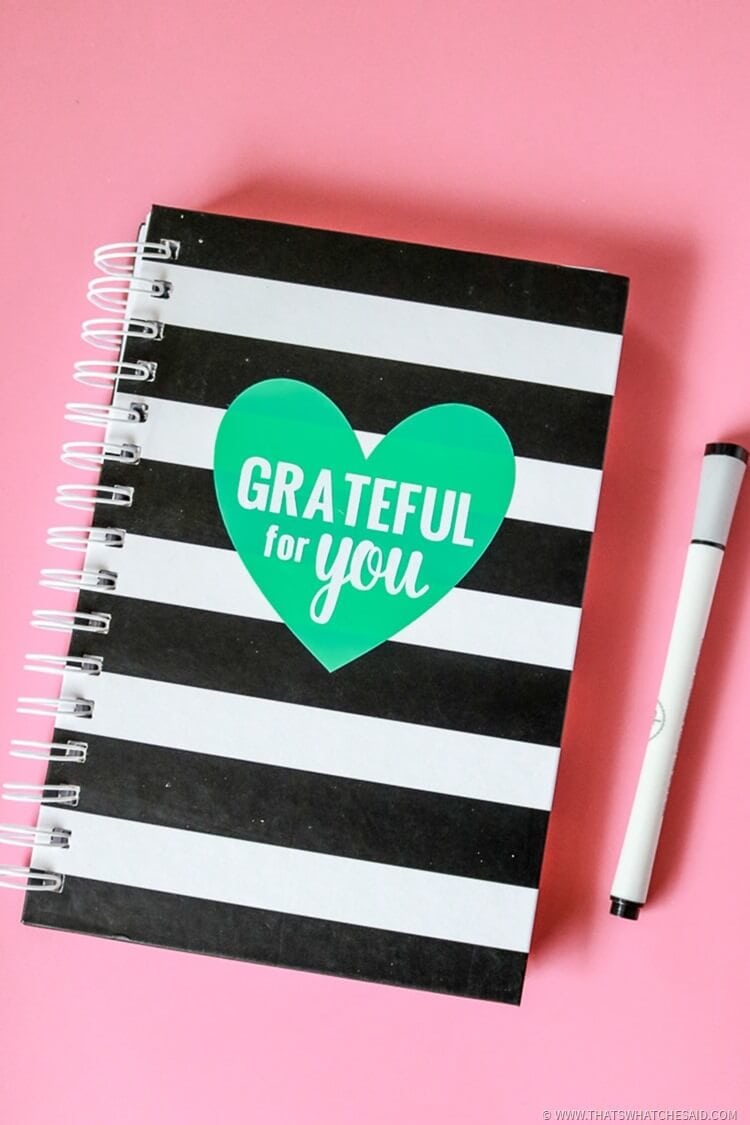 This post was sponsored by Cricut.  All opinions and ideas are my own!
IF YOU LIKE THIS PROJECT DON'T FORGE TO PIN IT!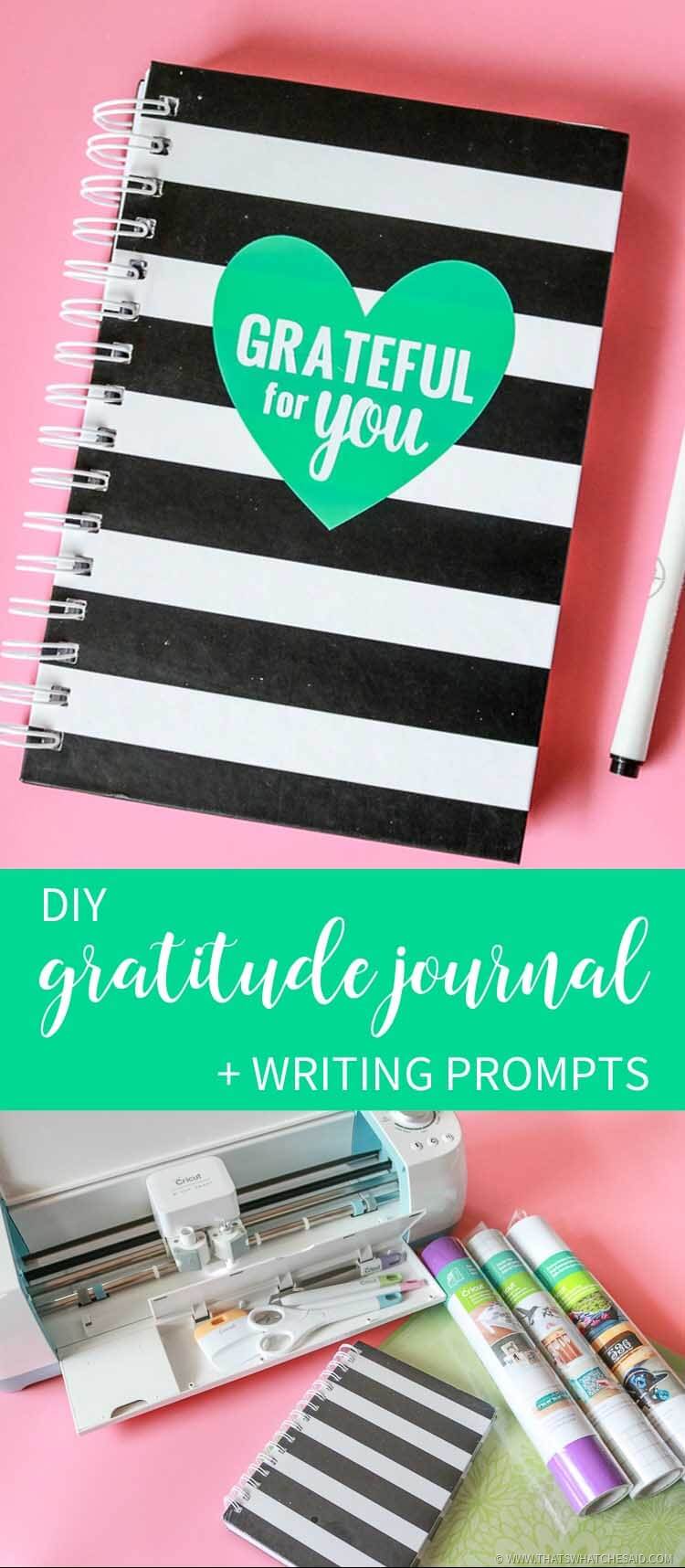 This is a sponsored conversation written by me on behalf of Cricut. The opinions and text are all mine.