When we moved into our house we still had the original 1976 house numbers above our garage. A few simple supplies and we now have more modern house numbers to adorn our casa! Come see how easy they are to make yourself!
Not only did we have the original 1976 house numbers but we also had the soaring iron eagle emerging from the front peak! We had some siding work done and I was SO happy to see both the house numbers and the eagle removed!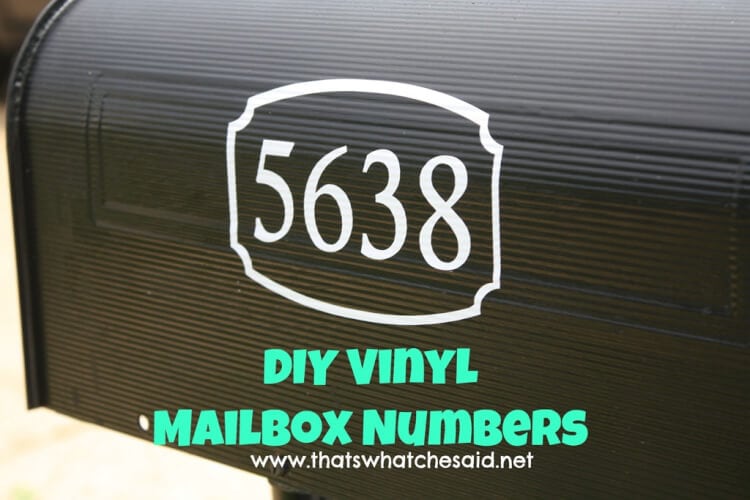 I did add our house numbers to my mailbox the first year we lived here and they are STILL going strong 8 years later! That's great for the mailbox but I also wanted to make sure we had numbers on our house.
I wasn't thrilled with screwing anything into our new siding and I was looking for something different than just slapping them up over the garage door.
DIY House Number Sign
Click the button above to save to your board for later!
Why Do You Need House Numbers?
First and foremost, so emergency vehicles can quickly and easily locate your home in case of an emergency! It is a legal requirement that you have a clear house number or name sign.
The more obvious answer so that your mail person, delivery drivers, friends, relatives and MOST importantly your pizza delivery or grocery delivery people know where to find you!
I mean, Instacart is life here guys! They deliver my wine!
What size should house numbers be?
Great question! According to the International Building Code, numbers should be no less than 4 inches (102 mm) tall and with a stroke (width of the lines of the number) no less than half-inch (12.7 mm).
You can see several of those I linked at the hardware store do not meet the stroke requirement however the house number police will not come to give you a ticket, lol!
Don't Miss Out!
Get quick crafts, easy recipes and free printables & cut files straight to your inbox! You won't want to miss a thing! Join now!
How can I put house numbers on my house?
Most house numbers allow you to screw them right into your home. Like I said above we just replaced our siding so I wasn't about to drill into anything.
My favorite ways to hang house numbers is to make a sign and then hang that sign using a no hole siding hook or a brick hook depending on your exterior.
This post may contain Amazon Associate and other affiliate links.
As an Amazon affiliate, I earn a small commission from these links at no additional cost to you.
Modern House Number Sign Supplies:
I used metal numbers from Hobby Lobby but you can also find a wide selection at Lowe's or Home Depot. Most of those are already painted. Any wooden sign you like will work also! I used the same one I did for my personalized welcome sign because it's a great size.
How to Make Modern House Number Sign
Time needed: 15 minutes
Basic supplies and 15 minutes you can have an awesome modern house sign.
Spray Paint your Numbers and Sign

First, spray paint your numbers to your chosen color and if you want to paint your sign do that also. I chose to keep the wood look so I sprayed it with a clear coat of spray paint to seal it since it will be exposed to the elements. Let those dry

Adhere the Numbers

Using a permanent glue, adhere the numbers to your sign. Let dry.

Hang and Enjoy

Using siding or brick clips, hang your sign in your designated location. I chose next to my front door.
Notes about Modern House Number Sign:
Don't use hot glue. Don't do it. I know you want to, I wanted to. But hot glue will melt in the hot summer sun and your numbers will be on the ground and you will be left with a sticky empty sign.
I centered my numbers both in height and width on my sign. You could also put your numbers up higher and add some permanent vinyl with your last name or your street name. Check out everything vinyl here.
Depending on how your sign comes, you may need to purchase hangars to use on the back of your sign. You can find those in any hardware store or in the hardware or home decor areas of stores like Target or Walmart.
MORE AROUND THE HOUSE PROJECTS YOU MAY LIKE:
[ess_grid alias="house_projects"]
PIN MODERN HOUSE NUMBERS SIGN