Oh my!  It took me forever to get this wrap up post put together!  It was such a fun party and Ryan had a great time!  I had as much fun planning it!  Here we go!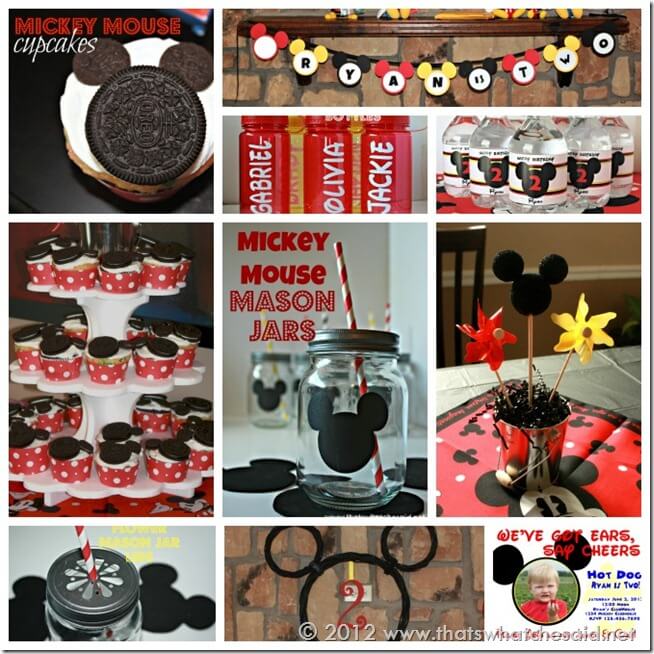 It all started with the invitations! I made these in Photoshop Elements. I love that program!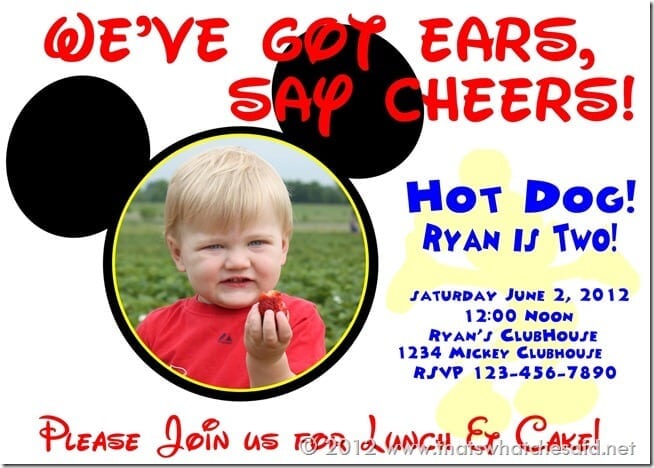 When guests came to the door they knew it was Ryan's Clubhouse with this cute door hanging I made from craft foam!  I traced some plates to make the Mickey Head and then just traced out a number 2.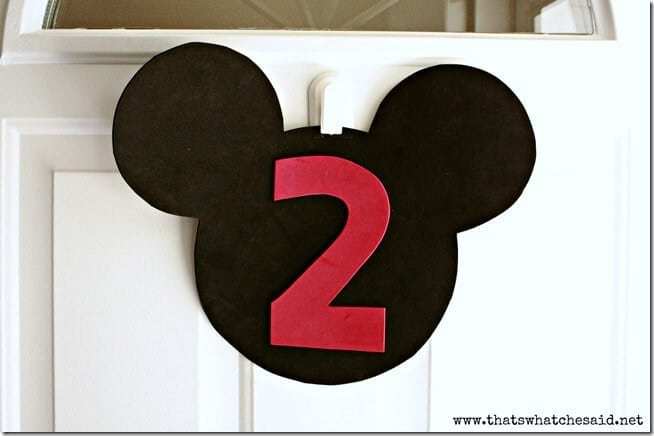 Here is our mantle. I used some lanterns I found at Dollar Tree, some Mickey Mouse stuffed animals and a frame we already had around the house and the personalized Birthday Banner I made for Ryan.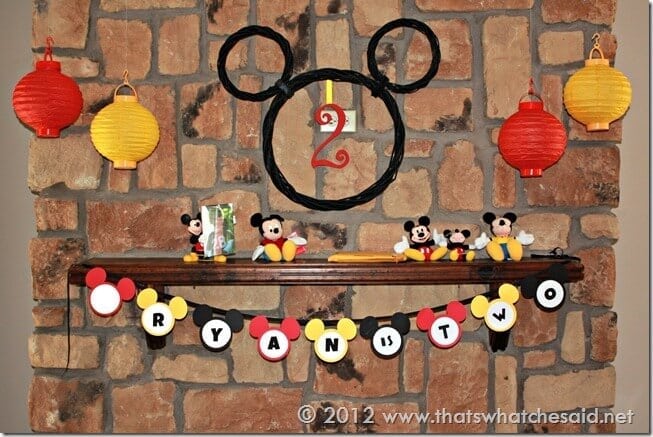 To make the large Mickey wreath, I simply spray-painted some wreath forms I bought at the Dollar Tree with black spray paint.  I used velcro straps to hold the ears in place and then painted a wooden number two.  Once that was dry, hung it from some yellow ribbon!  So easy and you will be sure to see those back wreath forms again…probably around Halloween!  :)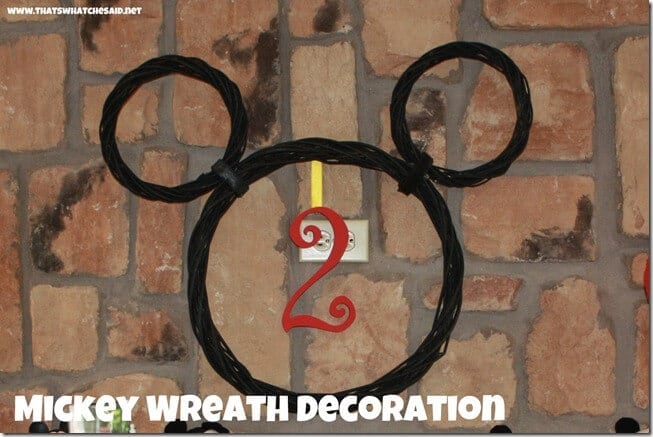 You can read my tutorial on my Mickey Mouse Centerpieces that I put on the tables. I just covered the tables with black tablecloths (from Dollar Tree again) and then found these Mickey Bandanas on clearance at Hobby Lobby! Made the perfect table scape!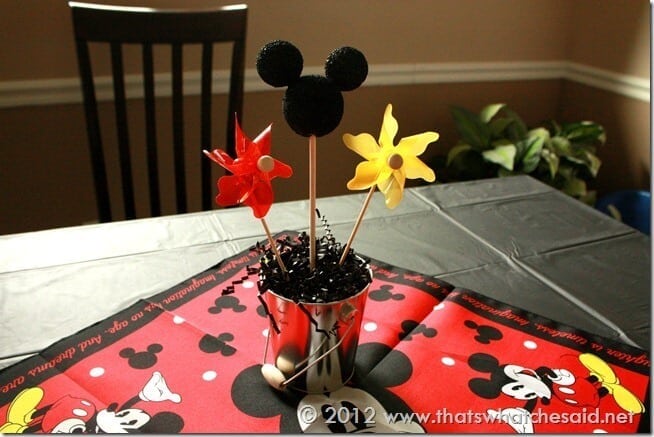 For the adults I made these Mickey Mouse Chalkboard Labeled Mason Jars! They were a hit!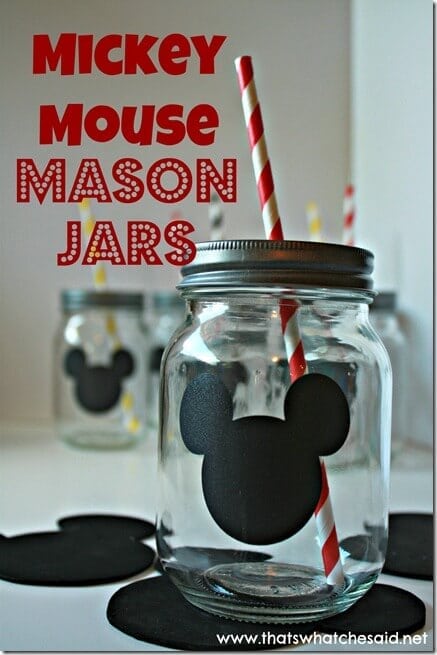 For the kids, I made these reusable drink bottles. We have already used ours several times this summer. Perfect size for the park or on walks!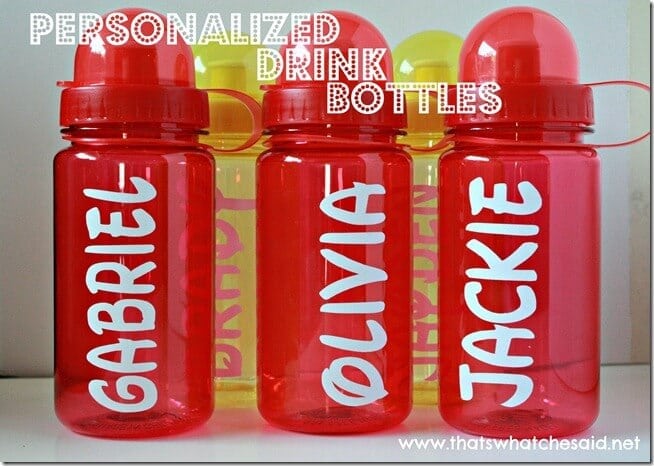 Here was our drink station. Lemonade for the mason jars, Personalized Mickey Water bottles and you can barely see the kids' water bottles to the left of this picture. Don't forget the cute Mickey Mouse coasters that were just cut from craft foam!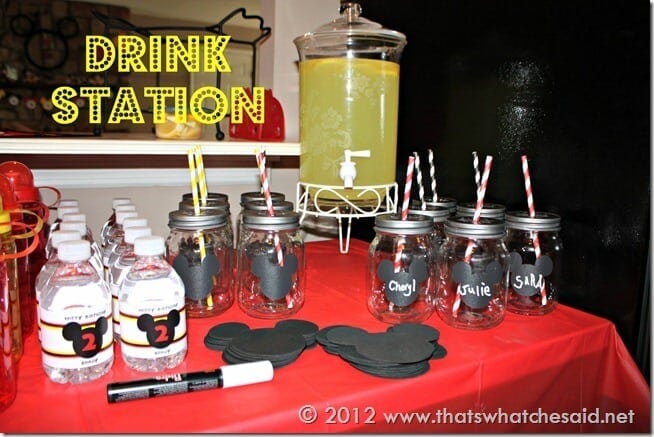 Here is a close up of the water bottle labels. You can print your own on the original post!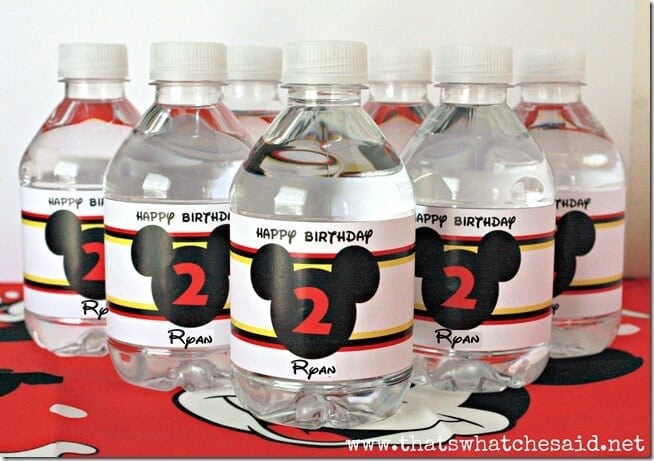 While I was cutting out the Chalkboard labels and Mickey mouse banner, I cut a few tent cards also.  I made up fun names for all the food!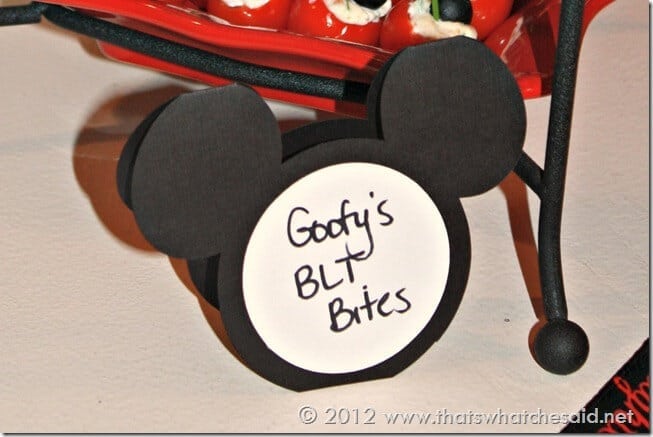 I made some really fun Mickey Mouse Cupcakes that were a huge hit and really simple!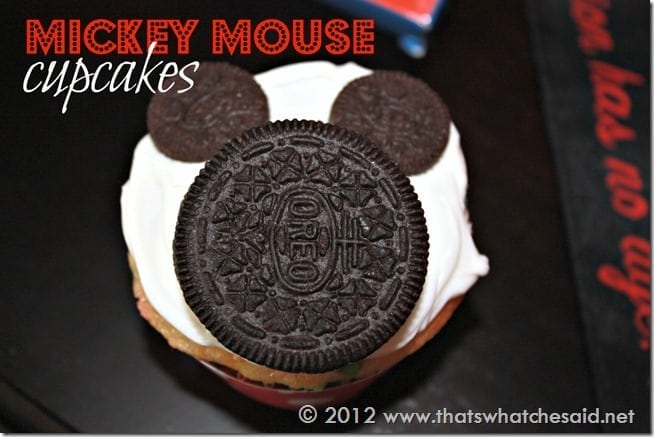 With some cute cupcake wrappers I cut, I think the tower of the cupcakes is just adorable!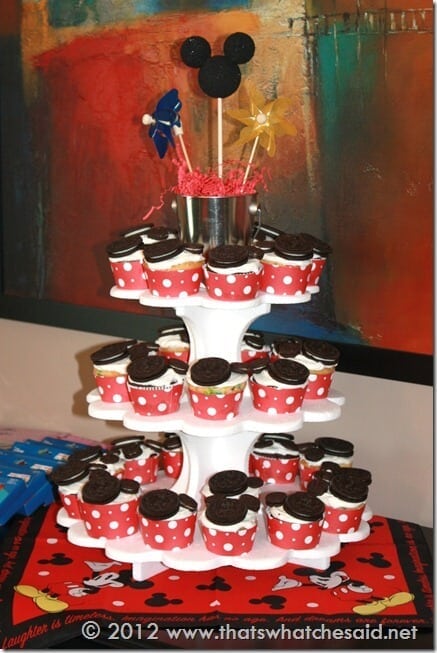 I used some fab polka dot plates and napkins from Wal-Mart's party aisle.  I love them!  They were very inexpensive also which makes me love them more!
The kids each took home a set of Mickey Mouse Crayons and a Mickey Mouse Puzzle to color.  I picked these up in the "dollar" section at Michael's.
So there is the wrap-up of our Mickey Mouse Birthday Party!  Thanks for reading all of these posts!  If you are looking to throw your own Mickey Mouse Party you can find many of the items I made in this post in my SHOP and I will personalize them to your little ones name and ages and information!   Free generic versions are available on each of the posts but if you want some personalized ones…then I may be of help!  :)
If you don't already, find me on Facebook!  I will be announcing sales and discounts to the shop over there!
Linking Up Here