Would you like a SUPER EASY way to personalize any party, get together or event?  Enter Water Bottle Wrappers!  I love these things!  They are such a simple way to coordinate your theme into a party!
Earlier this week I shared Ryan's Mickey Mouse Birthday Invite as well as some Personalized Drink Bottles I had made for the kids to use.
Today I am sharing my cute Mickey Mouse Water Bottle Wrappers I made and giving you a free printable if you want to make your own!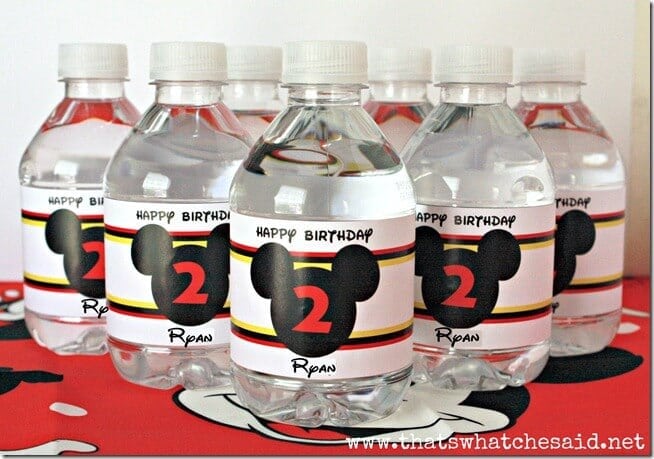 I made these guys using Photoshop Elements 9 and then printed them on regular old printer paper.  I decided that I would just keep the water bottles at room temperature because then the wrappers would stay in tact and cute!  UPDATE:  If printing at an Office Supply Store, ask for Bright White Glossy Text Paper.  It holds up AMAZING!!
I removed the wrappers that came on the bottles, cut the Mickey wrappers using my paper cutter (scissors work too) and then I used some glue dots to hold the wrappers onto the water bottles.  Worked like a charm!  (scotch tape works also!)  I love how simple this was but what a fun impact it made on the drink table!
These work for regular sized water bottles or these cute littles I have above!  It was a 2 year old's party so we have little waters for his little hands!
Here is a FREE printable if you would ever need them yourself!
You can personalize them yourself if you'd like!  Download your FREE Mickey Mouse Water Bottle Wrappers Here!  (there will not be a watermark on these in the link!)
If you enjoy this, you might also enjoy my other FREE PRINTABLES that I have made in the past!   Consider subscribing to my RSS Feed or to follow me on Facebook!
UPDATE:  If you are looking for Personalized Mickey Mouse Water Bottle Labels…you are in luck!  I have added them to my shop and they can be customized with your little one's name and age!
I have several other FREE Water Bottle Wrappers as well!  Be sure to check those out and download your free copy!