Treat all your delivery drivers and postal workers to a special treat this holiday season with this Free Holiday Delivery Printable.  Snacks and Drinks to thank them for all the extra deliveries this holiday season!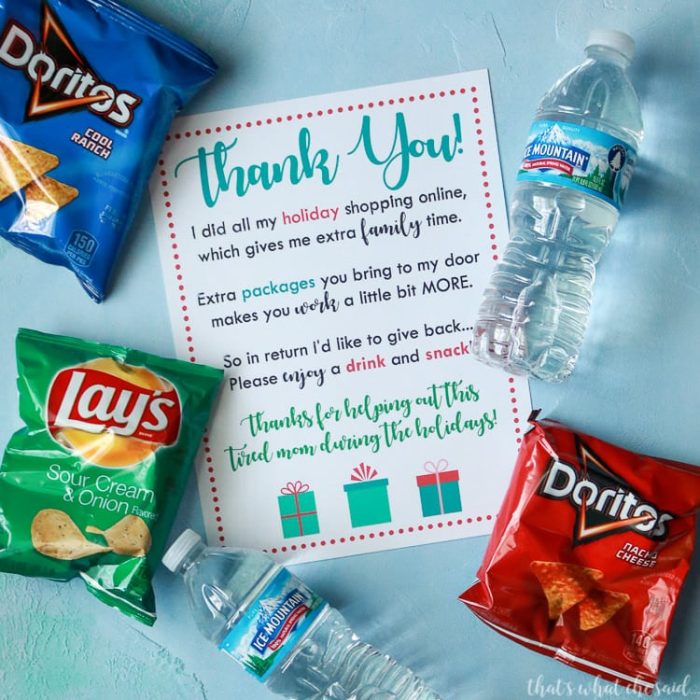 Two Words. Amazon Prime. I mean how did I ever get everything done before online shopping? Dragging the kids out with me, fighting crowds, searching for parking spots…no thank you! The world of online shopping has made this momma a happy momma!
(Pssst…If you don't have an Amazon Prime account yet you can get a 30 free trial here! Believe me, the best $ ever spent in my opinion! FREE 2-day shipping all year long + free streaming music + free streaming tv shows and movies + free kindle books! I mean that is just the tip of the iceberg of the benefits! Also it's discounted until December 31, 2017
)
But back to online shopping. With it growing so much the delivery companies are working over time to get all of our packages delivered to us! Sometimes I see my delivery guy twice in one day!
Be a great neighbor and leave a bin on your front porch with some snacks and drinks! You can even order those on Amazon, lol.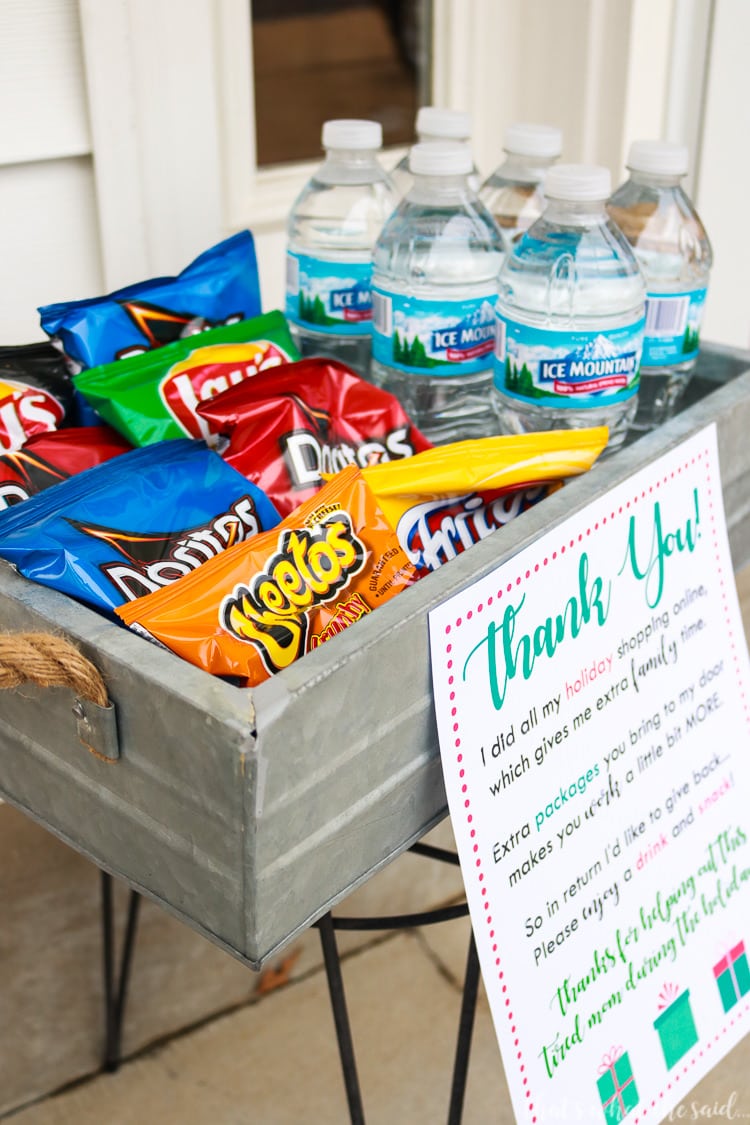 This post may contain Amazon Associate and other affiliate links.
As an Amazon affiliate, I earn a small commission from these links at no additional cost to you.
Supplies Needed for Delivery Person Snack Bin:
Below you can download your free holiday delivery printable and print it out. I use the HP Envy 5540 Wireless All-In-One Printer and signed up for HP Instant Ink. I highly recommend this! Never run out of ink at 11 pm when you have to print out your kids report, not that this has ever happened to me before!
I laminated the printable so that it would be safe on my porch from the rain or snow!  I mean, as if I needed a reasons to laminate!  Laminate. All. The. Things.  :)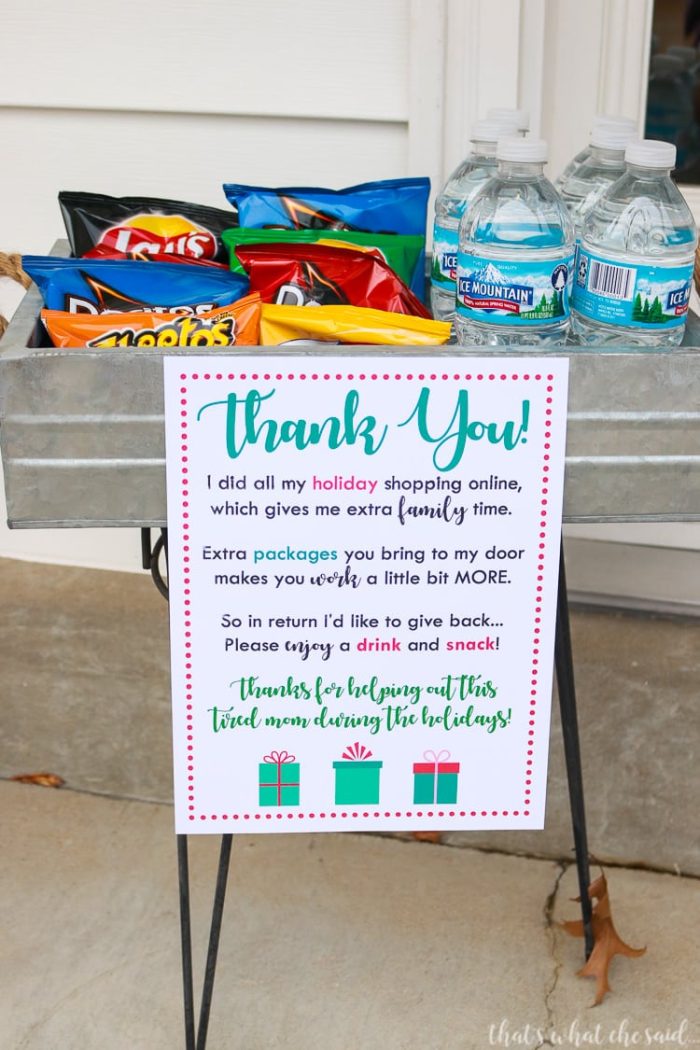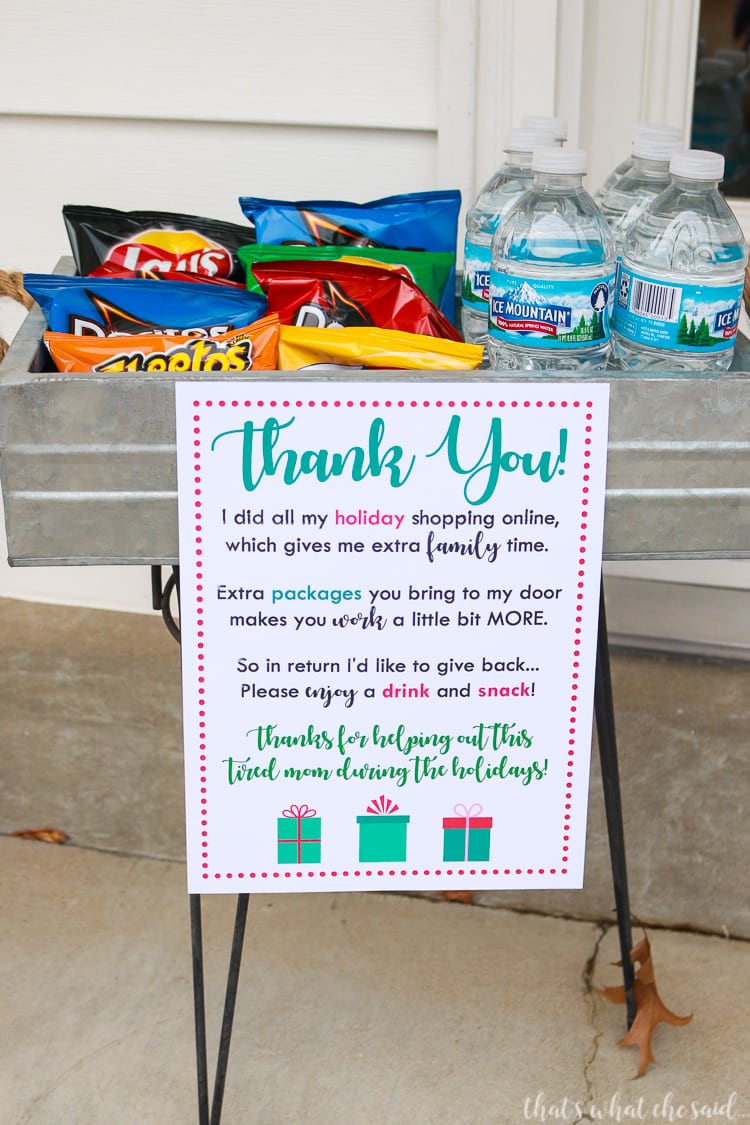 Then I filled my bin with snacks and drinks and attached the sign to the bin next to my front door!
Download Delivery Driver Snack Bin Poem
Getting the freebie is easy! First, enter your name and email below and join my email list community (AND gain access to my freebie library)!! After that, click the download button and the freebie will begin automatically.
I use box.com to safely deliver my freebies! There is no need to sign up for a box.com account!
Please see this FAQ post + Video on how to download my freebies.
This download is for personal use only!
Aren't those packages so cute at the bottom of the printable? I used my friend Cori's designs from Hey, Let's Make Stuff! You can grab her freebie every Friday. She has such fun stuff!
More free printables you may like:
Chicka Chicka Boom Boom Activity
Don't Get Your Tinsel in a Tangle
When you stop believing in Santa
Don't Forget to Pin This Delivery Thank You Poem