Need a great activity for your little ones that not only will entertain them but is educational at the same time? This Chicka Chicka Boom Boom Activity is just that! Print off your copy and watch as your kids enjoy this fun activity!
It's no secret my oldest dude loves letters. It's also no surprise that he LOVES the book Chicka Chicka Boom Boom. I mean, a book…about LETTERS! OMG! He can recite it…without the book. He also loves to act out the book with his magnetic letters.

Supplies for Chicka Chicka Boom Boom Activity:
My Coconut Tree Printable (may be downloaded from the link below)
Small cookie sheet
Laminator (optional but recommended)
I made him this printable that I just attach to a cheap cookie sheet an then he can use his magnetic letters on the board. He loves it. It works great in the car also because the letters stay stuck to the cookie sheet and he knows the book by heart!
I printed this on a piece of white cardstock and I use the HP Envy 5540 Wireless All-In-One Printer and signed up for HP Instant Ink. I highly recommend this! Never run out of ink at 11 pm when you have to print out your kid's report! Or when you need them to stay entertained with this activity because you have stuff to do…because let's face it…#procrastinatorsunite.
Simply print the printable and I like to laminate it so that it holds up to play. You can take it to an office supply store or I highly recommend investing in a home laminator. I have found so many things to laminate and it's a lifesaver to have right at home!
Note: print the printable with "no margins" setting or "fill page" and then you won't have the white borders like mine does!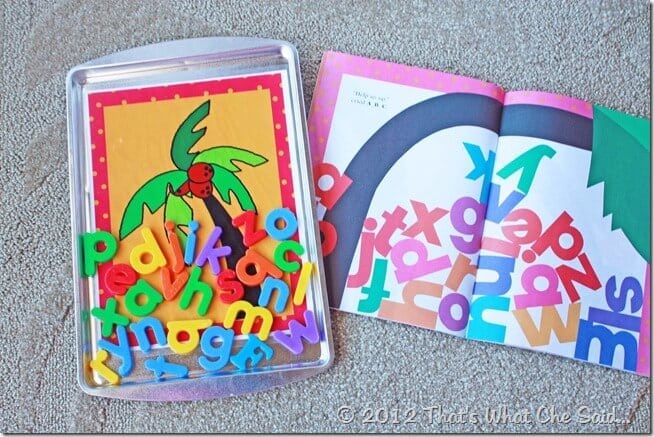 You can also combine all these things as a sweet gift for a young one learning their letters. The book is so fun and catchy it will be sure to be a hit!
Mine sure likes it

Stay tuned…I am working on a Chicka Chicka 1-2-3 printable as well! As always, this printable is free for personal use only.
DOWNLOAD CHICKA CHICKA BOOM BOOM HERE
Getting the freebie is easy! First, enter your name and email below and join my email list community (AND gain access to my freebie library)!! After that, click the download button and the freebie will begin automatically.
I use box.com to safely deliver my freebies! There is no need to sign up for a box.com account!
Please see this FAQ post + Video on how to download my freebies.
This download is for personal use only!
Like this activity?  Be sure to check out my Road Trip I Spy Bingo activity also!  It's a hit on long car rides!!  Also I invite you to check out my Kids and Babies Sections too for more boredom busters and ideas that I have found helpful on this mommy journey!