Today I am sharing this fabulously free Christmas printable.  When you stop believing in Santa, You get Underwear!  Download your copy and use in a frame as decor or make a fun Christmas card with it!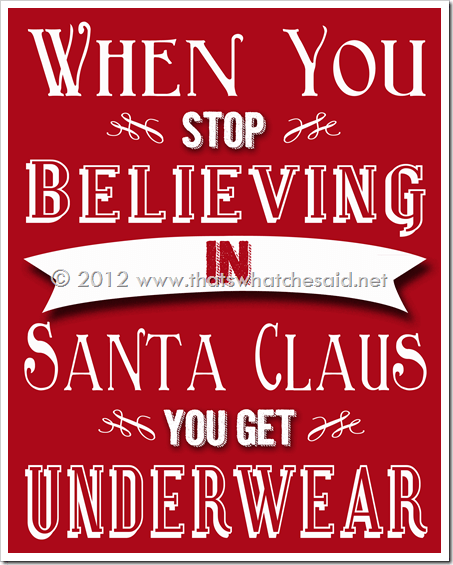 I think this is a fun saying that reminds us to find our inner child.  Among bills and responsibilities and every day chores and tasks…let's take a quick moment and just BELIEVE in that magical man that spreads holiday cheer!  If even just for a day! 
I have been watching the excitement on my baby's face lately.  He is almost 2.5 and he is just experiencing life!  Everything seems to amaze him.  Everything is new and fun and exciting.  My oldest is just full on holiday magic, as I call it, relishing at stories of elves and reindeer and loving all the lights.  I realized how many times I think to myself "If only that small of a thing made me as happy as this makes them!"  It's easy to forget how simple things and just make us happy!  So let's be happy and let's believe! 
These printables are free for personal use!  Please feel free to share by spreading a link back to this post!  Please do not repost this printable.  By clicking the link below you can download this printable in several colors without a watermark.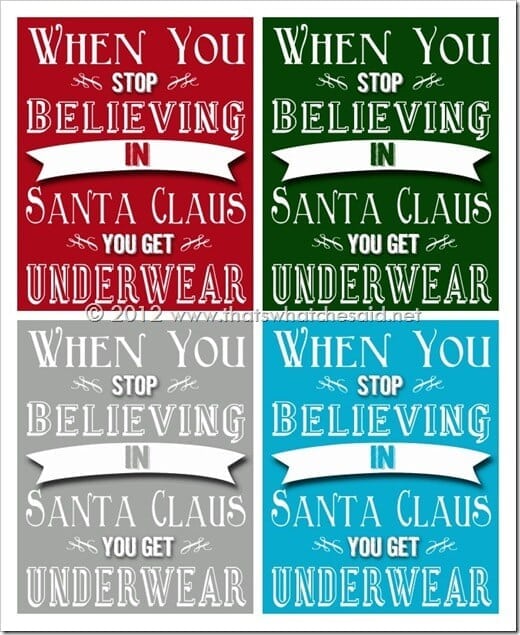 Download this Free Christmas Printable Below:
This download is for personal use only!
You might also like my 22 Free Holiday Fonts that I shared as part of my 25 Days of Christmas Series