A creamy and sweet pineapple frozen yogurt made from fresh pineapple will soon become your new healthy indulgence!
I have been making this fresh pineapple frozen yogurt recipe and it is getting devoured in our house!  We are eating it scooped in a bowl, and frozen in popsicle molds. Make and freeze in ice cube trays and it is perfect for smoothies!  It's light and fresh and with only 3 ingredients, you can't go wrong!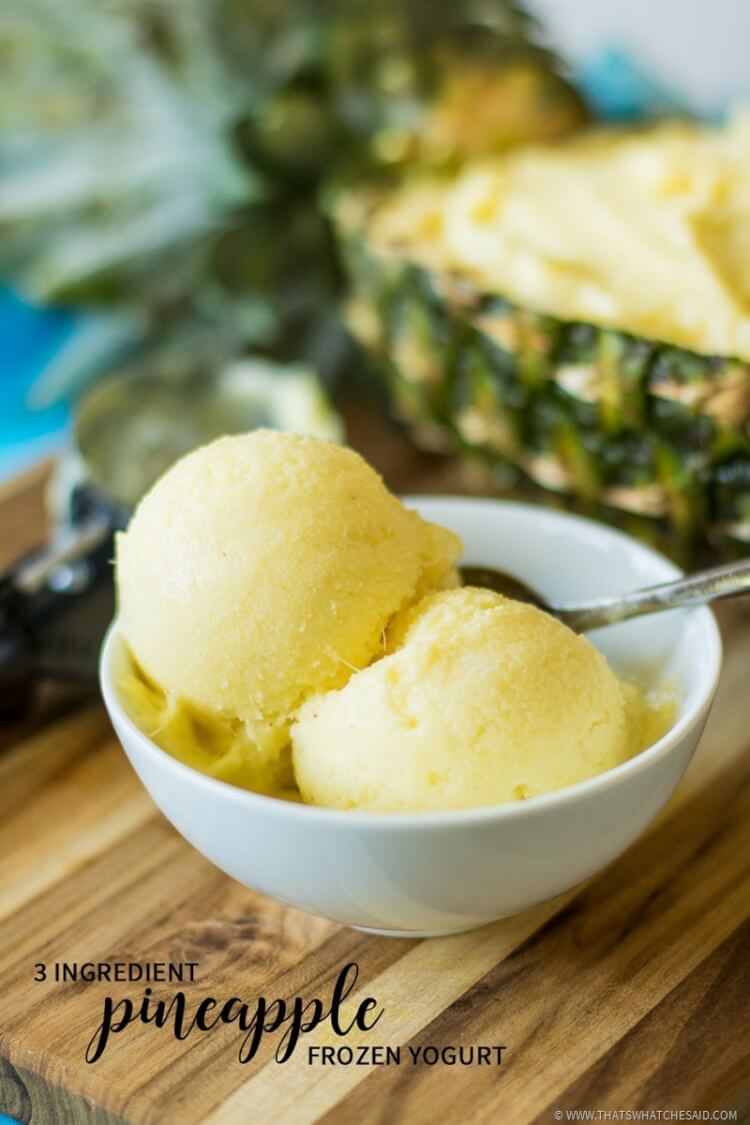 Fresh Pineapple Frozen Yogurt Recipe
I am really loving pineapple this year.   I mean loving it so much that I made a Pineapple Gift box and had to make another because I couldn't bear to part with the first one!  I am not even kidding!  This delicious pineapple frozen yogurt was adapted from my 4 ingredient Peach Frozen Yogurt.  It's light, it's creamy and it's amazing!
How to Choose a Pineapple
To start out get a fresh pineapple.   I look for a heavy pineapple that is firm, but still has a bit of give when I squeeze it. It's OK if the pineapple is still green, that does not mean it's under-ripe.  I also give it a good sniff (close to the bottom of the pineapple) You will know it's a good one when it smells sweet and pineapple-y!  <—yep that's a word!
You can tell if a pineapple is ripe by gently tugging on the centermost frawns on the top. If they remove easily from the fruit base, the pineapple is ripe. If they do not, it can probably use some more time!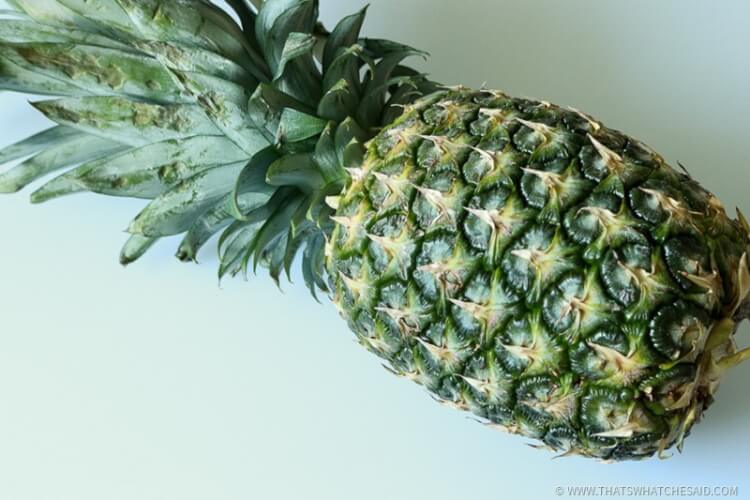 How to make Pineapple Frozen Yogurt
Slice the pineapple in half long ways and then I use a knife and cut slices in the flesh of the pineapple in crisscrosses, making sure to NOT cut through the shell of the Pineapple if you want to use it as a serving dish!    Note: Pineapples have cores so I just kind of cut around that.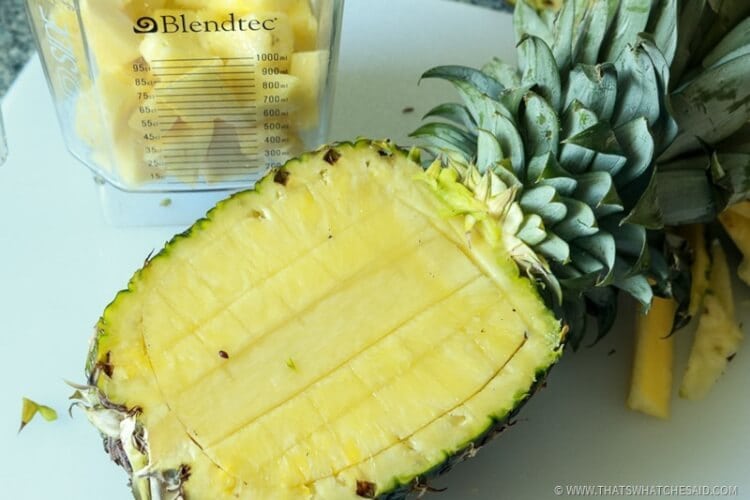 I then use a spoon to scoop out the flesh of the pineapple and I added it to my Blendtec Blender Pitcher.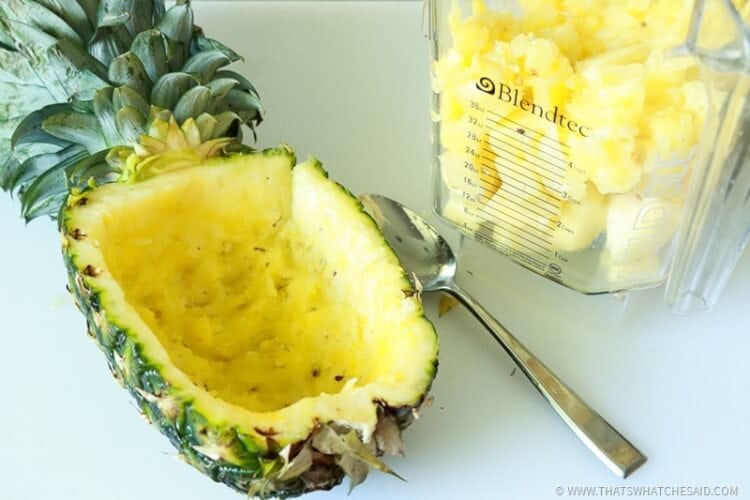 Then, I added 1 small single-serve container of vanilla Greek yogurt to the blender as well as the honey.  I blended it until it was smooth and creamy.
Pineapple is fibrous so be sure to blend it really well. I also strained through a mesh strainer to catch any of those fibers that didn't get blended.
Pour into a loaf pan and place in the freezer for an hour. You can also pour into popsicles or ice cube trays at this point and be done! If you want scoopable pineapple frozen yogurt keep on reading!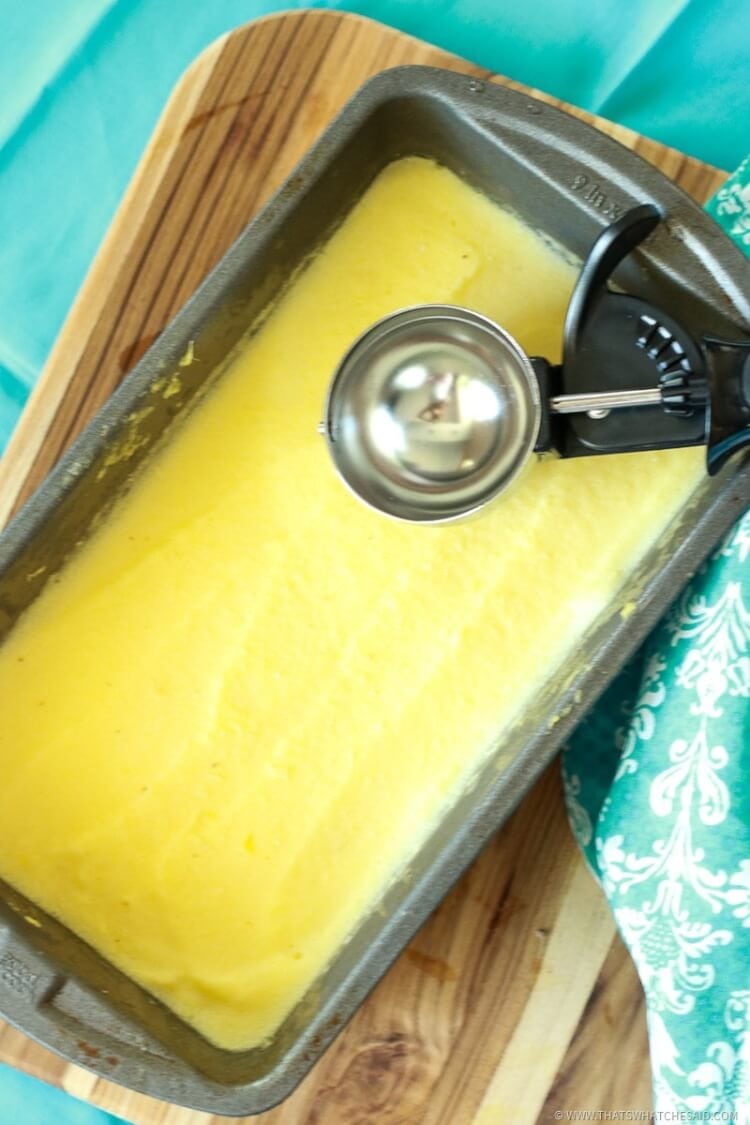 After an hour, I take it out and mix it up again with a spoon and I repeat this maybe 2 more times.  This keeps the frozen yogurt from getting a hard icy layer on the top.  Pineapples do contain a lot of water.    From here you can scoop the pineapple frozen yogurt into the hollowed-out pineapple shell for a super fun serving dish.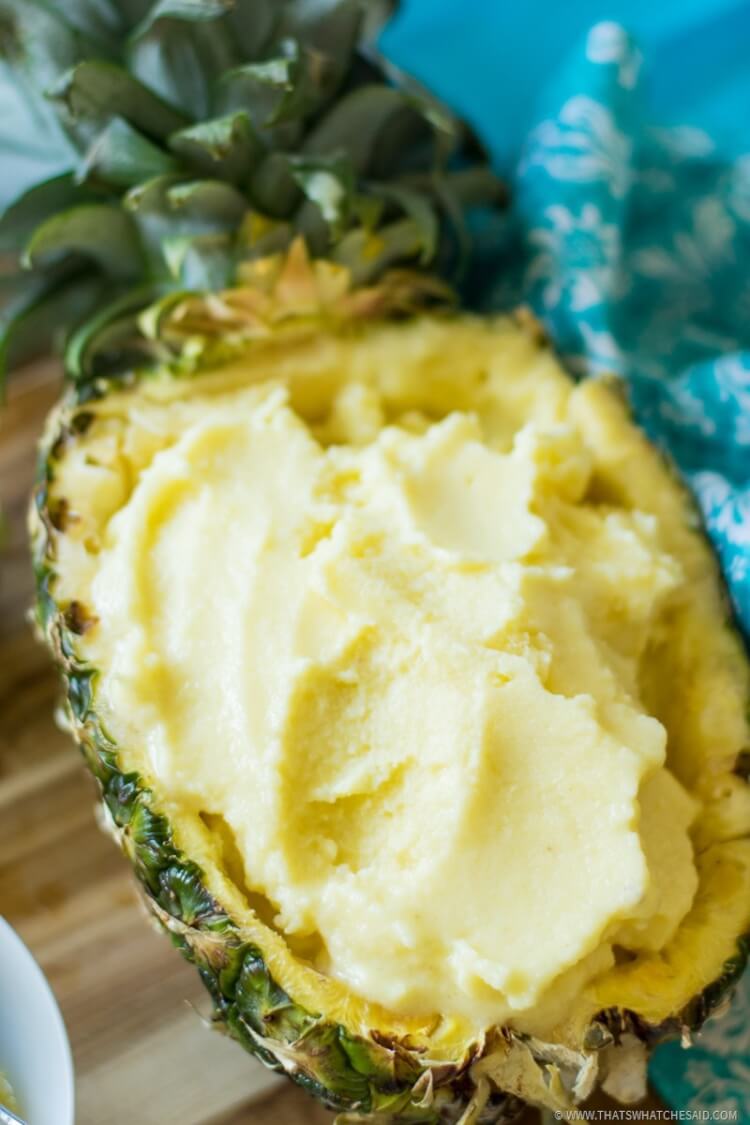 I love, love, love to add a scoop of this deliciousness to my protein shakes! Makes me think that I am on a tropical island…when I am in my living room :)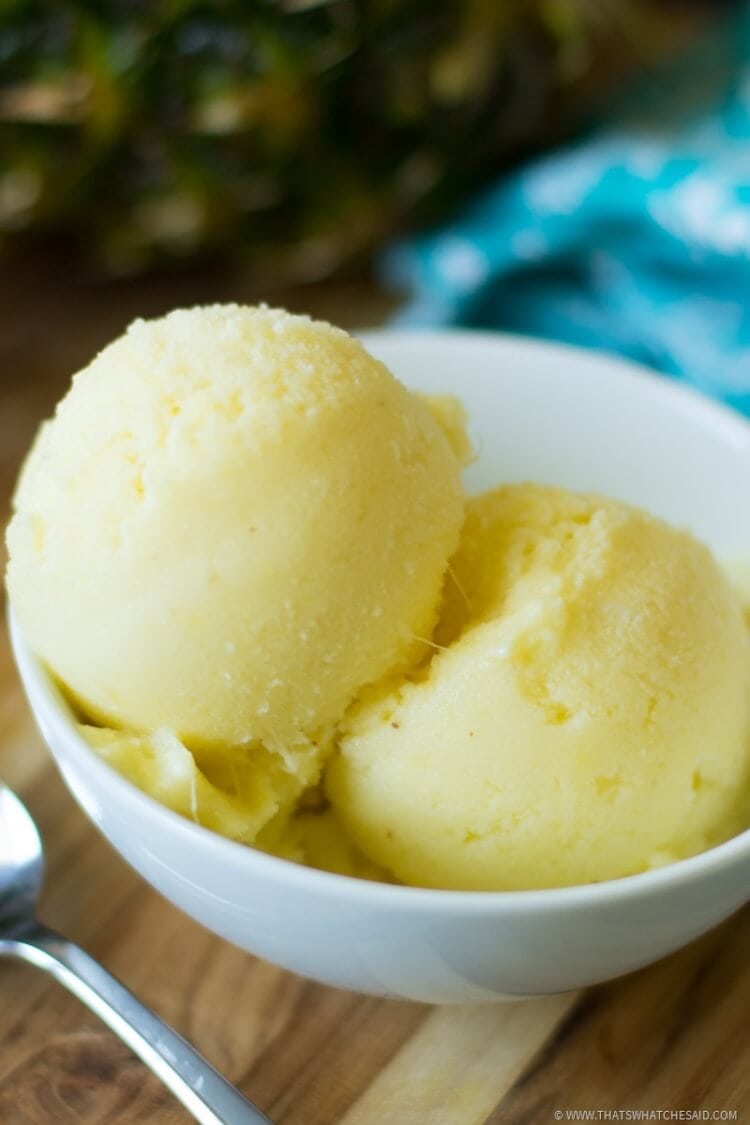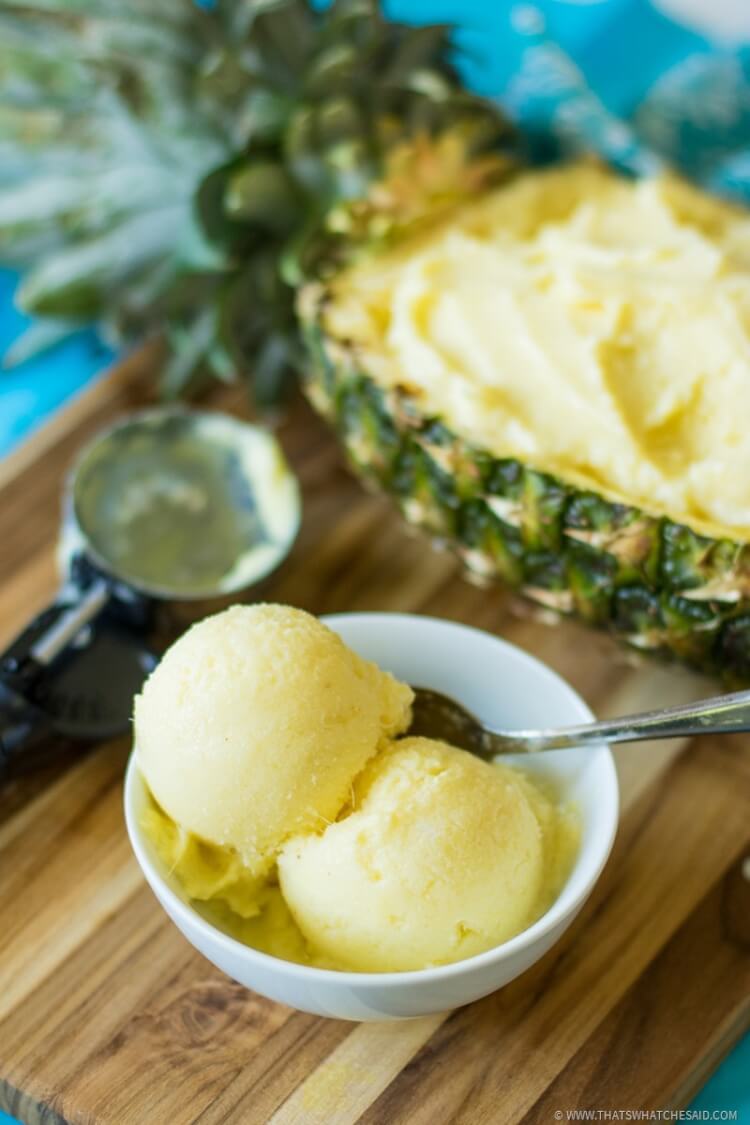 This is also my afternoon indulgence. I can fully enjoy it knowing this snack is free of all preservatives and additives and it's healthy! I didn't do all that work using the 21 Day Fix to throw it all away and I was not ready to throw away my afternoon snack! It's a win-win.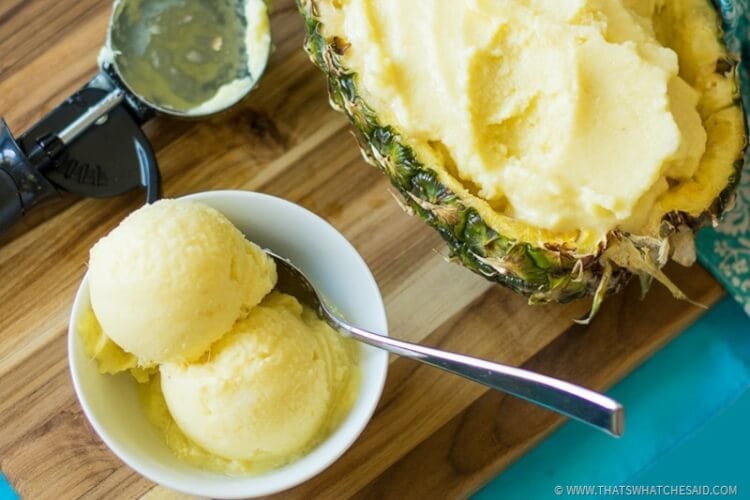 Pineapple Frozen Yogurt Recipe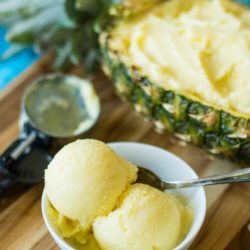 Fresh Pineapple Frozen Yogurt Recipe
A creamy and sweet pineapple frozen yogurt made from fresh pineapple will soon become your new healthy indulgence!
Print Recipe
Pin Recipe
Ingredients
1

Fresh Pineapple

,

flesh cubed

5.3

ounces

Vanilla Greek Yogurt

,

single serving size

2-3

tablespoons

Honey,

(quantity will vary depending on Pineapple sweetness)
Instructions
Slice Pineapple in half and score flesh with a knife. Remove flesh cubes using spoon and place into blender. Be sure to discard the tough pineapple core.

Add honey and yogurt to blender and blend until smooth and creamy. Honey amount will depend on the sweetness of your pineapple.

Pour into a loaf pan and freeze for 1 hour.

Mix the yogurt and return to freezer. Repeat this for 3 more hours.

Serve from loaf pan or transfer to hollow pineapple shell for serving.
Notes
Pour mixture into ice cube trays, freeze and use in smoothies
Pour mixture into popsicle molds, freeze and enjoy a treat on a stick.  
You may need to strain the mixture through a mesh strainer if your pineapple is not ripe enough or is extra fibrous or if you are using a blender not equipped with a liquify function.
Nutrition Estimate
Serving:
1
serving
Calories:
140
kcal
Carbohydrates:
34
g
Protein:
3
g
Fat:
0.2
g
Saturated Fat:
0.02
g
Polyunsaturated Fat:
0.1
g
Monounsaturated Fat:
0.02
g
Cholesterol:
1
mg
Sodium:
11
mg
Potassium:
229
mg
Fiber:
3
g
Sugar:
28
g
Vitamin A:
105
IU
Vitamin C:
87
mg
Calcium:
24
mg
Iron:
1
mg
Don't want to go to the grocery store? Use code CSPANGENBERG13D1DD at InstantCart and we both get $10 off our order! They deliver! Or use Walmart Online Grocery. They shop, you pick it up and get $10 off your order as well! New customers only!
More Frozen Dessert Recipes:
Be sure to check out all my Frozen Desserts!