Are you in a part of the country where the heat is just crazy???  This summer has been just insane when it comes to hot days! Let these Mini Frozen Lemonade Pies cool you down in the hot summer heat!
Frozen Lemonade Mini-Pies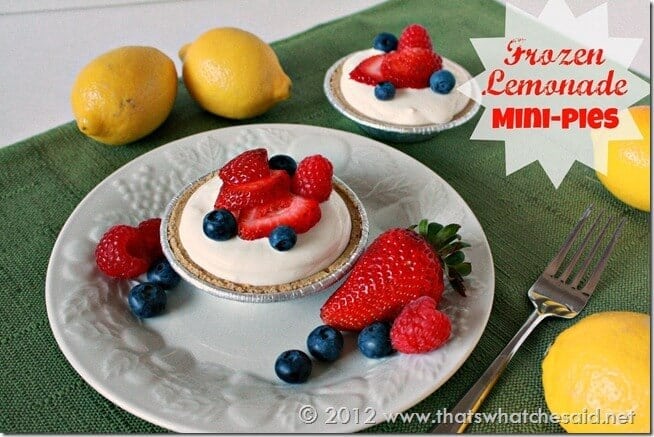 Ingredients needed:
(12) mini graham cracker crusts (I bought mine pre-made in packages of 6)
1 can frozen lemonade concentrate
1 container of Cool-Whip Light
1 can sweetened condensed milk, chilled
Fresh Berries for garnish (frozen also work!)
1.  Start out by combining the chilled sweetened condensed milk with your frozen lemonade concentrate.  Don't thaw the concentrate, use it frozen.
2.  Next, fold in the whipped cream (the whole container).
3.  Pour into the graham cracker pie crusts.  You can also use a regular sized pie crust here.  It's just as simple and beautiful, I just LOVE individual desserts!
4.  Place the mini-pies in the freezer and freeze overnight.
5.  When ready to serve, garnish with strawberries, raspberries, and blueberries!  (A frozen bag of mixed berries works awesome also!)
Enjoy!  (I told you it was simple!)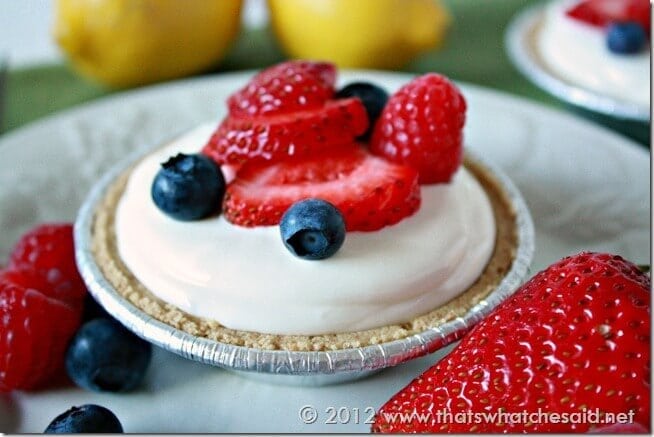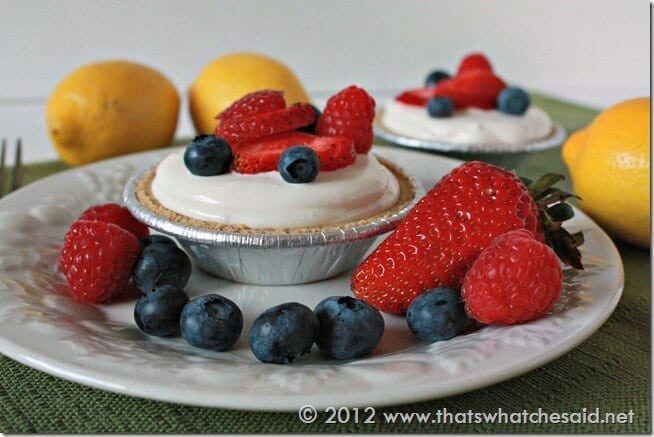 Click for a Printable Recipe to add to your Recipe Collection!  
You might also like:
Raspberry Cream Frozen Dessert
Strawberry Cupcakes with Cheesecake Frosting