New year, new health resolutions.  I am here to answer the question, "Does the 21 Day Fix really work?"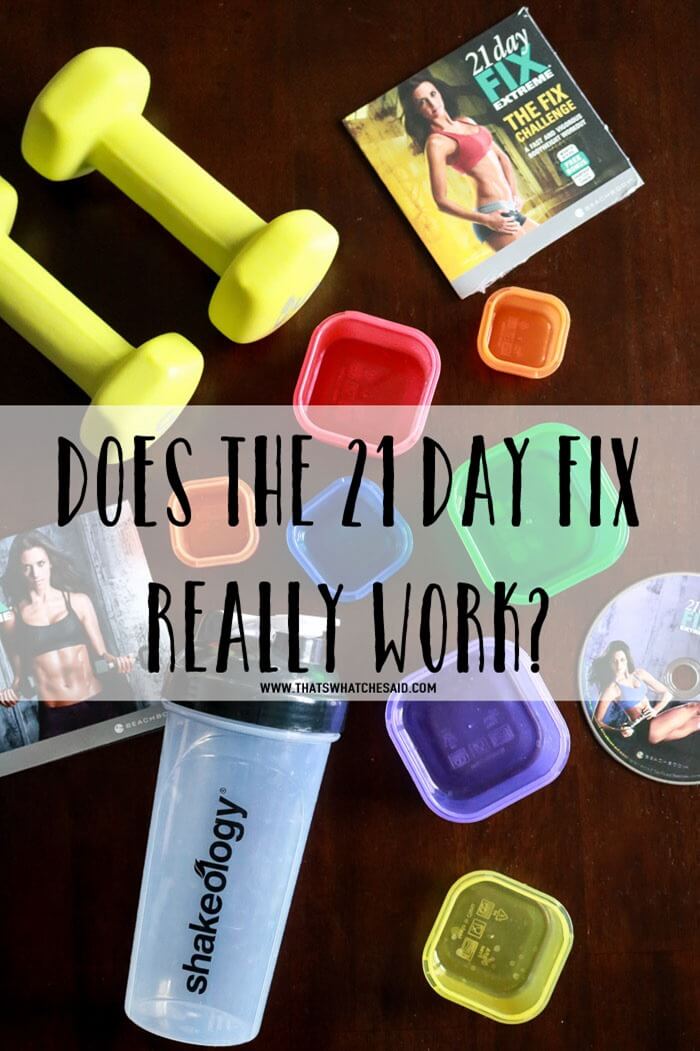 Well I have a long answer and a short answer.
Short Answer:  Yes.
Longer Answer:  If you make up your mind to take control of your wellness you will absolutely succeed using the 21 Day Fix program.
I bought the program with my own money, I used the program, I'm sharing my experience.
I like to make sure I do stuff and use stuff and know the stuff before I write and share about it with you.  So that's why you are just getting this glorious opinion of mine here in February!
Does the 21 Day Fix Really Work?
I had to be in the right mindset for this program.  It is not a diet.  It is not a pill.  It is not magic.  It is a healthy lifestyle and I had to acknowledge a few things before I was going to see any results.
1.  I no longer have my 20 year old body's metabolism.  (*sniff, sniff*)
2.  Skipping all meals and then ravaging dinner is not a healthy eating habit to have.
3.  You are what you eat.  Simple as that.
4.  Justifying consuming Big Macs, licorice, beer and ice cream as your daily caloric intake, because combined it was less than XXXX calories that day will not get you anywhere near your wellness goals.
5.  My baby weight + getting older weight will not just "fall off" as I imagine in my daydreams.  It will take dedication, hard work and smart choices.
Once I quit making excuses and committed to putting in the effort to spend some time on me, the rest was rather easy.
21 Day Fix Fitness Program
(affiliate link)
What does the 21 Day Fix Entail?
This program contains workout DVDs, colored containers to help you master portion control and appropriate food group eating choices as well as food ideas and motivation to get started!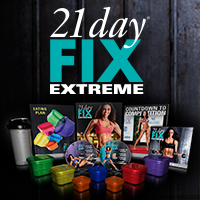 How are the Workouts?
The DVD workouts will push you to your max however only take up 30 minutes of your day.  I am pretty sure we all waste over 30 minutes scrolling through Facebook or Instagram during our day.  Put down your phone and pick up some weights and sweat.  I promise you will be so happy you did!  The workouts make those quick 30 minutes count!
I used the 21 Day Fix Extreme program which has a bit more demanding workouts.  Whether you use the original or the Extreme, I know you will not be sorry you did.
Autumn cheers you and pushes you on just when you think about giving up and it's awesome to see how far you can come in only one week.  I noticed so much strength and stamina very quickly.  I was doing more and more with each workout than I was the day before!  That is a pretty good feeling friends.  In fact.  It's pretty awesome!
Did you need anything for the workouts?
Most of the workouts are body weight centered however they recommend a set of 5 lbs. weights and 8 lbs. handheld weights and an elastic resistance band.  I did use them all.  I got the weights and resistance band at Target and they worked just fine!
Also a water bottle.  I just filled the shakeology tumbler up and used it during workouts.  Some of the floor ones you might want to put a towel down (I was lazy and just used the throw blanket that was sitting on my couch!
What the heck is going on with all those colored containers?
They look kind of crazy and you'd think they'd be totally annoying but they are actually colored cubes of awesomeness!  Each color stands for a part of your healthy nutrition.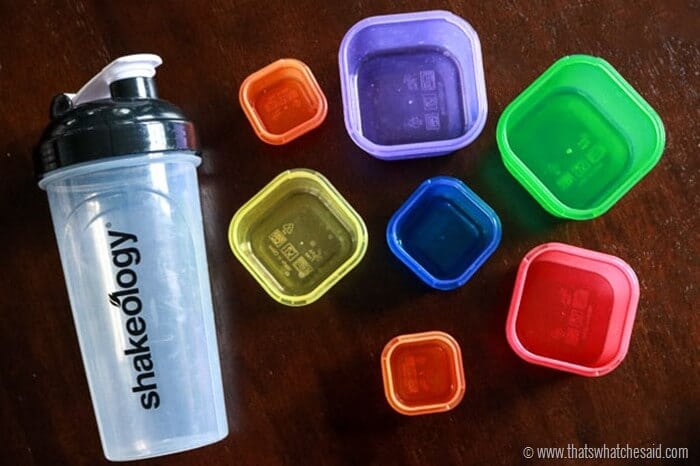 Green is Vegetables
Purple is Fruits
Red is Protein
Yellow is Carbs*
Blue is Healthy Fats
Oranges are dressings, seeds, nuts
Tumbler for protein shakes
*Yes…that yellow one is for CARBS :)  You still get to enjoy them.   Just in the appropriate moderation!
I found that this aspect of the program was the most beneficial to me.  It was also a huge eye opener for me.  My preconceived ideas of portion control were totally wrong and my idea of how much of each food group is good was also a bit skewed.
21 Day Fix taught me how to eat.  I have learned what portion sizes are by using the containers and now I can look at a plate of food in front of me and figure out exactly how many containers it counts as.  This is awesome for eating out.  I know what to eat and what to take home.
Yes you can still eat out.  I now have the tools to be able to choose healthy menu items and gauge portions.  I am able to "save" some of my containers for things like a glass of wine!
Also you will learn to (and WANT to) drink more water!  I wrote a post on 5 Ways to Drink More Water and I have to say I used them all.
Were you starving the whole 21 days?
I never felt hungry.  In fact the opposite.  After making a meal I found I was left with plenty on my plate and my stomach was happy and satisfied.
There were more days than not, that when I was going to bed, I still had "allowed containers" left!  I was never hungry.  Which is good because I do not function well hungry!  I am a terrible HANGRY PERSON!  :)  Just ask my kids and husband!
The program helped jump start my metabolism again.  I ate breakfast, lunch and dinner along with snacks.  All were healthy and proportioned so my metabolism had to WAKE UP and get moving along with me and I could seriously tell everything was moving.  I felt great and I could tell my body was happy it was not getting fed once a day like previously.
How do I know how many of those containers I can have?
It's easy!  Included in your program guide there is a very easy calculation you do that shows you how many of each color you can have each day.
You don't have to count calories, if it fits in the container it's yours to enjoy!  (based on color/food group)
This offers TONS of flexibility and variety in your meal plans.  Some days you could eat your carbs as oatmeal for breakfast and other days you might save it for a small sandwich.  Just keep track of the number of colors you eat!
Sometimes at the end of the day I'd still have both my carbs left!  It was awesome.  (I saved 2 days of carbs up and used them for a beer when my kids were driving me BATTY!)
What's With Shakeology?
Shakeology is a nutrient dense, protein packed shake that replaces one of your red containers.  In addition to protein it also has a crap load of nutrients and vitamins included in it.
You can get Shakeology WITH your 21 Day Fix when you sign up for a Challenge Pack.
You can replace one of your red containers (protein) with a Shakeology shake!  It's PERFECT for busy mornings as I often drank mine then and it was quick and a fast breakfast for when I was trying to get the kids out the door.  Breakfast by far is my most skipped meal.  This really helped me get that meal and protein and nutrients in my diet!
I had the chocolate kind and as much as I wanted to LOVE this awesome bag of powder, I am very sensitive to non-sugar sweeteners.  Shakeology uses Stevia and I could not get over that taste.  I added PB2 Peanut Butter Powder to my shakes in order to get them down.    I had much better luck with the strawberry and vanilla.  I was able to drink those with less nose crunching!
I would recommend starting with Vanilla so that it's easier to add fruit to your shakes to mix it up a bit. You could also add unsweetened cocoa powder to make the vanilla chocolate!  However I have friends who ADORE the chocolate.  So to each, his own!
Note:  Chocolate Shakeology also gave me terrible headaches :(  Most don't experience this but I am one of the few!  Go figure!
Where's the picture proof?
I took some…they turned out like crap.  I am terrible at taking pictures of myself with the damn timer on my camera.  I will work on this for the next round.  Yes…I am willingly doing another round! In fact, I am getting ready to start round 4.  Yes FOUR!  I tell you…once you do it, it becomes a lifestyle not a diet or fad.  Nutrition and workouts are part of my life now!
However if you want to see some before and after pictures I urge you to head over to BeachBody's site and take a look.  You can even submit your before and after photos for a free shirt!  I can tell you that I not only feel better but my clothes fit better.  I am not constantly thinking about my muffin top while I am around other people!
Did you cheat during the 21 days, honestly?
Great question!
Yes and No.
During my FIRST round, I did not cheat on the nutrition part one single bit.  No wine, no beer, no processed foods.  I was ON POINT.    What I did cheat on were my workouts.  I did not workout for 21 days straight.  I have tons of excuses why however if I had to pick between nutrition and the workouts, I would pick nutrition.
During Rounds 2 and 3 I was a bit more relaxed and would have a beer or glass of wine here and there and during the holidays I did have a small slice of cheesecake, but for the most part I stuck to it.  I think having those small indulgences now and then are okay as long as I know it's not what my diet can consist of and it is a special treat
I will be completely honest and say during all three rounds my workouts were not on point.  However I am still seeing great results by focusing on the nutrition.  My pants fit better, my ass does not have it's own zip code anymore and I FEEL great!  I know that if I applied my energy to the workouts, as I do to the nutrition I could probably be totally awesome!
That is my honest answer!
I'm not sure I can stick with it for 21 days!
You can!  You really can.  Do you know what helps?  Getting involved with a BeachBody Coach and joining their accountability groups on Facebook.  My college sorority sister is my coach and she has these amazing groups of people from all over the place that we check in with each other daily and cheer each other on.  I tell you…they keep you going and motivated!  The coaches and group mates share 21 Day Fix approved meal ideas, weekly clean eating meal plans and even some monthly ones.  It has made such a difference in my journey being a part of these groups!
My friend Leann said she would LOVE to have YOU join our groups!  You can find her information here.
Get 4 FREE bonus Gifts with 21 Day Fix EXTREME – Extreme Fitness. Simple Eating. Serious Results. Free gifts included with purchase!
So there you have it. An honest answer to the question "Does the 21 Day Fix Really Work?". I have been thrilled with it. Even when my workouts lag…I feel so much better having just the clean nutrition in my body.

*This post may contain affiliate links. You may read my full disclosure here. Affiliate links help keep the content on That's What Che Said FREE! Thanks for supporting me and companies and products that I think rock!