I can never get enough salsa! This corn & black bean salsa is my absolute favorite non-tomato based choice, hands down! It super simple to make, can be left out all day on a picnic table or at the lake.  It can be made ahead of time and gets better as it sits in your fridge…if it even lasts that long!
Jump to Recipe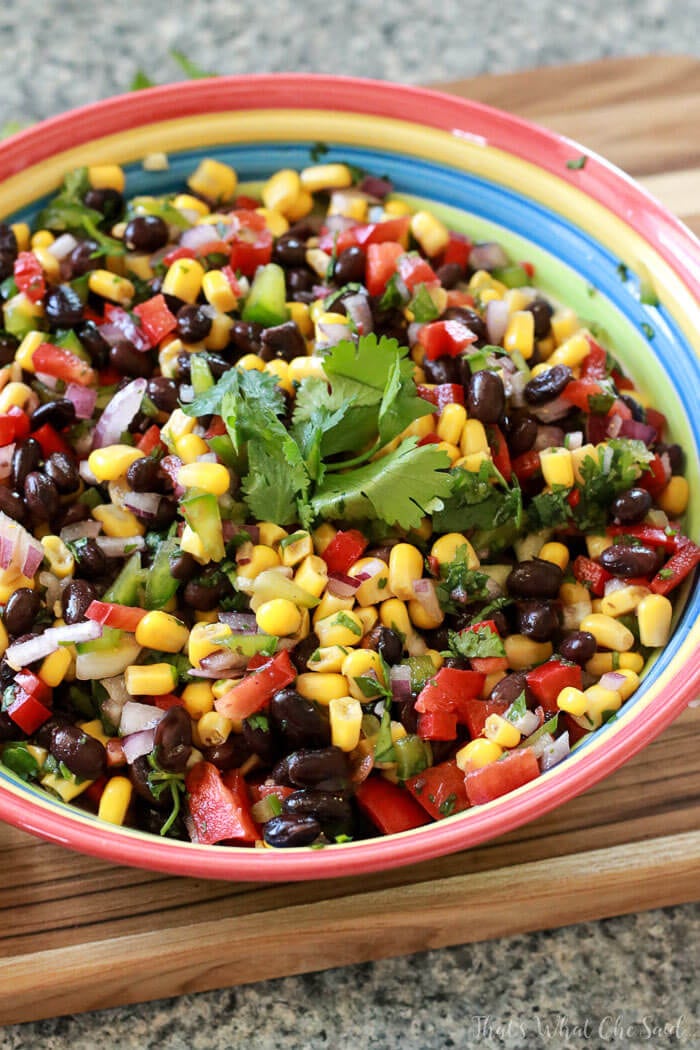 The sweet corn, the creamy black beans and the crunch of the bell peppers are the perfect basis for this colorful salsa!  Flavored with onion, cilantro, and lime you can't go wrong!  It's fresh and flavorful!
Ingredients Needed for Corn & Black Bean Salsa:
1/2 large green bell pepper
1/2 large red bell pepper
1 medium red onion
6 tablespoons fresh cilantro
1 large lime
1 can low sodium black beans
1 can sweet corn*
salt/pepper
Don't want to go to the grocery store? You can get your FIRST ORDER DELIVERED FREE with Instacart! Right to your door! If you'd rather pick it up, try Walmart Online Grocery. They shop, you pick it up! New customers only!
How to Make Corn & Black Bean Salsa
Using a small chopper or by hand, finely chop the bell peppers and onion, and add to bowl.
I love using my mini-chopper because it never fails a kid starts screaming at me the minute I get my hands all full of onion!
Next, mince cilantro so that once it is all chopped you have about 6 tablespoons. Add to bowl. (I probably use way more than 6 tablespoons because I LOVE me some Cilantro!)
Drain the corn and drain and rinse the black beans and add them to the bowl as well!
Then, gently roll the lime on your cutting board to "get the juices flowing" as Rachael Ray would say and slice and juice the entire lime over the mixture. Add Salt & Pepper to taste.
I choose to use lower sodium beans because then it is my choice on how much salt to add versus the can already making that decision for me.
When sweet corn is in season, by all means, use fresh! Cook on the grill and then add kernels of about 3-4 ears, in place of the can, YUM!
Serve with tortilla chips as a tasty snack or on top of chicken breasts or fish fillets as the perfect flavorful garnish!
What Can Corn & Black Bean Salsa be used with?
Top grilled chicken
Top fish (salmon, tilapia, cod and grouper work well)
Use to garnish tacos
Use on burgers with pepper jack cheese for a tex mex flair
Pairs perfectly with torilla or pita chips!
Works great in burritos and wraps!
Corn & Black Bean Salsa Recipe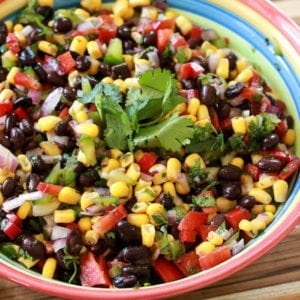 Corn & Black Bean Salsa
A fresh and delicious salsa recipe that is perfect for picnics and backyard BBQ's! It also pairs well with chicken and fish as a delicious topper!
Print Recipe
This salsa is even better the next day which makes it great if you need to make it ahead.
Ingredients
1/2

cup

green bell pepper

diced

1/2

cup

red bell pepper

diced

1/2

cup

red onion

diced

6

tablespoons

fresh cilantro

finely choppped

1

large lime

juiced

1

can

black beans

low sodium, rinsed

1

can

sweet corn

drained

Salt & Pepper

to taste
Instructions
Finely dice the Bell Peppers & Onion either by hand or using a small chopper.

Finely chop the cilantro.

Drain the Corn

Drain & Rinse the Black Beans

Add all of the above to the bowl.

Add juice of lime over top

Salt & Pepper to taste

Mix well.

Enjoy!
Video
Notes
This salsa is even better the next day which makes it great if you need to make it ahead.
Nutrition
What is your favorite summer appetizer? This salsa recipe can be made all year round but it's exceptionally good in the summer! I would love to hear what your favorites are! I love new delicious things to try!
You may also like:
Get more appetizer recipes here!
PIN CORN & BLACK BEAN SALSA