A delicious spin on fruit pizza! Strawberries and kiwi turn this dessert into the looks of a watermelon! Perfect for summer picnics!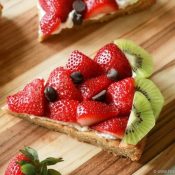 This deliciously sweet Watermelon Fruit Pizza treat resembles a watermelon but is made up of sugar cookie crust, sweet strawberries and kiwi fruits with a few chocolate chips because of course, chocolate!  A fun summertime dessert that is almost too cute to eat!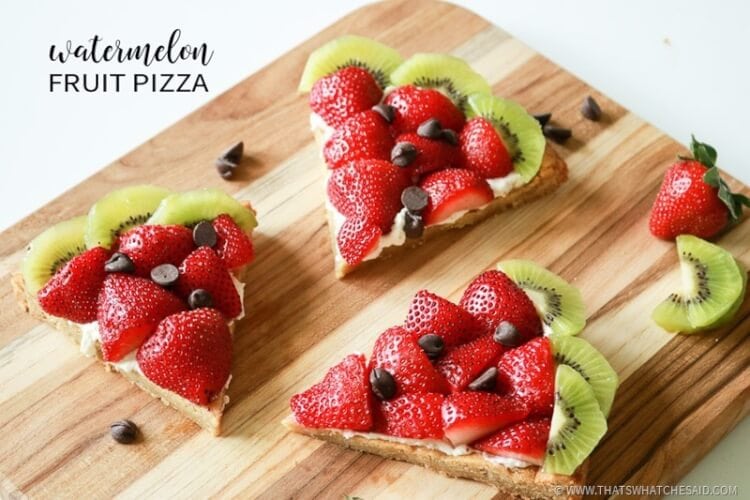 I love watermelons!  I love eating watermelon, I love the looks of watermelon with that bright dark flesh and bright green rind.  I love anything that looks, tastes or smells like watermelon!  It's only natural that when I make a fruit pizza…I make it look like a watermelon!  Right?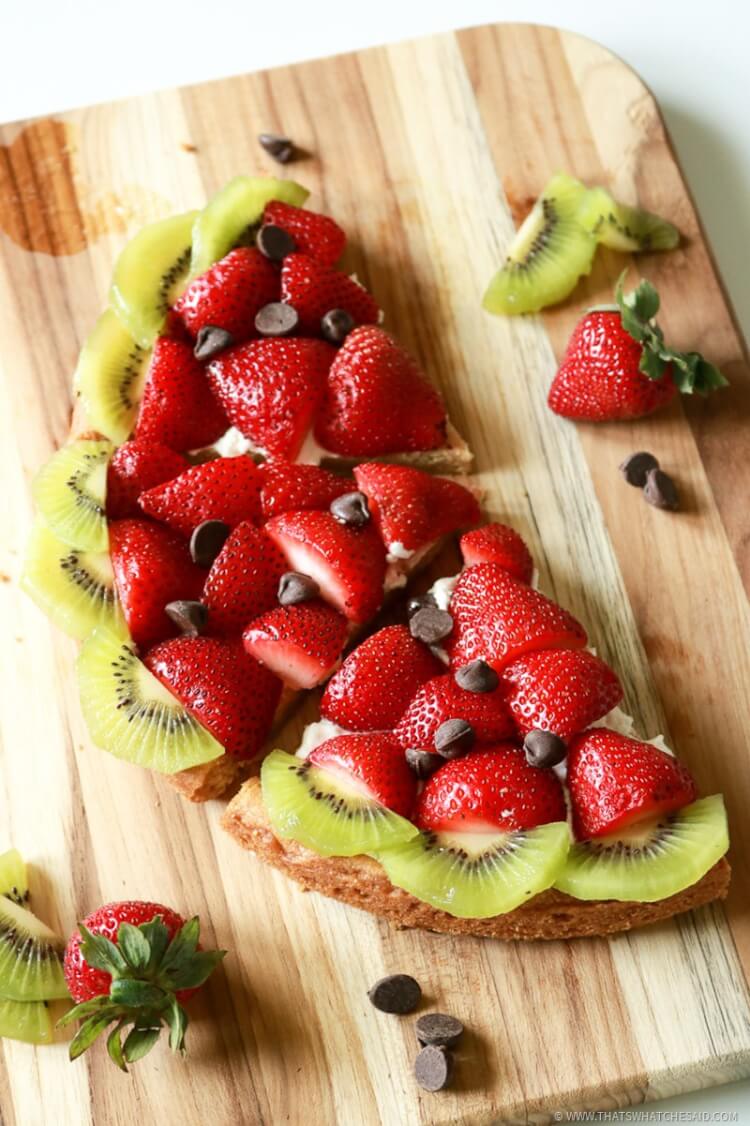 I am always looking for fun desserts.  Especially in the summer because I feel like we get together so much more with friends when the weather is nice and BBQ and eat with friends.  We can sit on the patio and hang out under the pergola.   Sit around roasting S'mores over the fire and of course enjoy drinks and desserts!  This one is not only tasty but is so visually fun, everyone will love it.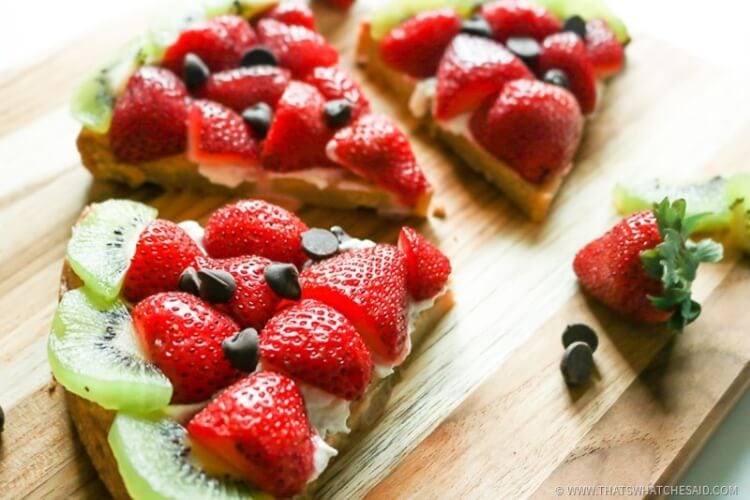 How to Make a Watermelon Fruit Pizza:
I started off by making my sugar cookie base.  We get all wild and crazy here friends, I used the pull-apart-and-bake kind and just squished it evenly into the base of a 9" springform pan and baked until the center was soft but firm and the sides were golden.  Wild and crazy and exact science here!  ;-P  I let it cool on a wire rack.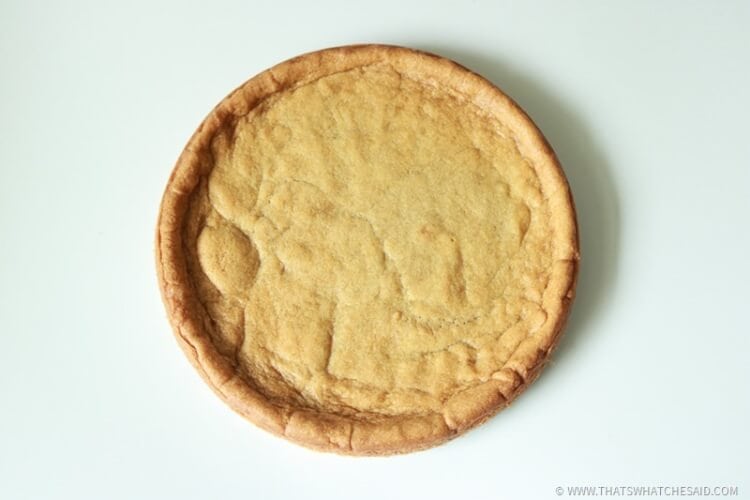 Next, I mixed up my "sauce" for the pizza which is equal portions of whipped cream cheese and marshmallow cream.  I mixed in a bowl with a fork until it was combined.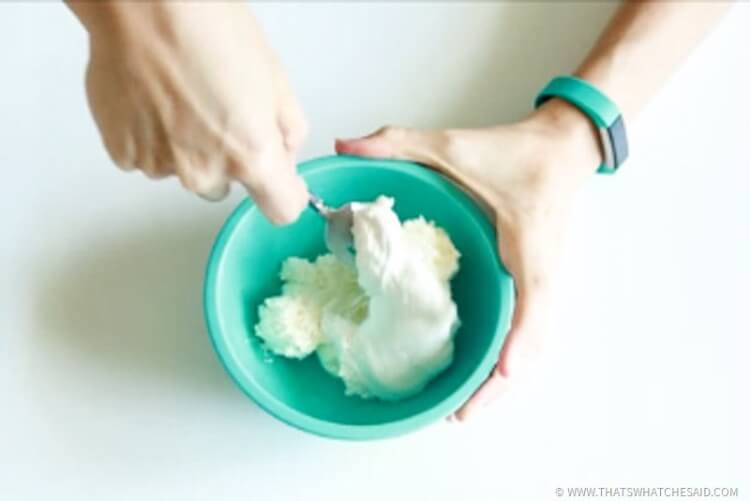 For my toppings to make the watermelon, I peeled a kiwi, sliced it in half and then cut those halves into 1/4" slices.   The strawberries I removed the greens from the top and cut in half.  When you go to layer, you might need to cut these down further to fill in space.  Then spilled some chocolate chips out of the bag for "seeds".  Yes, I really did spill them.
After my cookie was cool I sliced it into 6 pieces.  You can decorate it as a whole if you wish I just found it easier to cut and keep it looking pretty if I pre-sliced the pieces and assembled them individually.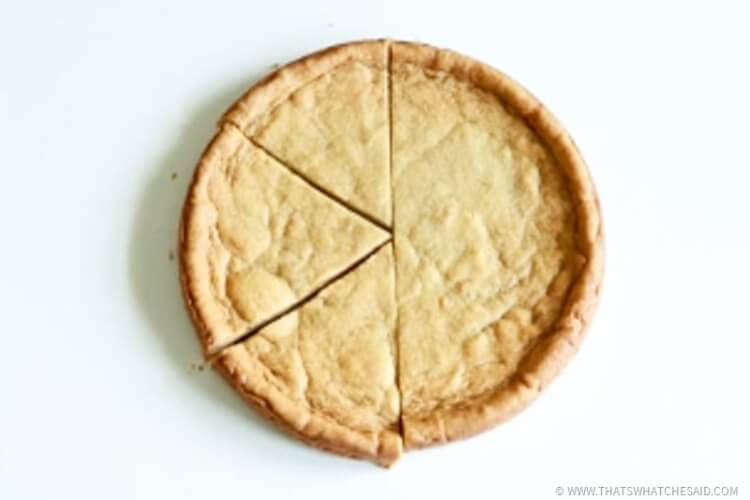 First, spread your whipped cream marshmallow sauce.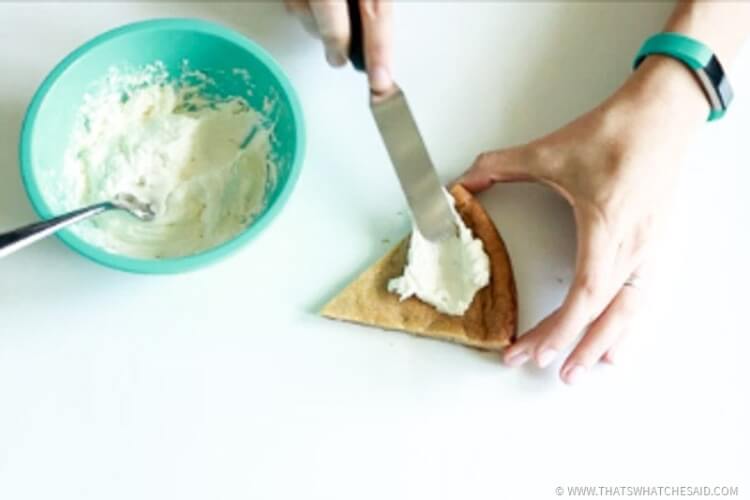 Then add the kiwi rind along the edge.
Next fill your space with strawberries, cutting any if needed to fill any holes.  Add chocolate chips as the seeds and enjoy!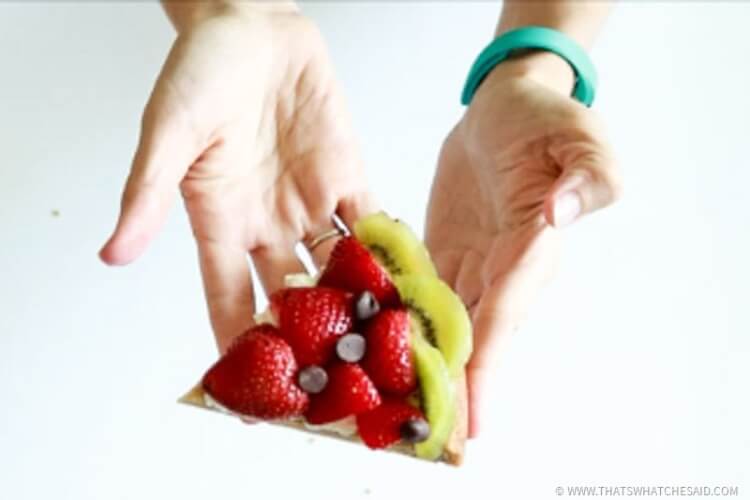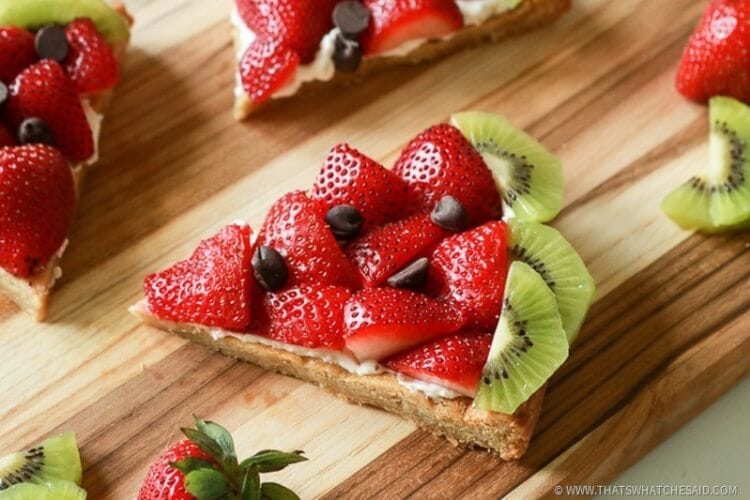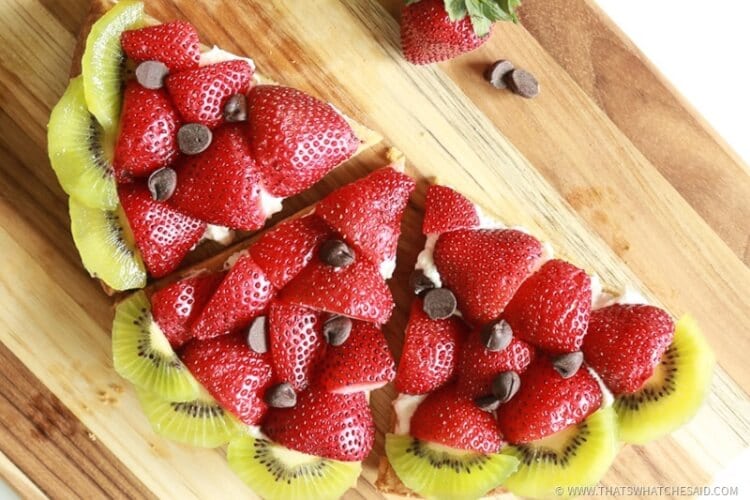 Recipe for Watermelon Fruit Pizza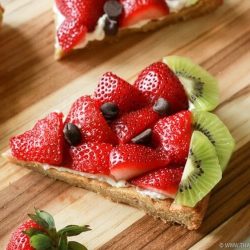 Watermelon Fruit Pizza
A delicious spin on fruit pizza! Strawberries and kiwi turn this dessert into the looks of a watermelon! Perfect for summer picnics!
Print Recipe
Pin Recipe
Ingredients
1

roll or package

Sugar Cookie Pre-made Dough

2

cups

strawberries,

greens removed & halved

2

each

kiwi fruits

,

peeled, halved and sliced

1/2

cup

whipped cream cheese

1/2

cup

marshmallow fluff

1/8

cup

chocolate chips
Instructions
Preheat oven to 325F

In a 9" springform pan, press the dough evenly in the pan.

Bake about 40 minutes or until the edges are golden and the center is soft but still firm.

Let cool completely.

Mix whipped cream cheese and marshmallow cream in a small bowl until well combined.

Cut the cookie into 6 pieces

Ice the pieces of cookie with the cream cheese mixture.

Add kiwis to the edge for the watermelon rind.

Add strawberries for the watermelon flesh. You might need to cut strawberries further to fill in spaces

Add chocolate chips as the seeds

Enjoy!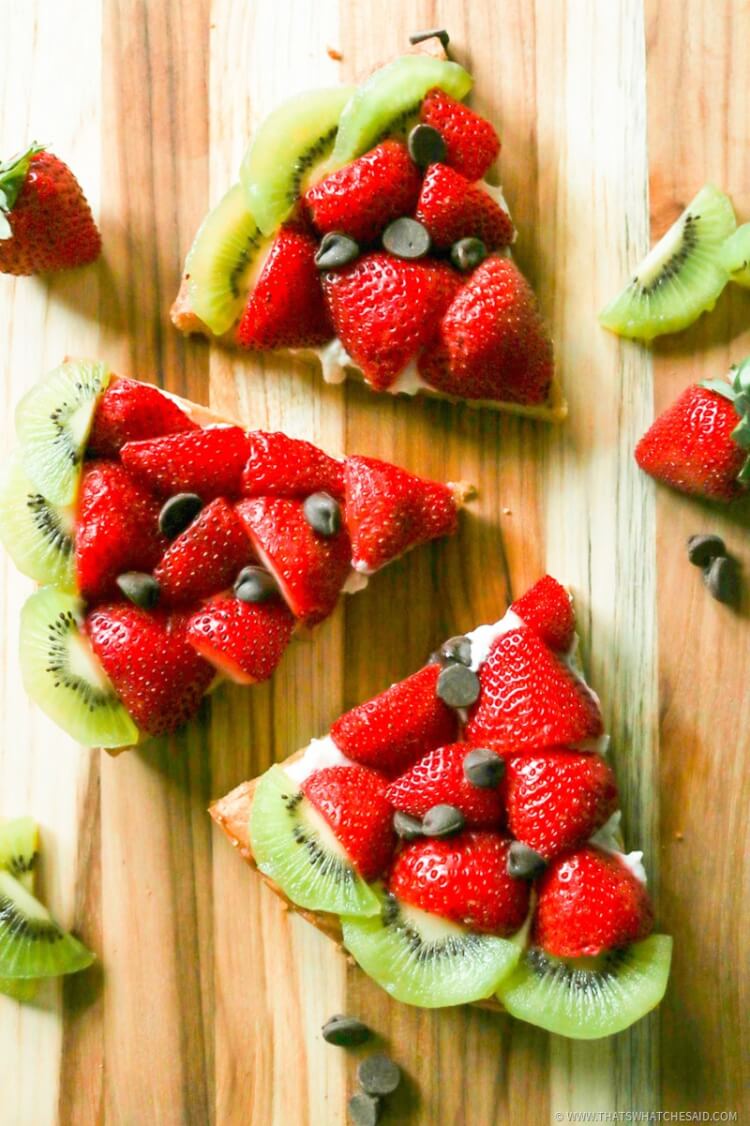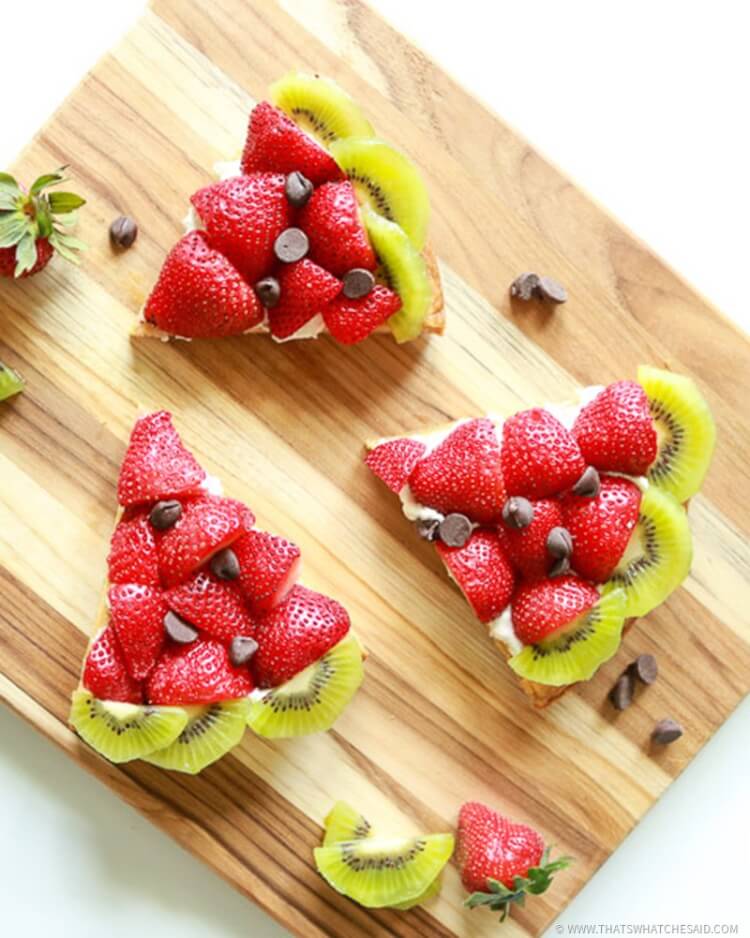 Here are a few more of my favorite watermelon ideas as well!
[cgview id=22 name=desserts offset=1 tags=watermelon-fun size=275×275 lightbox=0]