A light and refreshing white peach sangria! This is perfect for summer drinks on the patio!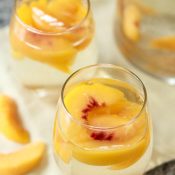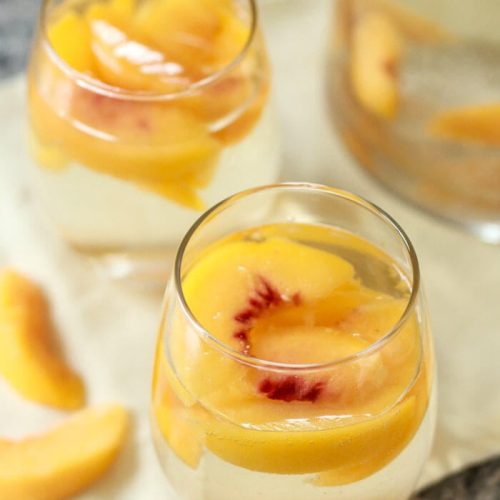 Post updated April 16, 2018
I am a little baffled, but more amazed that this is my FIRST alcohol post. Really…I am in awe?!? Anyway, I am thrilled to share my recipe for my awesome White Peach Sangria Recipe. This is requested at every party, get together and random Tuesdays. It's one of my all-time favorite drinks and I think it will become yours too!
This post may contain affiliate links. Using these links I earn a small commission at no additional cost to you.
I am making this today for two reasons.
1. My lifelong BFF's baby boy is turning ONE tomorrow!
2. My baby-I-just-had-yesterday is turning ONE on SUNDAY!!! She & I were so lucky to share our pregnancies together, and now our babies growing together, but I am still a little sniffly thinking they will be ONE already! So I needed a little "Momma Juice" as Michael calls it!
I am horrible at measuring anything going into a drink. I am a "add it, taste it, and see" kind of gal. I did my best this time to give rough measurements. Rest assured, that if you don't measure (like I never have) your drink will turn out just fine (like mine always do). I also measure in cups and not ounces…for the fact that, well, it's just more convenient and I never make a single glass of this stuff. It is always made by the pitcher!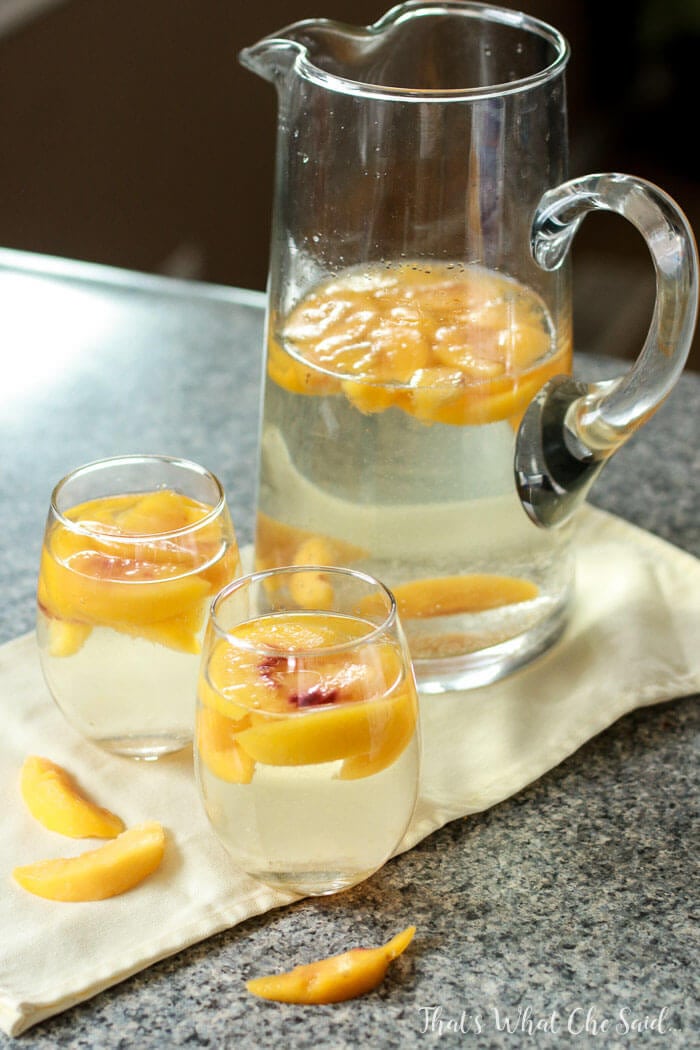 Ingredients for White Peach Sangria:
*If you do not have peach flavored vodka you can substitute regular vodka + peach schnapps. I made it this way first before all the flavored vodkas became a "thing".
How to Make White Peach Sangria:
If using fresh peaches, slice and add to a serving pitcher. If using frozen just open the bag and dump them all in! About 2 cups, no need to thaw! Add peach flavored vodka (or vodka and peach schnapps) and the entire bottle of your wine. Yep, the WHOLE dang thing! You will thank me later!
If you like your beverages sweeter, choose a Reisling or Moscato wine. If you prefer less sweet choose Sauvignon Blanc or Pinot Grigio
Let the peaches soak up all the wonderful liquor fantastic-ness for about an hour in the fridge.
After an hour or more chilling in the fridge, fill the remainder of the pitcher with your favorite white soda once you are ready to serve to preserve a bit of the fizz. I am partial to Sprite for some reason. The extra citrus flavor really goes well here.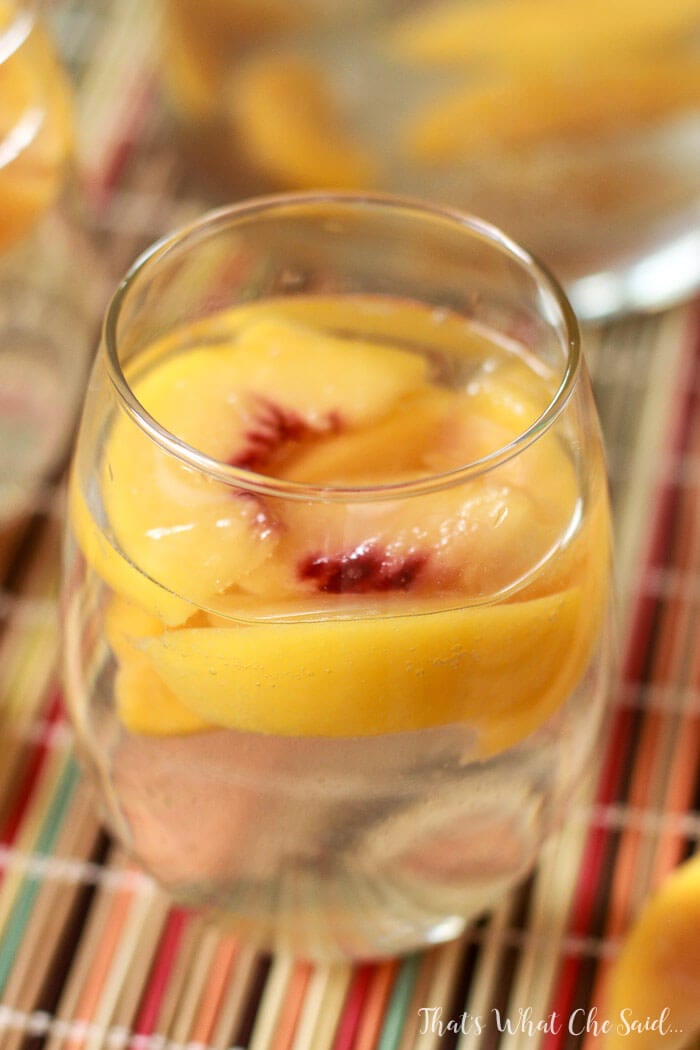 *It's best to use chilled wine and soda so that you may partake in your beverage at that EXACT MOMENT! I am really strange and DO NOT like ice in my drinks –it just waters it down! Also to spice up the drink a bit you can also add quartered grapes or a few blueberries!
Pour into wine glasses and float a few of the liquor-soaked peach slices! Once your drink is gone you get a little treat eating the vodka-peach slice!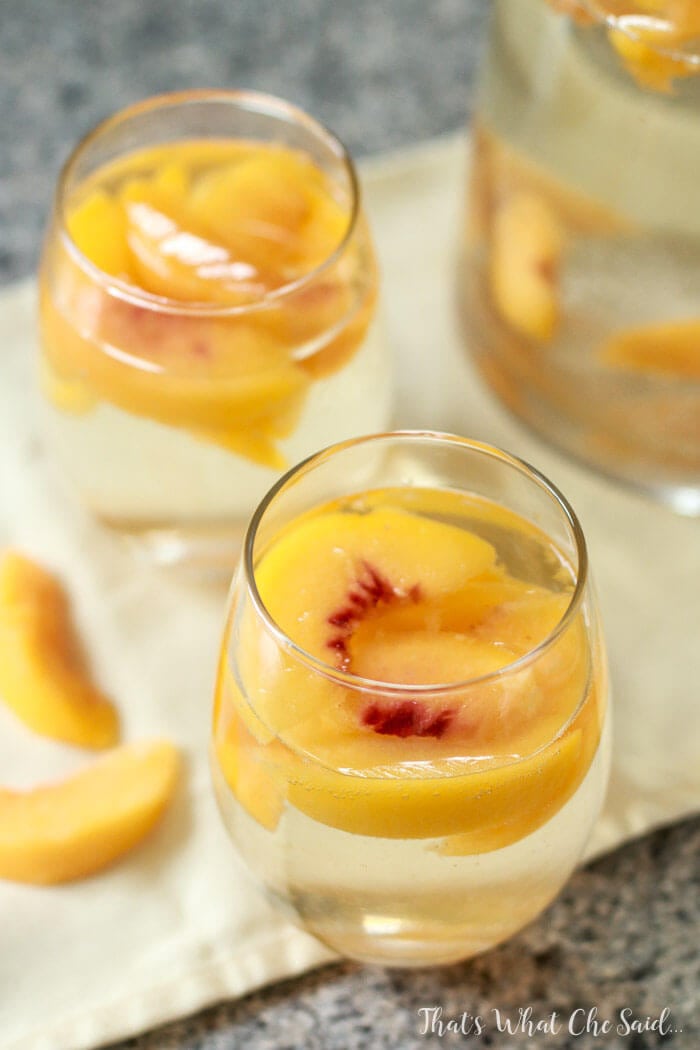 Disclaimer: This is a "Cheryl" drink and therefore is strong! Please be responsible every time you consume adult beverages. I am not responsible for tickets, break-ups, unplanned babies, any strange tattoos or anything else bad that is not listed in this disclaimer! ;-)
You might also like:
White Peach Sangria Recipe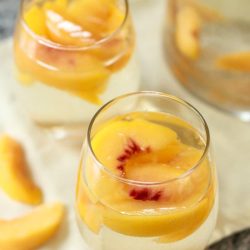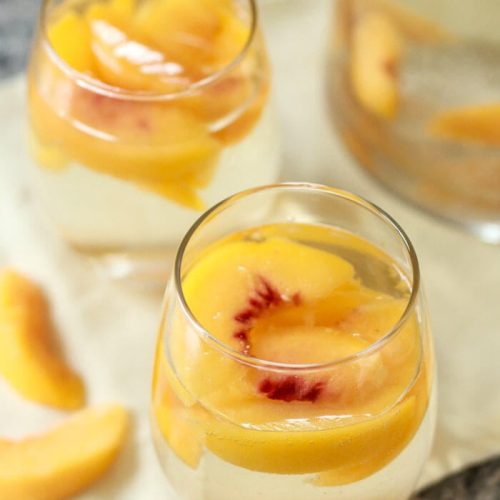 White Peach Sangria
A light and refreshing white peach sangria! This is perfect for summer drinks on the patio!
Print Recipe
Pin Recipe
Ingredients
2

cups

Peaches

,

May use fresh or frozen

1

cup

Vodka

1/2

cup

Peach Schnapps

1

bottle

White Wine

,

I use Sauvignon Blanc or Pinot Grigio

1/2

cup

granulated sugar,

optional

1

liter

White Soda *
Instructions
If using fresh peaches, slice the peaches. If using frozen open the bag :) Put peaches in bottom of your pitcher

Add your vodka, schnapps and it is recommended to let this sit for an hour or so in your refrigerator. The peaches will absorb all that liquor wonderfulness

Next add the bottle of wine and sugar if needed. Mix until Sugar Dissolves

*If using a sweeter wine you may omit the sugar

Fill the remainder of your pitcher with white soda.

Serve in glasses with a few of the liquor saturated peach slices

Enjoy!
Nutrition Estimate
Calories:
2390
kcal
Carbohydrates:
281
g
Protein:
4
g
Fat:
1
g
Saturated Fat:
1
g
Sodium:
141
mg
Potassium:
1118
mg
Fiber:
5
g
Sugar:
262
g
Vitamin A:
1004
IU
Vitamin C:
20
mg
Calcium:
106
mg
Iron:
3
mg