BOO! Were you scared? :) This super cute Halloween Door Hanging is a perfect little project to make your home a spooky space for Halloween! This BOO Halloween Sign works great on your door or hanging inside your home on the wall!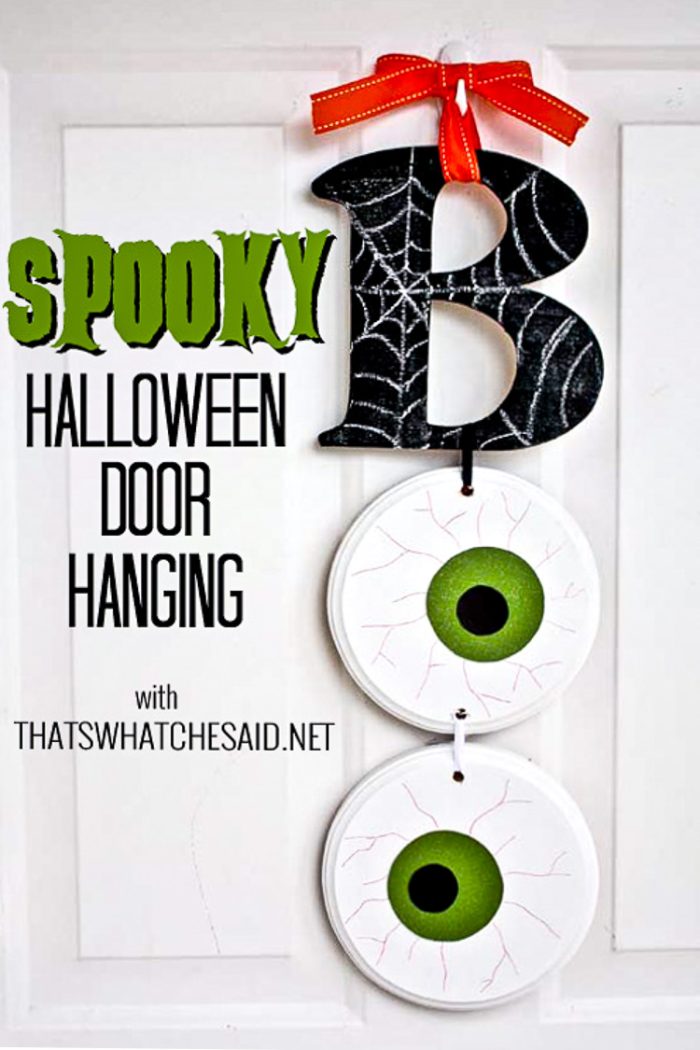 I love the Halloween decorations that are pre-made but sometimes you want to just get some craft supplies out and make something of your own! l
This post may contain Amazon Associate and other affiliate links.
As an Amazon affiliate, I earn a small commission from these links at no additional cost to you.
Boo Halloween Sign Supplies:
You can shop all the supplies here!
Don't Miss Out!
Get quick crafts, easy recipes and free printables & cut files straight to your inbox! You won't want to miss a thing! Join now!
How to Make a Halloween Door Hanging
Time needed: 45 minutes
Convert a few basic craft supplies into a cute Halloween BOO Door Hanging Sign! Perfect for indoor or outdoor use!
Drill holes in the Wooden Circles

Using a 1/4″ drill bit, drill holes into your wooden circle plaques. One plaque, drill a hole both in top and bottom. On the 2nd plaque, drill a hole only on one side.

Paint

Paint the circles with white acrylic paint, and paint the wooden B with the chalkboard paint. Let dry.

Assemble the Eyeballs

Using the white 1/4″ ribbon, attach the two circle plaques together by tying them together. Trim any excess ribbon.

Add Pupils to Eyeballs

Cut circles of green and black paper and glue to the white plaque. I used sparkly green paper just to give it some fun!

Add Bloodshot Blood Vessels

Using a red pen, I added some bloodshot vein lines to my eyeballs.

Draw the spiderweb on the B

Using chalk, draw a spiderweb. I ran the chalk over the B and erased and then drew the spiderweb to give it a spooky look!

Attach B to the OO

Attach the wooden B to the top eyeball using 1/4″ black ribbon. Trim the excess.

Tie a Ribbon for Hanging

Lastly, Tie a ribbon loop and bow for hanging.
Now you can hang on your front door, outside porch or inside your home!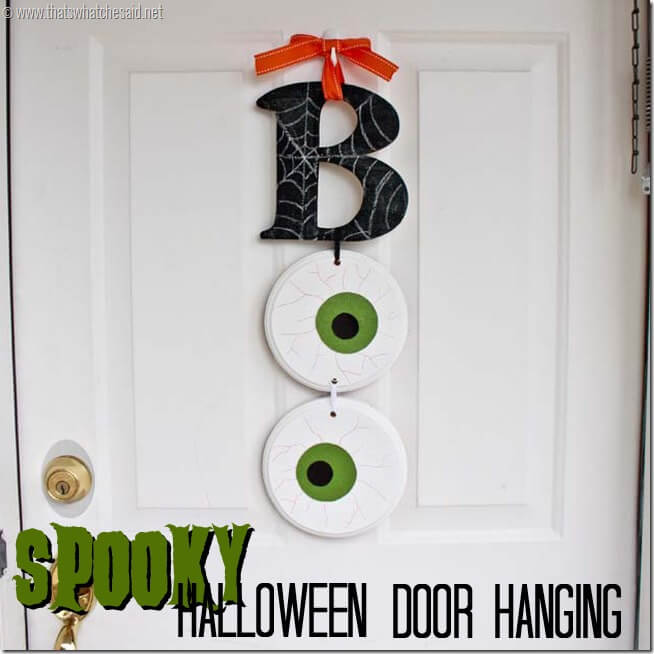 MORE HALLOWEEN PROJECTS:
FREE Pumpkin SVG Files (14 of them!)
Easy Spider Treat Bowl
Halloween I-Spy Free Printable
Witch Landing Porch Display
20 Free Halloween Fonts
[ess_grid alias="halloween_projects"][/ess_grid]
PIN BOO WALL HANGING SIGN