A delicious blend of Apple Pie with Apple Crisp! Sweet apples with an even sweeter crumbly top!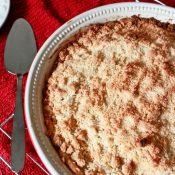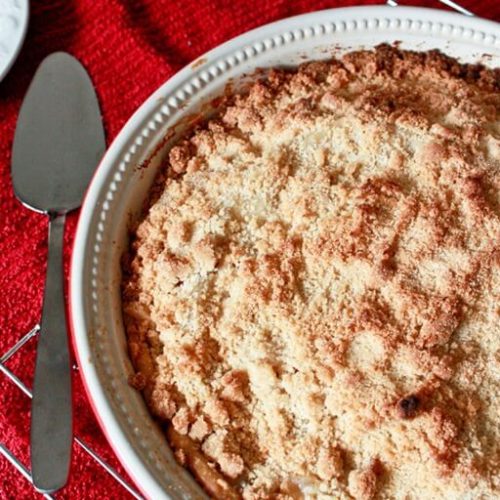 My Apple Crisp Pie recipe takes two fall favorite apple recipes and combines them!  The delicious toppings of an apple crisp paired with the buttery crust of an apple pie!  You can't go wrong!  Read below to grab all my Perfect Pie Tips & Tricks!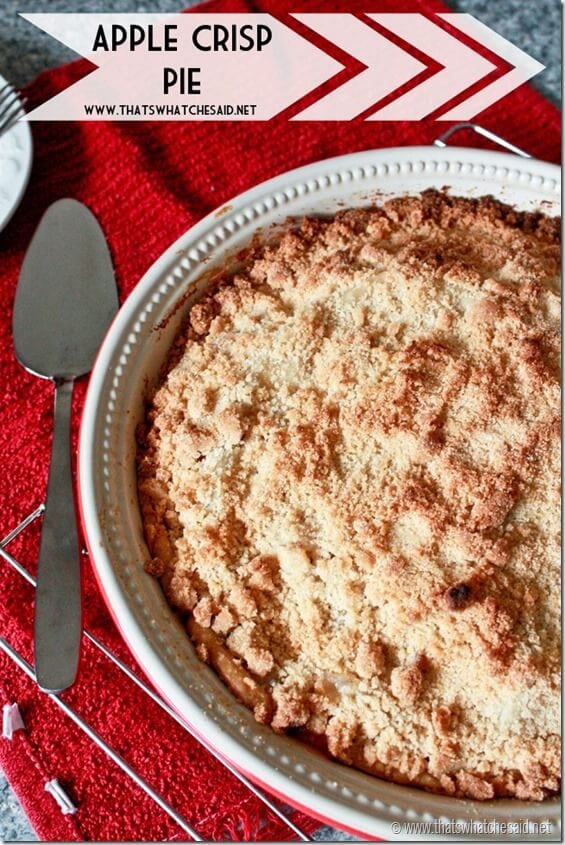 I am so excited to share with you my Apple Crisp Pie Recipe.  Apples stuck in between two flakey pie layers topped with a crunchy sweet crumbly topping! Part apple pie, part apple crisp.
Oh how I love the holidays!  I really love everything about them, minus the busy store parking lots, but besides that, I love everything!  One of my most favorite things about the holidays is holiday baked goodies!  It seems you can go all year without baking or minimally baking but when the holidays roll around, that oven doesn't get a rest and I love it!  The smells, the deliciousness, the memories, and the fact that you get to share these baked goodies with everyone you love! It makes my heart happy!
Tips for the Perfect Apple Crisp Pie:
One thing that turns most people off is that they don't want to try a new recipe for the holidays!  What if it's bad?  What if it doesn't turn out?  So today I am sharing a few of my pie tips to ensure your dish comes out right the first time!
Use room temperature ingredients if making your own pie crust.
Measure!  Baking requires precise measurements. This is no place to just eyeball it!
Baking the bottom crust for a few minutes before adding your filling will help keep that crust from becoming a soggy mush of dough.
Make sure to vent your top crust so the steam can get out.  Again, no one wants soggy crust!
Don't forget to cover the crusts of your pie with foil after about 20 minutes of baking so they don't get too brown.
Set a timer!  Always set a timer!
What apples should I use for Apple Pie?
These apples are great for apple pie!  They hold their form and don't become applesauce when you bake them!
Granny Smith Apples
Honeycrisp
Golden Delicious
Rome
Jonathan or Jonagold Apples
Braeburn
My favorites are Honeycrisp apples and Braeburn apples for apple pies!
Can you leave the skin on the apples for Apple Pie?
When you heat apples, the skin gets tough.  I recommend peeling your apples so that the deliciously soft apples and the sweet crust are not lessened by tough apple pieces in your bites!
How do I get the perfect Apple Pie Crust?
Apples contain a lot of water, here are my tricks to avoid super mushy and soggy crusts.
Place your bottom crust, pierce with a fork and add egg wash.  Bake for 5-7 minutes at 425F  to allow the bottom crust to cook a bit before adding your filling.  The egg wash is perfect for creating a barrier of sort between your filling and your crust.
For the top crust make sure to adequately vent.  I like to make at least 5-7 slits so that the steam has an escape route!  This will help both your top and bottom crusts.
What Temperature do I bake Apple Pie?
I have found that initially baking at 425F for 15-20 minutes and then lowering the temperature to 350 and baking for a remaining 30 minutes not only leaves your apples in your apple pie perfect, it also leaves your crust the perfect shade of brown.  The crust doesn't taste burnt at all this method.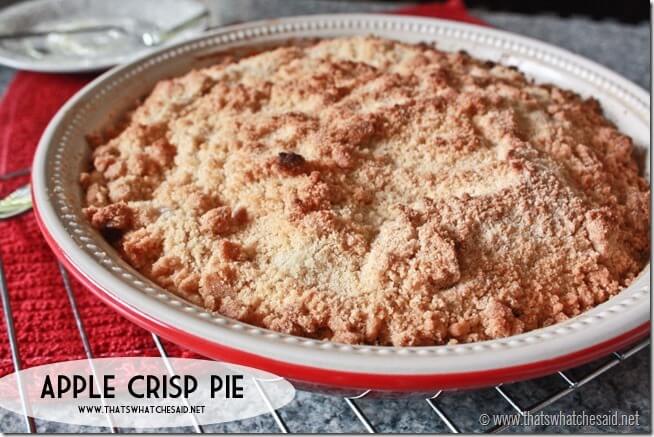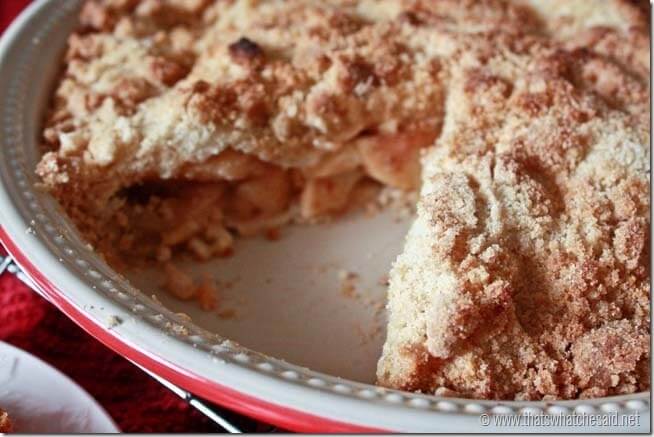 Apple Crisp Pie Recipe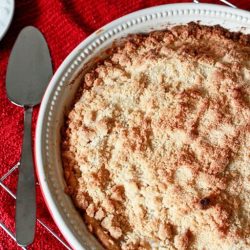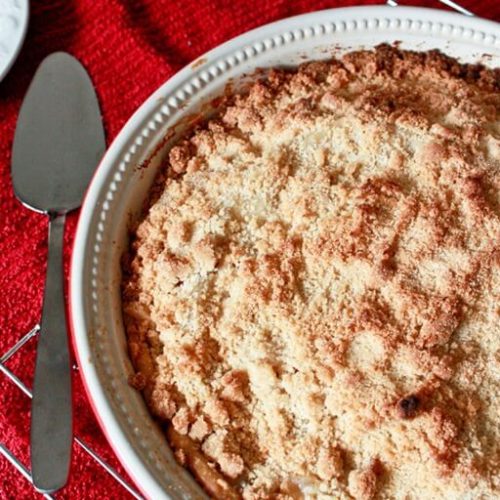 Apple Crisp Pie Recipe
A delicious blend of Apple Pie with Apple Crisp! Sweet apples with an even sweeter crumbly top!
Print Recipe
Pin Recipe
Equipment
Cooking Spray

Pie Pan

Vegetable Peeler
Ingredients
Crisp Topping Ingredients
Instructions
Preheat oven to 425 degrees F.

Spray your pie pan with PAM Baking Cooking Spray and roll out first pie crust into pie pan.

1 package Refrigerated Pie Crusts

Brush the pie crust with egg white and pierce with a fork. Bake crust for 5-7 minutes.

In a medium bowl, add your peeled, sliced apples, cinnamon, nutmeg, salt, flour, cornstarch and lemon juice and mix until evenly coated.

6 each apples,

3/4 cup granulated sugar,

2 tablespoons All Purpose flour,

2 tablespoons cornstarch,

3/4 teaspoon ground cinnamon,

1/4 teaspoon salt,

1/8 teaspoon ground nutmeg,

1/2 cup Brown Sugar,

1 tablespoon fresh lemon juice

Fill the partially baked pie crust with apples.

Top with remaining pie crust, pinch edges of both crusts together and cut slits to vent pie.

1 package Refrigerated Pie Crusts

To prepare the crisp topping, blend all topping ingredients in a blender using the pulse feature until it is a crumby consistency

1/2 cup granulated sugar,

2 tablespoons All Purpose flour,

1/4 cup butter

Top your pie with the crisp crumb mixture.

Bake at 425 for 15 minutes, reduce temperature to 350 and bake an additional 30 minutes.

Let rest for 2 hours before cutting.
Notes
Serve with vanilla ice cream or whipped topping if desired. 
Nutrition Estimate
Serving:
1
slice
Calories:
505
kcal
Carbohydrates:
76
g
Protein:
5
g
Fat:
21
g
Saturated Fat:
8
g
Polyunsaturated Fat:
2
g
Monounsaturated Fat:
8
g
Trans Fat:
0.2
g
Cholesterol:
36
mg
Sodium:
356
mg
Potassium:
89
mg
Fiber:
2
g
Sugar:
45
g
Vitamin A:
209
IU
Vitamin C:
1
mg
Calcium:
30
mg
Iron:
2
mg
You might also like these Apple recipes:
Looking for more desserts?  You can find my entire dessert collection here including frozen desserts! YUM!
Sign up below to get all my recipes straight to your inbox!
[cgview id=21,374 name=crafts,recipes tags=apples size=225×225 quality=75 lightbox=0]
PIN APPLE CRISP PIE