Got Apples? Yeah, remember we went Apple Picking a few weeks back with my parents in St. Louis? Well we still had some Honeycrisp apples left and I wanted to give this apple chip recipe a try! The verdict: DEEEE-LISH-US!!! I really hope you give this a try! This will be something I do all year round as we are a family that loves fruit…in all forms!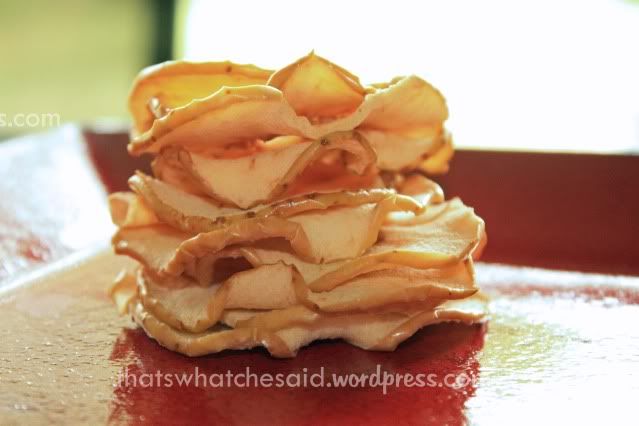 Items Needed:
Apples
Parchment Paper
Sugar (optional)
Cinnamon (optional)
After preheating my oven to 200°F, I started off by using my mandolin and slicing 2 large Honeycrisp apples in thin slices. I just gave them a wash and left the skins on. You can use a sharp knife also if you do not have a mandolin.
Next I arranged the slices in a single-ish layer on baking sheets that were lined with parchment paper. DO NOT skip this step! I did the first round without parchment paper and we played "scrap the apples from the cookie sheet' on several of the slices! Boo!
If you are using apples that aren't naturally sweet, sprinkle with sugar and cinnamon. I used delicious honeycrisp and choose not to add either the sugar or cinnamon. (Great decision by the way, mine were delicious naked!)
Bake in the upper 1/3 of your oven at 200°F for about 2 hours. Depending on your slice thickness will depend on your time in the oven.

Let cool and enjoy!
The first batch I made didn't make it past the cookie sheet, before they were gobbled up (except those few that stuck like GLUE!) I made several more batches after and I stored them in some gladware once they were completely cool.
Not to mention this is an awesome snack because there is nothing there but apple, also while they are baking, they make your house smell yummy! This is a great way to use those apples! I am guessing this winter, when sweet apples (Honeycrisp, Gala, Pink Lady, or Braeburn) are hard to come by, I will try it with the sugar and cinnamon. I'll keep you posted on that, however I loved them as is!